Here We Are: Notes for Living on Planet Earth

April 17, 2020

|

Apple TV+

|

36 minutes
Directed by:
Philip Hunt, Douglas Carrigan |
Written by:
Philip Hunt, Luke Matheny |
Literature:
Oliver Jeffers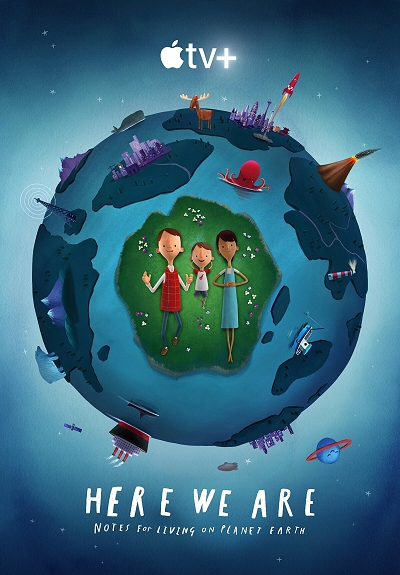 A precocious 7-year-old who, over the course of Earth Day, learns about the wonders of the planet from his parents and from a mysterious exhibit at the aptly titled Museum of Everything.
Cast: Meryl Streep (Narrator), Jacob Tremblay (Finn), Ruth Negga (Finn's Mum), Chris O'Dowd (Finn's Dad)
Production Notes
Irish children's author and illustrator Oliver Jeffers' 2017 book Here We Are: Notes for Living on Planet Earth is the kind of charmingly illustrated and conceived project that lends itself well to animation. So, it's no wonder that Studio AKA (Hey Duggee, The Amazing World of Gumball) animation producer Sue Goffe and director/writer/exec producer Philip Hunt jumped at the chance of adapting the book as a special for Apple TV+, premiering Friday, April 17 ahead of the 50th annual Earth Day on April 22. One of the production's secret weapons is its stellar voice cast, which includes Meryl Streep as the narrator. "Working in partnership with Apple, we all agreed that the narrator needed to embody a presence, a nurturing voice that united us all in support of a bigger mission — and that was Ms. Streep," says Goffe. "Meryl Streep loved Oliver's book and is passionate about the environment – and we were humbled to get her, along with the other amazing voice cast. Casting Jacob Tremblay (Room) as Finn came about after a brilliant suggestion from Apple's head of casting. Goffe says it was joy to hear his exuberance and wonderment throughout the film as he comes to an understanding of the world, and his place in it. "He truly is the anchor to the film and has brought a wide-eyed perspective to the little things that we can do to make a bigger contribution," she adds. (Source: Animation Magazine, Ramin Zahed, April 15, 2020)
Here We Are: Notes for Living on Planet Earth premieres on Apple TV+ on April 17. Click here to watch it on their website.
---