The U.S. and the Holocaust

September 18, 2022

|

PBS Television

|

360 minutes
Directed by:
Ken Burns, Lynn Novick, Sarah Botstein |
Written by:
Geoffrey Ward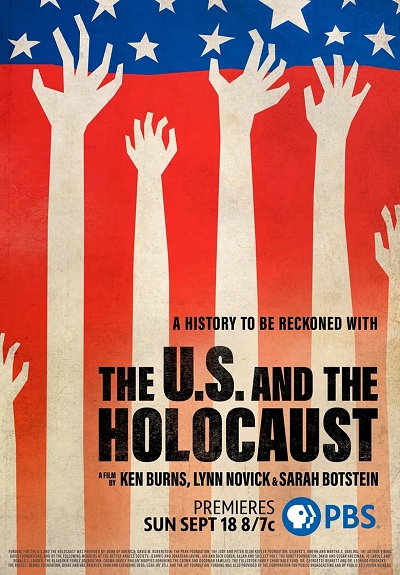 A three-part series of how the American people grappled with one of the greatest humanitarian crises of the twentieth century. By examining events leading up to the Holocaust, this film dispels the myths that Americans either were ignorant of what was happening or that they merely looked on with callous indifference. The challenges raise questions that remain essential to our society today: What is America's role as a land of immigrants? What are the responsibilities of a nation? What should our leaders and the press do to shape public opinion? What can individuals do when governments fail to act?
Cast: Peter Coyote (Narrator), Adam Arkin, Sarah Botstein, Paul Corning, Hope Davis, Leon Dische Becker, Paul Giamatti, Mariusz Glabinski, Elliott Gould, Marlena Grzaslewicz, Murphy Guyer, Werner Herzog, Josh Lucas, Joe Morton, Carolyn McCormick, Liam Neeson, Matthew Rhys, Meryl Streep, Agate Was, Bradley Whitford, Helena Zengel
Production Notes
"History cannot be looked at in isolation," says Ken Burns. "While we rightly celebrate American ideals of democracy and our history as a nation of immigrants, we must also grapple with the fact that American institutions and policies, like segregation and the brutal treatment of indigenous populations, were influential in Hitler's Germany. And it cannot be denied that, although we accepted more refugees than any other sovereign nation, America could have done so much more to help the millions of desperate people fleeing Nazi persecution." "Exploring this history and putting the pieces together of what we knew and what we did has been a revelation," says Lynn Novick. "During the Second World War, millions of Americans fought and sacrificed to defeat fascism, but even after we began to understand the scope and scale of what was happening to the Jewish people of Europe, our response was inadequate and deeply flawed. This is a story with enormous relevance today as we are still dealing with questions about immigration, refugees and who should be welcomed into the United States."
"At the center of our narrative is the moving and inspiring first-hand testimony of witnesses who were children in the 1930s," says Sarah Botstein, a longtime producing partner of Burns and Novick who is making her directorial debut on this film. "They share wrenching memories of the persecution, violence and flight that they and their families experienced as they escaped Nazi Europe and somehow made it to America. Their survival attests to the truth of the remark made by journalist Dorothy Thompson that 'for thousands and thousands of people a piece of paper with a stamp on it is the difference between life and death.'"
---
The U.S. and the Holocaust is being listed under the following tags:
---