Extrapolations

March 17, 2023

|

AppleTV+

|

8 episodes á 45 minutes
Directed by:
Scott Z. Burns, Ellen Kuras |
Written by:
Scott Z. Burns |
Cinematography:
Zack Galle, Eigil Bryld |
Editing:
Greg O'Bryant, Tim Streeto, Steph Zenee Perez, Hye Mee Na |
Costume Design:
Nancy Steiner, Catherine Riley, Analucia McGorty |
Production Design:
Sam Lisenco, Doug Huszti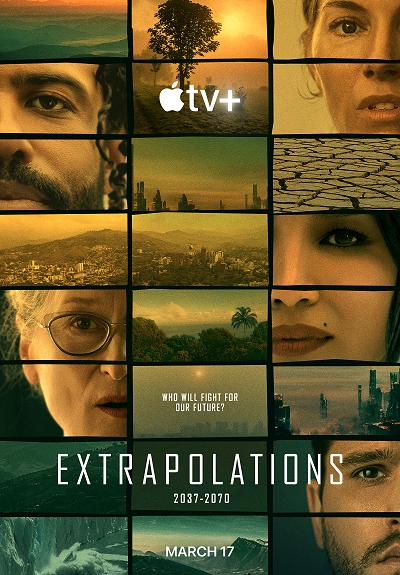 "Extrapolations" introduces a near future where the chaotic effects of climate change have become embedded into our everyday lives. Eight interwoven stories about love, work, faith and family from across the globe will explore the intimate, life-altering choices that must be made when the planet is changing faster than the population. Every story is different, but the fight for our future is universal. And when the fate of humanity is up against a ticking clock, the battle between courage and complacency has never been more urgent. Are we brave enough to become the solution to our own undoing before it's too late?
Cast: Yara Shahidi (Carmen Jalilo), Kit Harington (Nicholas Bilton), Daveed Diggs (Marshall Zucker), Matthew Rhys (Junior), Heather Graham (Hannah), Sienna Miller (Rebecca Shearer), Tahar Rahim (Omar Haddad), Meryl Streep (Eve Shearer), David Schwimmer (Harris Goldblatt), Neska Rose (Alana Goldblatt), Judd Hirsch (David Goldblatt), Cherry Jones (President Elizabeth Burdick), Edward Norton (Jonathan Chopin), Michael Gandolfini (Rowan Chopin), Indira Varma (Gita Mishra), Diane Lane (Martha Russel), Adarsh Gourav (Gaurav), Gaz Choudhry (Neel), Keri Russell (Olivia Drew), Gemma Chan (Natasha Alper), Marion Cotillard (Sylvie Bolo), Forest Whitaker (Augustin Bolo), Hari Nef (Anna), Eiza González (Elodie), Tobey Maguire (Nicolas), Ben Harper (Tyrone Downs), Murray Bartlett (Ariel Turner), MaameYaa Boafo (Lucy Adobo)
---