Greta Gerwig's highly anticipated directorial follow-up to Lady Bird reunites the filmmaker with Ronan and fellow Lady Bird co-star Timothée Chalamet to tell one of literature's most beloved stories. Meryl Streep represented the film yesterday at a New York screening accompanied by her friends, playwright Tracy Letts and author of "One True Thing", Anna Quindlen. Here's what the critics are saying so far about Greta Gerwig's Little Women, as compiled by Looper: Entertainment Weekly columnist David Canfield tweeted that Little Women was one of his "very favorite movies of the year," furter noting, "Greta Gerwig delivers a both passionately faithful and gorgeously original take" and going on to praise several of the film's leading performances.Kara Warner from PEOPLE Magazine wrote, "Greta Gerwig's @LittleWomen is wonderful. A loving, meticulously-crafted adaptation that exceeded my expectations. Heartfelt, moving and a terrific showcase for its extremely talented cast and beloved source material." New York Magazine's Kyle Buchanan enjoyed the film, but felt there were some caveats. In a Twitter thread, he wrote, "Greta Gerwig takes the straightforward story of Little Women and boldly scrambles it, starting two-thirds of the way through and retelling most of what you remember via flashbacks and cross-cutting. Call it Louisa May Alcott meets 21 Grams[…] At best, it's a fresh approach that makes you rethink familiar material. But it can also make simple plot and character developments a bit harder to locate." He also singled out the performances, particularly Pugh's: For my money, the MVP in Little Women is Florence Pugh. Hot off of Midsomar, Pugh is having a great year, and she's hilarious and winning as Amy, the character best served by Gerwig's structural gambits."
The Ringer's Sean Hennessey went so far as to wonder about the film's Oscar chances, writing, "The last three Best Picture winners – Moonlight, Green Book, The Shape of Water – end happily and portrayed the world as ultimately hopeful. Greta Gerwig's Little Women is the first movie of the year that does just that. So…front runner? (It's inventive and wonderful.)" Marc Malkin at Variety echoed Hennessey's sentiments, tweeting, "#LittleWomen could earn multiple Oscar noms, including best picture and directing for Greta Gerwig. As well as another for Gerwig for adapted screenplay. As for acing [sic] noms–lead actress for #SaoirseRonan, suppporting for #FlorencePugh and possible #TimotheeChalamet." These first looks at Little Women's critical mass aren't definitive just yet – the film hasn't officially premiered, of course – but Gerwig fans can definitely hope that the lauded director's upcoming outing will be as strong as her previous one, thanks to an incredible cast and a creative take on a tale as old as time.
Little Women arrives in theaters on December 25.
Read posts from the archive:
September 9th, 2017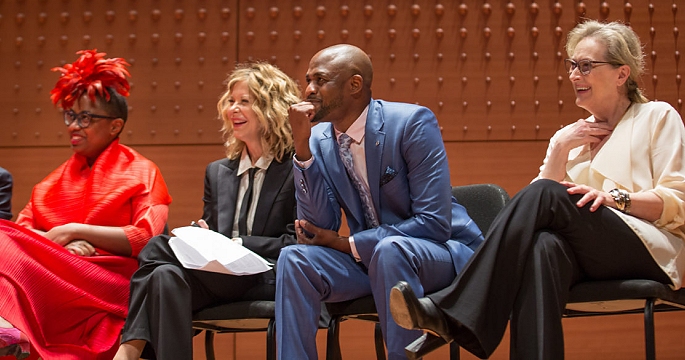 April 22nd, 2017
January 6th, 2020
www.simplystreep.com