According to Broadway World, the 92NY Unterberg Poetry Center's 84th season will continue with a Winter/Spring lineup featuring beloved playwrights and actors, critically-acclaimed novelists and poets – and tribute events centered on Gwendolyn Brooks, John Guare and Philip Roth, among others. Details on Meryl Streep's appearance be found below. For more information, visit www.92y.org/poetry
A CELEBRATION OF JOHN GUARE: Mon, Feb 6, 7:30 pm, From $40

An evening of words and music in celebration of playwright John Guare, whose theatrical works include Two Gentlemen of Verona, Lydie Breeze, Six Degrees of Separation, The House of Blue Leaves and Landscape of the Body . Tony Kushner cobbled together the lineup for this event, and he will produce it. Kushner wrote: "So enormous is the esteem in which I hold the Great Guare and his monumentally important body of work. Like Williams, he figured out a way for Americans to do a kind of stage poetry. There are astonishingly beautiful things in his plays." Other performers and participants include: Meryl Streep, Ben Stiller, Ariana DeBose, Paul Dano, Suzan-Lori Parks, Linda Lavin, Dylan Baker, Kenneth Lonergan, Edie Falco, Zoe Kazan, Elizabeth Marvel, Stephen Adly Giurgis, Bill Camp, Camryn Manheim, Becky Ann Baker, Corey Hawkins, Linda Emond and Ato Blankson-Wood.
On October 13, 2022, Meryl Streep accepted the Alumnae/i Association of Vassar College (AAVC) Distinguished Achievement Award. According to a lenghty article published on the Vassar website, her movie-star charisma was immediately evident, but when Streep addressed the 1,500 members of the Vassar community—including fellow members of the class of '71 – the three-time Academy Award winner didn't talk much about the movies. She chose instead to tell her audience about how Vassar had shaped her life, setting her on a path of social awareness and activism. "One value of a Vassar education is that it kind of dooms you to a life of awareness …"Streep said. "Once you know how to search out and credit the facts around certain problems, you are called on by your conscience to act on them. The Vassar conscience rings a bell in your head; it's a call to action in your heart." Pictures from the event have been added to the photo gallery – with credit to Vassar College / Karl Rabe, the complete article can be read over here.
Yesterday, George and Amal Clooney hosted the first-ever Albie Awards through their Clooney Foundation for Justice at the New York Public Library on Thursday. The Albie Awards are named after South African activist and former judge Albert "Albie" Sachs and honor "courageous defenders of justice who are at great risk for what they do." Albie was given a lifetime achievement award during the ceremony, while other prizes went to Dr. Josephine Kulea of Kenya's Samburu Girls Foundation who was handed the Justice for Women honour while Filipino journalist Maria Ressa was given the Justice For Journalists award. Among the star-studded guests in attendance were Meryl Streep with daughter Grace and son-in-law Mark Ronson. Pictures from the event have been added to the photo gallery. Edit: You can now also watch Meryl's speech, honoring journalist Maria Ressa, below.
Yesterday, Meryl Streep joined film critic Leonard Maltin and guests including Robert Rodriguez and Luke Wilson in honoring Robert De Niro at the Harry Ransom Center's "A Celebration of Film" in Austin, Texas. The Ransom Center marks its 65th anniversary by creating an endowment honoring De Niro, whose archive is housed at the Center and contains annotated screenplays, correspondence, production records and film stills. Pictures from yesterday's celebration have been added to the photo gallery.
Public appearances have been rare this year. So it's a nice surprise to see Meryl Streep and Sam Waterston celebrating the 125th anniversary of The Lakeville Journal at the Town Grove in Lakeville last Saturday, both serving as Honorary Co-Chairs. The Lakeville Journal Foundation has posted an array of pictures from the celebration to their webiste, which can be also found in the photo gallery. Check back for more public appearances pictures, as Meryl and Robert De Niro will attend the Ransom Center's 65th Anniversary Gala later this evening.
Last April, Campus Activities announced that Meryl Streep will receive the Distinguished Achievement Award granted by the Alumnae/i Association of Vassar College (AAVC). However, on April 19, 2022, Vassar announced the postponement of the ceremony; Streep was unable to attend the event due to pneumonia. At the time, the College did not elaborate on the exact rescheduled date. According to Vassar's Miscellany News, on Tuesday, Sept. 13, 2022, students who secured a lottery ticket for the event last semester received an email from the AAVC confirming that Streep would be coming to accept the award on Thursday, Oct. 13, 2022. The email communication offered these students the opportunity to reclaim their seats for the ceremony. President of Vassar College Elizabeth Bradley commented, "The award is presented to alums who have reached the highest level in their field, while using their position to better the human community and serve the wider goals of society. Meryl most certainly fits the bill. We are thrilled to welcome her to campus." The College has yet to officially announce the rescheduled ceremony or provide specific details regarding the next ticket lottery.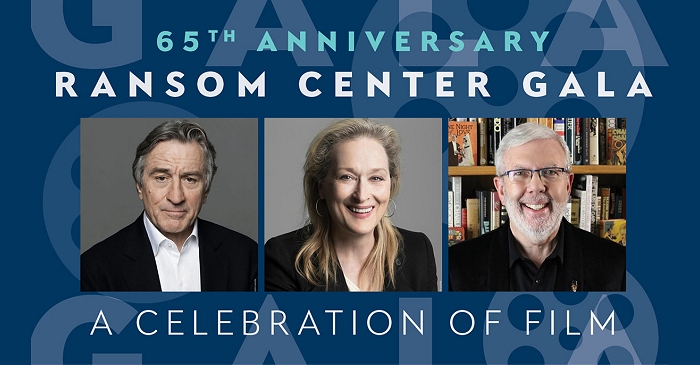 The University of Texas' Harry Ransom Center on Monday announced that Meryl Streep will attend "A Celebration of Film," the center's fall event honoring actor Robert De Niro. Film critic and historian Leonard Maltin will also attend, acting as master of ceremonies. Taking place at the AT&T Hotel and Conference Center on September 24, "A Celebration of Film" will support preservation and access to historical film materials archived at HRC. De Niro's archive, which is also housed at HRC, will be featured in a new exhibition examining his early years at the American Workshop, in acting instructor Stella Adler's classes, and in plays and films that marked his initial successes and learning experiences. De Niro first donated his archive to the HRC in 2006, including annotated screenplays, correspondence, production records, film stills and behind-the-scenes photographs, posters and publicity materials, props, costumes, videotapes, and motion picture film. The gala supports the museum's mission to preserve and provide access to historical film materials. In an effort to expand access to this unique celebration, the HRC will also hold its first-ever ticketed after party, immediately following the gala. For more information or to purchase tickets, visit hrc.utexas.edu/gala for the gala and hrc.utexas.edu/afterparty/ for the post-production afterparty.
A great batch of quite rare public appearances pictures have been added to the photo gallery. Among the additions are events that Meryl Streep attended as an activist and supporter, including benefits by Direct Donor Action, Arts for ACTA and Paul Newman's Hole in the Wall Camp Fundraiser. There are also screenings and Q&As for "Angels in America" and behind the scenes pictures of Meryl taping an Acoustiguides for New York's MET Museum in 2003. A complete list of additions can be found below. Enjoy your Sunday.
On April 19, Vassar College announced that renowned actress Meryl Streep '71 would be unable to attend the Alumnae/i Association of Vassar College (AAVC) Distinguished Achievement Award Ceremony, due to pneumonia. Streep was in line to become the sixth alumna/us to receive the award in this ceremony. A series of statements were released by the College in relation to the ceremony and its postponement. AAVC President Steve Hankins '85 and Chair of Alumnae/i Recognition Committee Amy Pullman '71 released an email to the Vassar student body, addressed to the registrants of the ceremony, the Class of '71 and AAVC board members.
"[Streep] wishes to convey that a bout of pneumonia is keeping her from the festivities, but she is so honored to be included in the day's commemorations from the College that ordered her thinking, ignited her creative imagination, and gave her friends for life," the email stated. "We are therefore postponing the bestowal of the award to a time when Ms. Streep can join us and we can properly celebrate her many accomplishments. As we look for a new date, please join us in wishing Ms. Streep a speedy recovery."
As of now, the AAVC board has yet to release a date for the rescheduled ceremony. However, festivities will continue for the Class of '71 to celebrate their 50th reunion. Thanks to Alvaro and Glenn for the heads-up.
According to The Hollywood Reporter, The Producers Guild Awards has announced a star-studded lineup of presenters for Saturday night's ceremony, with Steven Spielberg, Meryl Streep, Denis Villeneuve, Lin-Manuel Miranda, Jessica Chastain and Andrew Garfield set to take the stage. The show, held at the Fairmont Century Plaza Hotel in Century City, will also see Jamie Dornan, Michelle Yeoh, Aunjanue Ellis, Troy Kotsur, HBO chief content officer Casey Bloys, Squid Game's Jung Ho-yeon, Being the Ricardos' Linda Lavin and West Side Story's David Alvarez participating in the show. In the competitive categories, Being the Ricardos, Belfast, CODA, Don't Look Up, Dune, King Richard, Licorice Pizza, The Power of the Dog,Tick, Tick … Boom! and West Side Story are up for the Darryl F. Zanuck Award for outstanding producer of theatrical motion pictures. Many thanks to Glenn for the heads-up.