As Meryl Streep will be honored tonight at the prestigious Kennedy Center Honors, let's take a look back at her previous appearances. Meryl has attended the annual awards ceremony three times as a speaker. In 1981, actors Donald Sutherland, Richard Chamberlain and Meryl Streep joined on the stage to honor actress Helen Hayes, the First Lady of the American Theatre. They read quotes of famous filmmakers about acting while the last quote, as read by Meryl, was from Miss Hayes herself.
One actress expressed best what all actors feel – Helen Hayes. "I think in acting as in everything else one has to find one's own center of gravity. But more and more I have come to believe that there are only two styles of acting: Good and bad. A little talent doesn't hurt, but talent is no good without the discipline. And nothing is any good without endurance. What is talent for an actress? Perhaps it is an instinct for understanding the human heart". Miss Hayes, for the understanding you have given us, and for the inspiration you offer, we thank you.
In 2003, when Mike Nichols was honored, Meryl and actress Candice Bergen paid tribute to the director of "Silkwood", "Heartburn", "Postcards from the Edge" and "Angels in America", with a poem by Willa Cather – and Mr Nichols' own "five rules for filmmaking":
One: The careful application of terror is an important form of communication. Two: Anything worth fighting for is worth fighting dirty for. Three: There's absolutely no substitute for genuine lack of preparation. Four: If you think there's good in everybody, you haven't met everybody. Five: Friends may come and go, but enemies will certainly become studio heads.
In 2009, Meryl's co-star Robert De Niro, with whom she worked together on "The Deer Hunter", "Falling in Love" and "Marvin's Room", was honored. Meryl talked about his acting craft and recalled a moment of watching his process to find the right detail for his character while working on "Falling in Love".
Actors love Bob's work because it's unfailingly honest and it's uncluttered. He's relentless in his desire to find just the right detail, the little thing that's gonna tell you everything about a man. After "The Deer Hunter", he and I made "Falling in Love", and I had the privilege of watching his process – in a wardrobe test. For three hours, he tried on 37 identical little boxy jackets. Windbreakers. To me, they looked identical. But, he's checking the cuff, the color, the zip – up, no, down, down, yeah, no, yeah, down. Until he found the right one. And the right one was the right one because it's signified, it told you everything about this guy's socioeconomic status. It showed you his modesty and his precision. It was just tan, it was ignorable. But that's different from unimportant. Details are important, and Bob knows that.
So, let's see who will speak on Meryl's tribute tonight! The awards ceremony will be broadcast on CBS December 27, so in the meantime – check out the video clips of her past appearances.
Read posts from the archive:
May 19th, 2020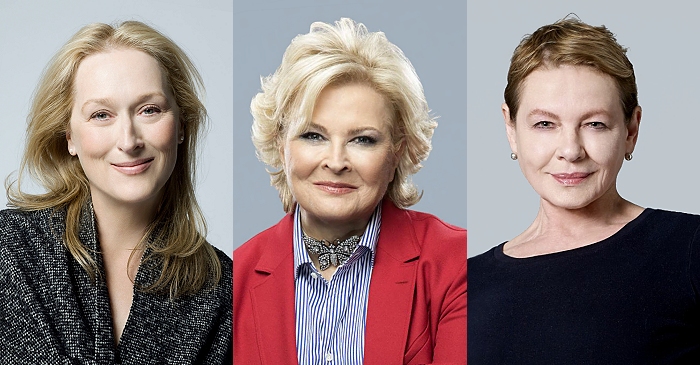 August 20th, 2019