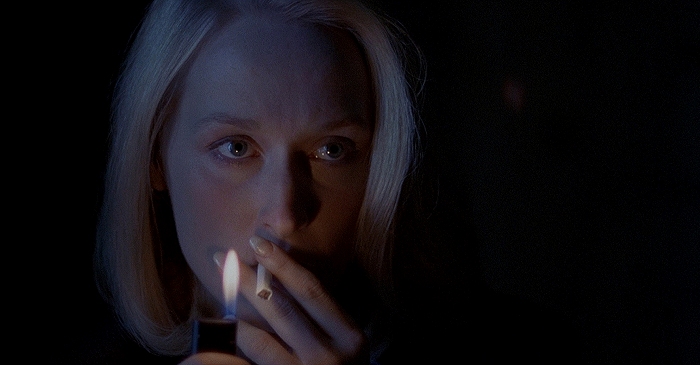 Today 40 years ago, "Still of the Night" released US theaters. Sandwiched between two of Meryl Streep's greatest performances in the early 1980s, "Still of the Night" is an often-forgotten Hitchcock hommage that not even its star herself remembers fondly. Helmed by Robert Benton, who directed Streep to her first Academy Award, it gave her probably the most thankless part of her career – the mysterious blonde.
In 1981, Meryl Streep had reached a first peak in her fairly young career. She was proclaimed "Star of the '80s" by Newsweek and "Magic Meryl" by Time Magazine a year afer winning her first Academy Award for "Kramer vs. Kramer", her second consecutive nomination after "The Deer Hunter". Her first leading role in "The French Lieutenant's Woman" won her a third nomintion in three years, as well as her second Golden Globe and a BAFTA from the British Academy. "Sophie's Choice" was on the horizon for a theatrical release later that year and she was already working with Mike Nichols on "Silkwood" in Texas. Meanwhile, Benton was looking for a follow-up project to "Kramer". He wrote a script called "Stab" back in 1975, but left it in the drawers to first direct "The Late Show", and then wait some more to direct "Kramer". "You find yourself in a trap if you do the thing that people expect you to," he told The New York Times for the release of "Still of the Night". "It seemed to me that I should go about as far away from "Kramer" as I could with my next film." He found the missing link in Meryl Streep to finally revive the story of a entangled by the mistress of his murdered patient – a mysterious, cool blonde, who may have killed her lover, and maybe others as well.
Streep accepted the role for a number of reasons – to work with Benton and cinematographer Néstor Almendros again, but also for having the chance to work in New York, where her young family was based. "I wanted to work with [Benton] again. It was shot in New York. I rolled out of bed to go to work. I was with my baby more than I had ever been. I didn't have to work every day," she told Gene Siskel in 1982. She also, once again, helpled Benton with the right dialogue for Brooke, as she did with Joanna Kramer, as Benton recalls, "'When she got back from doing 'The French Lieutenant's Woman,' we began working together, one or two days a week, on the character. She made up a great deal of the background story, the part about her father."
Continue Reading
This will be my last update for this year, so I'd like to thank all visitors and friends to the site for yet another year of updating Meryl Streep's career – this year was special, not only due to our second round with COVID, but since there were 11 months of nothing and then one month of jam-packed promotion for "Don't Look Up" (which will be released on Netflix Christmas Day, as we all know :-) As a present for the Holidays I have re-capped 8 of Meryl's films in glorious Blu-Ray quality, replacing the previously added DVD screencaptures. There are some great finds with the Blu-Ray premieres for "The Seduction of Joe Tynan" and "Still of the Night" – and many of your fan favorites, including "Mamma Mia", "It's Complicated", "Hope Springs" and "Into the Woods". Enjoy the screncaptures – and have a blessed time over the Holidays with your loved ones, much health and all the best for 2022. It can only get better :-) See you next year.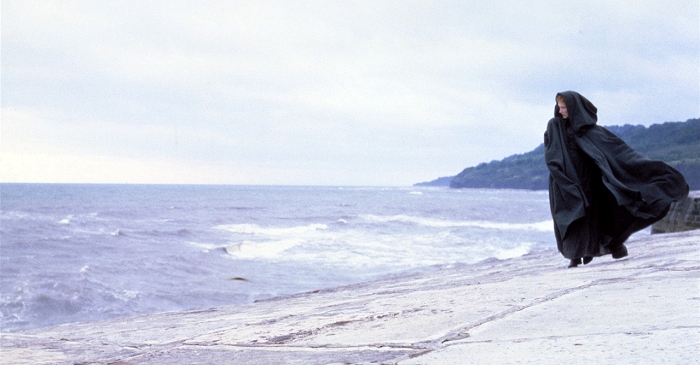 On September 18, 1981, United Artists released "The French Lieutenant's Woman", in which a 32-year-old Meryl Streep played her first leading role in a motion picture. Two leading roles to be fair, since the story depicts John Fowles' novel not only as a straight-forward adaptation, but as an embedded film within a film that portrays the lead actors' laissez faire fling on a movie while performing the tightlipped Victorian romance between a palaeontologist and a social outcast – a contrast on how social perception or acceptance on infidelity has changed over the years, at least 40 years ago. "The French Lieutenant's Woman" is a curious film, a drama for grown-ups, and a very odd choice for Streep's first leading role. After her breakthrough years and an Academy Award in 1980, an All-American role like "Silkwood" would have seemed a more logical fit to hone a movie star image. But Streep, giving us a first taste of her transformative craft that would stun audiences in the many years to come, immersed herself into the British landscape and created two very unique performances in one film.
Instead of writing a long essay on the film's anniversary I'll rather guide you through the extensive collection of information, pictures and articles we have amassed over the last years. Have a look at the box on the left for shortcuts. I'll give you my top takeaways anyway: The film was a critical and commercial success, receiving 11 BAFTA nominations with three wins, inlcuding Best Actress for Streep. She also won the Golden Globe as Best Actress Drama and received her third Academy Award nomination in four years, the first as Best Actress, which was awarded to Katharine Hepburn. Streep was not the first choice for the part – Fowles' personal choice was Helen Mirren. But the studio deemed her unsuitable, thanks to the recent release of the notorious "Caligula". Even more surprisingly, this was Jeremy Irons' first leading role as well, and only his second motion picture.
If you want to treat yourself with an anniverary viewing today and don't own the DVD, you can check out if it's available to stream in your region. If you want to share your thoughts on the film, head over to Twitter for comments and selected pictures.
This week's Scan Sunday ranges from 2003 to 2004 and features lots of articles on the international releases of "Adaptation", "The Hours" and "Angels in America". There are also various reports on her 2004 AFI Life Achievement Honor, including a great cover from The Sunday Telegram. There's also a very nostalgic article among the updates: I vividly remember flipping through my grandparent's tv guide in 2003 to find an article on Meryl with a link to this very website. I felt like a rock star :-) How time goes by. Anyway, enjoy all the new updates and your Sunday as well.
Related Media
:
Photo Gallery – Articles & Scans – 2004 – In Touch (USA, June 28, 2004)
Photo Gallery – Articles & Scans – 2004 – People Magazine (USA, June 28, 2004)
Photo Gallery – Articles & Scans – 2004 – The Sunday Telegram (USA, June 26, 2004)
Photo Gallery – Articles & Scans – 2004 – Who Weekly (Australia, June 07, 2004)
Photo Gallery – Articles & Scans – 2004 – The Telegraph on Sunday (Australia, June 06, 2004)
Photo Gallery – Articles & Scans – 2004 – TV Week (Australia, June 04, 2004)
Photo Gallery – Articles & Scans – 2004 – Who (Australia, June 2004)
Photo Gallery – Articles & Scans – 2004 – Contigo (Brasil, May 2004)
Photo Gallery – Articles & Scans – 2004 – Veja (Brasil, April 14, 2004)
Photo Gallery – Articles & Scans – 2004 – Foxtel Magazine (Australia, March 2004)
Continue Reading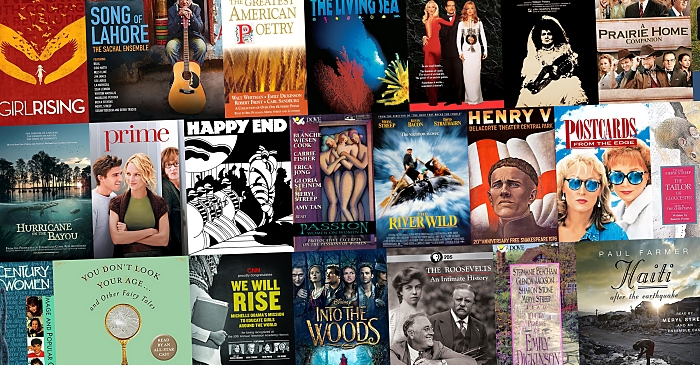 Over the last weeks, I have worked behind the scenes on the career pages to make them more functional and easier to browse. Meryl Streep's career is a massive task to cover, and yet it's one of my favorite parts of the site, since it's not only films, but heaps of documentaries, television specials and narration work. Plus, we have been able to source pretty much all of her 50 plus theatre performances since her time at Vassar College with lots of rare pictures and posters. So, let me introduce some nifty new functions: Each career site has been updated with full cast and crew information and shortcuts to the photo gallery, video archive and related reviews (there have been a lot with the ongoing magazine updates). You can check each project's availablity on a wide array of streaming services in your country. Each page also comes with tags – so if you're looking for similar work, you'll find shortcuts like, for example, drama, based on a true story, and many more. Lastly, all career pages are connected with the chronology pages, so you can find all productions from a specific year listed by release. You can start by browsing the career main page with 12 subcategories and then lose yourself for a couple of days with over 330 productions to (re)discover :-). Enjoy browsing and check back tomorrow for a new Scan Sunday.
Hello and welcome to the latest version of Simply Streep. I have used most of this year's unexpected free time to work behind the scenes and make the site easier to access with all the material we have been able to collect and archive over the years. I must say it doesn't feel like I'm fullly done with all the new changes – but then, the site has never felt finished, it probably never will be. But I wanted to present you all the new look in time for next week's releases of "Let Them All Talk" and "The Prom". I have come close to present "the archives" in the best possible way to include all essential information on Meryl Streep's work with easy-to-browse links to related articles and appearances. And there have been lots of additions to the career pages, with much new material to be added within the next updates. There are also many new articles waiting to be added, so look forward to more updates this weekend. Until then, enjoy your stay on the new and improved Simply Streep.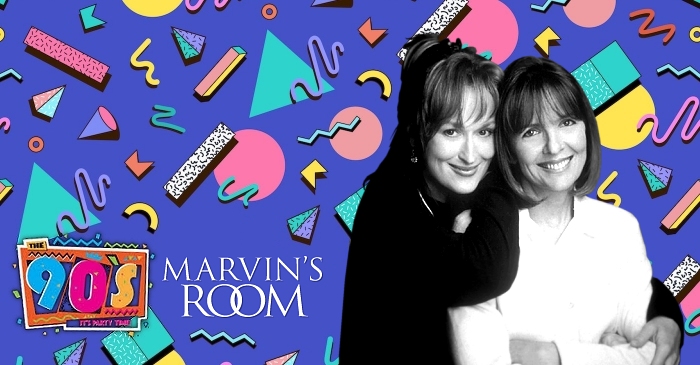 In maybe her best performance of the 1990s, Meryl Streep leads a powerhouse ensemble cast that brings together the best of three acting generations – Diane Keaton, Robert De Niro, Hume Cronyn, Gwen Verdon and Leonardo DiCaprio. "Marvin's Room" is a bittersweet drama about family, the pain it causes and the effort it takes to keep it together. Although it deals with illness, death and lost chances in life, "Marvin's Room"'s dry humor and fantastic acting makes it one of the most pleasent and truthful dramedies of its time.
Scott McPherson, the young playwright who wrote "Marvin's Room", didn't life to see the big screen adaptation of his work. Described as "one of the brightest hopes of the Chicago theatre scene", "Marvin's Room" was McPherson's last completed work and only his second full-length play before he died of AIDS-related causes in 1990, at only 33 years of age. His play premiered at the Goodman Studio Theatre in 1990 and went on to national acclaim, first at the Hartford Stage Company in Connecticut and eventually at Playwrights Horizons and the Minetta Lane Theatre off-Broadway. It won the 1992 Outer Critics Circle Award for best play, the 1992 Drama Desk Award for best play and locally the Joseph Jefferson Award for original work, among other honors. "Marvin`s Room," about a woman battling leukemia and the unusual extended family with whom she struggles for support and dignity, is a slightly dark but comic and ultimately hopeful take on death and infirmity. The title character is an elderly, bedridden stroke victim glimpsed thoughout only through a wall of glass blocks. McPherson had completed the screenplay for "Marvin's Room" when he died. His identity and struggle is not just background info, as it's almost impossible to watch the film, which concerns various approaches to love and death, without realizing its particular AIDS message, as well as more universal values, such as caring for others and the strength of family bonds.
Continue Reading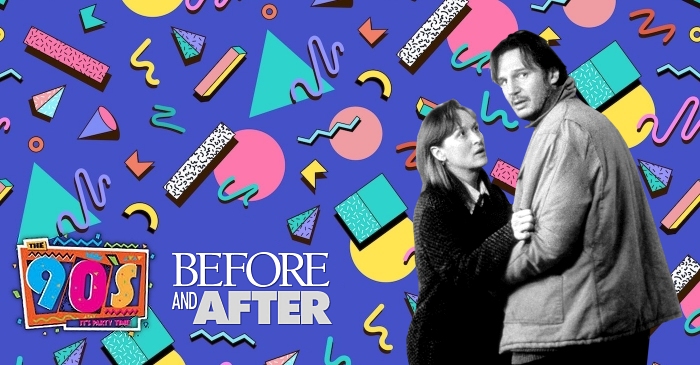 After receiving critical acclaim and an Oscar nomination for "The Bridges of Madison County", Meryl Streep revived the rather unfamiliar thriller territory, playing a mother whose son is accused of murder. But if there's one word to not describe Barbet Schroeder's "Before and After", it would be "thrilling".
Director Barbet Schroeder had a lucky streak in the early 1990s with decent, intelligent thrillers. The "Barfly" director did the masterful "Reversal of Fortune" in 1990, winning Jeremy Irons an Oscar for his portrayal of Claus von Bülow (and should have won a second award for Glenn Close's riveting performance). He continued with "Kiss of Death", the erotic thriller "Single White Female" starring Bridget Fonda and Jennifer Jason Leigh, and made great thrillers after this one – "Desperate Measures" and "Murder by Numbers" among them. Schroeder was a director to work with, one that actors adored – Irons recommended him to Streep when the script for "Before and After" arrived. The story sounded promising. Well-respected parents of a small town – the father an sculptor, the mother a doctor – must come to terms with the fact that their son's girlfriend was murdered, and their son is on the run. When he is caught and awaiting trial, they share the family's dinner table with him, uncertain if he's still their little boy or a cold-blooded killer. Streep shares the screen with Liam Neeson, fresh off his star-making turn in "Schindler's List", and Edward Furlong, in a first serious role since his own star-making turn in "Terminator 2". Backed up by a supporting cast of Alfred Molina and John Heard and a screenplay adaptation by "The Silence of the Lambs"' Ted Tally – what could go wrong with "Before and After"? Well, pretty much everything.
Continue Reading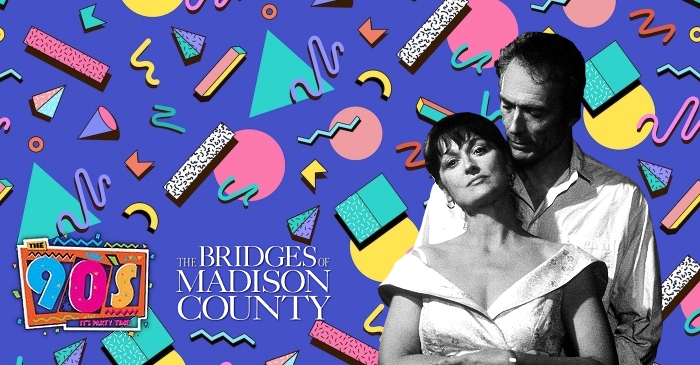 In the mid-90s, Meryl Streep's career was revitalized by a most unlikely leading man and director. Clint Eastwood – Western hero, movie star, director and America's man's man – turned Robert James Weller's kitschy best-selling novel into a tender box office hit for grown ups. Fresh off his multiple Academy Awards wins for "Unforgiven", Eastwood took over directing duties from Steven Spielberg after being cast in the male lead – and stood by his casting choice that was unheard of in Hollywood – casting a 45-year-old woman to play a 45-year-old woman.
Robert James Waller's novel (called "arguably the world's longest greeting card" by the New York Times) about the four-day love affair between a travelling professional photographer who had come to Madison County, Iowa, and a Italian-American housewife whose family was way, was optioned by Steven Spielberg's Amblin Entertainment before its publication in 1991 – by the time of the film's release, the novel sold 9.5 million copies worldwide. Spielberg wanted to produce the film with Amblin and first asked Sydney Pollack to direct, who got Kurt Luedtke to draft the first version of the adaptation but then bowed out. After a second draft by Ronald Bass fell through, a third draft of the script by Richard LaGravenese was liked by Eastwood, who quite early had been cast for the male lead, and by Spielberg, who liked LaGravenese's version enough to consider making Bridges his next film after "Schindler's List", which was in post-production at the time. Both men liked that LaGravenese's script presented the story from Francesca's point of view. Spielberg then had LaGravenese introduce the framing device of having Francesca's adult children discover and read her diaries. Somewhere along the road, Spielberg decided not to direct it after all, and after his next best choice Bruce Beresford dropped out as well, Eastwood decided he could direct it as well. His last directorial effort, "Unforgiven", won him two Academy Awards for Best Director and Best Picture, as well as a Best Actor nomination.
Continue Reading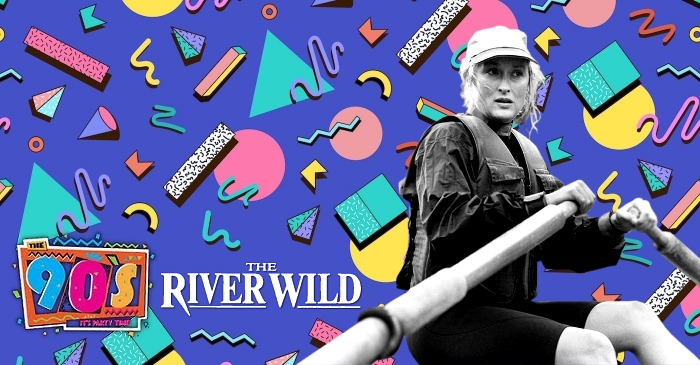 I don't feel like an icon, unless you mean stiff and wooden sometimes. I'm so tired generally – that's my main defining feature. (Meryl Streep, Entertainment Weekly, 1994)
After five years in Tinsletown, Meryl Streep quit Hollywood and relocated the family to Connectitut. While a good number of her films during that time earned solid reviews and box office – her stay in the City of Angels also gave Streep a reputation. Not only was she in an undesireable age group in Hollywood, her outspoken criticism on the payment inequality and lack of interesting roles for women was greeted with the industry's kiss of death – Meryl Streep was difficult to work with. Her farewell to Hollywood was her first and only hooray into the action genre, a surprising move rivaling the lone-rider action movies of her male counterparts. "The River Wild" offered a unique role for a woman in a, in retrospect, very family friendly action adventure, which might have been a rapid too slow for Stallone, but just right for a lion mother.
Continue Reading