The promotion for "The Prom" is slowly starting – and while we're still waiting for a full trailer, posters etc., Variety makes the start with an interview with director Ryan Murphy, who talks about shooting during the pandemic and discovering Jo Ellen Pellman and Ariana DeBose. Murphy saw a January 2019 Broadway production of "The Prom" at the Longacre Theatre, and he knew right away that he wanted to make a film adaptation under his production deal at Netflix. Very quickly, it received the green light. By early February he had all the actors, producers and a plan to begin filming in December. By shooting time, the Broadway production had already closed, not recouping its investment of $13.5 million, but still, Murphy wanted to bring its positive message to the Netflix global community. In an interview with Variety, Murphy spoke about the journey of getting the musical adaptation to the screen. In his third directorial feature, Murphy, a six-time Emmy winner, has found the perfect vehicle that marries all his creative expressions with this musically moving material. After he saw the Broadway show, Murphy reached out to his first choices, which included James Corden, Nicole Kidman, Meryl Streep and Kerry Washington, and pitched the idea to them. Within one week, the four actors were on board. The full article can be read Variety – don't miss Murphy's quote on a new song written especially for Meryl Streep.
We wrote a song that was a sad song, but it didn't fit with the tone of the movie. And then we got to the end of the movie, with the end-credit design sequence. When I saw that, I think we needed an end-credit song that's about the women. It's about the female power in the film. I told the songwriting team and the composer, "Let's do something upbeat, that we can send people out in a celebratory fashion, and let's have all the women do the vocal tracks. Furthermore, let's have Meryl Streep rap." They were like "What?" I said, "I want her to rap. I need her to rap." They laughed, and they went off and wrote the song "Wear Your Crown," and it's optimistic and makes you feel good. It has a message of fighting intolerance and being proud of who you are. We wanted to leave young people with that feeling. I think Meryl fans are going to go crazy for it. I have a video of Meryl rapping. She was so good that we used her first take, which just goes to show you there's nothing that Meryl Streep cannot do. (Ryan Murphy, Variety, November 16, 2020)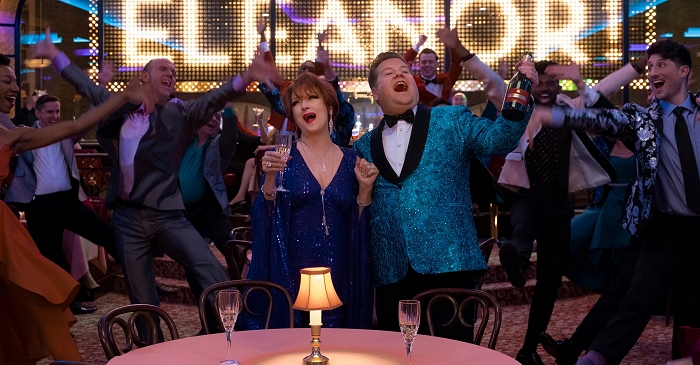 The New York Times has an in-depth article on Hollywood's recent revival of musicals, with a focus on the upcoming "The Prom". The complete artcile can be read over at their website: On a sun-nuzzled February morning earlier this year, "The Prom," Ryan Murphy's film adaptation of the Tony-nominated musical, prepared for a location shoot in a high school gym on the eastern edge of Hollywood. Basketball hoops kissed the ceiling. Rubber matting and webs of cables carpeted the floor. Beside the snack tables, James Corden, Kerry Washington and Meryl Streep, in a wig the red of a cocktail cherry, practiced a dance number, sashaying through the same steps at not quite the same time. The filmmaking, Corden said, once he had spun his final spin, had been amazing, joyous, nearly as much fun as "Cats," particularly these song and dance rehearsals. "You feel like you might be in the greatest touring production of all time," he said. The stage version of "The Prom," a story of a young woman who wants to take her girlfriend to a school dance and the Broadway stars who debatably come to her aid, has scheduled an actual tour for January, Covid-19 permitting. That's a little more than a month after Netflix releases Murphy's film, which tells the same tale with a starrier cast, fancier sets, delirious wigs and an orchestra that includes four French horns, four more than the Broadway pit could afford.
The first trailer for Ryan Murphy's "The Prom," the star-stuffed movie musical adaptation of the beloved Broadway musical, has landed from Netflix. Meryl Streep, Nicole Kidman, Kerry Washington, James Corden, Andrew Rannells, Keegan-Michael Key, and many more headline this flashy song-and-dance movie, which arrives on the streaming platform December 11. Watch the new look at the film below. The Broadway musical comedy follows a group of washed up Broadway actors who help a lesbian go to prom as part of a PR stunt. Dee Dee Allen (Meryl Streep), a two-time Tony Award winner, pairs up with Barry Glickman (James Corden) in a musical about First Lady Eleanor Roosevelt that's a total flop. They each receive career-killing reviews, and decide to revive their reputations by throwing their weight behind a charity cause. They're joined by veteran Broadway chorus girl Angie Dickinson (Nicole Kidman), along with out-of-luck actor Trent Oliver (Andrew Rannells), in boosting Emma Nolan (Jo Ellen Pellman), a high-school senior barred from bringing her girlfriend to the prom. Production was halted on the film on March 12, but resumed on July 23. The Broadway edition, with music by Matthew Sklar, lyrics by Chad Beguelin, and a book by Bob Martin and Beguelin, bowed in New York on October 2018 after launching in Atlanta in 2016. The musical was nominated for six Tony Awards in 2019, including Best Musical, though it didn't win any of them. "The Prom" premieres on Netflix December 11. Screencaptures from the teaser trailer have been added as well.
Netflix has released a first batch of production stills for the upcoming "The Prom", and Entertainment Weekly has the accompanying story: The streaming service unveiled Wednesday several stills from Murphy's adaptation of the popular stage production The Prom, starring Meryl Streep, Nicole Kidman, Kerry Washington, and more in a tale of a queer teenager, Emma (Jo Ellen Pellman), whose struggle with homophobia captures the attention of a fading Broadway quartet seeking a charity case to boost their careers back into the mainstream spotlight. Streep leads the film as Dee Dee, a Tony Award-winning actress who, along with her partner (James Corden) stars in a musical about Eleanor Roosevelt, endures a professional setback after their latest project flops. Teaming with veteran showgirl Angie (Kidman) and another actor, Trent (Andrew Rannells), the group travels to small-town Indiana to help Emma and her girlfriend (Ariana DeBose) push back against their high school's controversial decision to bar them from attending their senior prom as a couple. Washington plays DeBose's mother in the film, with Keegan-Michael Key, Mary Kay Place, and Tracey Ullman playing other supporting parts. The Prom — written by Chad Beguelin and Bob Martin, who devised the original 2016 stage production — dances to Netflix on Dec. 11. See the first-look photos above and below.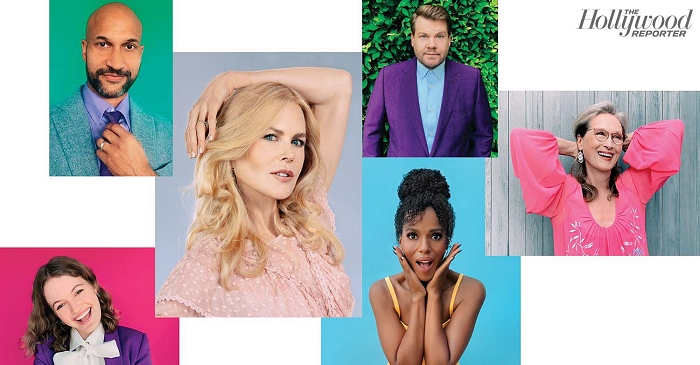 The Hollywood Reporter has put "The Prom" stars Meryl Streep, Kerry Washington, James Corden, Jo Ellen Pellman, Keegan-Michael Key and Nicole Kidman on their cover with a lenghty interview inside their October 07 issue: "Should I just drop Meryl?" Keegan-Michael Key is cradling Meryl Streep in a dip as the 21-time Oscar nominee, wearing a pink-sequin pantsuit and heels, gazes admiringly up at him. The two are dancing underneath the basketball hoops in the Helen Bernstein High School gym in Los Angeles, which is decorated with beaded curtains, white balloons, twinkly lights and vases of flowers. It's March 6, 2020, and the let's-put-on-a-show! energy is palpable on the set of the Ryan Murphy movie The Prom, where Murphy is shooting his dance number finale, an anthem of acceptance featuring some 300 young LGBTQ extras in formal wear. The real high school is still in session around the production, and occasionally the school PA crackles with an announcement, briefly puncturing the glamour of the moment. Inside the gym, Streep, Key, Nicole Kidman, James Corden, Kerry Washington, Andrew Rannells, Tracey Ullman and newcomers Jo Ellen Pellman and Ariana DeBose are dressed in coordinated shades of turquoise, pink and purple and gathered under bright lights to dance and lip-sync to the track they have already recorded of the film's capper, "It's Time to Dance." The complete article can be read over at The Hollywood Reporter.
Director Ryan Murphy shared a photo of his cast on Monday in which Streep debuted red hair while wearing hoop earrings, red lipstick and a red shawl. "Meet the incredible icon-packed cast of Netflix's THE PROM. A group of true troopers who buckled up and finished shooting during COVID so we could give everybody an inspirational aspirational story that we all need right now," Murphy wrote in the caption. The American Horror Story creator teased the release date, adding, "Christmas is right around the corner…" The Prom follows the story of Emma (Pellman) and Alyssa (DeBose), two high school students in love. When they're banned from attending prom together, a group of fading Broadway stars (Corden, Kidman, Streep, Rannells) learn of their trouble and seek to help. Streep is playing Dee Dee Allen, a Broadway performer who stars in a flop musical about Eleanor Roosevelt alongside Corden's character. The adaptation follows a successful run for the musical that earned seven Tony nominations, including best musical and best book of a musical. The Prom also made history in 2018 by featuring the first same-sex kiss televised on the Macy's Thanksgiving Day Parade. The film is set to stream on Netflix later this year.
According to The Hollywood Reporter, Ryan Murphy's film The Prom – starring Meryl Streep, Nicole Kidman and James Corden – is starting up production again on Thursday at Raleigh Studios in Hollywood. The movie, which had two days left of shooting when the pandemic forced an industry-wide shutdown, is slated to film for the next four days. Not all of the stars are expected to be on set, however, as some had already wrapped their parts. Murphy's star-studded Broadway adaptation marks the second major project from the streamer to return to production in the U.S. this month, after Adam Sandler's comedy movie Hubie Halloween went through with a day of pick-ups earlier in July. The production was said to go off without a hitch, though insiders note that the streamer was limited in what it could draw from the experience given the short duration of the shoot. Since The Prom plans to film for multiple consecutive days, sources say it'll likely serve as a better test case for the company, which sources note has developed its own set of health and safety protocols. Says one insider, "Netflix is serious about the plan they put together and is using this as a test run for their other productions." Given the fluid nature of the situation, some studios, including Warner Bros. and Universal's TV arms, have pushed back their target shoots dates from August to September. Holding them back, say insiders, are continued negotiations with the guilds over aspects of the COVID protocols. Among the issues still being hashed out: the role of COVID-19 managers, the frequency and type of testing, 10-hour workday caps and sick day compensation (meaning whether or not crew members who fall ill to the virus still get paid).
In a recent interview with Collider for his new Netflix limited series Hollywood, Murphy shared the latest status on this film, called The Prom. Thankfully, Murphy seems to have finished nearly all of his principal photography before the pandemic hit, especially with lead performers like Nicole Kidman, Meryl Streep, James Corden, Andrew Rannells, and others. Because of this, Murphy believes they can still hit their planned release window: "All of the leads had wrapped. The last scene that I shot was Nicole Kidman's last scene. Meryl had finished and James Corden had finished, and Andrew Rannells and Nicole had all finished. The only thing that I had is I had two days of second unit pickup… I hope this summer I can go back and quickly pick them up… The movie was supposed to come out right around Christmas, was the plan. November, Thanksgiving, Christmas in that window. Hopefully, I'll be able to still do that." A Murphy-directed movie musical based on the hit Broadway musical about out-of-touch theater stars who flock to a small town to force their high school to allow a gay couple to attend prom, with this bonkers cast, sounds like the perfect holiday season pick-me-up, particularly after this dreadfully quarantined summer we're all having. Murphy was immediately attracted to the progressive nature of the material, saying, "I love the message of it. I really related to the protagonist. Emma is from Indiana and is not allowed to go to her prom because she's gay. And I'm from Indiana and I wasn't allowed to take a man or a male compadre to my prom. I related to it, so I believed in the message."
And for fans of The Prom wondering what tunes from the show made it? Murphy gave us this big update: We used all the songs and then we've written one new song for it, one new original piece for The Prom. That was really fun to work on and it's a great ballad, and it's really a moving song about acceptance and prejudice. I think a lot of people will love it. Yeah, we kept every song and we added one, which is a lot, but it's fun, worth it. Like many other movie musicals, the team has added a new song to the roster of existing material — often a play at an Oscar for Best Original Song. It's also surprising to hear they're keeping every single song from the original show in — usually a few tunes get cut when stage musicals are turned into films (i.e. "The Ballad of Sweeney Todd" somehow not making it into Sweeney Todd). This sounds like it'll be quite the tune-filled affair — and here's hoping the new song blends in with the rest well enough. As for how Murphy got this star-studded cast to sing these well-known (and one original) song? Well, all he had to do was ask: "I've never done this in my career, but I called up three people I've always wanted to work with, which was Meryl Streep and James Corden and Nicole Kidman. And I said, 'I want to do this. I believe in it. I want to work with you. Do you want to do it?' And all three of them went to see [the play] within that week, I think, and they all called and instantly said, 'Yes, I will do it.' The fact that I could get Meryl Streep to love it and be into it and believe in it as much as I did, I just couldn't believe that I got Meryl Streep to say yes in a one week window." Many thanks to Glenn for the heads-up.
As the world reels in reaction to the ever-expanding coronavirus and nations like Italy and Iran grind to a halt, The Prom is being called off, for now, according to Deadline. The Ryan Murphy helmed feature adaptation of the Tony-nominated stage musical has shut down production, I've learned. The move for the Meryl Streep and Nicole Kidman-led Netflix film comes out of "an abundance of caution," a source close to the movie says. "No one has the coronavirus, this is just being prudent with everything that is going on around the world," another individual with knowledge of the situation stresses. Already in the process of loading out on the Paramount lot, The Prom was set to be wrapped in the next few days. However, an on-location shoot today at a local school proved the catalyst to halting a little early. Permits were pulled due to the school in question closing its doors altogether due to coronavirus worries that have seen a number of education institutions in and around L.A shutter. In terms of The Prom, the plan right now is for work to resume in mid-April, though that could depend on the way COVID-19 spreads in the coming weeks around the world and in L.A. This will also likely impact production on Impeachment, as Murphy was set to shift from the feature to the last installment of FX's American Crime Story franchise.
According to Deadline, Ryan Murphy will direct and produce the feature adaptation of the Tony-nominated stage musical "The Prom" and has secured a cast that puts Netflix in new starpower territory. Meryl Streep will star alongside James Corden, Nicole Kidman and Ariana Grande, with Awkwafina, Keegan-Michael Key and Andrew Rannells playing key roles. Sources said Murphy will get underway directing the film adaptation of the Broadway hit in December, for a fall 2020 awards season release in theaters before it airs on the streamer. Murphy adds this to three series he is delivering — The Politicians, Ratched and Hollywood — with two yet to be announced documentaries and another movie stage adaptation coming. Latter is The Boys in the Band, directed by Joe Mantello with the recent Broadway 50th anniversary revival cast. That one begins shooting in July, fresh off its recent Tony win. In Prom, Streep will play Dee Dee Allen, a two-time Tony winner who teams with Corden's Barry Glickman in a flop musical about Eleanor Roosevelt. After career-ending reviews, they decide – along with Broadway babies Kidman as Angie Dickinson and Rannells (Book of Mormon) as Trent Oliver – to champion a cause to rehabilitate their careers. They find one in Emma, a high school senior in Indiana who isn't allowed to take her girlfriend to the prom. A nationwide search led by casting director Alexa Fogel is on to fill the role of Emma.Grande will star as Alyssa, a popular daughter of the head of the PTA. Awkwafina will play the group's publicist Ms. Sheldon, and Key will play Streep's love interest and Emma's ally, Principal Hawkins. Murphy will produce with Alexis Woodall, Bill Damaschke, and Dori Berinstein. Script is by Bob Martin and Chad Beguelin, music and lyrics are by Beguelin and Matthew Sklar, based on the original concept by Jack Viertel.
Continue Reading