PBS' American Masters series is currently streaming "Joe Papp in Five Acts", a documentary on New York's Public Theater founder Joe Papp, who gave Meryl Streep her big break in the New York theatre right after her graduation from Yale. The documentary is a bit of an oddity, because it premiered 10 years ago at the Tribeca Film Festival and then at various festivals around the US, but it has never been broadcast on tv, so this is a premiere with a 10-year-gap. Meryl Streep's interview has been filmed even longer ago, as it looks. While I'm bad at guessing, I would say most probably around the late 90s/early 00s. Two preview clips can be found below. Thanks to everybody for the heads-up.
"Joe Papp in Five Acts" is the story of New York's indomitable, street-wise champion of the arts who introduced interracial casting to the American stage and brought us free Shakespeare in the Park, Hair, and A Chorus Line. Convinced that women and minorities, denied power elsewhere in society, could develop it on the stage, Papp became a tireless fighter for the arts who raised enduring debate about our founding ideals and the role of the arts in a pluralistic society. Using his life and work as its prism, the film explores the issues he chose to champion: freedom of expression, democracy in the arts, and the definition of American culture.
Continue Reading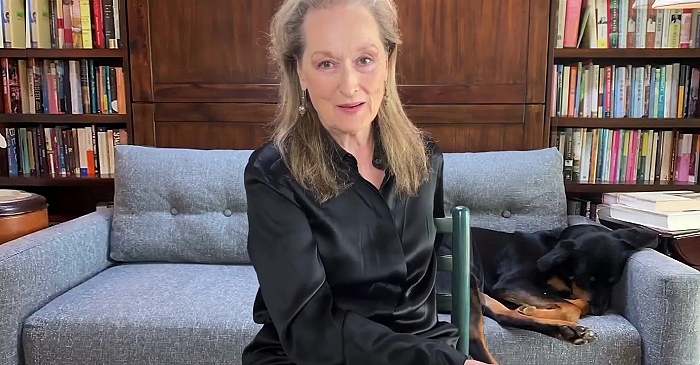 On Sunday, Christine Baranski was honored by New York City's MCC Theater during their annual Miscast Gala, "one of the most exciting and unique theater events in town". Funds raised from Miscast help MCC Theater produce some of the most talked-about new work Off-Broadway and support our Youth Company and in-school partnerships that serve New York City public high school students, as well as our literary development work with emerging playwrights. Baranski's co-stars Meryl Streep and Tracey Ullman saluted her in taped segments, vying for the title of "Christine's best friend". The clip can be watched below and in the video archive.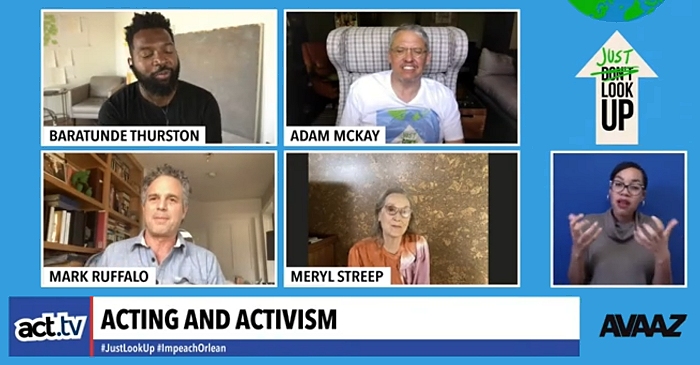 According to NBC Los Angeles, Adam McKay and Meryl Streep will join an indigenous and youth-led coalition at Pershing Square at noon Friday in downtown Los Angeles to support the Youth Climate Strike Los Angeles. The Youth Climate Los Angeles movement has targeted the California Teachers Union to divest their $20 billion pension fund from fossil fuels and will rally on March 25, the same day the CTA is supposed to be voting on their pension fund. It will also show support for the Wet'suwet'en tribe, whose territory and water supply is being threatened by the CGL pipeline. McKay said he will announce at today's rally that his company will divest their money from City National Bank/Royal Bank of Canada if the bank does not meet the demands of the Wet'suwet'en tribe. Those in attendance are asked to wear masks. There is a live stream event on Act.tv set for Saturday starting at noon that is expected to feature Mark Ruffalo, Bill McKibben, Danny Glover and hosted by Baratunde Thurston. Many thanks to Glenn for the heads-up. Edit: The complete livestream is now available to rewatch. Meryl Streep joins the discussion at the 1:32 hours mark.
Meryl Streep was a surprise guest at yesterday's Screen Actors Guild Awards. Together with Tyler Perry and Cate Blanchett, she presented the ensemble nomination for "Don't Look Up" (the price later went to the cast of "CODA"). A video of their segment and a great batch of pictures from the ceremony have been added to the photo gallery.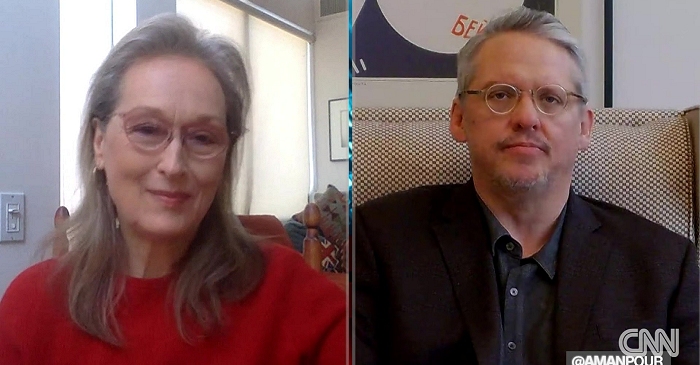 Even a month after its Netflix release, "Don't Look Up" is still sparking a conversation about its impact on how we view the change of climate and our world. Earlier today, Meryl Streep and Adam McKay were guests on CNN's "Amapour" to talk about these topics and the film's final scene. You can watch the complete interview over at CNN's website. Screencaptures have been added to the photo gallery.
While the film continues to divide audiences and critics, "Don't Look Up" continues to climb the Netflix charts, this week officially becoming the streamer's second most successful movie of all time. The film added 58.2 million hours viewed globally across the week January 2-9. That takes it to 321,520,000 total viewing hours since it debuted online December 24, meaning it has overtaken Bird Box (282,020,000 hours) as the second most popular pic on Netflix. The metrics are calculated by hours watched in a title's first 28 days on the platform, when the vast majority of viewing hours are recorded. And Netflix continues to keep our interest in the film with much promotional material, such as additional featurettes and interviews being added in the last couple of days. Below you will find an overview of what has been added to the site, including a new lengthy video conversation with the cast which was conducted by Netflix in November. I've also added more articles and reviews with many thanks to my friend Alvaro. Enjoy the new additions.
Related Media
:
Photo Gallery – Articles & Scans – Empire Magazine (United Kingdom, February 2022)
Photo Gallery – Articles & Scans – Life & Style (USA, January 03, 2022)
Photo Gallery – Articles & Scans – People Magazine (USA, January 03, 2022)
Photo Gallery – Articles & Scans – US Weekly (USA, January 03, 2022)
Photo Gallery – Articles & Scans – The Pittsburgh Post Gazette (USA, December 28, 2021)
Photo Gallery – Articles & Scans – The Toronto Sun (Canada, December 27, 2021)
Photo Gallery – Articles & Scans – Milenio (Mexico, December 17, 2021)
Photo Gallery – Articles & Scans – The Hollywood Reporter (USA, December 16, 2021)
Photo Gallery – Articles & Scans – Kronen Zeitung (Austria, December 16, 2021)
Photo Gallery – Articles & Scans – Caras (Argentina, December 15, 2021)
Photo Gallery – Articles & Scans – El Dia (Spain, December 10, 2021)
Photo Gallery – Articles & Scans – El Pais (Spain, December 10, 2021)
Photo Gallery – Articles & Scans – ABC (Spain, December 10, 2021)
Photo Gallery – Articles & Scans – The Washington Post (USA, December 10, 2021)
Photo Gallery – Articles & Scans – Fotogramas (Spain, December 2021)
Photo Gallery – Articles & Scans – Total Film (United Kingdom, December 2021)
Happy New Year everybody. What better way to start 2022 with a rare television appearance I have been looking forever. In 1997, Meryl Streep attended The Rosie O'Donnell Show to promote the theatrical release of "Marvin's Room". Since last year, the show's Youtube channel is uploading appearances from the beginning, and finally Meryl's appearance has been featured in great video quality. There's a second appearance to look forward to, since Meryl attended the show again in 1999 to promote "Music of the Heart", but if the channel uploads daily in chronological order, we're going to have to wait a couple more years for this :-) Alongside this great interview, a couple other older interviews have been added to the archives within the last week without further mention, so in case you haven't seen them by now, explore some more great finds.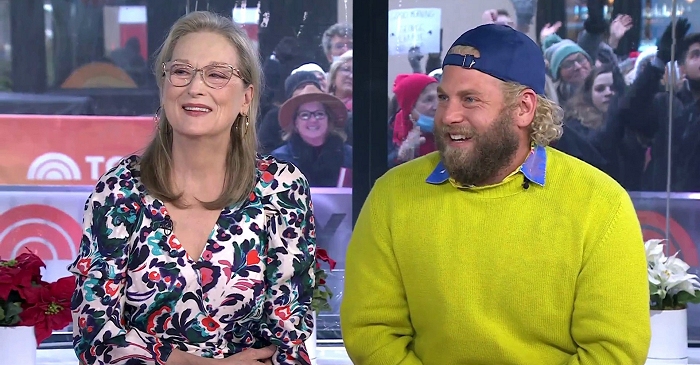 Lots and lots of updates today as the promotional tour for "Don't Look Up" has been in full swing. On Monday, there were two additional press conferences / Q&As in New York, hosted by the Critics Choice and the Paris Theatre. Apparently, there was a third Q&A on Sunday, but I haven't figured out where this took place (if you know more, drop me a line :-) On Tuesday, Meryl and Jonah Hill were guests on The Today Show. Netflix has released a big batch of character posters for the film. Additionally, more pictures from the New York premiere as well as from Broadway's re-opening of "Slave Play" have been added to the photo gallery.
Moving on to the videos, new interviews from the premiere, with Entertainment Tonight have been added. Leonardo DiCaprio and Meryl participated in a virtual press junket for the film, with a first clip being posted and hopefully many more to follow. Then, videos from the mentioned press conferences and from the Today Show appearance have been added as well. All updates are listed below. Enjoy all the new clips and pictures.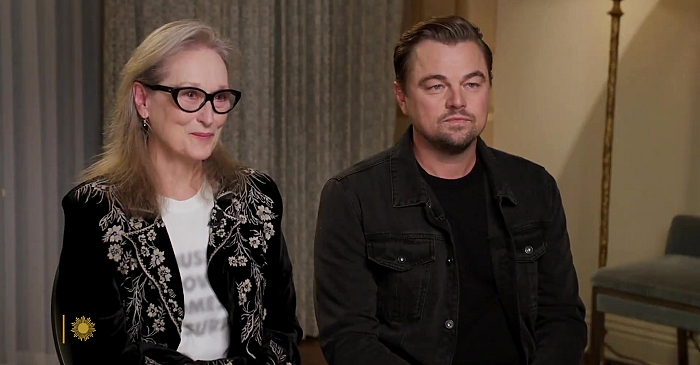 Fantastic news to look forward to this Sunday. Meryl Streep, Leonardo DiCaprio and director Adam McKay talk about the Netflix production "Don't Look Up", their careers and more in an interview with correspondent Tracy Smith for "CBS Sunday Morning," to be broadcast December 5 on CBS and streamed on Paramount+. The film has an all-star cast and revolves around a scientist (DiCaprio) trying to warn the world that a comet is heading toward Earth and will destroy the planet. Streep plays the president who won't take him seriously. The comet is a metaphor for climate change with the world split between believers and skeptics. But can a movie make a difference? "Hopefully," DiCaprio told Smith. "But at this point, I'm a Debbie Downer with the system. So, you're asking the wrong guy. To me, it's about a little less, you know, conversation, and a lot more action." The film was shot at the height of the pandemic's impact on the entire world, which made it more meaningful to DiCaprio: "And that's why it connected with this screenplay that was about the climate crisis that we're all going to go through – we're all going to feel the ramifications of this," he said. "And what we're seeing right now, with the wildfires and the massive hurricanes and all these catastrophes, doesn't get better than this, okay? … It doesn't get better than this. It slowly becomes worse." Edit: You can now watch the full segment below and in the video archive, while screencaptures have been uploaded to the photo gallery.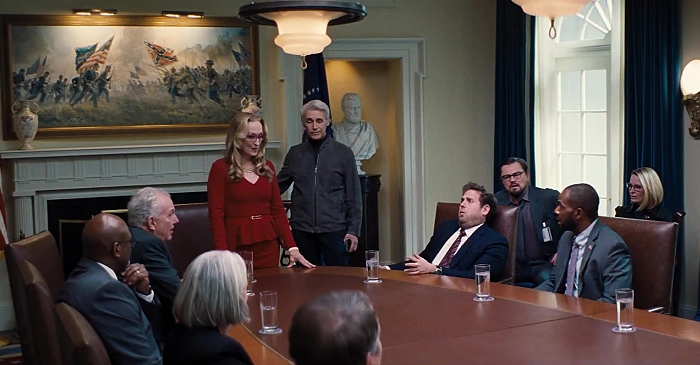 Netflix has released the full trailer for the upcoming "Don't Look Up", and it looks like we're in for a very entertaining ride this Christmas Day. Two upcoming screenings for the film have been announced to take place in Los Angeles on November 17 and 18, which will be followed by Q&As attended by Meryl Streep, Leonardo DiCaprio and Jennifer Lawrence. Alongside the trailer, we also have the full synopsis and official poster.
Kate Dibiasky (Jennifer Lawrence), an astronomy grad student, and her professor Dr. Randall Mindy (Leonardo DiCaprio) make an astounding discovery of a comet orbiting within the solar system. The problem – it's on a direct collision course with Earth. The other problem? No one really seems to care. Turns out warning mankind about a planet-killer the size of Mount Everest is an inconvenient fact to navigate. With the help of Dr. Oglethorpe (Rob Morgan), Kate and Randall embark on a media tour that takes them from the office of an indifferent President Orlean (Meryl Streep) and her sycophantic son and Chief of Staff, Jason (Jonah Hill), to the airwaves of The Daily Rip, an upbeat morning show hosted by Brie (Cate Blanchett) and Jack (Tyler Perry). With only six months until the comet makes impact, managing the 24-hour news cycle and gaining the attention of the social media obsessed public before it's too late proves shockingly comical — what will it take to get the world to just look up?!