Falling in Love

November 21, 1984

|

Paramount Pictures

|

106 minutes
Directed by:
Ulu Grosbard |
Written by:
Michael Cristofer |
Cinematography:
Peter Suschitzky |
Editing:
Michael Kahn |
Costume Design:
Richard Bruno |
Production Design:
Santo Loquasto |
Music:
Dave Grusin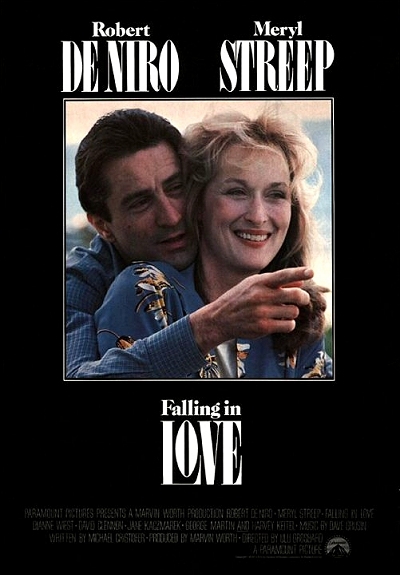 During a shopping tour for Christmas in New York City, Frank (Robert De Niro) and Molly (Meryl Streep) run into each other in a book store and exchange a few words after mixing their shopping bags. Months later, they recognize each other in the train home. They get to know each other better and - although both are married and Frank has two little kids - they meet more and more often. As their friendship becomes the most precious thing in their lives, they have to make a decision on whether leaving the people they love in order to start a new life is worth their blossoming love.
Cast: Robert De Niro (Frank Raftis), Meryl Streep (Molly Gilmore), Harvey Keitel (Ed Lasky), Jane Kaczmarek (Ann Raftis), George Martin (John Trainer), David Clennon (Brian Gilmore), Dianne Wiest (Isabelle)
Production Notes
When this first-time screenplay by Michael Cristofer came along in the early 1980s, actor Robert De Niro had exhausted himself making twenty movies in fifteen years. Most of De Niro's roles had been extremely demanding both physically and emotionally. By consistently tackling edgy and wildly different parts, he had become known as one of the world's greatest actors. Falling in Love gave De Niro a chance to take a refreshing detour from his usual mean streets onscreen. This simple story about two married suburbanites, Frank and Molly, who fall in love on the train, allowed De Niro to play a regular guy and explore his more romantic side for a change. De Niro had been looking for another opportunity to work with actress Meryl Streep, with whom he had co-starred in The Deer Hunter (1978). "I was always thinking of something I could do with Meryl," said De Niro at the time, "a play, a film, anything. We had a reading and began to see possibilities in it." The desire to work together was mutual, and the role of Molly seemed like the right choice at the right time for Streep. "We wanted something real," she said, "something awkward and crumpled." Even though the part of Frank Raftis was without the dark intensity of most of his other roles, De Niro found playing Frank every bit as challenging. "It only appeared to be easier," he said of his character. "You always have to worry. You always have to concentrate. It's just more deceptive when you are working on the surface." For simple scenes that had De Niro holding a telephone conversation with his wife, he showed his attention to detail and authenticity by asking writer Cristofer to pen dialogue for his wife's end of the conversation, even though you don't see or hear her in the scenes. He also reportedly had business cards printed up with his character's name and business on them, which never appear in the movie.
The film's director, Ulu Grosbard, had teamed with De Niro once before on the 1981 murder mystery True Confessions, and the two were enthusiastic about working together again. Grosbard, a former diamond cutter from Belgium, began his film directing career in 1968 with The Subject Was Roses and most recently completed the 1999 Michelle Pfeiffer movie The Deep End of the Ocean. Though the bulk of his success came as a stage director on Broadway, De Niro felt that Grosbard was the right choice for Falling in Love, and both recalled their second project together as a positive experience. A high caliber supporting cast lends complexity to potentially ordinary roles in Falling in Love. Fellow Mean Streets and Taxi Driver co-star Harvey Keitel plays De Niro's best friend, Ed. Keitel, like De Niro, made a career of playing gritty character parts in films like Reservoir Dogs (1992), and Bad Lieutenant (1992). Two-time Oscar winner Dianne Wiest, best known for her steady work in Woody Allen movies like Hannah and Her Sisters (1986) and Bullets Over Broadway (1994), plays Streep's best friend Isabelle. Fans of the television show Malcolm in the Middle will enjoy seeing the wonderful Jane Kaczmarek in the role of De Niro's wife, Ann.
Simply Streep's Review
The film's story is as simple as its title – two people fall in love. Of course it's more complicated than that since both are married and have no complaints about their lives, still they feel attracted to eatch other and must fave a decision to either bury their feelings or leave their loved ones to start a new life together. Back when "Falling in Love" released, many critics dismissed the film as being too simple for two powerhouse actors like De Niro and Streep. Surely, back in the early 1980s, both were at the peak of their careers, their most recent performances back then – Raging Bull and Sophie's Choice – still rank among today's lists of the greatest film performances of all time. Yet, in "Falling in Love" they chose the hardest identifiable roles for them to pull off at that time – ordinary people. Their performances feature none of what journalists have always critized – no strange accents, no wigs, none of the ingredients that made them the renowned talents they are. And it works perfectly. Their characters are fully human, have lives and friends (wonderful, although slightly underdeveloped characters, played by Harvey Keitel and Dianne Wiest), all without the candy-coded turns that this genre features today. It's a love story for adults and although this is far from being my favorite genre, this small film is charming and worth its time for its actors.
Awards & Nominations for Meryl Streep
★ David di Donatello Award – Best Foreign Actress
---