Angels in America

December 07, 2003

|

HBO

|

352 minutes
Directed by:
Mike Nichols |
Written by:
Tony Kushner |
Literature:
Tony Kushner |
Cinematography:
Stephen Goldblatt |
Editing:
John Bloom, Antonia Van Drimmelen |
Costume Design:
Ann Roth |
Set Design:
Stuart Wurtzel |
Music:
Thomas Newman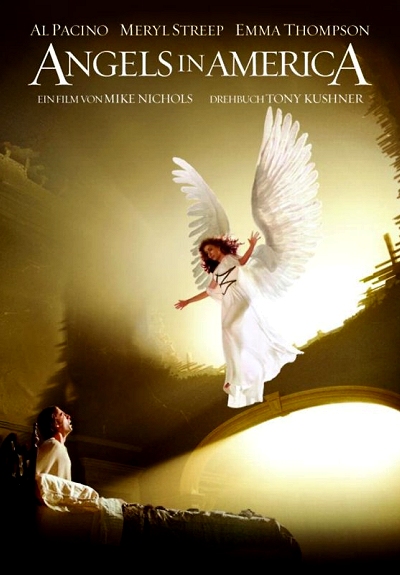 New York, 1985: Death swings the scythe of AIDS. When Prior Walter (Justin Kirk) tells his lover Lou (Ben Shenkman) that he's ill, Lou bolts. Joe Pitt (Patrick Wilson), an attorney who is Mormon and Republican, is pushed by right-wing fixer Roy Cohn (Al Pacino) toward a job at the Justice Department in Washington. Both Pitt and Cohn are in the closet. Pitt's wife Harper (Mary-Louise Parker) is strung out on Valium, aching to escape a sexless marriage into hallucinations. An angel (Emma Thompson) invites Prior to be a prophet in death. Joe's mother Hannah (Meryl Streep) and a friend (Jeffrey Wright) help Prior choose.
Cast: Al Pacino (Roy Cohn), Meryl Streep (Hannah Pitt, Ethel Rosenberg, Rabbi Isador Chemelwitz, Angel of Australia), Emma Thompson (The Angel, Emily, Homeless Woman), Mary-Louise Parker (Harper Pitt), Jeffrey Wright (Belize, Mr. Lies), Justin Kirk (Prior Walter), Patrick Wilson (Joe Pitt), Ben Shenkman (Louis Ironson), James Cromwell (Roy's Doctor), Michael Gambon (Prior's Ancestor), Simon Callow (Prior's Ancestor)
Production Notes
For the miniseries version of his Tony Award winning play, playwright Tony Kushner adapted his original text for the screen, and Mike Nichols directed. Executive producer of the series, Cary Brokaw worked for over ten years to bring the 1991 stage production to television, having first read it in 1989, before its first production. In 1993, Al Pacino committed to playing the role of Roy Cohn. In the meantime, a number of directors, including Robert Altman, were part of the project. Altman worked on the project in 1993 and 1994, before budget constraints forced him to move out, as few studios could risk producing two successive 150 minute movies at the cost of $40 million. Subsequently, Kushner tried squeezing the play into a feature film, at which he eventually failed, realizing there was "literally too much plot," and settling for the TV miniseries format. While Kushner continued adapting the play until the late 1990s, HBO Films stepped in as producer, HBO broadcast the film in six segments that correspond to "Millennium Approaches" and "Perestroika," the two parts of the original play.
One of the parts that Meryl played was the rabbi. We shot a scene in a cemetery in which the rabbi sat on a bench in a row of rabbis waiting for a bus, looking like blackbirds on a fence. Two of the other rabbis were ("Angels" playwright) Tony Kushner and his friend Maurice Sendak; at the end of the day, when we said, "It's a wrap!" Maurice Sendak almost fainted when the "old Jewish man" beside him stood up, grew a foot taller and spoke in the voice of a lovely woman. He had spent all day with an old Jewish man, only to find at the end of the day that the old man was Meryl Streep. Such are the pleasures of working with Meryl. (Mike Nichols, The Hollywood Reporter, June 2004)
Kushner made certain changes to his play (especially Part II, "Perestroika") in order for it to work on screen, but the HBO version is generally a faithful representation of Kushner's original work. Kushner has been quoted as saying that he knew Nichols was the right person to direct the movie when, at their first meeting, Nichols immediately said that he wanted actors to play multiple roles, as had been done in onstage productions. Meryl Streep, for example, played a total of four roles – Mormon mother Hannah Pitt, the ghost of Ethel Rosenberg, a Continental Principality – and a Rabbi in the opening scenes of the first chapter. Hailed by critics, the New York Times wrote that "Mike Nichols's television version is a work of art in itself." According to a Boston Globe review, "Mike Nichols, and a magnificent cast led by Meryl Streep have pulled a spellbinding and revelatory TV movie out of the Tony- and Pulitzer Prize-winning work" and that he "managed to make "Angels in America" thrive onscreen…" Besides winning five Golden Globe Awards, "Angels in America" broke the record previously held by "Roots" for the most Emmys awarded to a program in a single year by winning 11 awards from 21 nominations (the record was broken four years later by John Adams). Al Pacino, Meryl Streep, Jeffrey Wright and Mary-Louise Parker won Golden Globes and Emmy Awards for their performances.
Simply Streep's Review
Mini-series are often described as television events – this seems to have become standard these days, no matter the quality. But for "Angels in America", it's only fitting. As it's almost impossible to describe the story of these six parts, it's as hard to find words about how challenging this series is. So my best advice is to just watch it. It covers many themes that I didn't know much about or didn't care about, and I found it thought-provoking, moving and shocking. By the end, no matter if you've enjoyed it or not, you're certain that you haven't seen anything like this before. It's Mike Nichols' masterpiece to bring Tony Kushner's Pulitzer Prize and Tony Award winning play to the small screen – although "small" doesn't do "Angels in America" justice. The acting is first rate throughout. It's so good that it's actually unfair to pick certain actors out. But some have to be mentioned. Al Pacino gives the performance of his career, he's so powerful and demanding that you hold your breath when he's on screen. Mary-Louise Parker's Valium-addicted Harper is as funny as she's tragic. Most of "Angels in America" is owned by the intense performances of the younger male cast – Patrick Wilson, Jeffrey Wright, Ben Shenkman and Justin Kirk. And Meryl Streep? It's like a showcase that she can indeed play everything! She's brilliant as the unsympathetic Mother Pitt, who slowly starts to care about the people in her life. She manages to make the ghost of Ethel Rosenberg funny. And even I, after all these years, had to look twice to see Meryl Streep while playing the Rabbi. "Angels in America" deserves all the awards it has won. I found it to be groundbreaking, reaching a new level on television from what I have seen.
Awards & Nominations for Meryl Streep
★ Primetime Emmy Award – Outstanding Lead Actress in a Miniseries or a Movie
★ Golden Globe Award – Best Performance by an Actress in a Miniseries or a Motion Picture Made for Television
★ Screen Actors Guild Award – Outstanding Performance by a Female Actor in a Television Movie or Miniseries
★ Golden Satellite Award – Best Performance by an Actress in a Miniseries or a Motion Picture Made for TV
★ Gracie Allen Award – Outstanding Female Lead in a Drama Special
★ Online Film & Television Association – Best Actress in a Motion Picture or Miniseries
★ MovieGuide Award – Most Inspirational Television Acting
---
Angels in America is being listed under the following tags:
---