Stuck on You

December 12, 2003

|

20th Century Fox

|

118 minutes
Directed by:
Bobby Farrelly, Peter Farrelly |
Written by:
Bobby Farrelly, Peter Farrelly |
Cinematography:
Dan Mindel |
Editing:
Christopher Greenbury, Dave Terman |
Costume Design:
Deena Appel |
Set Design:
Sydney J. Bartholomew Jr. |
Music:
Charlie Gartner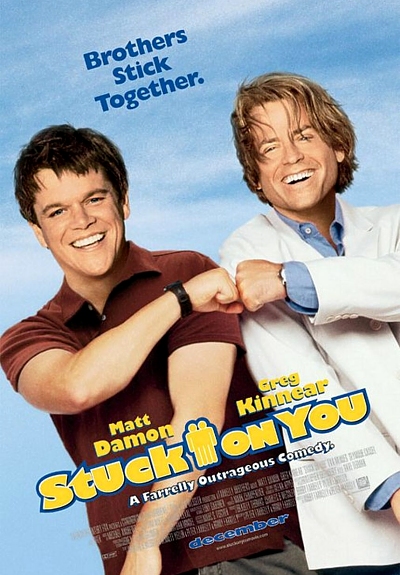 The Tenor brothers (Greg Kinnear and Matt Damon) are so close, they're quite literally joined at the hip. While life is comfortable, the brothers are the quickest short-order chefs in town and the most unlikely pair of dinner-theater thespians. Walt longs to make good on his lifelong dream of becoming a professional actor. The shy, reticent Bob acquiesces to his self-assured brother's wish to move to Hollywood. The brothers find themselves on the cusp of fame and fortune and consider undergoing the risky surgery that could separate them forever.
Cast: Matt Damon (Bob Tenor), Greg Kinnear (Walt Tenor), Eva Mendes (April Mercedes), Wen Yann Shih (May), Pat Crawford Brown (Mimmy), Ray 'Rocket' Valliere (Rocket), Tommy Songin (Tommy), Terence Bernie Hines (Moe), Cher (Cher), Jackie Flynn (Howard), Seymour Cassel (Morty O'Reilly), Griffin Dunne (Griffin Dunne), Bridget Tobin (Vineyard Cutie), Danny Murphy (Dicky), Malcolm G. Chace Jr. (Vineyard Buddie), Meryl Streep (Meryl Streep)
Production Notes
When Cher first signed on to do the movie, the character in the script she was supposed to play just said "actress". The Farrelly brothers thought it would be a cool idea if Cher just played herself, and so they changed it. The movie Meryl Streep shot in Massachusetts, which is mentioned several times in the movie, is probably Before and After (1996). When Bob and Walt are in Hollywood for the first time, they walk past a theater that shows that Star Trek: Nemesis (2002), The Lord of the Rings: The Two Towers (2002), and Maid in Manhattan (2002) are playing. Bobby Farrelly is one of the brothers in goalie pads during the hockey scene.
Awards & Nominations for Meryl Streep
☆ Movies for Grownups Award – Breakaway Performance
---
Stuck on You is being listed under the following tags:
---