Web Therapy

November 08, 2010

|

Showtime

|

3 episodes á 15 minutes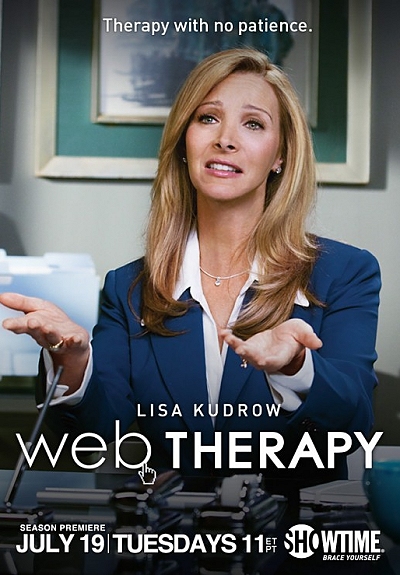 Fiona Wallice (Lisa Kudrow) is a therapist with little patience for her patients. Tired of hearing about people's problems for fifty long minutes, she devises a new treatment, the three-minute video chat. And still, the sessions end up being largely about her. If she's your therapist, you've got problems. Lisa Kudrow co-created, produces and stars in this outrageous therapeutic send-up with guest stars throughout its three seasons. In 2010, Meryl Streep guest starred in three special episodes as renowned sexual orientation / conversion therapist Camilla Bowner, whose latest client happens to be Fiona's husband.
Cast: Lisa Kudrow (Fiona Wallice), Meryl Streep (Camilla Bowner)
Episode Guide
Episode 46: Aversion Therapy
Original broadcast: November 08, 2010. Renowned sexual orientation therapist Camilla Bowner contacts Fiona about her new client Kip Wallace, who happens to be the most resistant man to the female form she's ever encountered – and she's convinced Fiona is to blame.
Episode 47: Healing Touch
Original broadcast: November 11, 2010. Fiona is eager to join Kip in his recovery, but discovers that his treatment with Camilla has progressed quickly, and alarmingly, beyond the usual talk and aversion therapy.
Episode 48: Reverse Psychology
Original broadcast: November 13, 2010. Fiona gives Camilla a hands-on demonstration of the effectiveness, or otherwise, of Camilla's therapeutic techniques when she arranges a meeting with Camilla's husband.
---
Web Therapy is being listed under the following tags:
---