"We are here, not because we are law-breakers; we are here in our efforts to become law-makers." Emmeline Pankhurst (1858-1928) founded the Women's Social and Political Union, which used militant tactics to agitate for women's suffrage. Pankhurst was imprisoned many times, but supported the war effort after World War I broke out. Parliament granted British women limited suffrage in 1918. Pankhurst died before women were given full voting rights.
Emmeline Goulden was born in Manchester, England, in 1858. The eldest of 10 children, she grew up in a politically active family. Her parents were both abolitionists and supporters of female suffrage; Goulden was 14 when her mother took her to her first women's suffrage meeting. However, Goulden chafed at the fact that her parents prioritized their sons' education and advancement over hers. After studying in Paris, Goulden returned to Manchester, where she met Dr. Richard Pankhurst in 1878. Richard was a lawyer who supported a number of radical causes, including women's suffrage. Though he was 24 years older than Goulden, the two married in December 1879, and Goulden became Emmeline Pankhurst. Over the next decade, Pankhurst gave birth to five children: daughters Christabel, Sylvia and Adela, and sons Frank (who died in childhood) and Harry. Despite her children and other household responsibilities, Pankhurst remained involved in politics, campaigning for her husband during his unsuccessful runs for Parliament and hosting political gatherings at their home. In 1889, Pankhurst became an early supporter of the Women's Franchise League, which wanted to enfranchise all women, married and unmarried alike (at the time, some groups only sought the vote for single women and widows). Her husband encouraged Pankhurst in these endeavors until his death in 1898.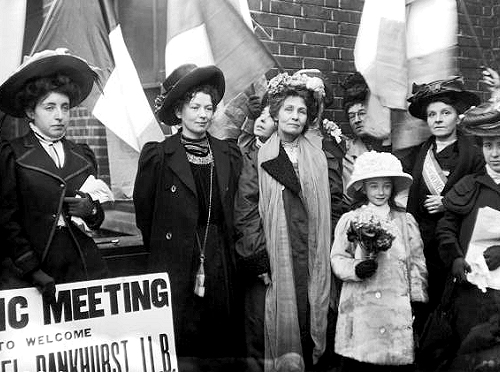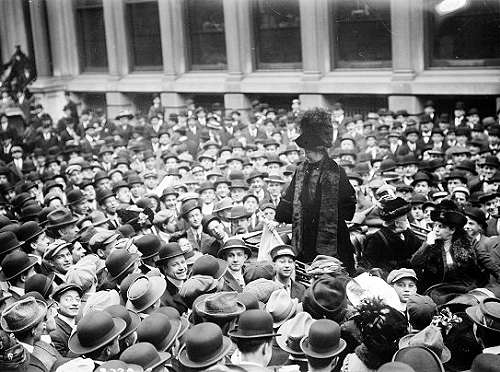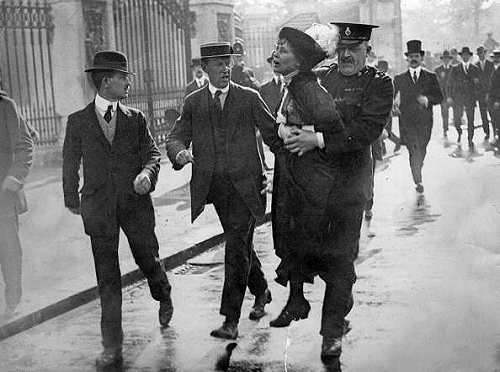 The English suffragettes Emmeline Pankhurst and her daughter Christabel Harriette, founders of the Women's Social and Political Union in 1903, after leaving Bow Street in London. Pankhurst addresses a crowd on Wall Street, New York, November 1911. In January 1914, Pankurst is arrested at a demonstration outside Buckingham Palace, London.
Coping with straitened circumstances and grief consumed much of Pankhurst's attention for the next several years. However, she retained a passion for women's rights, and in 1903 she decided to create a new women-only group focused solely on voting rights, the Women's Social and Political Union. The WSPU's slogan was "Deeds Not Words." In 1905, Pankhurst's daughter Christabel and fellow WSPU member Annie Kenney went to a meeting to demand if the Liberal party would support women's suffrage. After a confrontation with the police, both women were arrested. The attention and interest that followed this arrest encouraged Pankhurst to have the WSPU follow a more combative path than other suffrage groups. At first the WSPU's "militancy" consisted of buttonholing politicians and holding rallies. Still, following these tactics led to members of Pankhurst's group being arrested and imprisoned (Pankhurst herself was first sent behind bars in 1908). The Daily Mail soon dubbed Pankhurst's group "suffragettes," as opposed to the "suffragists," who also wanted women to be able to vote in the United Kingdom, but who followed less confrontational channels. Over the next few years, Pankhurst would encourage WSPU members to rein in their demonstrations when it seemed possible that a bill on women's suffrage might move forward. But when the group was disappointed—as in 1910 and 1911, when Conciliation Bills that included women's suffrage failed to advance—protests would escalate. By 1913, militant actions by WSPU members included window-breaking, vandalizing public art and arson.
Throughout these protests, suffragettes were arrested, but in 1909 the women had begun to engage in hunger strikes while in prison. Though this resulted in violent force-feedings, the hunger strikes also led to early release for many suffragettes. When Pankhurst was given a nine-month sentence in 1912 for throwing a rock at the prime minister's residence, she too embarked on a hunger strike. Spared from being forcibly fed, she was soon freed. Seeking to circumvent the hunger strikes, in 1913 the Prisoners' Temporary Discharge for Ill Health Act was enacted. The law said that prisoners who were released for health reasons could be rearrested and taken back to prison once they'd recovered. It became known as the "Cat and Mouse Act," with suffragette "mice" being pursued by the authorities. In 1913, after an incendiary device went off in an unoccupied house being built for the chancellor of the exchequer, David Lloyd-George, Pankhurst received a sentence of three years of penal servitude for inciting the crime. She was released after a hunger strike, but the Cat and Mouse Act led to a series of rearrests and releases—during one furlough, Pankhurst proceeded to the United States for a fundraising and lecture tour—that continued into 1914. But everything changed with the arrival of World War I. Feeling that suffragettes needed to make sure they had a country to vote in, Pankhurst decided to call for a halt to militancy and demonstrations. The government released all WSPU prisoners, and Pankhurst encouraged women to join the war effort and fill factory jobs so that men could fight on the front.
The contributions of women during wartime helped convince the British government to grant them limited voting rights—for those who met a property requirement and were 30 years of age (the voting age for men was 21)—with the Representation of the People Act of 1918. Later that year, another bill gave women the right to be elected to Parliament. Though all her daughters had been members of the WSPU at some point, Pankhurst was only able to celebrate the achievement of (limited) suffrage with Christabel, her favorite. As a pacifist, Sylvia had disagreed with Pankhurst's attitude toward the war, while Adela had moved to Australia. Pankhurst still desired universal women's suffrage, but her politics changed focus after the war. She worried about the rise of Bolshevism and eventually became a member of the Conservative party. Pankhurst even ran for a seat in Parliament as a Conservative, but her campaign was disrupted by ill health (exacerbated by the public revelation that Sylvia had given birth to an illegitimate child). Pankhurst was 69 when she died in London on June 14, 1928.
Pankhurst did not live to see it, but on July 2, 1928, Parliament gave women voting rights on a par with men's.
Florence Foster Jenkins was a New York heiress and young piano prodigy, but her musical talent didn't translate to her terrible singing voice. She obsessively pursued her singing dream with the help of her partner and manager St Clair. The English actor was desperate to protect her from the truth, which proved impossible when she decided to perform at Carnegie Hall. Jenkins was convinced the mockery and ridicule she suffered throughout her life was the product of jealousy.
In her time, Florence Foster Jenkins was a unique novelty in the history of music, an operatic coloratura who had all of the requisite charms and trappings worthy of a diva, minus the voice. Married to a wealthy industrialist and well entrenched in upper-crust New York society by 1912, "Madame" Jenkins obtained a divorce that year. The resulting settlement was handsome enough to set Jenkins up in style and to pursue her extensive charitable interests. She had already been studying voice for some time, and her charity fundraisers included such gala events as "The Ball of the Silver Skylarks," involving special costumes made at her request, and usually culminating in a sample of her singing. Jenkins' voice was high, scrawny, and seemed to have a mind of its own, warbling its way through difficult coloratura arias with the grace and control of an upright piano plunging down through a spiral staircase. Well-heeled society types would attend Jenkins' recitals and patiently endure her auditory assault, along with enjoying a well-concealed chuckle or two at her expense. Jenkins' annual gala would remain a popular fixture in New York society for decades.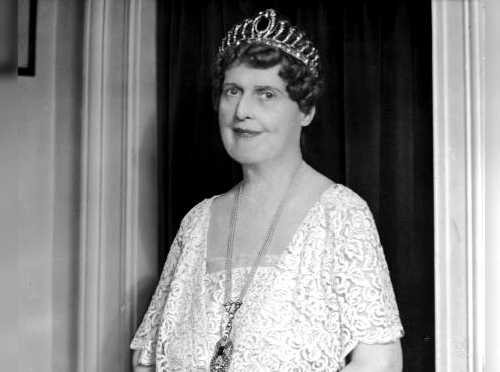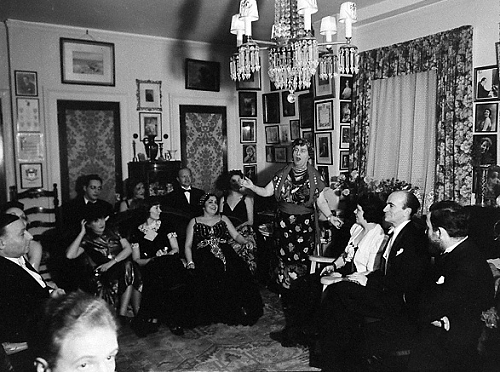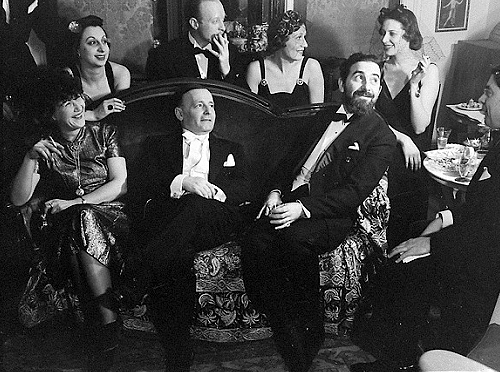 A portrait of Jenkins in the 1920s. In the next two pictures, Jenkins is seen performing for guests at a formal event in her New York home in 1937.
In 1938, Jenkins made her only recordings at the Melotone studio in New York, which were pressed up and sold privately. On this occasion, and most others by this time, Jenkins employed the services of accompanist Cosme McMoon, a flamboyant and eccentric character well known in New York's underground gay community. McMoon proved an excellent foil for Jenkins, waiting for her entrances at key points in arias and writing special material to best show off her vocal "assets." At age 76, Jenkins finally achieved her lifelong dream of performing at Carnegie Hall's Recital Hall on October 25, 1944, but this may have backfired, as rumor has it that afterward she discovered what her audiences really thought about her music-making. Jenkins collapsed and died a month later in Schirmer's Music Store, her last words allegedly being "It must've been the creamed chicken."
Rumors about Jenkins' highly eccentric behavior are legion, and it is hard to know now which ones are true. The only way one could obtain a ticket to her high-priced galas was to buy one from Jenkins in person. Jenkins is said to have ordered flowers to be delivered to her concerts, and genuinely forgot that she'd done so, thinking the celebratory bouquet was from her admirers. She also once paid, according to legend, a handsome gift to a New York taxicab driver, as after she was knocked down by him in the street she could "sing a higher F than ever before." Although known only to her immediate social circle during her lifetime, the legend of Florence Foster Jenkins has grown since her passing.
In Steven Spielberg's 'The Post,' Meryl Streep brings Katharine Graham's 1971 decision to have the Washington Post publish the top secret Pentagon Papers to life. However, even with the support of Tom Hanks as editor Ben Bradlee, there's only so much that one film can include. Here's the real story behind The Post.
Her success as one of the first women to be a major business leader in the US was all the more remarkable because it was thrust on her in early middle age by a tragic accident. She had reached the age of 46 as a wealthy but diffident housewife, the mother of four children, and the wife of the Washington Post publisher Phil Graham. Then her husband, a close friend of John F Kennedy and Lyndon Johnson, and generally credited with persuading the former to take the latter as his vice-presidential candidate – a decision which many pundits believe made each of them successively president – suddenly blew up. Graham's husband had been suffering from undiagnosed manic depression for some time. Then he started an affair with a young woman reporter from Newsweek and took her on a Lolita-like tour round the US, ending up at the 1963 convention of the Associated Press, where he grabbed the microphone, made obscene comments and started taking his clothes off. After an appalling succession of escapades and repentances, he returned home, and shot himself. His wife found the body. Warned by all her worldly-wise friends to leave the business, owned by her father before it passed to her husband, to be run by others, Graham decided that she owed it to her children to take over. She did this to such effect that she steered the paper through its transformation into a public company in 1971 and through violent strikes against new technology.
She was the publisher during the paper's successful legal battle, in alliance with the New York Times, against the Nixon administration's attempt to prevent them publishing the secret government documents on the origins of the Vietnam war known as "the Pentagon papers". And she was still at the head of the Post at the time of its triumphant exposure of the various scandals collectively known as Watergate, which forced President Nixon's resignation and transformed American journalism for ever. Kay Graham, as she was called, was born at the very centre of the expanding imperial America of the ragtime era. Her father, Eugene Meyer, was descended from an eminent family of rabbis and merchants in Alsace; his father was a partner in Lazard Freres, the investment bank. After studying at Berkeley and Yale, Eugene Meyer, too, joined Lazards, but soon founded his own investment company and within a short time was worth several million dollars. He met his future wife Agnes Ernst, the daughter of a German Lutheran family, in an art gallery when she was a student at Barnard College. Agnes Meyer had already formed friendships with several famous people, including the philosopher John Dewey, the photographer Edward Steichen and the painter Georgia O'Keeffe. She had spent a good deal of time in Paris, where she knew the sculptors Brancusi and Rodin and the salon of Gertrude Stein, of whom she did not think much.
All her life Agnes Meyer was a strong-minded, opinionated woman. Kay, her fourth child, not only got on badly with her in a dutiful sort of way, but reacted against her overwhelming style, which was more than a little reminiscent of Margaret Dumont in the Marx brothers' films. One peculiarity of the family was that the children grew up not only not quite sure whether their father was Jewish, but obliged to ask what being Jewish meant. Partly as a result, Graham identified more closely with her Jewish (though secular) father rather than with her Protestant mother. During the first world war, Eugene Meyer founded the Allied Chemical Company to replace the German aniline dyes that were unobtainable by the American textile industry because of the war. It was said during the Watergate crisis that if Katharine Graham lost control of the Washington Post Company she would be down to her last $600m. Eugene Meyer went down to Washington to serve as the chairman of the War Finance Corporation, so even though the family kept its mansion at Mount Kisco, New York, it was in Washington that Kay Graham grew up, in a world that was just moving from the sedate atmosphere of Henry Adams's 1880 novel Democracy to that of Gore Vidal's Washington DC. One of Graham's best friends at school was President Grant's granddaughter. After attending Madeira in Virginia, the smartest private school for young ladies, Kay went on to Vassar. She would have liked to go to the London School of Economics, but her father put his foot down and she went to the University of Chicago instead, where she resisted attempts by the young radicals and communists to recruit her, protesting her faith in the capitalist system that had treated her father so well. In 1940 she married Phil Graham, a young man who had made it into the emerging American power elite from the unlikely background of a family who moved from poverty in South Dakota to seek a modest fortune in Florida. He went to a public high school in Miami, then an out-of-the-way southern town, and from there by way of the University of Florida, in even-more-backward Tallahassee, to the Harvard law school and a job, reserved for the most brilliant students, as a clerk to Justice Felix Frankfurter, then at the height of his influence on President Roosevelt and on the American ruling class in general.
By the late 1950s Graham's husband had succeeded his father-in-law as publisher of the Post and emerged as what would now be called a significant power-broker in Washington. It would seem that his illness, whatever its deeper causes, was aggravated by his feeling that he owed everything to having married his boss's daughter. The young, brilliant publisher of what became the most powerful newspaper in the capital – after he bought the Times-Herald in 1954 – and his attractive if shy wife were naturally in great demand. With the Kennedy inauguration in 1961, their generation and their friends took over both socially and politically. So when Katharine took responsibility for the family business, just before Kennedy's assassination, she might be, as she always thought of herself, a mere housewife, inexperienced in the ways of business; but she was also on friendly and in many cases tennis and family-supper terms with most of the inner circle in Washington, and a card-carrying member of that well-born, well-heeled circle that came to be known as "the Georgetown set". Eugene and Agnes Meyer lived in splendour in the Meridian Park section of Washington, where the pre-war grandees had their homes; the Grahams moved to the simpler elegance of Georgetown, where their mansion more than equalled the Georgian-style homes of the John F Kennedys, the Averell Harrimans, the Joseph Alsops and the other swells. Graham, alone, might find herself the only woman at business meetings, addressed as "lady and gentlemen". But she had no shortage of contacts and advice from the Robert McNamaras, the McGeorge Bundys and the "great whales" of Congress, while in New York she began to run with the Truman Capote set, graced by such ladies as Pamela Harriman, Babe Paley (wife of the owner of CBS) and Marella Agnelli, whose husband owned Fiat. Her personal friends included the pianist Rudolf Serkin; Adlai Stevenson, whom she did not find as attractive as many other liberal ladies did; Jean Monnet, to whose virility, as she put it rather oddly in her excellent memoirs, she could personally attest; and later Warren Buffett, the immensely successful investor from Omaha who built up a large position in the Washington Post Company's stock and became Graham's most trusted business mentor.
In lifestyle and manner, Graham was both genuinely diffident and unmistakably a magnifica, if that is the word for a female magnifico . She could be, as it seemed alternately, charmingly direct and friendly, and aloof, even arrogant. Interviewed in what seemed to her an insufficiently respectful way by the British journalist Henry Fairlie, she reproved him by saying she had been told by no less an authority than McGeorge Bundy that she was the most powerful woman since Queen Victoria. On another occasion, when a newly arrived British ambassador expected her to join the ladies after dinner, she summoned her car and swept imperiously from the embassy. No doubt the truth was that she was lonely and often overwhelmed by the perils threatening her dynasty and her beloved newspaper – perils that she by no means underestimated. She was at first unsympathetic to the tide of feminism which was rising to storm levels in the 1970s, and nowhere more than in the newsrooms of papers and magazines, where talented women found themselves not only professionally discriminated against, but also treated with sometimes brutal insensitivity. The feminist journalist Gloria Steinem, the founder of MS magazine, tried, with little success at first, to interest Graham in the movement. A stronger influence was that of Meg Greenfield, an editorial writer and later editorial page editor of the Post and a columnist for Newsweek, who became Graham's closest woman friend.
"Though it took me a long time to throw off my early and ingrained assumptions," she wrote in 1997, in her notably frank and highly successful autobiography, "I did come to understand the importance of the basic problems of equality in the workplace, upward mobility, salary equity and more recently child care." Although she lived most of her life in an intensely political environment, was generally perceived, especially by conservatives, as a liberal, and indeed proclaimed herself to be a typical "limousine liberal", her political attitudes and loyalties were more complicated than they seemed to many. Her father, and especially her mother, started out as Republicans, and her husband, before becoming a major Democratic power behind the scenes, voted for the Republican Eisenhower in 1952. At first she made overtures to President Nixon. Then, when her paper was threatened by his administration in the Pentagon papers case and again when the Washington Post Company was in danger of losing its TV franchises during the Watergate battle, she was fiercely antagonistic to the Nixon administration. This was hardly surprising, since Nixon's vice-president, Spiro Agnew, singled the paper out among the "effete eastern snobs" who dominated the media. And when the young Post reporter Carl Bernstein called Nixon's attorney general, John Mitchell, to check his involvement in the Watergate affair, Mitchell said: "Katie Graham's going to get her tit caught in a big fat wringer if that's published." During the Watergate crisis, Graham forged a close relationship with Ben Bradlee, the tough, salty-spoken editor she had brought across from Newsweek. Although not directly involved – as she had been in the Pentagon Papers fight, when she personally took the crucial decision to publish the documents – she identified totally with the Post's investigative reporting. Later, however, she surprised many and disappointed some by forming close friendships with Henry Kissinger and his wife Nancy, and later with Ronald and Nancy Reagan. It would seem that, like many "neo-conservatives" who moved to the right as a result of the wild confrontational politics of the 1970s, Graham's New Deal loyalties were shaken by her confrontation with the unions, in which the pressmen, in particular, used violent tactics and threatened even uglier attacks.
Certainly, one of her strongest motivations was her commitment to her family and to the media and business empire her father and then her husband had built. It was a great pleasure for her that her daughter, Elizabeth "Lally" Weymouth, worked at the paper before building a career as a freelance journalist, and an even greater satisfaction to be able to hand over the post of chief executive officer of the Washington Post Company in 1991 to her son Don, who had come to the paper only after serving in Vietnam and then working as a District of Columbia police officer. In 1977, she was a member of the Brandt Commission on north-south relations. She was immensely pleased when one of the Third World radicals on the commission made a pass at her. She said her motto was "Never where you work," and her admirer replied that his was "Never say never." After her retirement, she travelled widely and sent back interviews with the likes of Mikhail Gorbachev, the Shah of Iran and Muammar Gadafy. She was proud of the fact that Newsweek printed a photo she took of Gadafy, and framed the cheque for the $87.50 she was paid.
In later years Graham spent much time on Martha's Vineyard, which she loved. She is survived by her daughter Lally and her three sons, Donald, Steve, a New York theatrical producer, and Bill, a lawyer.
---
The year 2020 was affected by the novel COVID19 virus and its worldwide pademic. The adaptation of the hit muscial "The Prom", directed by Ryan Murphy" was halted during production in the spring of 2020 and finished during mid-year. Meryl's other production, Steven Soderbergh's experimental "Let Them All Talk", was finished already before the start of the pandemic. Both films were released in December of 2020 on demand – "The Prom" on Netflix, "Let Them All Talk" on HBO Max. With all public appearances stopped, Meryl Streep participated in numerous online appearances to honor causes and raise awareness on special programmes.
Related Productions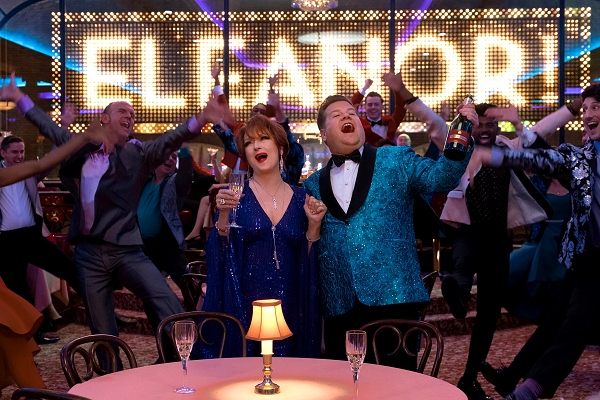 December 11, 2020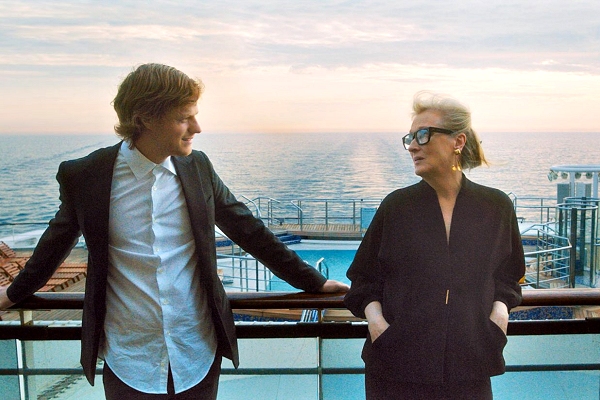 December 10, 2020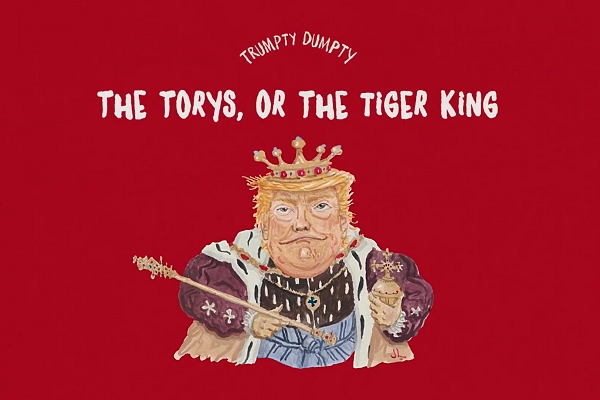 September 28, 2020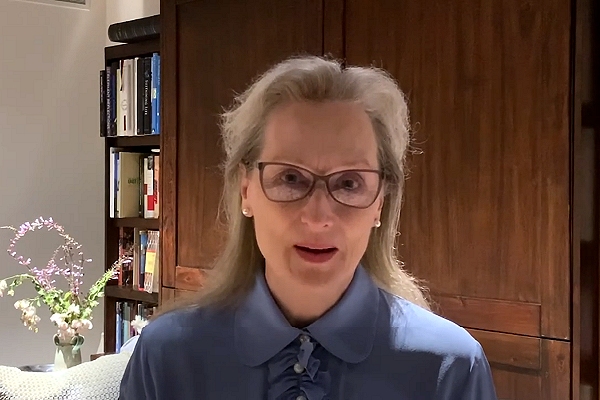 September 25, 2020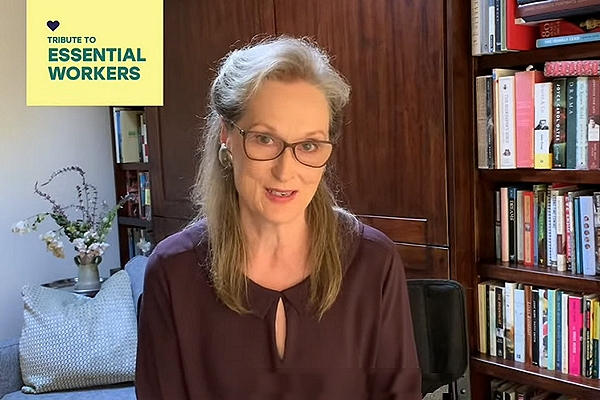 September 06, 2020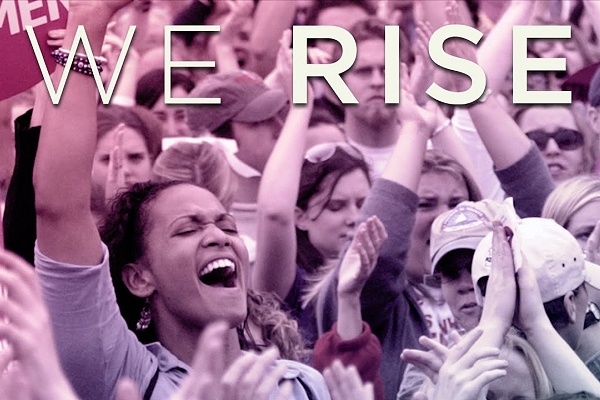 September 11, 2020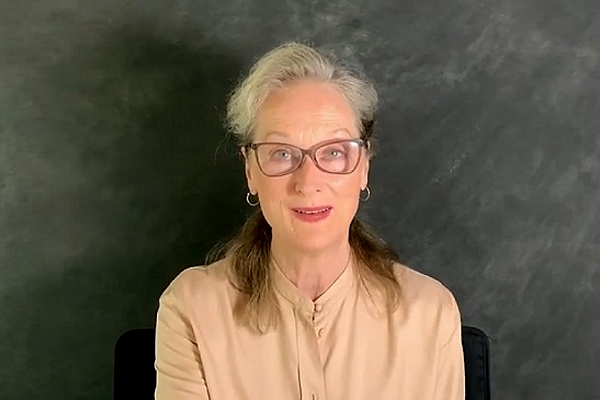 August 06, 2020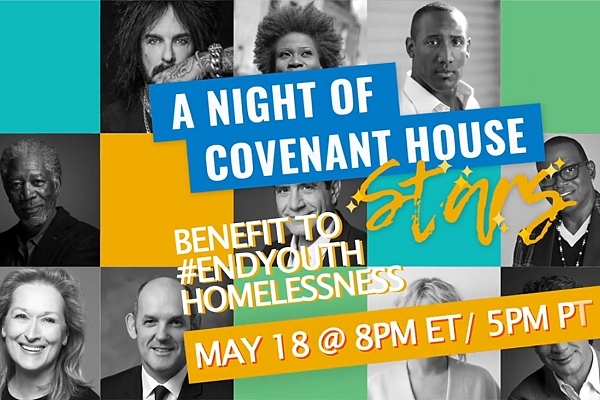 May 18, 2020
---
Meryl Streep joined Reese Witherspoon, Nicole Kidman, Shailene Woodley and Laura Dern for HBO's second season of the outrageously successful "Big Little Lies". While the second season was not as much-loved as its predecessor (mostly for the fact that the initial storyline was completely finished), the show still entertained with Streep's addition, playing the suspicious mother to Alexander Skarsgård's wife-beating character, who comes to Monterey demanding answers to what really happened to her son. The performance brought Streep another Golden Globe, Screen Actors Guild and Emmy nominations. In October 2019, she made a proper Netflix debut starring in Steven Soderbergh's wildly odd "The Laundromat" as a widow trying to unlock the myriads of backdoors in the finance industry that keep her from getting the insurance money she and her husband have paid all those years. On Christmas, she was seen on the big screen as Aunt March in Greta Gerwig's "Little Women", which received an Academy Award nomintion for Best Picture.
Related Productions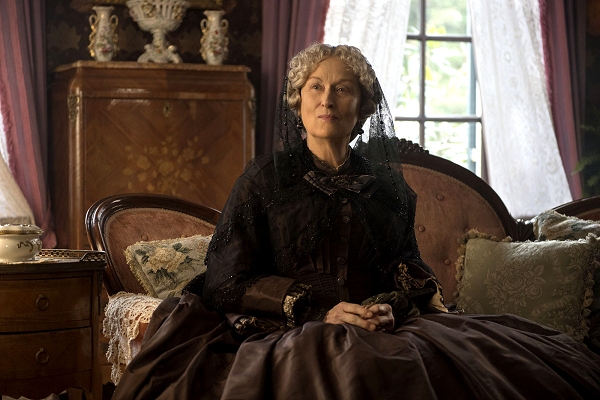 December 25, 2019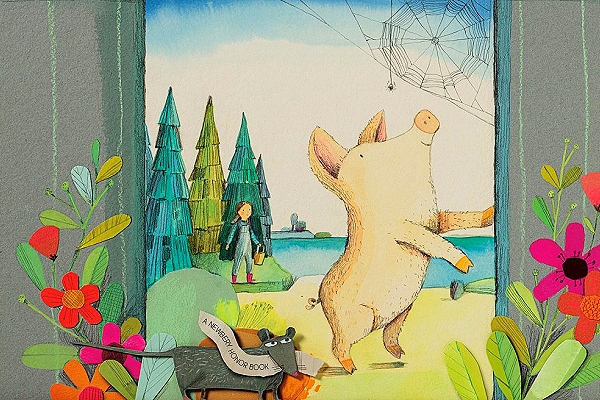 October 29, 2019
September 27, 2019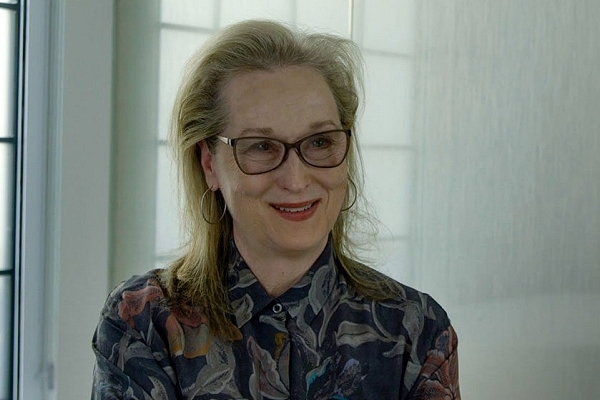 June 28, 2019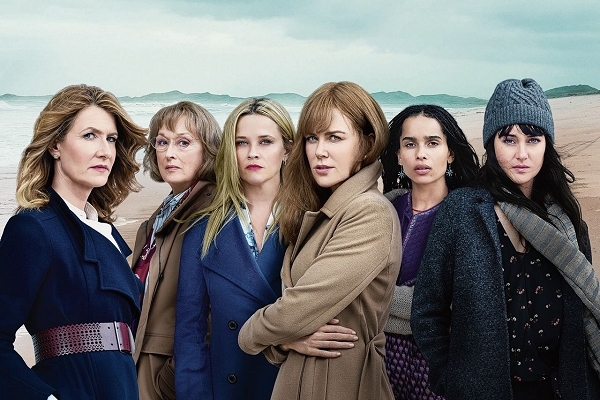 June 09, 2019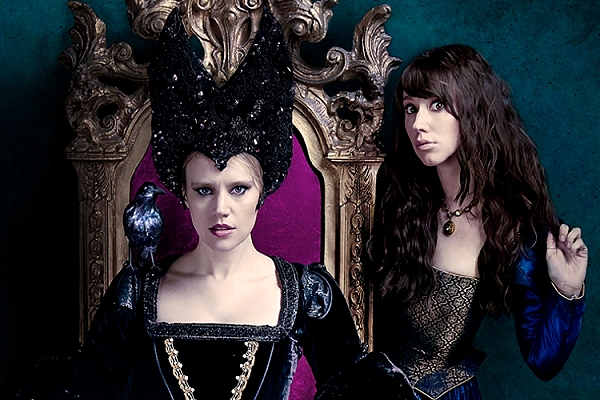 May 02, 2019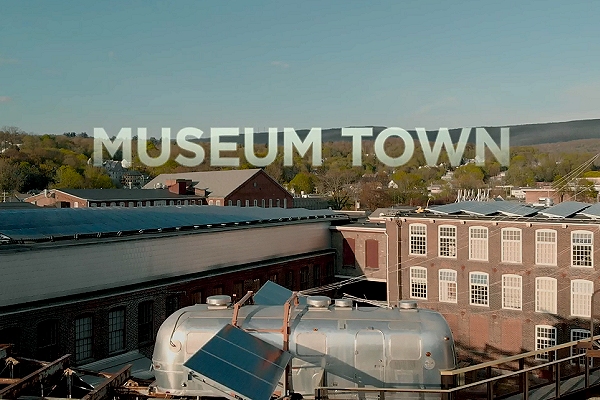 March 10, 2019
---
2018 saw two cameos in two very successful musicals. While fans had wished to see more of Donna Sheridan in the surprise sequel/prequel "Mamma Mia: Here We Go Again", her appearance in the film was limited to one scene as Donna's (singing) ghost, and of course an ensemble performance in the closing credits. Streep also reunited with Rob Marshall for the sequel "Mary Poppins Returns", starring Emily Blunt and Lin-Manuel Miranda, in which she had one scene as Mary's aunt Topsy.
Related Productions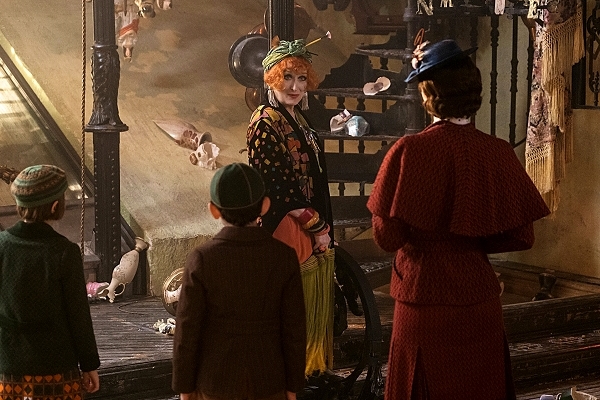 December 25, 2018
November 07, 2018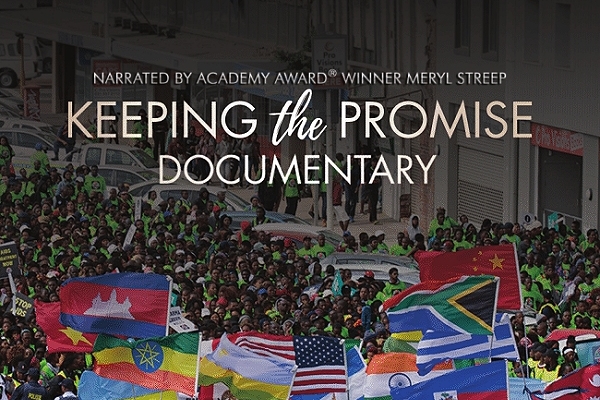 October 23, 2018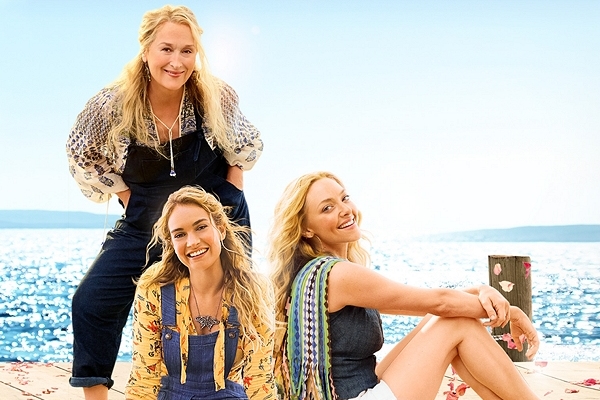 July 20, 2018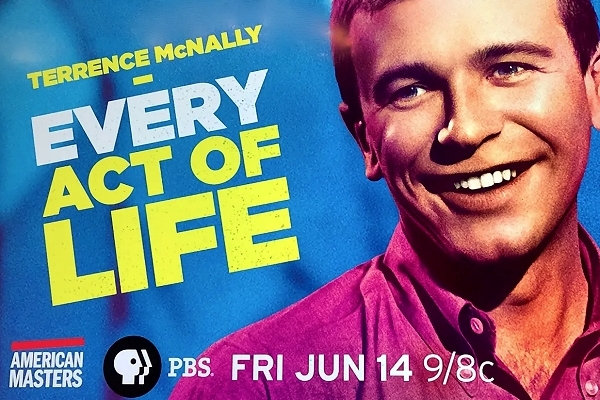 June 14, 2018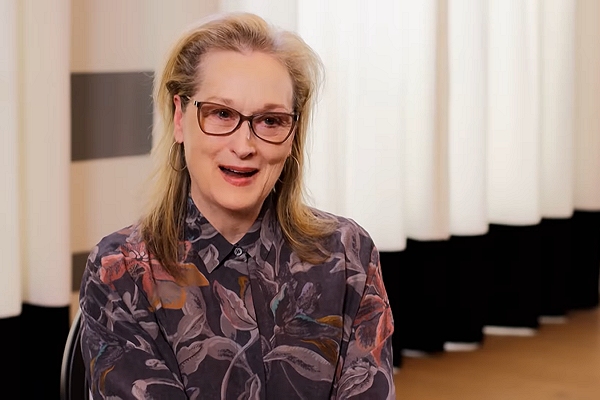 May 14, 2018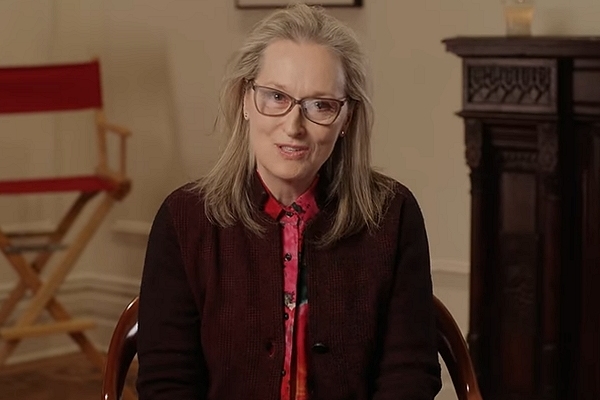 April 04, 2018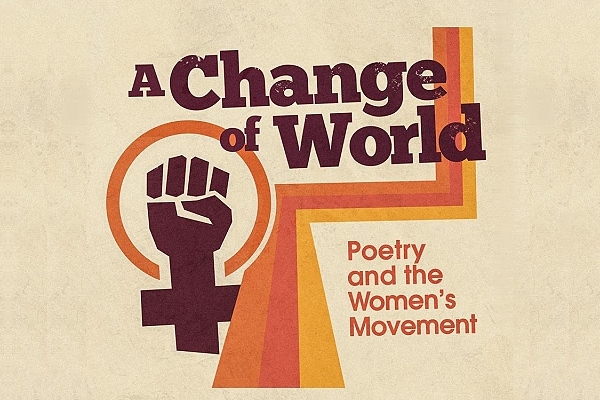 March 14, 2018
---
When receiving the Golden Globe's Cecil B. DeMille Award in January 2017, she chose to speak about one topic and one topic only – Donald Trump's treatment of freedom of speech, freedom of press and his treatment of disabled people. Trump was elected President for only two months, and Streep was the first actor in Hollywood to not only speak about the election, but criticize his actions (which, in hindsight, was only the beginning). She received much applause from her Hollywood peers, and was at the receiving end of endless online harrassment by Trump supporters – and even the President himsel, calling Streep a "most-overrated actress". The Streep-treatment, as I like to call it was a watershed moment on the one hand, and a clear sign towards Hollywood actors to not play with fire if they want to sell movies. As celebrated as Streep was for speaking her mind, not many have followed her way to endanger their income by speaking their minds. In the end, Hollywood had to suffer a much bigger blow by the end of the year when The New York Times published explosive allegations against Harvey Weinstein, sending an avalanche through the industry and creating what might be the biggest achievement of this decade for women in the workplace – the #Metoo movement.
In what has been a whirlwind in the last three years of this decade, Streep pulled out maybe her best performance of the last 10 years in Steven Spielberg's "The Post". Spielberg read the screenplay and decided to direct the film as soon as possible, citing that "when I read the first draft of the script, this wasn't something that could wait three years or two years — this was a story I felt we needed to tell today." "The Post" started filming in May 2017 and was released by December of the same year! Both Hanks and Streep received critical acclaim for their performances. The film received two Academy Award nominations for Best Picture and Best Actress.
Related Productions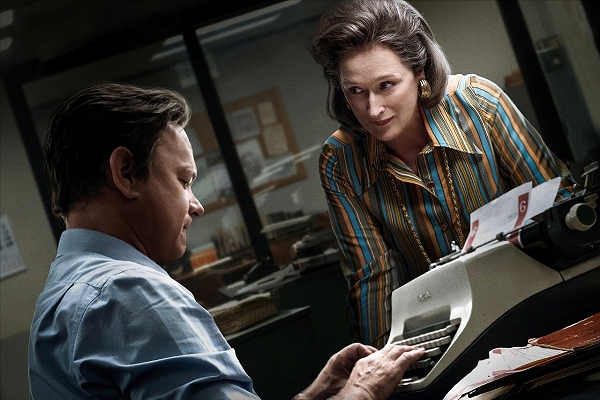 December 22, 2017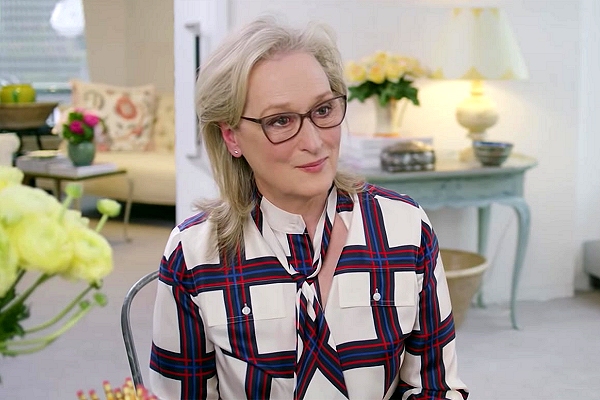 November 09, 2017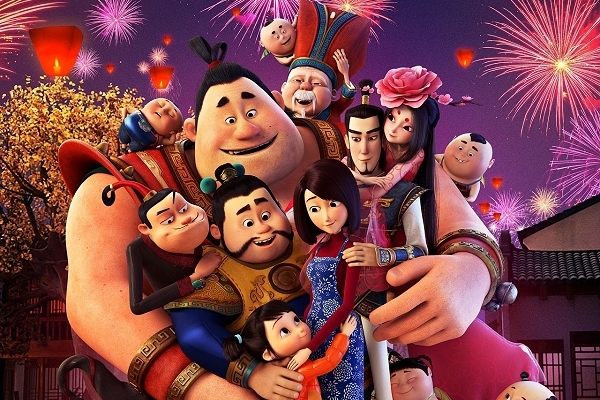 September 01, 2017
July 04, 2017
June 23, 2017
March 31, 2017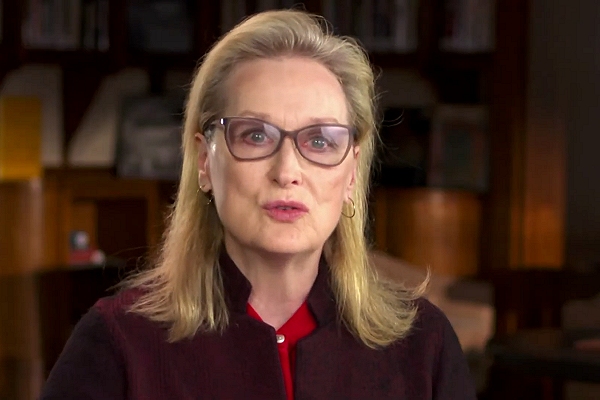 March 06, 2017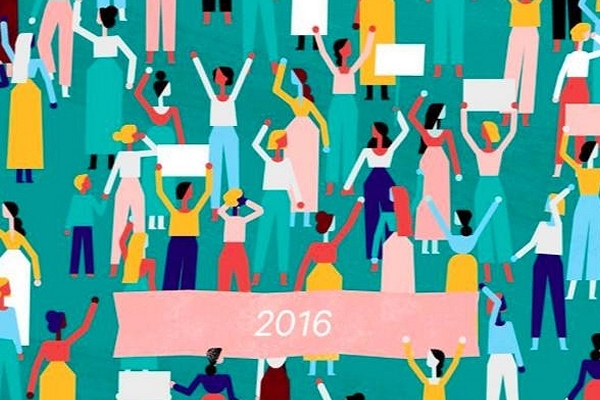 January 17, 2017
---
Meryl Streep delivered another star-turn in Stephen Frears' eponymous biopic about opera singer Florence Foster Jenkins. A wealthy New York heiress, Jenkins attempted to become an opera singer in the 1940s despite her horrible singing voice. An injury in her youth deterred that dream. So she sets out to sing her way to Carnegie Hall knowing the only way to get there would be practice practice practice. Her husband supports her venture and the true story of Florence Foster Jenkins playing Carnegie Hall becomes a truly historic event. Frears has a history of bringing strong woman characters to the screen, including Judi Dench's "Philomena" and Helen Mirren's Academy Award winning performance as "The Queen", and "Florence Foster Jenkins" fits right in. Anthony Lane of the New Yorker wrote, "Streep is right there, solidly invested in the folly of Florence's dreams. When she declares that "music has been, and is, my life," you believe her." The film was a modest success at the box office and Meryl Streep received another round of nominations for the Golden Globe, Screen Actors Guild Award, BAFTA Film Award and Academy Award.
Related Productions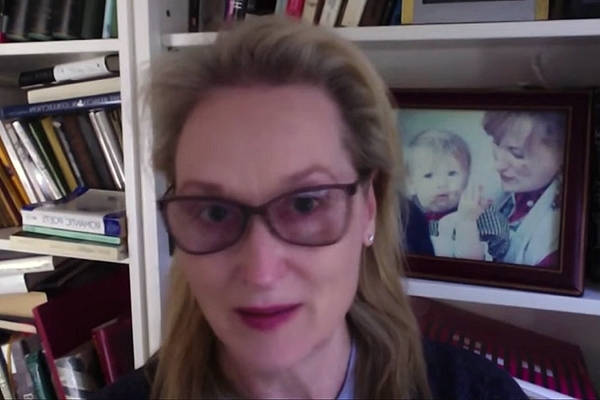 October 18, 2016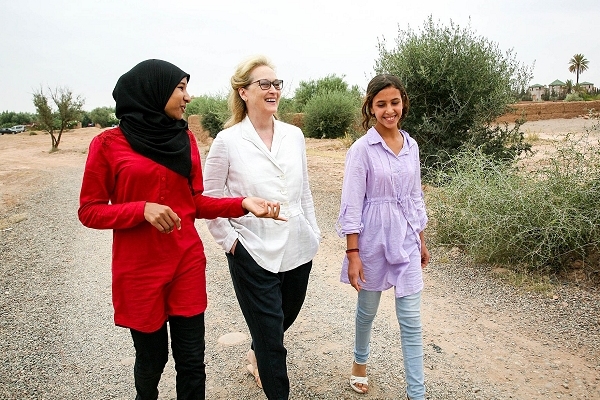 October 11, 2016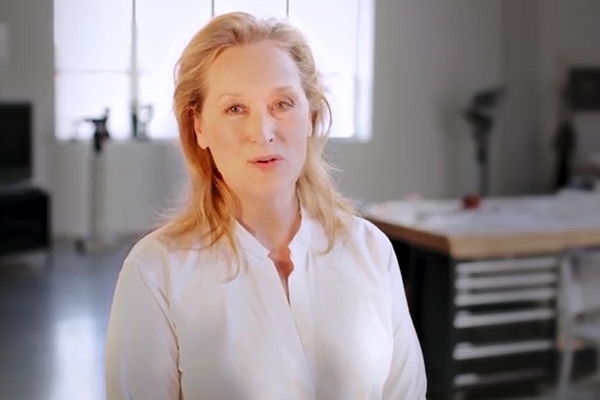 July 28, 2016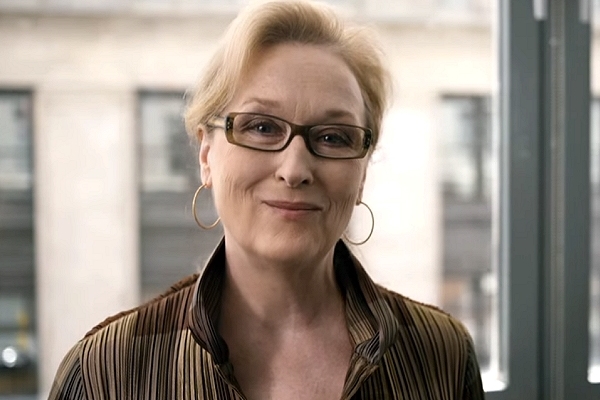 June 06, 2016
May 20, 2016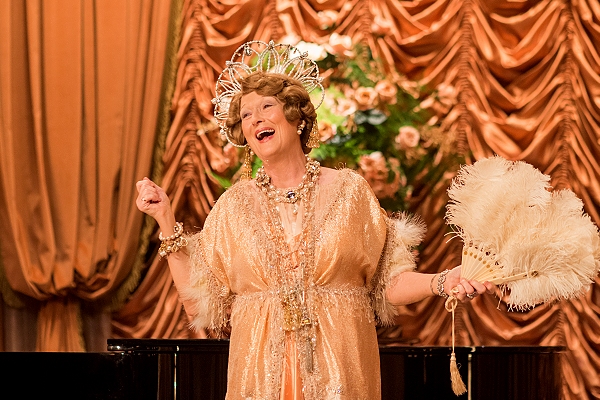 May 06, 2016 (United Kingdom)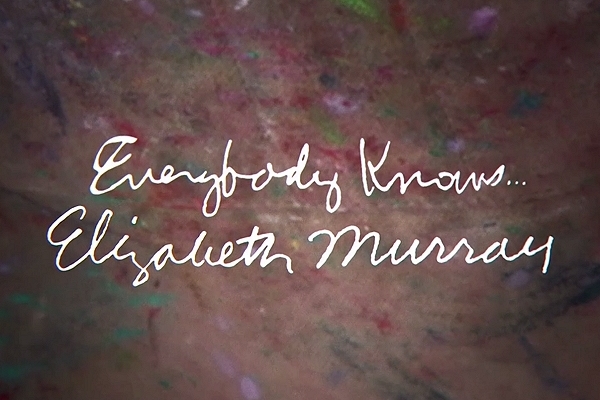 April 23, 2016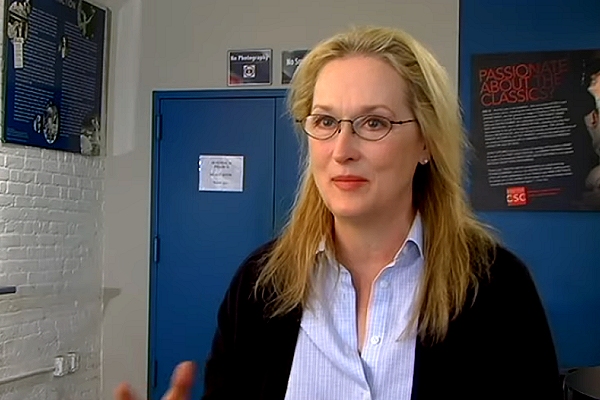 April 2016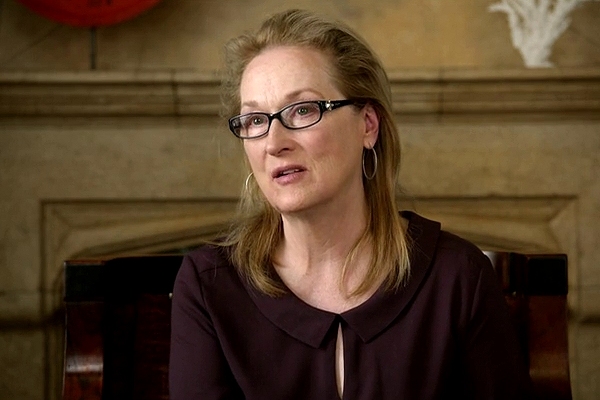 March 21, 2016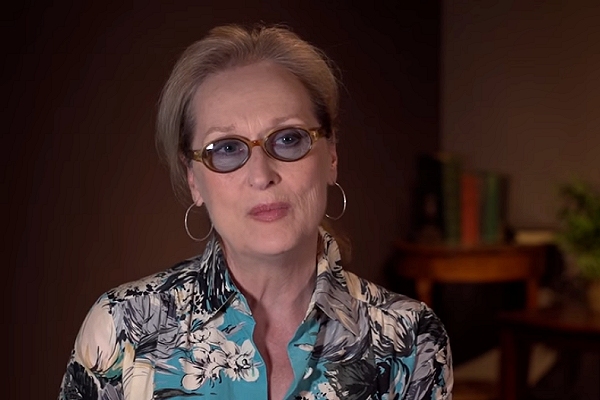 January 29, 2016
---
In 2015, Streep starred in Jonathan Demme's "Ricki and the Flash", playing a grocery store checkout worker by day who is a rock musician at night, and who has one last chance to reconnect with her estranged family. Streep learned to play the guitar for the semi-autobiographical dramedy film, which reunited her with her eldest daughter Mamie Gummer. Once again, reviews of the film were generally mixed. Streep's other film of the year was director Sarah Gavron's period drama Suffragette, co-starring Carey Mulligan and Helena Bonham Carter. In the film, she played the small but pivotal role of Emmeline Pankhurst, a British political activist and leader of the British suffragette movement who helped women win the right to vote. The film received mostly positive reviews, particularly for the performances of the cast, though its distributor earned criticism that Streep's prominent position within the marketing was misleading.
Besides her steady work in film, Streep was active in the causes close to her heart. In April 2015, it was announced that Streep had funded a screenwriters lab for female screenwriters over forty years old, called the Writers Lab, to be run by New York Women in Film & Television and the collective IRIS. As of the announcement, the Writers Lab is the only initiative in the world for female screenwriters over forty years old. She also became a spokesperson for the National Women's History Museum, after President and CEO Joan Wages wrote her a letter. "She is immensely kind and thoughtful," Wages said. "She just gets the importance of a museum like this that will honor women and show that they have contributed to the building of this nation in ways that they have not, to this date, been given credit." Meryl hosted the museum's "The de Pizan Honors" gala in 2009, where, each year, NWHM pays tribute posthumously to selected women with an award in their name presented to a contemporary counterpart. At the event, Streep donated $1 million to the cause. She has also participated in numerous high profile events for the Museum, including "Shine On" at Radio City Music Hall for two consecutive years.
Related Productions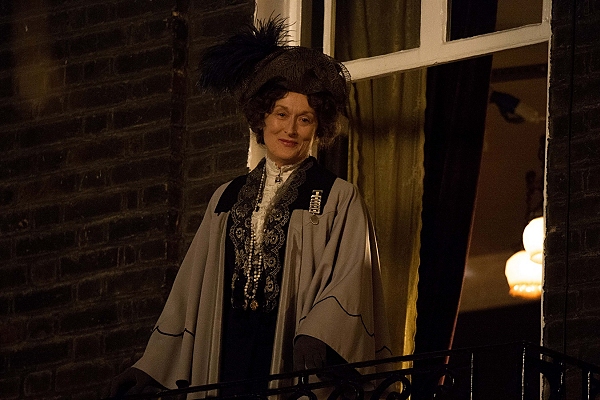 October 16, 2015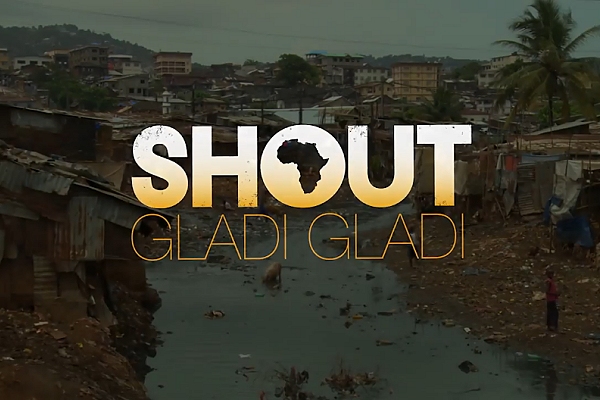 October 02, 2015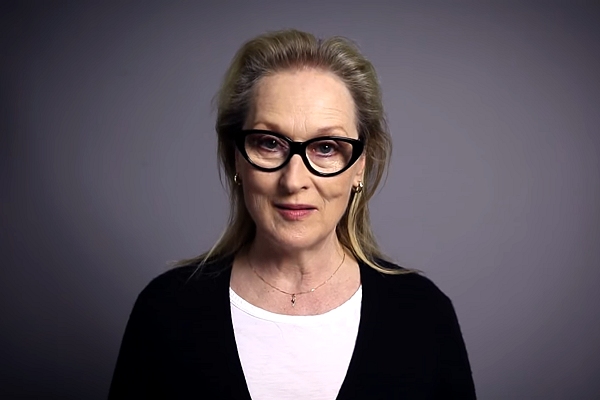 September 25, 2015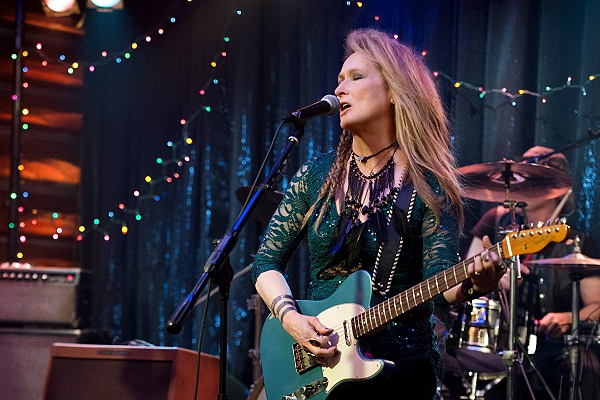 August 07, 2015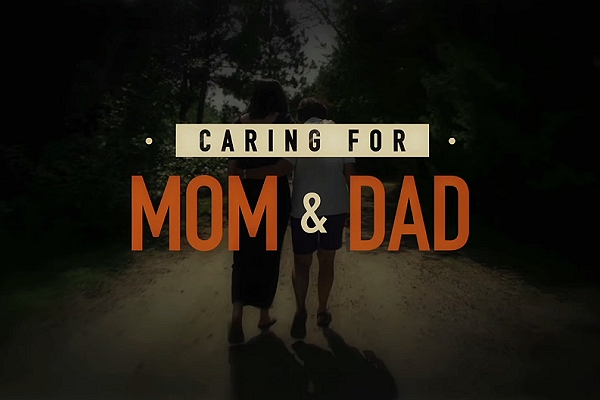 May 07, 2015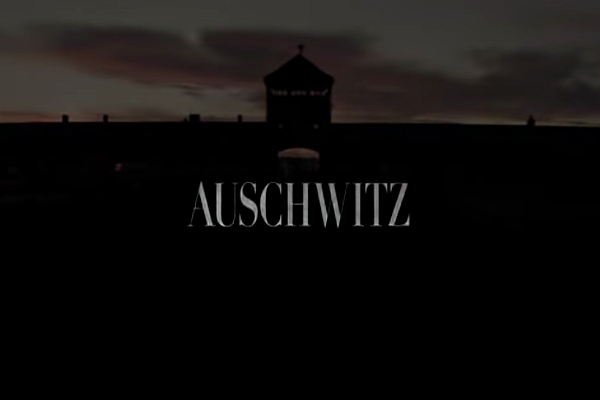 January 27, 2015 (Poland)
---
2014 saw three feature films lined up for Streep. The first was the motion picture adaptation of the young adult novel "The Giver". Set in 2048, the social science fiction film tells the story of a post-apocalyptic community without war, pain, suffering, differences or choice, where a young boy is chosen to learn the real world. Streep, who plays the community's leader, was aware of the book before being offered the role by co-star and producer Jeff Bridges. Upon its release, "The Giver" was met with generally mixed to negative reviews from critics, many being disappointed that the film didn't match with the novel's source materia. The same year, Streep also had a small role in Tommy Lee Jones' western "The Homesman". Set in the 1850s midwest, the film stars Jones and Hilary Swank as an unusual pair who help three women driven to madness by the frontier to get back East. The Homesman premiered at the 2014 Cannes Film Festival where it garnered largely positive reviews from critics. Upon its release, Tommy Lee Jones commented on Streep: "Meryl Streep needs no praise; she's got plenty of it. She's one of the finest movie actors in the history of cinema, and I'm very happy to call her a friend, because to be a friend of hers is another total joy." Streep's final film of 2014 was the Disney film adaptation of the Broadway musical Into the Woods, directed by Rob Marshall. A fantasy genre crossover inspired by the Grimm Brothers' fairy tales, it centers on a hildless couple, who sets out to end a curse placed on them by a vengeful witch, played by Streep. Though the film was dismissed by some critics such as Mark Kermode as "irritating naffness", Streep's performance earned her Academy Award, Golden Globe, SAG, and Critic's Choice Award nominations for Best Supporting Actress.
Related Productions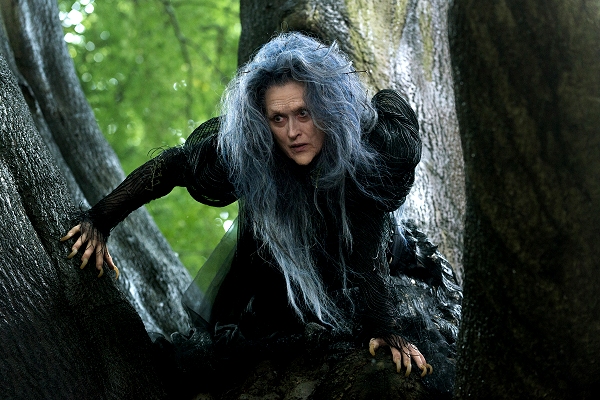 December 25, 2014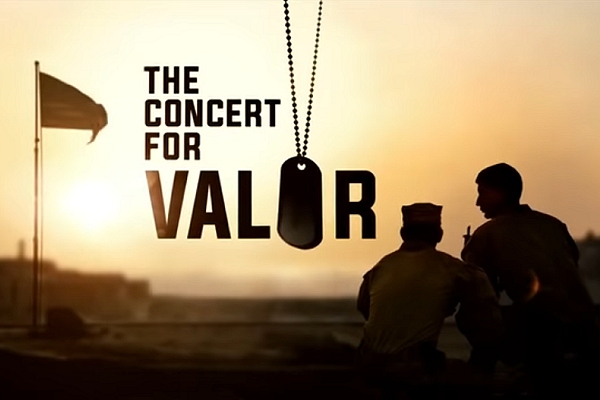 November 11, 2014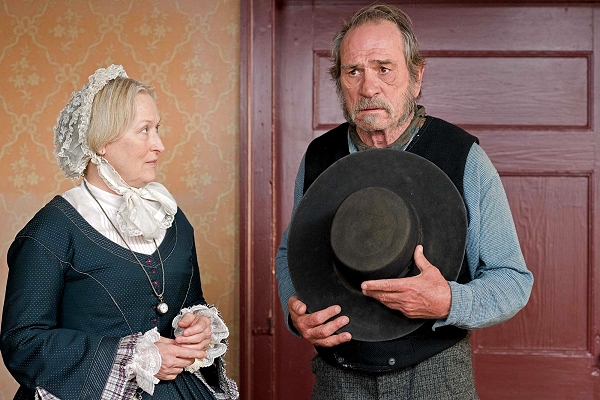 October 03, 2014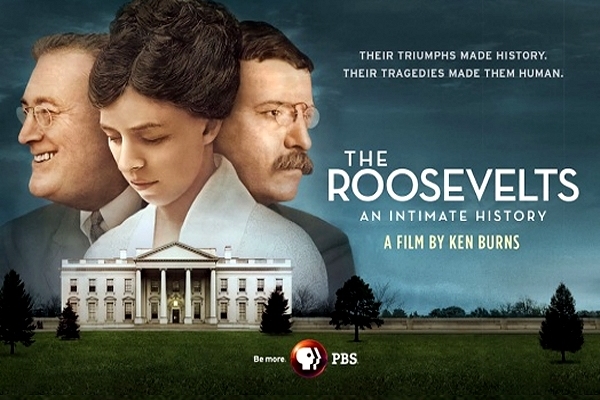 September 14, 2014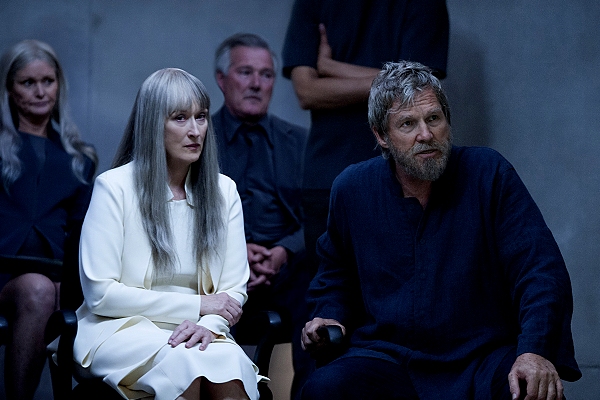 August 15, 2014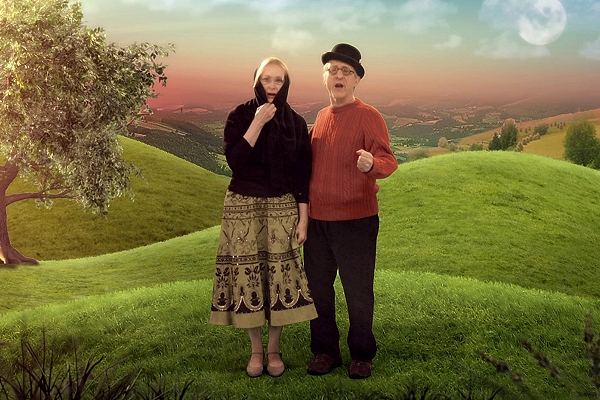 May 05, 2014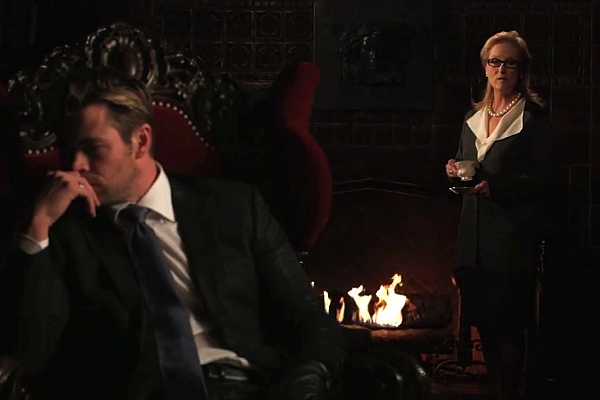 March 02, 2014