According to Yahoo, Meryl Streep is showing her support for the freedom of the press by honoring Amal Clooney at the prestigious CPJ International Press Freedom Awards. The Oscar-winning actress, 71, will present the human rights lawyer, 42, with the 2020 Gwen Ifill Press Freedom Award during an online award ceremony on Nov. 19. The award ceremony will showcase the work of this year's awardees — which include four journalists from Bangladesh, Iran, Nigeria and Russia who have faced arrest or prosecution for their work. Streep will highlight Clooney's work as counsel for many journalists under threat.
In times of unprecedented uncertainty, it's journalists who are out there, gathering the facts and trying to help us make sense of it all. By asking tough questions, and pursuing the truth at any cost, they are essential workers – serving the public and protecting democracy. That's why I'm proud to take part in this year's International Press Freedom Awards and to continue supporting the vital work of the Committee to Protect Journalists.
Clooney will also be interviewed by reporter and 2018 Gwen Ifill Awardee Maria Ressa. The lawyer previously defended Ressa when she was persecuted in her home country of the Philippines for reporting on government corruption. The award ceremony will be hosted by NBC Nightly News anchor Lester Holt. He'll be joined by several other notable journalists such as Christiane Amanpour, Margaret Brennan, David Muir, Yamiche Alcindor and others. Rosamund Pike, Samantha Bee and journalist Ronan Farrow will be included in calls to support press freedom. The 2020 International Press Freedom Awards will be broadcast online at www.ipfa2020.org as well as NBC News, CBS News and ABC News on Nov. 19 at 8 p.m. EST.
I've added all recent virtual performances that Meryl Streep has participated in. 2020 has been short of public appearances, for obvious reasons, but we've been able to catch Meryl Streep in online appearances more than ever. Among the additions are her most recent appearance on Bette Midler's "Hocus Pocus" Hulaween Special to benefit the New York Restoration Project, The Public Theater's tribute to Sam Waterston, the Kageno Virtual Harambee and a recent tribute by the Christopher and Dana Reeve Foundation. Have a look at all added videos below. Screencaptures from all appearances have been added as well. Enjoy, and please, stay safe everybody.
Following the success of his New York Times bestseller Dumpty, actor, author, and illustrator John Lithgow presents Trumpty Dumpty Wanted a Crown, a new book of satirical poems chronicling the despotic age of Donald Trump. This collection is funnier, darker and more hard-hitting than ever. Lithgow writes and draws with wit and fury as he takes readers on a wild ride through another year of the Trump administration. His rollicking poems and illustrations cover Trump's impeachment, the COVID-19 pandemic, the Black Lives Matter movement, and much more. In association with director Tim Van Patten, Triptyk Studios, and Chronicle Prism, John Lithgow presents a 21-episode video series based on the poetry in his book, TRUMPTY DUMPTY WANTED A CROWN: Verses for a Despotic Age—starring 19 luminaries from the acting, literary, and political spheres. Covering Trump's impeachment, the COVID-19 pandemic, the Black Lives Matter movement, and much more, Lithgow's new book arrives at a time when we need it most. With the 2020 election looming, it's important to remember all of the atrocities of the past four years—and to do everything we can to prevent more. As Lithgow says, "I wrote this book to make you laugh, to make you mad, and to make you remember… and maybe also to make you vote."
Superman star Christopher Reeve would have turned 68 today, and friend Meryl Streep is remembering the late actor and his wife Dana in an emotional video posted online by their charity group, the Christopher & Dana Reeve Foundation. For decades, the group has worked to find treatments and cures for paralysis from spinal cord injuries and other neurological disorders. Though the Reeves are no longer with us, Streep encourages people to donate to the cause, detailing how important the organization's mission is to the Reeve family. "There are certain stars that we count on never to dim, never to be extinguished, no matter how murky the sky or thick the cloud cover in November, we count on them to shine through, give us inspiration from far, far, far away," Streep says of Christopher and Dana Reeve. She concludes her tribute video by asking viewers to donate to the Christopher and Dana Reeve Foundation. "I want to salute all the people that the foundation has helped over the years, many of whom Chris and Dana never even got the chance to meet. In honor of their memory, I ask you to give generously," Meryl Streep explains.
On September 06, Meryl Streep has joined the National Domestic Workers Alliance to pay tribute to the lives and work of essential workers. As per their website: Together we'll issue a powerful call for transformation in honor of the people that we've lost and to fight for the working people who are essential to our economy and society. These essential workers are disproportionately Black and other women of color, immigrant, and other communities in the margins. We have a responsibility and opportunity to create an inclusive future that ensures that everyone is treated with dignity and respect–through raising pay and workplace standards, improving safety, and increasing worker power in the workplace. Meryl's segment starts at 1:15:43
Monumental Women, the all-volunteer nonprofit group bringing the first statue depicting real women to Central Park, is pleased to announce that award-winning actors Jane Alexander, Viola Davis, America Ferrera, Rita Moreno, Zoe Saldana and Meryl Streep will portray Sojourner Truth, Susan B. Anthony and Elizabeth Cady Stanton in English and Spanish-Language 'Talking Statues' monologues that will accompany the ​Women's Rights Pioneers Monument​. The Monument featuring Truth, Anthony and Stanton is set to be unveiledon Central Park's Literary Walk on August 26, 2020, the centennial anniversary of the ratification of the 19​th​ Amendment, when women won the right to vote. Actors Jane Alexander and America Ferrera will voice Anthony, Viola Davis and Zoe Saldana will voice Truth, and Meryl Streep and Rita Moreno will voice Stanton. Monumental Women began working to develop the ​Women's Rights Pioneers Monument​ and "break the bronze ceiling" by securing a prominent location on Central Park's famed Literary Walk in 2014. In the statue, Bergmann shows Anthony, Stanton, and Truth working together when they met to advance thefight for equality, justice, and women's rights. They are depicted as equals, working together ata table, with each taking on an essential element of activism: Truth is speaking, Anthony is organizing, and Stanton is writing. ​The ​Women's Rights Pioneers Monument​ honors three New York women who dedicated their lives to women's rights and to women winning the franchise, though none of them lived long enough to see it happen. The public can easily access the monologues by scanning a QR code on a smart-device or by downloading the Talking Statues app on a mobile device.​​The app is part of Monumental Women's educationcampaign to educate Park visitors, young people and schoolchildren around the world aboutwomen's history. Many thanks to Alvaro for the heads-up.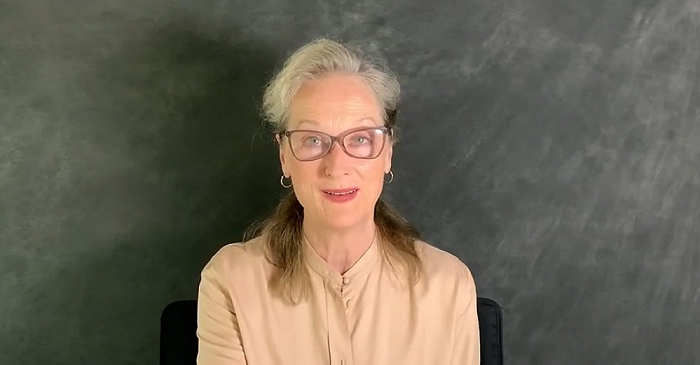 At the beginning of this year, some of the biggest names in Texas media left their respective organizations to begin a new one. Former Texas Tribune Editor Emily Ramshaw and Chief Audience Officer Amanda Zam­mora founded the 19th*, a national nonprofit newsroom focused on the "unfinished business of the 19th Amendment" granting (white) American women the vote in 1920. Andrea Valdez, formerly editor-in-chief of the Texas Observer, fills the same role at the 19th, and Errin Haines, previously national writer on race for the Associated Press, is editor-at-large. Next week, Aug. 10-14, the nascent enterprise is bringing together some more big names of American politics and culture in a "virtual summit," the 19th Repre­sents. Speakers including Stacey Abrams, Alicia Garza, Hillary Clinton, Kamala Harris, and Meryl Streep will headline discussions on the intersection of race and gender issues, voting rights, and electability. Updated: As part of The 19th Represents, Award-winning actors Meryl Streep and Zoe Saldaña perform excerpts from historic speeches by American suffragists – women like Inez Milholland; Sojourner Truth; Crystal Eastman and Frances Ellen Watkins Harper, who fought not just for the right to vote, but for racial justice for women. The 19th Represents is the inaugural summit of The 19th News, a new nonprofit, nonpartisan newsroom reporting on gender, politics and policy. To learn more about The 19th, visit summit.19thnews.org.
Stacey Abrams, who made history as the first Black woman to run for governor and deliver a response to the State of the Union address, is one of numerous forces behind a new #BeCounted PSA dedicated to the 2020 Census. #BeCounted is in partnership with Abrams' organization Fair Count and Harness, an advocacy organization founded by America Ferrera, Wilmer Valderrama, and Ryan Piers Williams to engage artists in social change. Abrams is one of many recognizable faces, including Meryl Streep, Darren Criss, Connie Britton, Queen Latifah, Justin Timberlake, and Kerry Washington, participating in the video, which can be seen above. #BeCounted launches this PSA (in both English and Spanish) produced in partnership with NowThis to help raise awareness about the immense power and impact of the United States Census. "The census is one of the most powerful tools of progress in America, and one of the least understood. It's how we allocate $1.5 trillion in investment every year, and it's also how we allocate political power for a decade," Abrams tells EW. The #BeCounted initiative is just one of many efforts Abrams is engaged in to raise awareness around the power of the census and fight for voting rights. While #BeCounted is an extension of her work with Fair Count and her voting rights organization Fair Fight, she also addresses the census in depth in her new book Our Time Is Now: Power, Purpose, and the Fight for a Fair America. Abrams is also one of the subjects of And She Could Be Next, a two-part documentary series premiering on PBS on June 29, which chronicles the story of a defiant movement of women of color who are transforming American politics from the ground up. It's not the only documentary on her docket either; she's also featured in a still-untitled voting rights documentary from Liz Garbus and Lisa Cortés, which Amazon is slated to release this fall.
According to Page Six, the Public Theater has postponed its digital gala, "We Are One Public," due to the protests around the country. "In this time of national trauma, when the Covid crisis has so disproportionately impacted the Black community, when the injustices of our way of life have been made so clear, it just feels wrong for us to sail ahead with our event," a note on the theater's website stated. "This is a time for mourning and reflection," the statement continued. "It has taken us far too long to proclaim the simple truth: Black Lives Matter," the New York City-based theater company further stated. "We must stand in solidarity with Black artists, Black staff members, and the Black community … The Public is determined to be on the side that fights racism and inequality manifested inside and outside of our walls." Meryl Streep, Alicia Keys, Jesse Tyler Ferguson, Antonio Banderas, Glenn Close and more had been scheduled to participate in the event scheduled for Monday night.
Some news from May 19, with many thanks to Glenn for the heads-up. Meryl Streep has made an appeal for financial donations to help Sharon Hospital and its hard-hit Nuvance Health parent company recover from the coronavirus epidemic. "Our family has relied on Sharon Hospital for decades, for all sorts of emergencies, and I think that right now, at this important time, we need to thank the staff at Sharon Hospital," Streep said in a 90-second video posted Tuesday on social media. "We also need to step up and support Nuvance Health." Streep is the latest celebrity to help Sharon Hospital meet a $1 million matching grant for losses incurred fighting the COVID-19 outbreak. "As someone who is personally connected to the Sharon community, I've seen firsthand how courageous, dedicated, professional and resilient the clinical staff are at Nuvance Health hospitals," actor Liam Neeson said in a video posted on social media in April. "Let's show the Nuvance Health heroes how much we appreciate their devotion and commitment to patient care." Nuvance is the $2 billion network of hospitals in Connecticut and New York that was at the center of the state's fight against the coronavirus during the infection surge in April. The year-old health network, which also operates Danbury, New Milford and Norwalk hospitals, was stressed but not in crisis during the surge, with enough beds, staff and supplies to fight the virus. But Nuvance hospitals lost money when they suspended elective surgery to clear the deck for COVID-19 patients. Furloughed staff and increased coronavirus expenses deepened the network's deficit. In response, Nuvance launched a $5 million philanthropy drive, and had raised over $3 million by early April, when billionaire philanthropist Leonard Blavatnik added another $1 million donation. The Hollywood-backed appeal for Sharon Hospital is separate. "An anonymous donor came to us and said, 'If you can raise $1 million for Sharon Hospital, I will match it,'" Nuvance spokeswoman Andrea Rynn said.