Journalist and author Reba Merrill, who will be releasing her book Nearly Famous: Tales from the Hollywood Trenches on July 21, has blessed Meryl Streep fans with a wonderfully rare and downright odd video interview with the actress, which gets all the more fascinating if you know the back story. As Merrill writes in her book and on her website: In 1987, I went on location to upstate New York for the film Ironweed, which would be Oscar-nominated in 1988 against Rain Man. I knew that I would not be allowed to interview or shoot behind the scenes footage of Jack Nicholson. That left me with his co-star, Meryl Streep. I shot footage of Jack working, but no one knew because I had my cameraman turn his light off. Jack joked around with the TV crew and me as long as the camera was not running. Meryl Streep, on the other hand, let us shoot behind the scenes footage of her. The film's unit publicist arranged Meryl's interview and when the scheduled time came, we were set up and ready. What a surprise when Meryl arrived with wet hair, glasses, and no make up. No one had told her that this was a video interview, not print. I told her, "This interview will last a long time, and I don't think you want to look that way on video." I left the film set with all the interviews except the one with the star of the film. When I came back to Los Angeles, I told the producers I did not have Meryl's interview. I was sent back to New York to interview Meryl Streep, where I picked up a crew and met her at a hotel on Madison Avenue. When I returned to do the interview, she was comfortable with me. Maybe it was because she saw me often during the three-week period on the film; maybe it was because I had been honest with her and said, "Please don't do the interview with wet hair and no makeup and glasses."
For our next interview, the studio provided Meryl with her personal hair and makeup person at the cost of $1,500. About a third of the way through the interview, she put her hand through her hair and got it all messed up, undoing the work of her expensive stylist. I kept my mouth shut because the interview was going really well. The same stylist, J. Roy Helland, won an Oscar in the Hair and Makeup category for turning Meryl into Margaret Thatcher in The Iron Lady. When he accepted his Oscar, he thanked Meryl for keeping him employed for over 30 years. Meryl gave me a very revealing, hour-long interview about the woman she was, what made her tick, and what was important in her life. "I still get nervous, very nervous, when I have to audition," she told me, which is probably not something she has to do anymore since she is considered one of the most talented and respected actresses of our time.
I wasn't interested in doing a biopic on Anna; I was interested in her position in her company. I wanted to take on the burdens she had to carry, along with having to look nice every day. Absolute power corrupts absolutely…. I liked that there wasn't any backing away from the horrible parts of her, and the real scary parts of her had to do with the fact that she didn't try to ingratiate, which is always the female emollient in any situation where you want your way – what my friend Carrie Fisher used to call "the squeezy and tilty" of it all. [Miranda] didn't do any of that. (Meryl Streep, Entertainment Weekly)
If looks could kill, then for 15 years The Devil Wears Prada has been a serial threat. Director David Frankel's adaptation of Lauren Weisberger's Faustian yarn – inspired by the author's time working under Vogue editor in chief Anna Wintour – emerged as a modern classic through its mélange of impossibly chic clothes, scorching dialogue, and pointed portrayal of women in power. In time, the movie has become a beacon for gender parity, too, with its ice-queen Runway editor Miranda Priestly (Meryl Streep) occupying a delectably unapologetic position of power in a male-dominated world and, as a Hollywood antihero, a rare kind of leading lady. The film struck a chord with its feminist-tinged, broadly appealing story, and has endured largely thanks to the spectacular chemistry among Streep, Anne Hathaway (who plays Miranda's assistant-turned protegée Andy Sachs), and scene-stealers Emily Blunt, Stanley Tucci, and Adrian Grenier. For the first time since the film's release in June 2006, EW has gathered those stars (and more) for a fierce reunion as they dig their heels into Devil's legacy. You can watch the full 30 minutes reunion exclusively on Entertainment Weekly's website.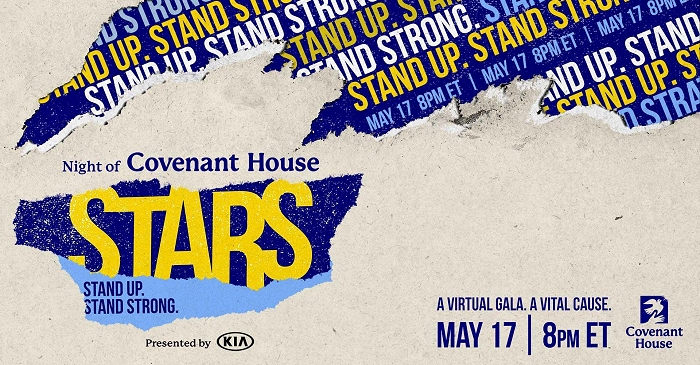 We can count ourselves quite blessed when it comes to Meryl Streep's recent appearances – with her fourth and fifth tribute video within four weeks – even though they are "just" online. On Monday, she opened the Physicians for Human Rights Virtual Celebration Gala in honor of health and human rights heroes on May 16. And yesterday, the Virtual Night of Covenant House Stars took place, as previously reported. As they write for the tribute segment, "our young people at Covenant House have incredible star power. And their light shines even more brightly when their stories are shared by Hollywood's finest: Morgan Freeman, Meryl Streep, and Jon Hamm. Listen in as these great actors share letters from Elijah, Stephanie, and Allan in New Orleans, Georgia, and Missouri, respectively, youth who are taking the next steps in their lives toward becoming an artist, a parent, and a computer tech expert". This segment is introduced by the iconic Dionne Warwick and performed by Broadway superstar Stephanie J. Block. Both videos, as well as screencaptures have been added to the archives.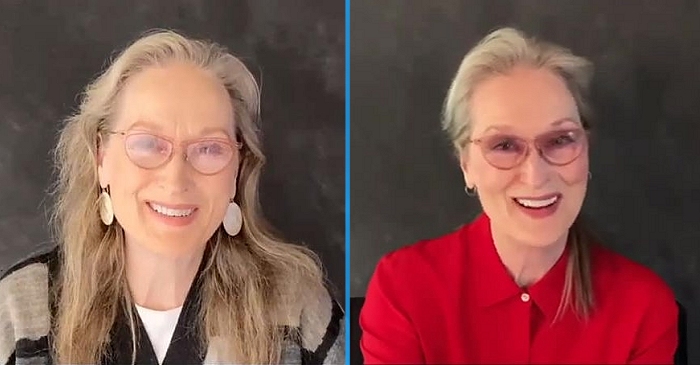 Two more virtual appearances have been added to the archive – and the ever-growing collection of benefit readings we have been blessed with since the start of the Pandemic. Thanks a lot mostly to this great Youtube channel for always sourcing and posting Meryl's online appearances we would be otherwise unable to watch :-) The first appearance comes from the April 19 Writers Guild Initiative 2021 Virtual Benefit Gala in which celebrity guests recited poems written by healthcare workers. Meryl's poem by Lenka Varekovka is titled "Thank you for the Shower". Then, on May 01, Meryl participated in the Inaugural Misty Upham Award for Young Native Actors, created by the Yale Indigenous Performing Arts Program to encourage and honor Native Actors Under 25, by offering them a cash prize, physical award, performance opportunities and platform. The award was created in memory of actress Misty Upham, who played Johnna the maid opposite Streep's Violet Weston in 2013's "August: Osage County", and who died only a year later under tragic circumstances. In her honor, Meryl reads the poem "The Delight Song of Tsoai-talee" by N. Scott Momaday. Both videos can be watched in the video archive, screencaptures have been added to the photo gallery.
On April 29, Meryl Streep – who is a Honorary Event Co-chair – joined the 18th edition of Poetry & The Creative Mind to read three selected poems: "Poetry" by Marianne Moore, "To The Magazine" by Mary Ruefle and "Take the I Out" by Sharon Olds. The event was held virtually with appearances by Elizabeth Alexander, Lauren Ambrose, John Darnielle, Terrance Hayes, Regina King, Delroy Lindo, Samin Nosrat, Sandra Oh, Jason Reynolds and Sarah Sze. You can watch Meryl's appearance below or in the video archive. Screencaptures have been added to the photo gallery.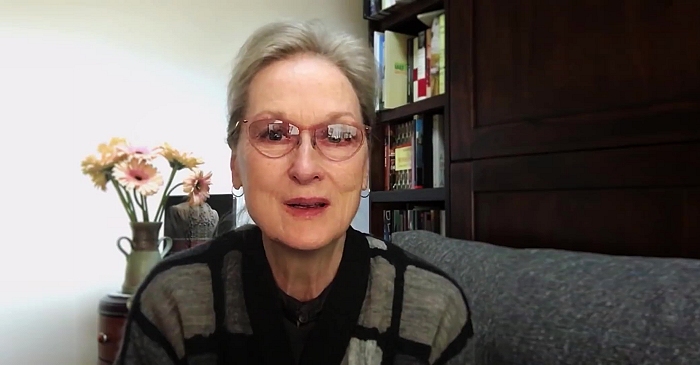 Meryl Streep has been featured among the many celebrity guests of Michelle Obama's "Girl Talk: Knowledge is Our Superpower": The future of our world is as bright as our girls—and this Thursday, we hope you'll join Michelle Obama and the Girls Opportunity Alliance as we celebrate young women across the globe. "Girl Talk: Knowledge is Our Superpower" is a one-hour virtual event hosted by POPSUGAR in support of adolescent girls' education and empowerment. The night is guaranteed to be inspirational, educational, and fun, with interactive Q&As, a musical performance by Kelly Clarkson, and other great guests along the way. Other special guests include: Alicia Keys, Amy Poehler, Andra Day, Angélique Kidjo, Becky G, Chiwetel Ejiofor, Demi Lovato, Dove Cameron, Ego Nwodim, Julia Roberts, Kristen Bell, Lana Condor, Madison Reyes, Meryl Streep, Millie Bobby Brown, Milo Ventimiglia, Naomi Osaka, Natalie Portman, Orlando Bloom, Shaun Robinson, Shonda Rimes, and Storm Reid. You can watch the full special below – Meryl appears around the 36 minutes mark. Screencaptures have been added to the photo gallery as well.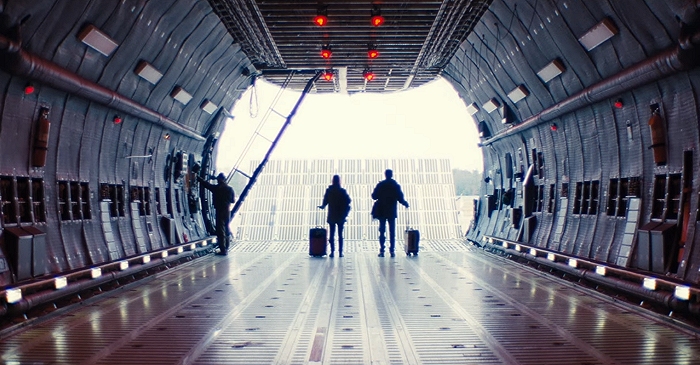 "Don't Look Up" is coming to Netflix sooner than you might think. Jennifer Lawrence, Leonardo DiCaprio, and the rest of the star-studded cast are still filming "Don't Look Up" in Boston and other nearby towns, but the Adam McKay comedy will make its debut later this year, and Netflix has already released the first official footage from the movie. A trailer posted by Netflix highlighting all of the original movies it will release in 2021 features a short scene from "Don't Look Up," which stars DiCaprio and Lawrence as two low-level astronomers who must embark on a massive media tour to warn the world about an approaching comet that will destroy the planet. In the brief, dialogue-free footage, DiCaprio and Lawrence step off of a carrier plane onto an airport tarmac as uniformed personnel stroll by in the background. So far, "Don't Look Up" has filmed scenes in Boston, Canton, Chicopee, Fall River, Norton, Salisbury, Weymouth, and Worcester. Filmmakers shot scenes at Union Point in Weymouth, the former site of South Weymouth Naval Air Station, in December. The streaming giant has not announced a specific release date for "Don't Look Up." Along with DiCaprio and Lawrence, "Don't Look Up" features Cate Blanchett, Rob Morgan, Meryl Streep, Jonah Hill, Chris Evans, Himesh Patel, Timothée Chalamet, Matthew Perry, Tyler Perry, Melanie Lynskey, Ron Perlman Tomer Sisley, singer Ariana Grande, and rapper Kid Cudi (text courtesy boston.com).
We're getting the full Streep treatment for the past week with dual (virtual) promotional tours for both "Let Them All Talk" (releasing today) and "The Prom" (releasing tomorrow). On Tuesday, Meryl Streep was a guest on her co-star's talkshow "The Late Late Show with James Corden" while yesterday she was joined by Dianne Wiest and Candice Bergen on "The Today Show" to promote "Let Them All Talk". Both appearances can be watched in the video archive, with screencaptures being added to the photo gallery.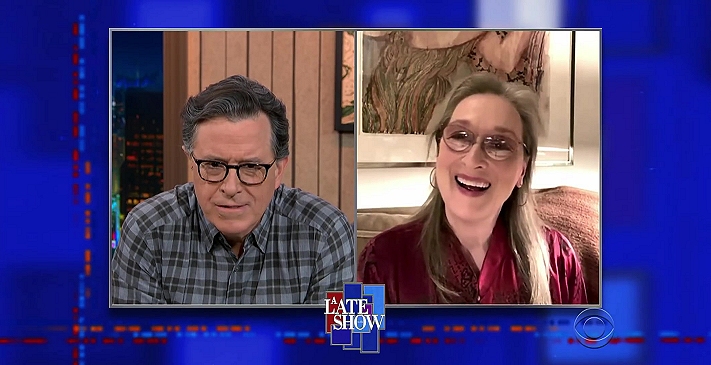 Three new video clips have been added to the video archive. Yesterday, Meryl Streep attended "The Late Show with Stephen Colbert" to promote both "The Prom" and "Let Them All Talk". In the interview, she remembered a particular story from one of her own prom visits and pointed out the error that Barack Obama wrote about her in his memoir. Additonally, clips from Entertainment Tonight and the segment from the Equality Now virtual gala have been added as well. Enjo the new videos. Screencaptures from all recent virtual appearances have been added to the photo gallery.
A couple of new videos have been added to the archive, including virtual appearances on "Good Morning America" alongside James Corden to promote "The Prom", a first news segment from Extra TV and a lenghty press junket with the cast and crew of the film. More videos will be added as they arrive.