According to Variety, the SAG-AFTRA Foundation is set to break ground next month on a 15,000-square-foot facility at the union's mid-Wilshire headquarters that will be a central hub for the foundation's educational, career development and event activities in the Los Angeles area. The Meryl Streep Center for Performing Artists will be built on the 10th floor of SAG-AFTRA's longtime home in the famed Museum Square building. It's expected to open its doors early next year, thanks to support from its namesake, the three-time Oscar winner who is one of the most renowned actors of all time. The facility will also feature the Tom Hanks & Rita Wilson Screening Room, equipped with high-end technology to host screenings, panels and educational programs. "We're thrilled to name our new Center for Performing Artists in honor of Meryl Streep, a lionhearted leader and longtime supporter of our foundation whose commitment to her craft and her community is befitting of this recognition," SAG-AFTRA Foundation president Courtney B. Vance said. "We are also excited to announce our new screening room will be named in honor of two additional champions of our foundation, Tom Hanks and Rita Wilson, whose key support, especially during times of crisis in our industry, has meant we never missed a beat when our members needed us."
I've always thought that actors should have more places to go where they can not only fully express themselves – but grow professionally. The pandemic shook up our industry as we knew it, and the SAG-AFTRA Foundation was vital in assisting performers. That's why I'm honored to have my name attached to a center where performing artists can come together to collaborate while getting the support and services they need. This exciting new space at the SAG-AFTRA Foundation will be a tremendous benefit to any performer who is looking to hone their craft and find community. (Meryl Streep)
Since its formation in 1985, the SAG-AFTRA Foundation has distributed more than $18.6 million in emergency financial and health assistance to actors as well as disaster relief. It has also given out more than $9.2 million in scholarship funds. The complete article can be read at Variety.
According to Deadline, Meryl Streep and Nicole Kidman have renewed their support for The Writers Lab, which will return to its in-person format for script development in 2022, supporting women screenwriters over the age of 40. The Lab has re-doubled its efforts to amplify the voices of women writers, calling for greater inclusion of their stories in film and television, in response to growing threats to women's rights, with genre scripts (particularly comedies) and historical stories about pioneering women being seen most commonly amongst its pool of submissions. This year's Lab will focus on building the tools and strategies for talented writers to develop their projects and navigate the ever-shifting landscape of professional opportunities, with the 12 screenwriters selected to gather in Saugerties, NY in early November. The Writers Lab also today announced that its work is being recognized by AdvancingDiversity.org, a collective of more than 40 advertising and media companies and organizations, which last week unveiled its 2022 inductees into the Advancing Diversity Hall of Honors. "The Writers Lab is thrilled to be inducted into AdvancingDiversity.org's Hall of Honors with these illustrious Honorees," said co-founder Elizabeth Kaiden. "Advancing diversity is crucial to our mission of spotlighting an unexplored commodity: Cinematic stories that 50% of the population are clamoring to see." Many thanks to Glenn for the heads-up.
In response to the overturning of Roe V. Wade, Dr. Stacy L. Smith and the Annenberg Inclusion Initiative of the University of Southern California have announced a project which "will monitor popular entertainment content for issues related to reproductive rights, marriage equality, interracial relationships, and gun violence, and offer insights to create change." According to the AV Club, the initiative comes with the support of many high-profile actors and producers, including Meryl Streep, Scarlett Johansson, Kerry Washington, Julianne Moore, Tessa Thompson, Amy Schumer, Laura Dern, and more. The Annenberg Inclusion Initiative works as an academic think tank out of USC Annenberg focusing on inequality in the entertainment industry, in front of and behind the camera. Those involved with study will not only use the research finding to offer solutions, but will also launch a "reproductive rights Accelerator program" to offer financial support to undergraduate film work on the subject. "The entertainment community plays a critical role in educating people about their sexual and reproductive health and rights, including abortion. With Roe v. Wade overturned and birth control, LGBQT+ and other rights threatened, this new Annenberg Inclusion Initiative research project will provide an invaluable tool to ensure audiences are reached with medically and legislatively accurate storytelling about these issues," Planned Parenthood's Caren Spruch says. "As we fight for every person's right to bodily autonomy, working together with the Initiative and its supporters will be essential to changing the culture to achieve this goal." Many thanks to Glenn for the heads-up.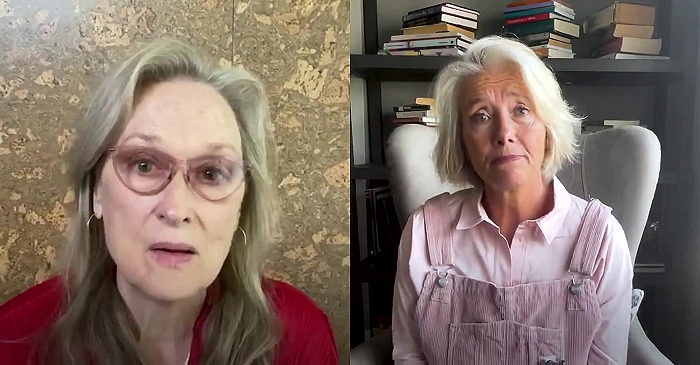 Emma Thompson, Meryl Streep, Sylvester Stallone, David Harewood, Daniel Radcliffe, Sanjeev Bhaskar, Luke Evans, Benjamin Zephaniah and David Morrissey have joined a short film which calls out the UK Government's approach to refugees. This film from the Refugee Council, scripted by writer, actor and comedian David Schneider, calls on the Government to rethink proposed laws which will criminalise refugees, like those from Ukraine, who have made their own way to the UK in a desperate search for safety. It puts the viewer in the position of a refugee – a mother, a grandmother, or a child – who has been forced from their home because of war devastating their country. It goes on to illustrate how, whatever the experience they are fleeing, these refugees could be deemed criminals under the new Nationality and Borders Bill if they have made their own way to the UK, even when no other route is available. The Nationality and Borders Bill, currently reaching the final stages in Parliament, will undermine the UK's obligation to give all who seek asylum a fair hearing, by discriminating against refugees depending on how they reach British shores. Those forced to take dangerous journeys to the UK will be treated as criminals.
On April 21st, 2022, the Nature Conservancy California will host its Second Annual Virtual Earth Day Summit. An active forum on climate change, power alternatives, and plastic pollution, the summit will feature voices from the leading environmentalists and climate scientists like Dr. John Francis and Paul Hawken, as well as committed advocates like actor Meryl Streep and athlete John John Florence. The summit will feature panel discussions and one-on-one conversations designed to provide inspiration, science-based solutions, and actionable steps participants can take to make a difference wherever they are.
Meryl Streep is an accomplished actress, also known for her various environmental efforts. She began her environmental advocacy in the 1980's with the Natural Resource Defense Council. In 1989, she co-founded Mother & Others, a consumer advocacy group that worked successfully for 12 years to protect the health of children and the environment and to support organic, local, and sustainable agriculture. Meryl has advocated for organizations including the Center for Climate, Health and the Global Environment at Harvard Medical School, Scenic Hudson, and the Children's Health Environmental Coalition.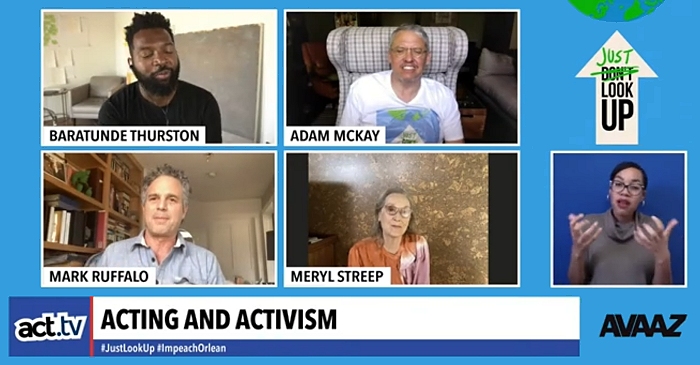 According to NBC Los Angeles, Adam McKay and Meryl Streep will join an indigenous and youth-led coalition at Pershing Square at noon Friday in downtown Los Angeles to support the Youth Climate Strike Los Angeles. The Youth Climate Los Angeles movement has targeted the California Teachers Union to divest their $20 billion pension fund from fossil fuels and will rally on March 25, the same day the CTA is supposed to be voting on their pension fund. It will also show support for the Wet'suwet'en tribe, whose territory and water supply is being threatened by the CGL pipeline. McKay said he will announce at today's rally that his company will divest their money from City National Bank/Royal Bank of Canada if the bank does not meet the demands of the Wet'suwet'en tribe. Those in attendance are asked to wear masks. There is a live stream event on Act.tv set for Saturday starting at noon that is expected to feature Mark Ruffalo, Bill McKibben, Danny Glover and hosted by Baratunde Thurston. Many thanks to Glenn for the heads-up. Edit: The complete livestream is now available to rewatch. Meryl Streep joins the discussion at the 1:32 hours mark.
According to People, one lucky fan will be getting a private Zoom session with The Devil Wears Prada cast! Lollipop Theater Network is auctioning off the rare prize of zooming with the A-List cast — Meryl Streep, Anne Hathaway, Emily Blunt and Stanley Tucci — to benefit the organization in its 20th year. The 10-minute call will give the lucky winner the chance to see the cast reunite 15 years after the hit film was released. "We are so thrilled to be celebrating our 20th anniversary with our amazing partners at Charitybuzz and the incredibly talented cast of The Devil Wears Prada," said Lollipop Theater Network Executive Director Evelyn Iocolano in a statement. "We have seen the tremendous impact that these kinds of interactions have on our young patients, and now one lucky bidder will have the chance to experience it themselves, all while contributing much-needed funds to keep our programs up and running! Here's to the next 20 years of Lollipop!" the statement concluded. The auction is open now and will end on August 3 at www.charitybuzz.com/thedevilwearsprada. Many thanks to Glenn for the heads-up.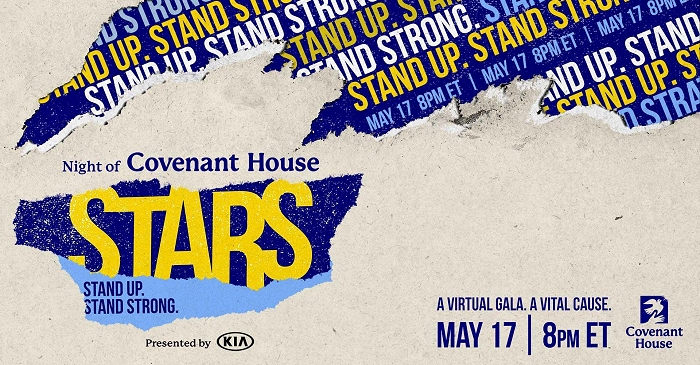 We can count ourselves quite blessed when it comes to Meryl Streep's recent appearances – with her fourth and fifth tribute video within four weeks – even though they are "just" online. On Monday, she opened the Physicians for Human Rights Virtual Celebration Gala in honor of health and human rights heroes on May 16. And yesterday, the Virtual Night of Covenant House Stars took place, as previously reported. As they write for the tribute segment, "our young people at Covenant House have incredible star power. And their light shines even more brightly when their stories are shared by Hollywood's finest: Morgan Freeman, Meryl Streep, and Jon Hamm. Listen in as these great actors share letters from Elijah, Stephanie, and Allan in New Orleans, Georgia, and Missouri, respectively, youth who are taking the next steps in their lives toward becoming an artist, a parent, and a computer tech expert". This segment is introduced by the iconic Dionne Warwick and performed by Broadway superstar Stephanie J. Block. Both videos, as well as screencaptures have been added to the archives.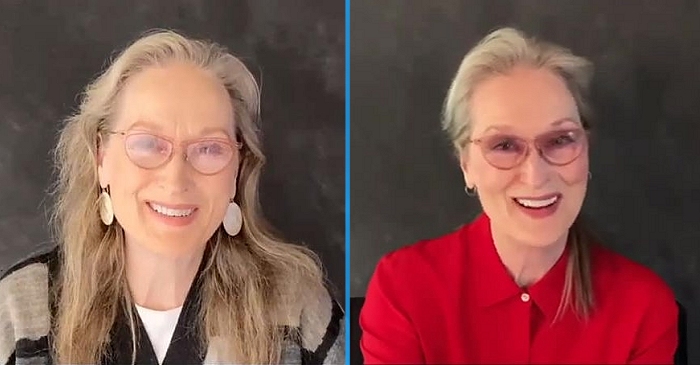 Two more virtual appearances have been added to the archive – and the ever-growing collection of benefit readings we have been blessed with since the start of the Pandemic. Thanks a lot mostly to this great Youtube channel for always sourcing and posting Meryl's online appearances we would be otherwise unable to watch :-) The first appearance comes from the April 19 Writers Guild Initiative 2021 Virtual Benefit Gala in which celebrity guests recited poems written by healthcare workers. Meryl's poem by Lenka Varekovka is titled "Thank you for the Shower". Then, on May 01, Meryl participated in the Inaugural Misty Upham Award for Young Native Actors, created by the Yale Indigenous Performing Arts Program to encourage and honor Native Actors Under 25, by offering them a cash prize, physical award, performance opportunities and platform. The award was created in memory of actress Misty Upham, who played Johnna the maid opposite Streep's Violet Weston in 2013's "August: Osage County", and who died only a year later under tragic circumstances. In her honor, Meryl reads the poem "The Delight Song of Tsoai-talee" by N. Scott Momaday. Both videos can be watched in the video archive, screencaptures have been added to the photo gallery.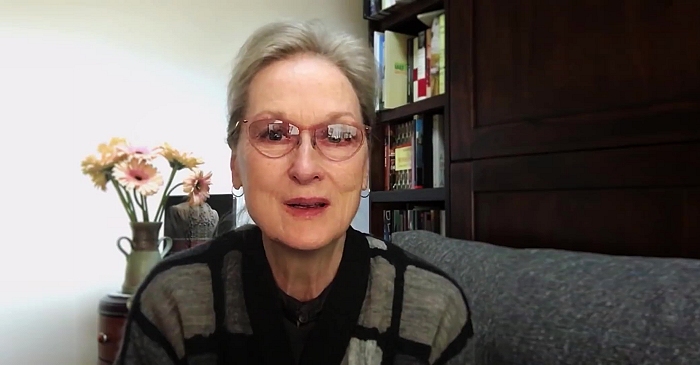 Meryl Streep has been featured among the many celebrity guests of Michelle Obama's "Girl Talk: Knowledge is Our Superpower": The future of our world is as bright as our girls—and this Thursday, we hope you'll join Michelle Obama and the Girls Opportunity Alliance as we celebrate young women across the globe. "Girl Talk: Knowledge is Our Superpower" is a one-hour virtual event hosted by POPSUGAR in support of adolescent girls' education and empowerment. The night is guaranteed to be inspirational, educational, and fun, with interactive Q&As, a musical performance by Kelly Clarkson, and other great guests along the way. Other special guests include: Alicia Keys, Amy Poehler, Andra Day, Angélique Kidjo, Becky G, Chiwetel Ejiofor, Demi Lovato, Dove Cameron, Ego Nwodim, Julia Roberts, Kristen Bell, Lana Condor, Madison Reyes, Meryl Streep, Millie Bobby Brown, Milo Ventimiglia, Naomi Osaka, Natalie Portman, Orlando Bloom, Shaun Robinson, Shonda Rimes, and Storm Reid. You can watch the full special below – Meryl appears around the 36 minutes mark. Screencaptures have been added to the photo gallery as well.