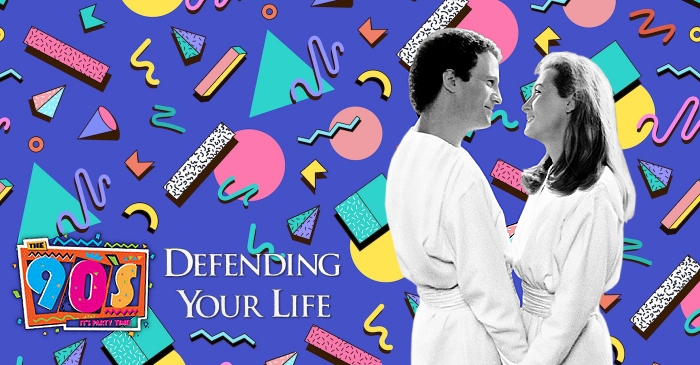 "Defending Your Life" is another odd and often-forgotten film in Meryl Streep's filmography. It's the second film Streep shot in Los Angeles, and, since "The Deer Hunter", the second and last time in her career she has played a character that can be simply described as "the girl". Fittingly for a film that plays in the afterlife up in the clouds, it's breezy and airless
The late 1980s brought a distinctive change in Meryl Streep's life and career. Starting in 1987, Streep prepared for the lead part in Oliver Stone's "Evita", a part she always wanted to play. Streep and Stone even made it to a New York City recording studio and did preliminary dubbings of the score. She would stay with the project as a priority for the next two and a hal years. The originally planned filming, set to begin in early 1989, was halted due to the riots in Argentina. The filmmakers scouted locations in Brazil and Chile, before deciding on Spain, but filming was postponed once again when its film company dropped out due to recent box office failures. While Stone managed to secure another film company to produce the film, Streep withdrew from the project. She has called the loss of that role a "bitter disappointment" in an interview with The New York Times years later. But the real distinctive change came when the Streep/Gummer family moved from Connecticut to Los Angeles in 1989. The reason for the move was simple – having had their son attending pre-school in England, Nairobi and Australia, and two young girls about to start school, they wanted to give their family a stable base. So they sailed off to Los Angeles, where they stayed for four years. The shift to the other side of the country brought a change in roles offered to Streep during that period. After the aforementioned "Postcards from the Edge", she co-starred opposite Albert Brooks in his after-life comedy "Defending Your Life".
I see dead people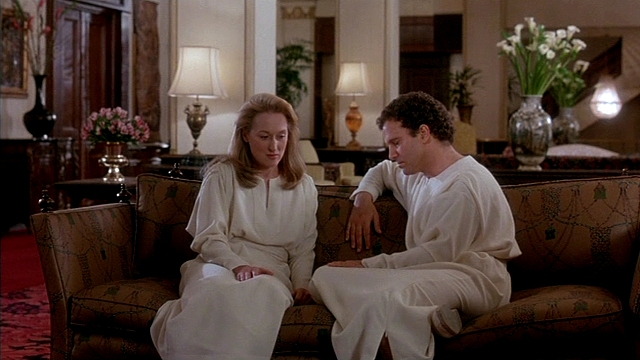 Meryl Streep plays "the girl" opposite Albert Brooks as two recently decased people on their way to heaven.
While filming "Postcards from the Edge", at a house party thrown by Carrie Fisher, Meryl Streep was introduced to Albert Brooks, who paced for two hours and pitched her his nutty and sweet movie idea about what really happens when you die. As the actor/director told Rolling Stone: "Meryl brought so much reputation to her life because of all these iconic roles, but when you met her, she was just so easygoing and natural. She was aware of my work, and she asked what I was doing. I told her I was making this movie, and she sort of jokingly said, "Is there a part in it for me?" I went home and thought, "Okay…" It took a lot more from the producers to make that happen, but the person that I wanted for that role was the person that I sat and talked to at that party." "He never let me read the script," Streep told The New York Times in 1991. "Albert said, 'I have to come over and tell it to you.' And it was like, 'Then I say… then you say…' and I fell in love with the idea." Brooks plays Daniel Miller, a neurotic, materialistic, recently divorced ad man who, in a moment of truly dark humor, drives his brand-new BMW into an oncoming bus. He wakes up in Judgment City, a way station in the afterlife where the newly dead must prove that they are worthy to move on to a higher plane of existence—not heaven exactly, but a place where they will continue to grow and explore, free from the limitations of life on Earth. The universe, however, has a vicious joke in store. Rather than providing the dead with clouds and harps, Judgment City simulates an international conference from hell, with its sanitized hotels, annoyingly chipper staff, mind-numbing lobbies, and bland concrete plazas. While the weather is always perfect, and the visitors can eat all the junk food they want, the relentlessly "normal" setting makes a few of the newly dead wonder if they are being punished. Even worse, the humiliating judgment process forces the defendants to sit through outtakes of their lives, while lawyers bicker over the cosmic significance of every major life decision. Daniel, a perpetual sad sack, awkwardly relives the time he crumbled while giving a speech, or the time he chickened out of making a small investment that would have made him rich. There's even a blooper reel that makes the judges giggle.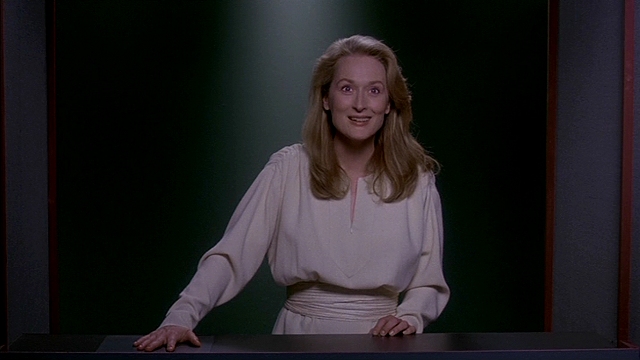 To complicate things, Daniel falls in love with Julia (Meryl Streep), a recently deceased woman whose own trial is going much differently. A warm, outgoing mother of two, Julia has conquered her fears so convincingly that even her prosecutor admits to watching her outtakes merely for enjoyment's sake. Her success in life both attracts Daniel and makes him realize his own inadequacies. While he may have dated women who were out of his league in the past, here his love interest is destined for adventure in another realm of existence, while he resigns himself to being demoted back to Earth for nearly the twentieth time. "I must be the dunce of the universe," he says.
The idea of the perfect woman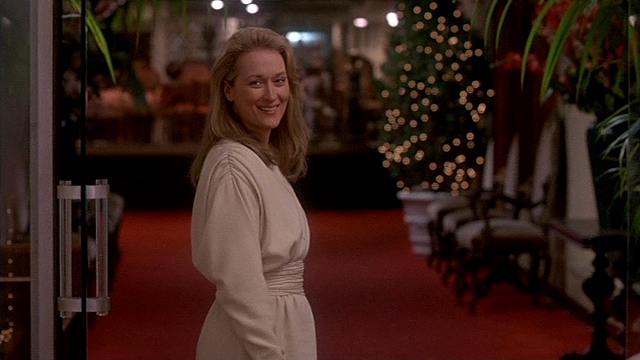 The image of perfection: Streep plays Julia, a woman who has done everything right in life.
In casting Streep, Brooks wanted to show a side of Streep that film audiences have not seen before – a relaxed, funny, laid back woman. As he told Rolling Stone, "my job was to provide an environment where she could just hang out. She's the greatest character actress that ever lived, and she didn't get a lot of opportunities just to hang out, so that's what I thought could be great. She's playing somebody who's had a perfect life, and she automatically brings to that someone who is as close as you could get, someone who seemingly has had a perfect life. So all of that worked." The New York Times had a different take on her character. "She plays the quintessential "girl" role, passive and pretty and muted and wise – the straight woman to Mr. Brooks's funny man. Ask about her contribution to the film and, looking somewhat embarrassed, she says it was "lighter than air." Ask about her technique in playing Mr. Brooks's dream girl, and she cracks, "It's very important to have good hair." Ask about the resonance of her character, and she says there was none. "I know Albert feels he's written a whole woman, a completely full-blown person," she says. "I didn't know how to break it to him, he's really not done that. He's written an idea of a woman. And I did my best to fill those silver slippers. "But it was also fun," she adds. "I thought, 'Ah, the hell with it. You're dead. You can do whatever you want.' "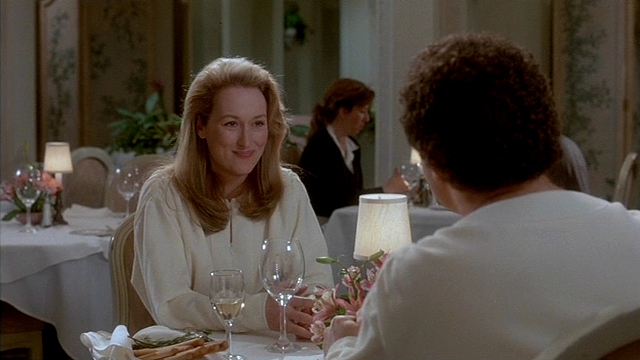 "Defending Your Life" was a modest success at the box office, earning $16 million. Even more people saw it over the coming years due to strong home-video sales. Critics dismissed the film as lighthearted, but with not much meat to the bone. Entertainment Weekly wrote in its review: "When it comes to the meat of the picture, Brooks seems to have been on sabbatical. He keeps tossing in whimsical distractions, such as some business about people on earth using only three percent of their brains. In Judgment City, it seems, you learn to use up to 50 percent (though when Bob, the supercerebral defender, rationalizes away his client's flaws, he sounds like nothing so much as a sleazy real estate broker trying to palm off a one-room pit as the deal of a lifetime). Brooks, too, uses Meryl Streep in a blandly redemptive way. Instead of being allowed to develop a comic character, she is simply plunked down to giggle and stare adoringly at Brooks, so that he can learn to Follow His Feelings. Does anyone really want to watch Albert Brooks get his est degree? By the end of Defending Your Life, Daniel may have broken through his fears, but Brooks the comic maestro seems all but paralyzed."
Read posts from the archive: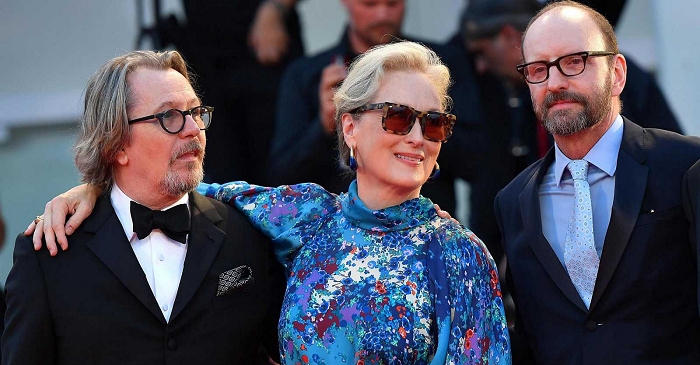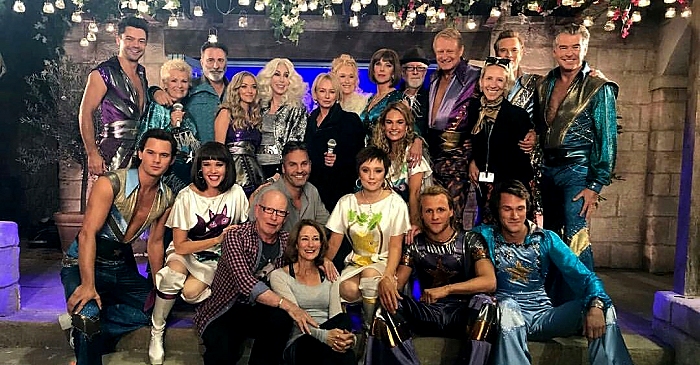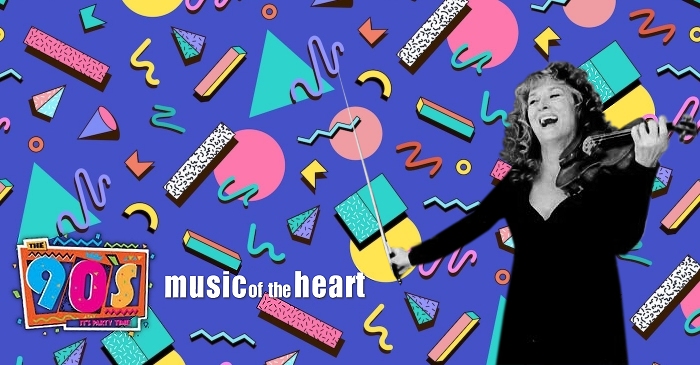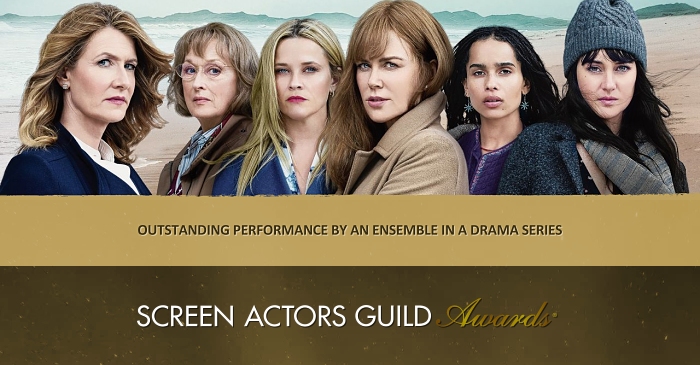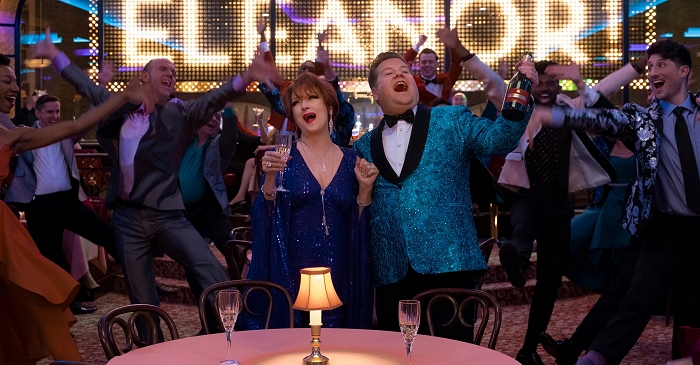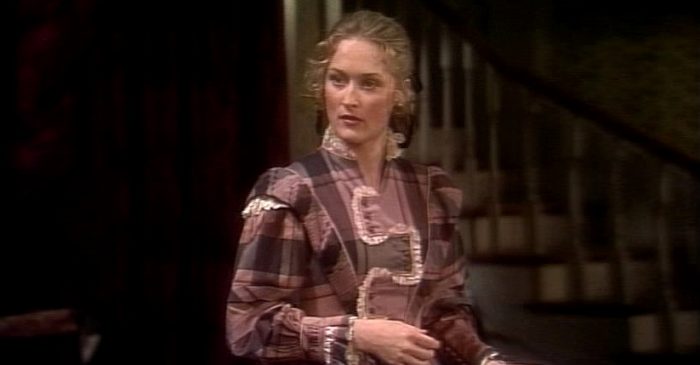 www.simplystreep.com