As a regular visitor to Simply Streep, you may know that I never post anything that is not related to Meryl Streep's work. It's the base on which I maintain this site, because its focus has always been the work, and since Miss Streep herself is fiercely private, I feel it is something to honor, even more today when nothing is private anymore. I have stayed away from commenting any of the Harvey Weinstein stories, the false accusations and countless vile emails and comments I receive from people who don't bother to read beyond a headline, even after actress Rose McGowan singled out Meryl Streep in a now-deleted tweet, calling her a liar for not speaking out against Weinstein. But today, Meryl Streep did something that really surprised me, something I'd like to re-post here to put speculations to a rest. In a statement to the Huffington Post, Streep said that it hurt that McGowan believed she knew about the mogul's alleged behavior. The full statement can be read below in its entirity:
It hurt to be attacked by Rose McGowan in banner headlines this weekend, but I want to let her know I did not know about Weinstein's crimes, not in the 90s when he attacked her, or through subsequent decades when he proceeded to attack others.

I wasn't deliberately silent. I didn't know. I don't tacitly approve of rape. I didn't know. I don't like young women being assaulted. I didn't know this was happening.

"I don't know where Harvey lives, nor has he ever been to my home.

I have never in my life been invited to his hotel room.

I have been to his office once, for a meeting with Wes Craven for "Music of the Heart" in 1998.

HW distributed movies I made with other people.

HW was not a filmmaker; he was often a producer, primarily a marketer of films made by other people- some of them great, some not great. But not every actor, actress, and director who made films that HW distributed knew he abused women, or that he raped Rose in the 90s, other women before and others after, until they told us. We did not know that women's silence was purchased by him and his enablers.

Continue Reading
12 projects have been selected to participate in The Writers Lab, produced by New York Women in Film and Television and IRIS, an organization that promotes female voices in fictional film. Meryl Streep and Oprah Winfrey fund the program, entering its third year, which bills itself as the only lab in the world devoted to providing script development for women writers over the age of 40. It is produced in collaboration with the Writers Guild of America, East. Mentors who have been confirmed for the lab, slated to run Sept. 14-17, include producers Susan Cartsonis (What Women Want and Where the Heart Is), Lisa Cortes (Precious, Shadowboxer) and Caroline Kaplan (Time Out of Mind, Letters to Juliet); writer Amy Fox (Equity); and Disney/Pixar consultant Pat Verducci. Producer Alexis Alexanian (Pieces of April) will head up the roster of special guests. The Writers Lab will take place in the Connecticut River Valley, where the mentors and writers will meet for panel discussions as well as one-on-one discussions to develop and refine their scripts. The full article and a list of the selected projects can be found over at The Hollywood Reporter. Many thanks to Glenn for the heads-up.
The Massachusetts Conference for Women has announced that Meryl Streep and Viola Davis will be keynote speakers at the Massachusetts Conference for Women on Thursday, December 7, 2017 at the Boston Convention and Exhibition Center. Adam Grant, top-rated Wharton Professor and best-selling co-author, with Sheryl Sandberg, of Option B: Facing Adversity, Building Resilience, and Finding Joy will also deliver a keynote address. "We are delighted to welcome Meryl Streep, Viola Davis and Adam Grant to the main stage in Boston," said Gloria Larson, board chair of the Massachusetts Conference for Women. "This standout lineup of speakers, icons in the arts and in business, are sure to inspire attendees in ways they will long remember." The 13th annual Massachusetts Conference for Women will host over 11,000 attendees for a full day of networking, inspiration, professional development and personal growth. In addition to a standout lineup of keynote speakers, the nonpartisan, nonprofit event will feature breakout sessions led by more than 150 experts and industry leaders about topical issues including building networks, branding, work-life balance, managing up, happiness and civility in the workplace and life. Many thanks to Frank and Glenn for the heads-up.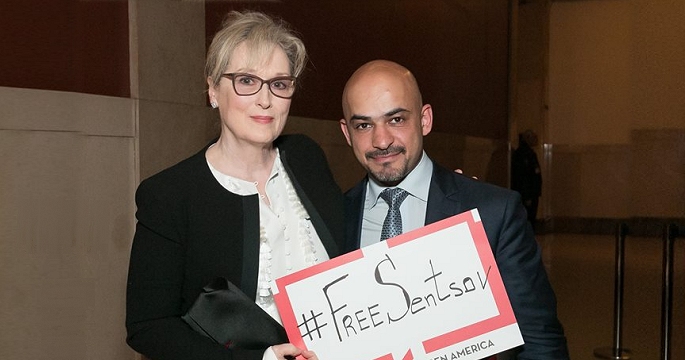 Meryl Streep, has called for the freeing of Oleg Sentsov, a Ukrainian filmmaker sentenced to 20 years in jail after being subjected to a sham trial in Russia. Streep was pictured alongside Ukrainian lawmaker Mustafa Nayyem with a "Free Sentsov" sign in a photograph taken during the PEN America Annual Literary Gala on April 25, at which Sentsov was honoured with a 2017 PEN/Barbey Freedom to Write award. Nayyem, who posted the photograph on his Facebook account on April 30, said that the actress was genuinely interested in Sentsov's case, and eager to help. "She was already aware of the fact that one of the nominees is an imprisoned filmmaker, but didn't know (Sentsov's) entire story," Nayyem wrote, "I told her about the case, (Sentsov's) family, Crimea, (Russian) nationality being forced upon him, and his two children stuck in the annexed territory." Nayyem said that Streep asked him how she could help, which is when the lawmaker told her about the Pen America campaign for freeing Sentsov and suggested they take a photograph with a "Free Sentsov" sign to raise awareness. "She agreed without hesitating," Nayyem says, adding that she also asked Nayyem to be in the photograph too. "Who will believe that I came up with this sign myself?" Nayyem quoted Streep as saying.The complete article can be read over at Kyiv Post, with many thanks to Glenn for the heads-up.
On May 29, Meryl Streep and Robin Wright will participate in a special conversation panel in São Paulo, which will analyze the position of women in the current labor world and their empowerment in society, Banco Santander Brasil reported Wednesday. "We will have a conversation about women, the position of women and women's leadership in today's fast-paced world," the president of the institution's Brazilian branch, Sergio Rial, told at a meeting with journalists. Not much more info has been announced as of now. Thanks to everybody for the heads-up. Edit: Unfortunately, the São Paulo appearance has been canceled, so neither Streep nor Wright will be in attendance.
Also, just today, Meryl is attending the Women for Women International Luncheon in New York City. The event features Hillary Clinton as a speaker for an intimate conversation moderated by Christiane Amanpour, Chief International Correspondent, CNN. Secretary Clinton has said in the past and still believes that the only way to reduce the number of conflicts around the world, to eliminate rape as a weapon of war, to combat sexual violence, and to build sustainable peace is to draw on the full contributions of women. In her work as First Lady, as a U.S. Senator, as Secretary of State, and as the first female candidate nominated for President of the United States by a major party, Secretary Clinton has led the fight to prevent and respond to gender-based violence, to end child and forced marriage, and to usher in the voices of women in every aspect of peacebuilding and conflict resolution. It is not known if Meryl is just attending as a guest, but make sure to check later in case there are pictures.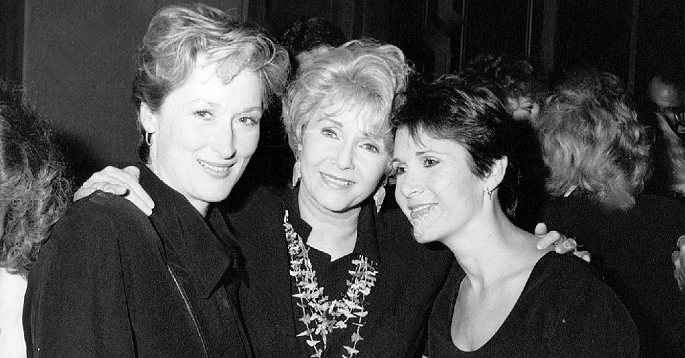 Condolences to the Fisher family so quick again after Debbie Reynolds has passed away only a day after her dauhter. Carrie Fisher, the actress and writer best known for her iconic role as Star Wars' Princess Leia, died Tuesday morning after suffering a heart attack four days earlier. She was 60. The daughter of Debbie Reynolds and Eddie Fisher, she carved out her own idiosyncratic career as a truth-telling Hollywood wit. Frankly addressing her own problems with substance abuse and bipolar disorder, she penned the 1987 hit novel "Postcards From the Edge", an only slightly fictionalized version of her own life as a sometimes-depressed actress and the daughter of a major, and occasionally intimidating, Hollywood star. She went on to write the book's screen adaptation for the 1990 film version, directed by Mike Nichols and starring Meryl Streep and Shirley MacLaine. Whenever Fisher appeared on the Hollywood awards circuit to pay tribute to another star, she could be counted on to offer up a wry observation that provoked laughter. Speaking at the 2004 AFI Life Achievement Award given to Streep, she recalled what it was like to have the Oscar-winning actress play her. "After Postcards premiered, I began daily to see the pain and disappointment in the eyes of my family and friends every time I wasn't Meryl," Fisher admitted. "There's a name for this condition as it turns out — Merylnoma Streepdecoccus." Streep and Fisher grew close during the pre-production of "Postcards from the Edge" and remained friends and frequent red carpet companions. This is truly sad news. Rest in peace.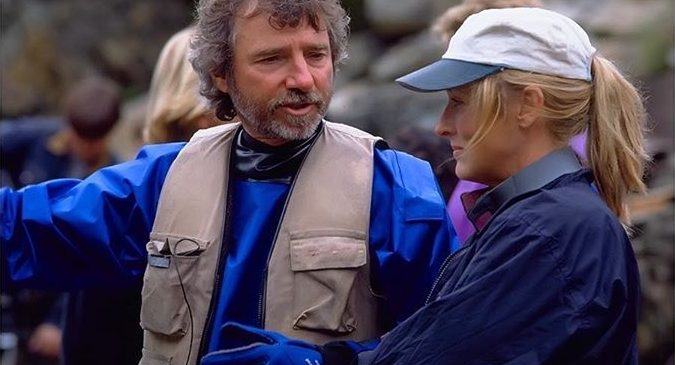 It's really not a good year for Meryl's past movie directors, as the passing of wonderful filmmaker Curtis Hanson was revealed today. Hanson was probably best known for 1997's "L.A. Confidential", which was nominated for nine Oscars, including for best picture and best director and won for Best Supporting Actress and Best Adapted Screenplay (Mr. Hanson and his co-writer, Brian Helgeland). As Sasha Stone at AwardsDaily wrote earlier today, he was also a director of great women. Hanson had an ability to bring out fierce performances in his actresses – from Kim Basinger, who won an Oscar in LA Confidential, to the absolutely fantastic Rebecca De Mornay in the Hand that Rocks the Cradle. She should have gotten an Oscar nomination for that movie. And what can you say about The River Wild except that it's a much better movie than it's been given credit for, thank in large part to Meryl Streep – but also Hanson was a good director of thrillers, usually those that revolved around female characters, but he also directed 8 Mile with Eminem which came close to getting a Best Picture nomination.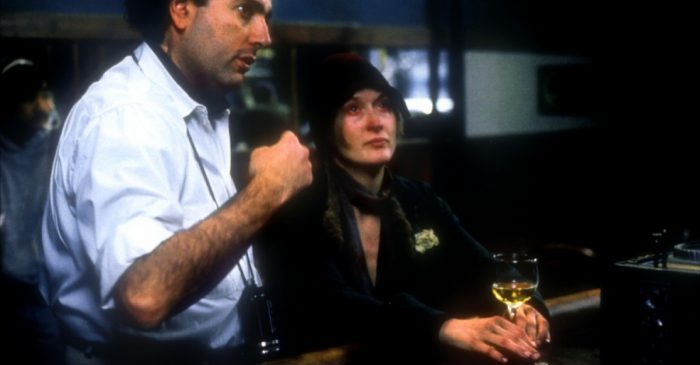 It's not a good month for Meryl Streep's former film directors. A week after the passing of Michael Cimino, Argentine-born Brazilian director Hector Babenco has died. He was 70. In 1985, he was nominated for a Best Director Oscar for "Kiss of the Spider Woman". The film, starring Meryl's former co-star, the late Raul Julia, was also nominated for best picture and William Hurt won the Best Actor Oscar. In 1988, Babenco directed "Ironweed" with Jack Nicholson and Meryl Streep, who were nominated for best actor and actress Oscars. A great article on the making of "Ironweed" can be found in the magazines archive.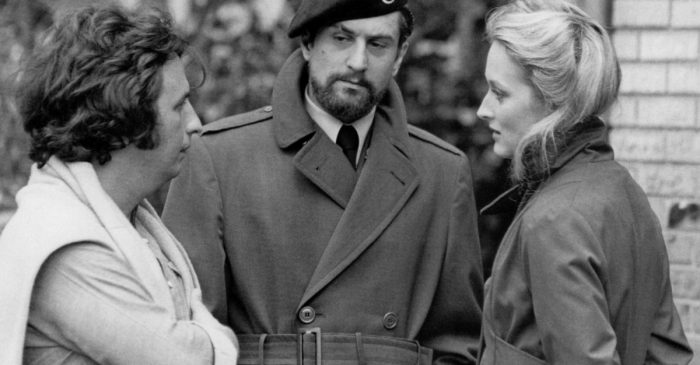 Michael Cimino, the Oscar-winning director of The Deer Hunter as well as the infamous Heaven's Gate, has died, the New York Times confirmed. He was 77. News of Cimino's death was first reported by Cannes Film Festival director Thierry Fremaux on Twitter. "Michael Cimino died peacefully surrounded by his family and the two women who loved him," Fremaux wrote, in French, on the social media platform. "We loved him too." Cimino directed seven feature films over the course of his career, though the New York-born filmmaker got his start on TV spots for United Airlines, Pepsi, and other companies. After moving to Los Angeles, he wrote the screenplay for Magnum Force, for which he caught the eye of Clint Eastwood. Cimino later went on to helm Deer Hunter in 1978, starring Robert De Niro, Christopher Walken, Meryl Streep, John Cazale, and John Savage. The film, about friends who are tore apart by the Vietnam War, scored nine total Oscar nominations and won five: best picture, best director for Cimino, best supporting actor for Walken, best sound, and best film editing.
Next week will see the release of "Her Again: Becoming Meryl Streep", a wonderfully research book that explores how Meryl Streep became the celebrated actress she is today. It goes way back to her upbringing in New Jersey, her training at Yale and Vassar University to her first successes on the New York stages and on tv and film with Holocaust and Kramer vs. Kramer. I have been able to read the book already and can wholeheartedly recommend it to everyone interested in Meryl's early year and the process of becoming an actor. Make sure to pre-order your copy. For Simply Streep, Mr. Schulman has taken the time to answer some questions about the book and his research. Enjoy reading:
What made you interested in Meryl Streep's early career to write "Her Again"?
I've always been an admirer of her work, but mostly knew her in her current incarnation: the top-of-her-game, self-deprecating diva who's been our "Greatest Living Actress" for over three decades. When I started contemplating a book, I began asking myself: Who was Meryl Streep before she became iconic? Was she ever just a twenty-something working actress trying to figure out what to do with her life? How did she learn to do what she does? Can it even be learned? In other words, I was interested in the Meryl Streep we don't know. It just so happened that the story of her artistic coming-of-age was also a story about New York in the 1970s, a period I've always been drawn to. And, of course, it was the story of her two great loves: John Cazale and Don Gummer. This period of her life was full of great characters, inherent drama, and deep, conflicting emotions—not unlike a Meryl Streep movie.
Continue Reading