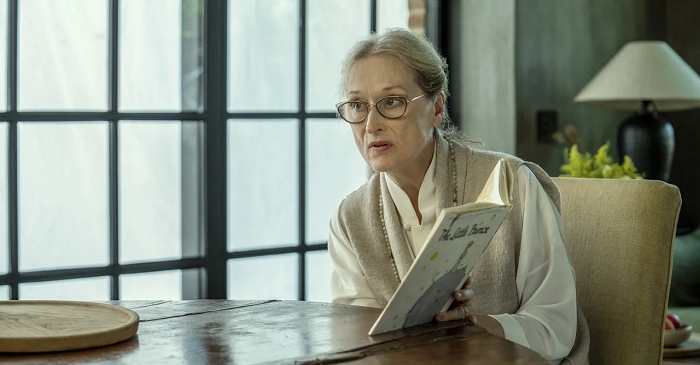 We are blessed this week with news on Meryl Streep's upcoming productions with not only "Only Murders in the Building", but also a first look at "Extrapolations", which will premiere on AppleTV+ on March 17, 2023. While there haven't been any news on the 8-part miniseries since its press release in November 2021, I was wondering if Meryl was really involved with the project after all. With today's first look images and synopsis, I'm happily proven wrong. So far, we know that Meryl's character is named Eve Shearer and that she plays Sienna Miller's mother. The series boasts a powerhouse cast including Tobey Maguire, Forest Whitaker, Diane Lane, Kit Harrington, Marion Cotillard, Daveed Diggs, Edward Norton, Gemma Chan, David Schwimmer and Matthew Rhys. Many thanks to Glenn for the heads-up.
"Extrapolations" is a bracing drama from writer, director and executive producer Scott Z. Burns that introduces a near future where the chaotic effects of climate change have become embedded into our everyday lives. Eight interwoven stories about love, work, faith and family from across the globe will explore the intimate, life-altering choices that must be made when the planet is changing faster than the population. Every story is different, but the fight for our future is universal. And when the fate of humanity is up against a ticking clock, the battle between courage and complacency has never been more urgent. Are we brave enough to become the solution to our own undoing before it's too late?
Related Media
:
Photo Gallery – Career Photography – Extrapolations – Production Stills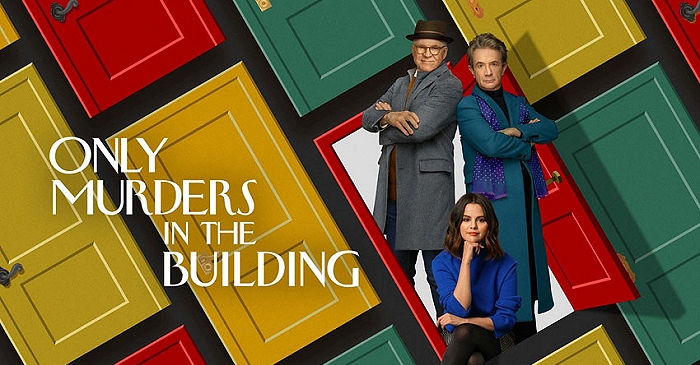 What better way to start the new year with a new project for Meryl Streep, who is checking into "Only Murders in the Building". As The Hollywood Reporter writes, Streep will appear in the third season of Hulu's murder-mystery comedy. Star Selena Gomez revealed Streep's casting in an Instagram post Tuesday. Details of Streep's role – and how extensive it may be – are being kept under wraps for now. She joins a cast led by Gomez, Steve Martin and Martin Short; Paul Rudd – who had a cameo in the second-season finale – and former Grey's Anatomy star Jesse Williams are also joining the cast, which also includes Tina Fey, Vanessa Aspillaga, Adina Verson, Ryan Broussard and Andrea Martin. Hulu has said the show is its most popular original comedy; it spent nine weeks on Nielsen's top 10 streaming series chart in 2022, drawing 3.67 billion minutes of viewing time in that span. Steve Martin also posted a group photo with Streep and announced that filming on season three of the series began. Both pictures have been added to the photo gallery.
"Finale, Late Conversations with Stephen Sondheim" is a new book written by D.T. Max and released on the one-year anniversary of Sondheim's death this November. In an excerpt posted by Playbill, Sondheim and Meryl Streep talk about their very first collaboration in the 1974 production of "The Frogs" at the Yale Repertory Theatre – or, better said, at the University's swimming pool.
I was in a production of The Frogs, which was at Yale when I was a first-year student. And I was in the chorus. And he was very legendary. I don't think he even noticed me. But it was really hilarious. There was a lot of vying to get into the chorus from the women in the drama school because most of the cast were young men in bathing suits. Everybody wanted to be in the chorus! (Meryl Streep, Finale, Late Conversations with Stephen Sondheim)
They also talk about the new song recorded for "Into the Woods", which was eventually cut from the final version, and possible plans to work together in London, although nothing specific is revealed by Sondheim. The full article can be read over at Playbill.
"The U.S. and the Holocaust", a new three-part documentary directed and produced by Ken Burns, Lynn Novick and Sarah Botstein, explores America's response to one of the greatest humanitarian crises in history. The series will air September 18, 19 and 20, at 8:00-10:00 p.m. ET (check local listings) on PBS, PBS.org and the PBS Video app. Inspired in part by the United States Holocaust Memorial Museum's "Americans and the Holocaust" exhibition and supported by its historical resources, the film examines the rise of Hitler and Nazism in Germany in the context of global antisemitism and racism, the eugenics movement in the United States and race laws in the American south. The series, written by Geoffrey Ward, sheds light on what the U.S. government and American people knew and did as the catastrophe unfolded in Europe. Narrated by Peter Coyote, voice actors in the film are: Adam Arkin, Sarah Botstein, Paul Corning, Hope Davis, Leon Dische Becker, Paul Giamatti, Mariusz Glabinski, Elliott Gould, Marlena Grzaslewicz, Murphy Guyer, Werner Herzog, Josh Lucas, Joe Morton, Carolyn McCormick, Liam Neeson, Matthew Rhys, Meryl Streep, Agate Was, Bradley Whitford and Helena Zengel. "The U.S. and the Holocaust" will be available to stream for free on all station-branded PBS platforms, including PBS.org and the PBS Video App
A final batch of press articles on "Don't Look Up" have been added to the photo gallery, including that wonderful editorial from Entertainment Weekly, which was featured in their February print issue. And while we're at it, have a look at some great finds from the past, including new cover stories from the 80s, 90s and 00s. Many thanks to Alvaro for sending them all in. Enjoy reading.
Meryl Streep was a surprise guest at yesterday's Screen Actors Guild Awards. Together with Tyler Perry and Cate Blanchett, she presented the ensemble nomination for "Don't Look Up" (the price later went to the cast of "CODA"). A video of their segment and a great batch of pictures from the ceremony have been added to the photo gallery.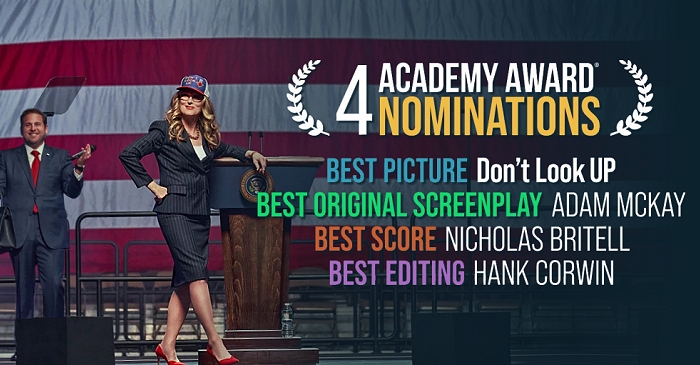 One of the most buzzed-about films of the year is "Don't Look Up," and now it's a four-time Oscar nominee for Best Picture, Best Original Screenplay, Best Film Editing and Best Score. As the Netflix satire explores the topic of politicians dismissing the impending climate crisis, according to GoldDerby, you can bet it received its fair share of lovers – and haters – online. But now "Don't Look Up" is getting the last laugh after being embraced by the academy. Though Netflix is usually tight-lipped about its viewing data, the streamer has confirmed that "Don't Look Up" is its second most watched movie of all time, behind only "Red Notice." It features an eye-popping A-list cast, with Leonardo DiCaprio and Jennifer Lawrence playing astronomers who discover a comet barreling toward Earth, and Meryl Streep and Jonah Hill portraying the politicians who don't believe them or simply don't care. The cast was recently honored at the SAG Awards in the film ensemble category. "Don't Look Up" also scored precursor bids at the BAFTAs and eight guilds. "Don't Look Up" is the eighth film with Meryl Streep to be nominated for a Best Picture Oscar. "The Deer Hunter", "Kramer vs. Kramer" and "Out of Africa" won Best Picture, while "Julia", "The Hours", "The Post" and "Little Women" received nominations. The Oscars will be handed out on March 27, 2022.
While the film continues to divide audiences and critics, "Don't Look Up" continues to climb the Netflix charts, this week officially becoming the streamer's second most successful movie of all time. The film added 58.2 million hours viewed globally across the week January 2-9. That takes it to 321,520,000 total viewing hours since it debuted online December 24, meaning it has overtaken Bird Box (282,020,000 hours) as the second most popular pic on Netflix. The metrics are calculated by hours watched in a title's first 28 days on the platform, when the vast majority of viewing hours are recorded. And Netflix continues to keep our interest in the film with much promotional material, such as additional featurettes and interviews being added in the last couple of days. Below you will find an overview of what has been added to the site, including a new lengthy video conversation with the cast which was conducted by Netflix in November. I've also added more articles and reviews with many thanks to my friend Alvaro. Enjoy the new additions.
Related Media
:
Photo Gallery – Articles & Scans – Empire Magazine (United Kingdom, February 2022)
Photo Gallery – Articles & Scans – Life & Style (USA, January 03, 2022)
Photo Gallery – Articles & Scans – People Magazine (USA, January 03, 2022)
Photo Gallery – Articles & Scans – US Weekly (USA, January 03, 2022)
Photo Gallery – Articles & Scans – The Pittsburgh Post Gazette (USA, December 28, 2021)
Photo Gallery – Articles & Scans – The Toronto Sun (Canada, December 27, 2021)
Photo Gallery – Articles & Scans – Milenio (Mexico, December 17, 2021)
Photo Gallery – Articles & Scans – The Hollywood Reporter (USA, December 16, 2021)
Photo Gallery – Articles & Scans – Kronen Zeitung (Austria, December 16, 2021)
Photo Gallery – Articles & Scans – Caras (Argentina, December 15, 2021)
Photo Gallery – Articles & Scans – El Dia (Spain, December 10, 2021)
Photo Gallery – Articles & Scans – El Pais (Spain, December 10, 2021)
Photo Gallery – Articles & Scans – ABC (Spain, December 10, 2021)
Photo Gallery – Articles & Scans – The Washington Post (USA, December 10, 2021)
Photo Gallery – Articles & Scans – Fotogramas (Spain, December 2021)
Photo Gallery – Articles & Scans – Total Film (United Kingdom, December 2021)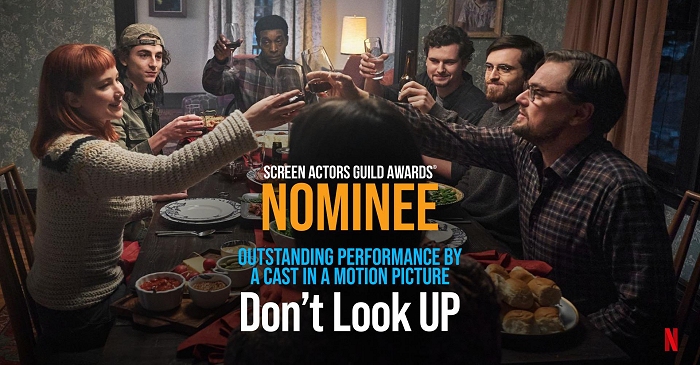 The cast of "Don't Look Up" – Cate Blanchett, Timothée Chalamet, Leonardo DiCaprio, Ariana Grande, Jonah Hill, Jennifer Lawrence, Melanie Lynskey, Scott Mescudi, Rob Morgan, Himesh Patel, Ron Perlman, Tyler Perry, Mark Rylance and Meryl Streep – has received a Screen Actors Guil Award nomination for Outstanding Performance by a cast in a Motion Picture. The other nominated ensembles are from "Belfast", "CODA", "House of Gucci" and "King Richard". With this nod, Meryl Streep continues to be the most nominated feature performer at the SAG Awards, with a current total running count of 19 – 17 for her film work, including a win in 2009 as Outstanding Female Actor in "Doubt" – and two for her television work, including a win in 2004 for "Angels in America". The SAG Awards will be handed out on Feburary 27, 2022, although its unclear at the moment if a ceremony with attendees will take place.
Ok, one more update for this year :-) Screencaptures from "Don't Look Up" have been added to the photo gallery. Adam McKay's film is out on Netflix since Christmas – it's outrageously entertaining and not funny at the same time, because if a comet was ever to hit the Earth, this is how it would play out. Nothing feels out of place, and yet everything is quite unbelievable. A smart film which should be seen as a metaphor on climate change and can be seen as a metaphor on our ongoing pandemic, and it features great performances from everybody involved, some over the top, some very real in their depair. So if you haven't seen it yet, make sure to watch "Don't Look Up".
Related Media
:
Photo Gallery – Career Photography – Don't Look Up – Screencaptures