I wasn't interested in doing a biopic on Anna; I was interested in her position in her company. I wanted to take on the burdens she had to carry, along with having to look nice every day. Absolute power corrupts absolutely…. I liked that there wasn't any backing away from the horrible parts of her, and the real scary parts of her had to do with the fact that she didn't try to ingratiate, which is always the female emollient in any situation where you want your way – what my friend Carrie Fisher used to call "the squeezy and tilty" of it all. [Miranda] didn't do any of that. (Meryl Streep, Entertainment Weekly)
If looks could kill, then for 15 years The Devil Wears Prada has been a serial threat. Director David Frankel's adaptation of Lauren Weisberger's Faustian yarn – inspired by the author's time working under Vogue editor in chief Anna Wintour – emerged as a modern classic through its mélange of impossibly chic clothes, scorching dialogue, and pointed portrayal of women in power. In time, the movie has become a beacon for gender parity, too, with its ice-queen Runway editor Miranda Priestly (Meryl Streep) occupying a delectably unapologetic position of power in a male-dominated world and, as a Hollywood antihero, a rare kind of leading lady. The film struck a chord with its feminist-tinged, broadly appealing story, and has endured largely thanks to the spectacular chemistry among Streep, Anne Hathaway (who plays Miranda's assistant-turned protegée Andy Sachs), and scene-stealers Emily Blunt, Stanley Tucci, and Adrian Grenier. For the first time since the film's release in June 2006, EW has gathered those stars (and more) for a fierce reunion as they dig their heels into Devil's legacy. You can watch the full 30 minutes reunion exclusively on Entertainment Weekly's website.
Update: Meryl Streep and Kevin Kline will perform "Dear Elizabeth" at the Spotlight on Plays virtual benefit series from June 17 to June 21, 2021. Based on the compiled letters between poets Robert Lowell and Elizabeth Bishop, Dear Elizabeth maps the relationship of the two poets from first meeting to an abbreviated affair – and the turmoil of their lives in between. Directed by Kate Whoriskey. Here's the original press release from March: According to Deadline, Meryl Streep, Mary-Louise Parker and Carla Gugino have joined the line-up of actors taking part in this year's virtual Spotlight on Plays series benefitting The Actors Fund, with Streep reuniting with her Sophie's Choice co-star Kevin Kline on Sarah Ruhl's Dear Elizabeth. Parker is set to perform in Paula Vogel's The Baltimore Waltz. Gugino will be teamed with the previously announced Ellen Burstyn in Lillian Hellman's Watch on the Rhine. Others previously announced, in addition to Kline and Burstyn, are Kathryn Hahn, Keanu Reeves, Debbie Allen, Bobby Cannavale, Audra McDonald, Phylicia Rashad, Heidi Schreck, Alia Shawkat, Heather Alicia Simms and Alicia Stith. The Spotlight on Plays series, launched last year on the Broadway's Best Shows website, features actors performing the works remotely, with the readings pre-recorded and edited. The series, which begins Thursday, benefits The Actors Fund. The series begins Thursday, March 25, with Larissa FastHorse's The Thanksgiving Play at 8pm ET/5pm PT, and continues wit Pearl Cleage's Angry, Raucous and Shamelessly Gorgeous on Thursday, April 8 at 8pm ET/5pm PT. Additional casting and dates will be announced soon. The Spotlight on Plays events are livestreamed on Stellar and available for a strictly limited amount of time. Season subscriptions and individual ticket information is available on the Broadway's Best Shows website. Many thanks to Glenn and Alvaro for the heads-up.
Ken Burns and Lynn Novick's three-part documentary "Hemingway" (premiering April 5 on PBS) details the life and career of the Nobel Prize-winning author Ernest Hemingway. According to a recent interview with Entertainment Weekly, the series uncovers a more nuanced character than the heavy-drinking, bullfight-attending, man's man of repute, with co-directors Ken Burns and Lynn Novick exploring, for example, Hemingway's interest in gender fluidity. "The macho facade is superficial," says Burns, who previously collaborated with Novick on 1994's Baseball and 2017's The Vietnam War, among other projects. "I think this is one of the reasons why you can't just say, 'Oh, dead white male, goodbye.' It's as complex a biography as we've ever worked on." Jeff Daniels recites Hemingway's letters and prose, while the author's four wives are voiced by Keri Russell, Mary-Louise Parker, Patricia Clarkson, and Meryl Streep. The latter performed her role of Hemingway's third spouse, writer Martha Gellhorn, following the start of the pandemic. "We planned to record Meryl Streep on March 24 of last year and had to cancel, but her son had a recording studio in his home," says Novick. "She and Ken were in touch about pronunciation questions, but basically this was a gift from Meryl Streep." "I just want to add that I think she's going places, she's really got a future," says Burns, with a laugh. "No, she's fabulous."
Ken Burns and Lynn Novick's three-part, six-hour documentary series, HEMINGWAY, examines the visionary work and turbulent life of one of the greatest and most influential American writers – Ernest Hemingway. Intimate and insightful, the series weaves together Hemingway's biography with excerpts from his fiction, non-fiction and personal correspondence – a structure that nods to Hemingway's own creative process of drawing inspiration from lived experience. The film penetrates the mythology surrounding Hemingway – cultivated by his larger than life exploits, public bravado, and occasional tall-tale – to reveal a deeply troubled and ultimately tragic figure. His story is told with the help of interviews with literary scholars, celebrated writers including Edna O'Brien, Mario Vargas Llosa, Abraham Verghese, and Tobias Wolff, and Hemingway's son, Patrick. Six years in the making, HEMINGWAY is a treasure trove of rarely seen photographs and archival footage. The film is further benefitted by unprecedented access to original manuscripts that show the painstaking process by which Hemingway created some of the most important works of fiction in American letters, including the novels, The Sun Also Rises, A Farewell to Arms, For Whom the Bell Tolls and The Old Man and the Sea; short stories "Hills Like White Elephants," "The Short and Happy Life of Francis Macomber,""Up in Michigan," "Indian Camp"and "The Snows of Kilimanjaro;" as well as nonfiction works, Death in the Afternoon and A Moveable Feast. Hemingway's words are brought vividly to life by Jeff Daniels. Meryl Streep, Keri Russell, Patricia Clarkson, and Mary-Louise Parker read the voices of Hemingway's four wives. Original music is provided by Johnny Gandelsman and David Cieri.
According to Deadline, Meryl Streep is set to star in Places, Please, a film drama that will be directed by Pulitzer Prize and Tony Award winner Michael Cristofer from a script by UCLA MFA alum Elisabeth Seldes Annacone (The Changing Room). The film is a love letter to Broadway, where both Streep and Cristofer started their careers. In an interview here, they describe their start together on a Broadway performance of Chekhov's The Cherry Orchard, which figures in the film. Their comments on the stage, and how Broadway can reemerge from its pandemic plight, are included below. Places, Please will shoot this summer in New York, and will be introduced to buyers for the virtual Berlin Market, with CAA Media Finance repping domestic distribution rights and Filmnation handling international sales. Streep, Steven Rogers (I, Tonya) and Jane Rosenthal (The Irishman) will produce. Berry Welsh will executive produce. In the film, Streep will play Lillian Hall, an actress who is synonymous with Broadway. Throughout her long, illustrious career, she has never missed a performance—not for her daughter, not for illness, not for any reason. Yet in the rehearsals leading to her next Broadway production, her confidence is challenged. People and events conspire to take away her ability to do what she loves most. Suddenly, Hall is forced to reckon with the past and the price she has paid for the choices she made in her life and her art. Can she repair a lifetime of parental neglect? Can she reconcile herself to the demands of aging, its real and perceptual debilities? Can she navigate the shoals of self-doubt and loss, the betrayals of others and of her own body? Will she go down in the record books in a blaze of glory? Not without a fight. In explaining the genesis of the film, Cristofer and Streep explain its tie to the launch of each of their stars, and how their sympathy for the unprecedented hardship facing the live theater industry in the pandemic gave this film urgency.
Continue Reading
…and Meryl Streep is not among them. It feels a bit odd to write about someone not receiving awards attention as a news bit, but here we go. To the surprise of many, as the Golden Globe nominations were announced this morning, Meryl did not receive a nomination for "The Prom" in the Best Actress in a Comedy or Musical category. Besides a nomination for Best Picture – Comedy or Musical, the only acting nomination it has received went to James Corden. Take it with a grain of salt – we have been through worse things this past year, and since there won't be a ceremony the way it used to be, we won't be missing any red carpet coverage anyway. Plus, we've had our fair share of nominations in the past, with Meryl being a record breaking nominee with 30 nominations in total – the last time being last year's nod for "Big Little Lies" – and 8 wins including the Cecil B. DeMille Life Achievement Award in 2017.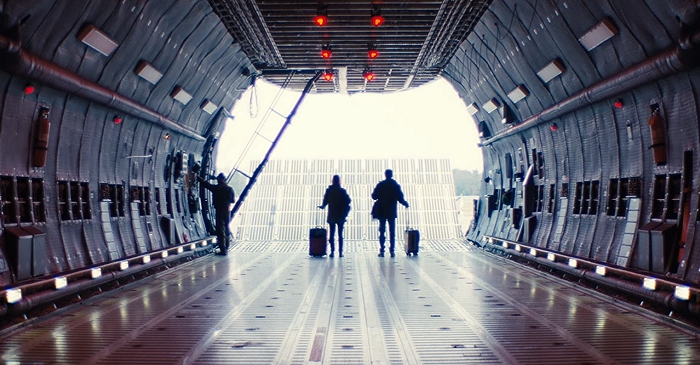 "Don't Look Up" is coming to Netflix sooner than you might think. Jennifer Lawrence, Leonardo DiCaprio, and the rest of the star-studded cast are still filming "Don't Look Up" in Boston and other nearby towns, but the Adam McKay comedy will make its debut later this year, and Netflix has already released the first official footage from the movie. A trailer posted by Netflix highlighting all of the original movies it will release in 2021 features a short scene from "Don't Look Up," which stars DiCaprio and Lawrence as two low-level astronomers who must embark on a massive media tour to warn the world about an approaching comet that will destroy the planet. In the brief, dialogue-free footage, DiCaprio and Lawrence step off of a carrier plane onto an airport tarmac as uniformed personnel stroll by in the background. So far, "Don't Look Up" has filmed scenes in Boston, Canton, Chicopee, Fall River, Norton, Salisbury, Weymouth, and Worcester. Filmmakers shot scenes at Union Point in Weymouth, the former site of South Weymouth Naval Air Station, in December. The streaming giant has not announced a specific release date for "Don't Look Up." Along with DiCaprio and Lawrence, "Don't Look Up" features Cate Blanchett, Rob Morgan, Meryl Streep, Jonah Hill, Chris Evans, Himesh Patel, Timothée Chalamet, Matthew Perry, Tyler Perry, Melanie Lynskey, Ron Perlman Tomer Sisley, singer Ariana Grande, and rapper Kid Cudi (text courtesy boston.com).
Another big batch of international press coverage for both "The Prom" and "Let Them All Talk" have been added to the photo gallery, with many thanks to Alvaro. Scans come from the US, the UK, Brasil, Spain, France, Argentina and Portugal, so there's probably something for everybody :-) A complete list of additions can be found below.
Related Media
:
Photo Gallery – Articles & Scans – Total Film (United Kingdom, December 2020)
Photo Gallery – Articles & Scans – Mia (Spain, December 22, 2020)
Photo Gallery – Articles & Scans – People Magazine (USA, December 21, 2020)
Photo Gallery – Articles & Scans – US Weekly (USA, December 21, 2020)
Photo Gallery – Articles & Scans – Who Weekly (Australia, December 21, 2020)
Photo Gallery – Articles & Scans – Point de Vue (France, December 16, 2020)
Photo Gallery – Articles & Scans – Blikk Nok (Hungary, December 16, 2020)
Photo Gallery – Articles & Scans – The West Australian Today (Australia, December 15, 2020)
Photo Gallery – Articles & Scans – The New Yorker Magazine (USA, December 14, 2020)
Photo Gallery – Articles & Scans – Clarin (Argentina, December 14, 2020)
Continue Reading
If you have watched "Let Them All Talk" and "The Prom" back to back, you've been in for a treat, haven't you? Ryan Murphy has put every bit of color, singing, glitter and joy into "The Prom" that "Let Them All Talk" has been missing (rightly so). While musicals are not my genre, it was impossible not to be charmed by Meryl Stree's comedic timing and, of course, her singing, but we knew about that. Everybody in the cast seemed to have great fun, and it shows in the film. So, if you haven't watched it yet – or didn't rewatch it today – you'll find it on Netflix. Once again, many thanks to Ali for the screencaptures. Please make sure to visit her Nicole Kidman fansite as well. Also, some very funny screencaptures from the making of have been added as well. Enjoy the updates.
I hope you have all enjoyed your weekend with one or two new Meryl Streep films. "Let Them All Talk" has been released last Thursday and "The Prom" last Friday – two films and two characters that couldn't be more different. Steven Soderbergh's "Let Them All Talk" has been compared by critics to the good work by Woody Allen and Robert Altman – it's a long, very talky, almost meditative stream (literally), featuring outstanding performances by Streep, Lucas Hedges, Dianne Wiest and especially Candice Bergen. I will add a longer review of the film to its career page later. For now, enjoy the screencaptures – and please be aware that they feature spoilers to the story, so please watch it first on HBO Max. Many thanks to Ali and Claudia for helping out, very appreciated.
Related Media
:
Photo Gallery – Career Photography – Let Them All Talk – Screencaptures
Photo Gallery – Career Photography – Let Them All Talk – On-Set Pictures
A super big batch of magazines scans and reviews from around the globe have been added to the photo gallery – giving us a wonderful overview on how the world press has received this week's releases of "The Prom" and "Let Them All Talk". Among the additions are some fantastic cover stories from Variety, the Spanish SuperTele and the British Yours Magazine. A complete list of all aded scans can be found below the previews. Many thanks to Alvaro for sending them all in, very appreciated. Enjoy reading.
Related Media
:
Photo Gallery – Articles & Scans – Marie Claire (France, January 2021)
Photo Gallery – Articles & Scans – SuperTele (Spain, December 18, 2020)
Photo Gallery – Articles & Scans – Star (USA, December 14, 2020)
Photo Gallery – Articles & Scans – People (USA, December 14, 2020)
Photo Gallery – Articles & Scans – OK! (USA, December 14, 2020)
Photo Gallery – Articles & Scans – Life & Style Weekly (USA, December 14, 2020)
Photo Gallery – Articles & Scans – Closer (USA, December 14, 2020)
Photo Gallery – Articles & Scans – In Touch (USA, December 14, 2020)
Photo Gallery – Articles & Scans – Elle (Italy, December 12, 2020)
Photo Gallery – Articles & Scans – The Week (USA, December 11, 2020)
Continue Reading