Meryl Streep was among the many celebrity speakers at yesterday's Chaplin Gala to honor Robert De Niro. Deadline reports that in a speech made at a gala benefit in his honour at the Lincoln Center in New York, the 73-year-old actor took aim at the Trump administration's "extreme vetting", which he feared could prevent "the next Chaplin" from entering the country. "All of us in film – directors, actors, writers, crews, audiences – owe a debt to Charlie Chaplin, an immigrant who probably wouldn't pass today's extreme vetting. I hope we're not keeping out the next Chaplin," he said. In a wide-ranging speech made in acceptance of the Film Society of Lincoln Center's Chaplin award, De Niro also criticised the Trump administration's "hostility" towards the arts, arguing that its proposed termination of agencies such as the National Endowment for the Arts had been made for "divisive political purposes".
By being here tonight, you are supporting arts for everyone. You're supporting the slapstick of Charlie Chaplin, the great body of work of Marty Scorsese and Barry Levinson, the dumb-ass comedies of Robert De Niro, the overrated performances of Meryl Streep and your own taste and needs.
Pictures from the event have been added to the photo gallery.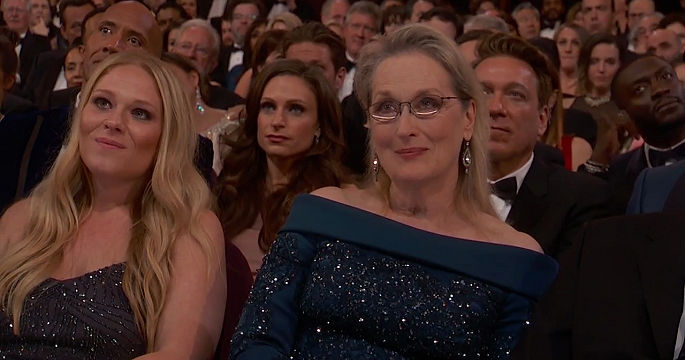 The 89th Annual Academy Awards will go down in history for its shocking false announcement in the Best Picture category, which made one forget about the pointless Lagerfeld tabloid story (although Jimmy Kimmel couldn't resist to ask, "nice dress. Is that an Ivanka?). Kimmel pulled no punches during his opening monologue, joking that the 20-time-nominee was getting a bit too much credit for her acting chops. "We're here to honor the actors who seem great, but actually really aren't. And of all the 'great' actors here in Hollywood, one in particular has stood the test of time for her many uninspiring and overrated performances," Kimmel dead-panned. "From her mediocre early work in 'The Deer Hunter' and 'Out of Africa,' to her underwhelming performances in 'Kramer vs. Kramer' and 'Sophie's Choice,' Meryl Streep has phoned it for more than 50 films over the course of her lackluster career." Kimmel finished things off by asking everyone else in the auditorium to show their appreciation for the actress. "This is Meryl's 20th Oscar nomination," he pointed out. "Made even more amazing considering the fact that she wasn't even in a movie this year, we just wrote her name down out of habit. Everybody, please join me in giving Meryl Streep a totally undeserved round of applause." The evening went as expected – until its very unexpected end – with a Best Supporting Actress Oscar for Meryl's friend Viola Davis and Javier Bardem paying tribute to Meryl's performance in "The Bridges of Madison County", before joining her on stage to present the Best Cinematography category to Linus Sandgren for "La La Land". Pictures from the (apparently very brief) arrivals and the show have been added to the photo gallery. Many thanks to Lindsey for her contributions. Enjoy, and goodbye to the 2017 awards season!
Photo Gallery – Public Appearances – 2017 – 89th Annual Academy Awards – Arrivals
Photo Gallery – Public Appearances – 2017 – 89th Annual Academy Awards – Show
Photo Gallery – Public Appearances – 2017 – 89th Annual Academy Awards – Screencaptures
According to the Hollywood Reporter, Meryl Streep will have another opportunity to confront president Donald Trump (I think she won't) at the 89th Academy Awards on Sunday. The actress, who has earned more nominations than any other actor in history from the Academy, famously called out Trump during her acceptance speech for the lifetime achievement award at the Golden Globes in January, in which she chastised the president for mocking The New York Times' Serge Kovaleski, a disabled reporter. Streep also defended her anti-Trump speech, as well as voiced support for transgender rights, at the Human Rights' Campaign 2017 Greater New York Gala dinner earlier this month. Now, the Academy has officially announced that Streep will be one of the presenters at the Oscars on Sunday night. Also announced as presenters were former Oscar winners Matt Damon, Faye Dunaway, Warren Beatty and Octavia Spencer as well as Oscar nominees Ryan Gosling, Salma Hayek, Dev Patel, and Taraji P. Henson. Jason Bateman, Vince Vaughn, Jennifer Aniston and Sofia Boutella will also present. Many thanks to Frank for the heads-up.
In the lead-up to Oscars weekend, Meryl Streep, Octavia Spencer, Jane Fonda and Lily Collins were among those who turned out at the Costume Designers Guild Awards held at the Beverly Hilton Hotel in Beverly Hills on Tuesday night. Streep was honored with the Distinguished Collaborator Award. She was presented with the trophy by her frequent costume designer Ann Roth following a good old-fashioned roast from comedian and former "Into the Woods" costar James Corden. "It's time that someone said it," he began. "She's a complete bitch. She is the worst. Now listen, I disagree with almost everything that Donald Trump has ever said, but, when he tweeted that…" he deadpanned, referencing the President's recent remarks that she's "one of the most over-rated actresses in Hollywood." "I'm joking, of course," Corden said. "It's great to see someone like Meryl finally be recognized with an award. What is she even going to do with this? This is going to be a doorstop for her Golden Globe room." Streep kept her speech short and politics-free as she dedicated the award to her mother "who really wanted to be a costume designer." She said that Halloween was like "the run-up to fashion week in our house." The actress said she enjoys the role wardrobe plays in helping to create and explore a character. Streep compared the process to "a happy surprise, like simultaneous orgasm or something." She paused. "Well, maybe it's not that much fun, but it is a little tiny miracle every time it happens."
An awards season is always fun to cover, isn't it? Especially when Meryl is nominated, like this year for "Florence Foster Jenkins". And especially especially this particular year when Meryl has emerged as such a fierce voice. I think we'll remember these two months for a long time. As the season concludes next Sunday with the Academy Awards, all of 2017's public appearances from Viola Davis' Walk of Fame honor, to the Golden Globes, Screen Actors Guild Awards, Human Rights Campaign Gala and BAFTA Awards have been updated with some hundred additional HQ pictures. Choose any event from the list below to access all last added pictures.
Tonight, Meryl Streep has attended the 30th Annual British Academy Awards as a Best Actress nominee for "Florence Foster Jenkins". The trophy was handed to Emma Stone, but "Florence" won in the Hair & Makeup category . Over 100 pictures from the arrivals and the show have been added to the photo gallery. Many many thanks to the wonderful Claudia and Lindsey for their contributions. Much appreciated. Edit: A clip of Emma Stone's acceptance speech has been added as well, since no better segment from the Best Actress category has showed up – but besides the nominees and a short clip from "Florence Foster Jenkins" we're not missing much.
Meryl Streep drew cheers at yesterday's annual gala for the Human Rights Campaign, a national group that advocates on behalf of LGBTQ rights, where Streep received the group's National Ally For Equality Award. Among the other honorees and speakers were Senator minority leader Charles Schumer, who was more impassioned and freewheeling than we are used to seeing him on the Senate floor; Moonlight writer Tarell Alvin McCraney; and late-night host Seth Meyers. But it was Streep who carried the night. As Deadline wrote, Meryl spoke of the early and powerful influence of teachers when she was growing up in suburban New Jersey, and particularly of Paul Grossman, her music teacher when she was in sixth and seventh grades. He had taken the class on a field trip to the Statue of Liberty, she recalled. "Our whole class stood at the feet of that huge, beautiful woman and we sang a song that he had taught us with the lyrics taken from the poem by Emma Lazarus engraved at the face of the monument." Streep paused as if considering her next move, and then began to sing. "Give me your tired your poor, your huddled masses yearning to breathe free, the wretched refuse of your teeming shore Send thee the homeless tempest toss't to me. I life my lamp beside the golden door." At one point she turned away from the audience, her eyes red with tears before continuing, and when finished, she half-whispered, "I can't remember what I did Tuesday, but I remember that." Streep said that Paul Grossman later became Paula Grossman and was promptly fired, never seeing a classroom again.
Continue Reading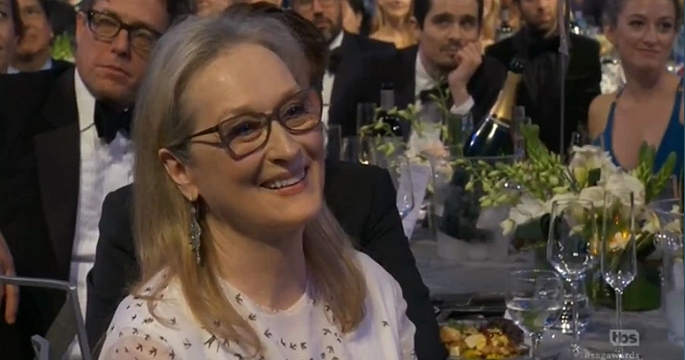 This evening, Meryl Streep has attended the 23rd Annual Screen Actors Guild Awards as a Best Actress nominee for "Florence Foster Jenkins". The statue was won by "La La Land"'s Emma Stone. Lots of pictures from the arrivals and from inside the ballroom, mingling with Amy Adams, Ryan Gosling and Emily Blunt, have been added to the photo gallery. If Meryl was one of the first celebrities to speak out about the current political climate at the Golde Globes three weeks ago, almost every recipient at the SAGs followed in her footsteps. Streep received a shoutout from winner and former co-star John Lithgow, who noted that the SAG Awards are about actors honoring actors, and he praised his fellow nominees in the category, adding that "a great actress somehow managed to speak my exact thoughts three weeks ago in another awards ceremony and that's Meryl Streep." Hundreds of additional pictures have been added with many many thanks to Claudia and Lindsey, alongside screencaptures and the Best Actress segment in the video archive. Enjoy the new additions.
Photo Gallery – Public Appearances – 2017 – Screen Actors Guild Awards – Arrivals
Photo Gallery – Public Appearances – 2017 – Screen Actors Guild Awards – Show
Photo Gallery – Public Appearances – 2017 – Screen Actors Guild Awards – Screencaptures
Congratulations to Meryl Streep on receiving her 20th – twentieth! – Academy Award nomination. Earlier this morning, she has received a Best Actress nomination for "Florence Foster Jenkins", alongside Isabelle Huppert for "Elle", Ruth Negga for "Loving", Natalie Portman for "Jackie" and Emma Stone for "La La Land". "Florence Foster Jenkins has received another nomination for Best Costume Design (the expected nominations for Best Hair and Makeup and a Supporting nomination for Hugh Grant were overlooked). To revive Meryl's past Oscar nominations, have a look at Simply Streep's Academy Award special. The Academy Awards will be handed out during a live ceremony on February 26, 2017.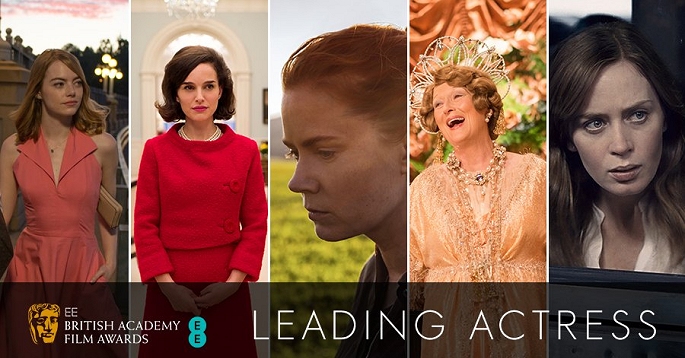 Congratulations to Meryl Streep for receiving a BAFTA Award nomination as Leading Actress for "Florence Foster Jenkins". She shares the category with Amy Adams for "Arrival", Natalie Portman for "Jackie", Emma Stone for "La La Land" and Emily Blunt for "The Girl on the Train". The BAFTAs have embraced "Florence Foster Jenkins" with a total 4 nominations, for Hugh Grant as Best Supporting Actor as well as Costume Design and Hair & Make-Up. Throughout her career, Meryl Streep has received two Best Actress prizes from the British Academy, for "The French Lieutenant's Woman" in 1982 and for "The Iron Lady" in 2012. The BAFTAs are handed out on February 12, 2017.