The Alumnae/i Association of Vassar College (AAVC) has announced its 2021 awardees – according to this press release – a professor emerita and four alumnae who have all had a lasting impact on the College and beyond. As of press time, four of the five had received their awards. The remaining one, an eminent performer known to all, will be honored in the spring.
Meryl Streep '71, P'08, '13, a former College trustee, will receive the Distinguished Achievement Award. The award is presented to an alumna or alumnus who has reached the highest level in their field. While demonstrating exceptional talent, application, creativity, and skill within a certain career, this individual must at the same time exemplify the ideals of a liberal arts education and have used her or his position of visibility, power, or leadership to better the human community and serve the wider goals of society. The three-time Academy Award winner is not only one of the most decorated actors of all time, she is also an ardent supporter of Vassar and an effective advocate for women, education, and the arts. In 2014, President Obama awarded her the Presidential Medal of Freedom—the nation's highest civilian honor. "She was amazing even as a student—people would flock to her productions," recalls committee chair Amy Pullman '71, a classmate of Streep's. "We would say, 'Someday she's going to get an Academy Award,'" she added with a laugh. "She was a very unassuming person then, and that's how she is now." Pullman said the award coincides with the 50th Reunion of their class and will be presented to Streep on the same weekend as the celebration of their class gift to Vassar: The Class of 1971 Gateway to the Old Vassar Farm.
In conjunction with the award presentation, Streep is expected to deliver a talk to the Vassar community in April 2022. Details are forthcoming.
…and Meryl Streep is not among them. It feels a bit odd to write about someone not receiving awards attention as a news bit, but here we go. To the surprise of many, as the Golden Globe nominations were announced this morning, Meryl did not receive a nomination for "The Prom" in the Best Actress in a Comedy or Musical category. Besides a nomination for Best Picture – Comedy or Musical, the only acting nomination it has received went to James Corden. Take it with a grain of salt – we have been through worse things this past year, and since there won't be a ceremony the way it used to be, we won't be missing any red carpet coverage anyway. Plus, we've had our fair share of nominations in the past, with Meryl being a record breaking nominee with 30 nominations in total – the last time being last year's nod for "Big Little Lies" – and 8 wins including the Cecil B. DeMille Life Achievement Award in 2017.
According to The Hollywood Reporter, Meryl Streep is among the Hollywood stars nominated for best spoken word album at the 63rd Grammy Awards, revealed by the Recording Academy on Tuesday. The actress received a nod on Friday for her reading of E.B. White's Charlotte's Web. Among the other nominees are Ronan Farrow for his nonfiction thriller Catch and Kill, which explored the decades of sexual misconduct by imprisoned media mogul Harvey Weinstein, and Jeopardy veteran Ken Jennings for Alex Trebek — The Answer Is … Rachel Maddow is also nominated for Blowout: Corrupted Democracy, Rogue State Russia, and the Richest, Most Destructive Industry On Earth; while Flea is nominated for Acid for the Children: A Memoir. Nominees in the comedy album category include Tiffany Haddish for Black Mitzvah, Patton Oswalt for I Love Everything, Jerry Seinfeld for 23 Hours to Kill, Bill Burr for Paper Tiger and Jim Gaffigan for The Pale Tourist. Trevor Noah is hosting the Grammy Awards on Jan. 31 at 8 p.m. on CBS. Many thanks to Glenn and Alvaro for the heads-up.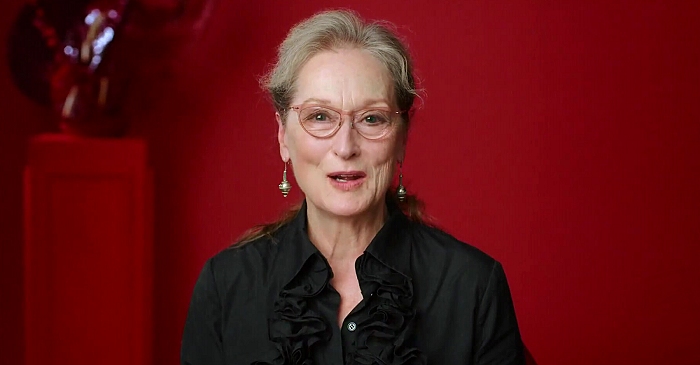 On Thursday, Meryl Streep was tasked with presenting Amal with the 2020 Gwen Ifill Press Freedom Award at the online ceremony for the DPJ International Press Freedom Awards. The lawyer was being honored for her work defending journalists and their legal rights at the United Nations last year. During her acceptance speech, Amal told Streep, "You are an inspiration as a woman, as an artist, as a press-freedom advocate." Clooney jokingly added, "I know I can't ever hope to win the number of awards that you've won, but it does occur to me that we have something special in common, which is that we've both been married to my husband. And honestly, the fact that you did it as Mr. and Mrs. Fantastic Fox just makes that so much less awkward." Amal is of course referring to her husband's voice role opposite Streep in Wes Anderson's 2009 stop-motion animation film Fantastic Mr. Fox. Meryl's introduction and Amal's speech have been uploaded by the Committee to Protect Journalists.
According to Variety, Netflix's "The Prom" is another awards season hopeful that could crack multiple acting categories. In an exclusive to Variety, Netflix has confirmed the acting submissions for the upcoming Academy Awards. Three-time Oscar winner Meryl Streep and newcomer Jo Ellen Pellman will be submitted for lead actress, while Emmy winner James Corden will seek consideration in lead actor. Keegan-Michael Key and Andrew Rannells will be submitted in the supporting actor categories. Ariana DeBose, Oscar-winner Nicole Kidman and Emmy-winner Kerry Washington will look for love in supporting actress. Adapted from the Broadway musical, "The Prom" tells the story of a troupe of self-obsessed theater stars who swarm into a conservative Indiana town to support a high-school girl who wants to take her girlfriend to prom. The acting category submissions for "The Prom" match the Broadway production, which was nominated for seven Tony awards in 2019. It garnered three acting nominations for Caitlin Kinnunen and Beth Leavel in best leading actress in a musical, which mirror Pellman and Streep's roles, along with Brooks Ashmanskas for best leading actor, which Corden portrays. The best actress race is very competitive this year, with many former winners delivering outstanding performances, like Viola Davis ("Ma Rainey's Black Bottom"), Sophia Loren ("The Life Ahead") and Frances McDormand ("Nomadland"). With Pellman campaigned alongside her in her feature film debut, she's likely to face an uphill climb. Double nominations in the best actress category have only happened five times in Academy history. Geena Davis and Susan Sarandon, who were both nominated for "Thelma and Louise" in 1991, was the last occurrence. A similar arduous path seems likely for Corden, although the HFPA may bite for this picture in a big way. Directed by Ryan Murphy, the film is written by Chad Beguelin and Bob Martin, who also co-wrote the musical book. "The Prom" will be released on Netflix on Dec. 11.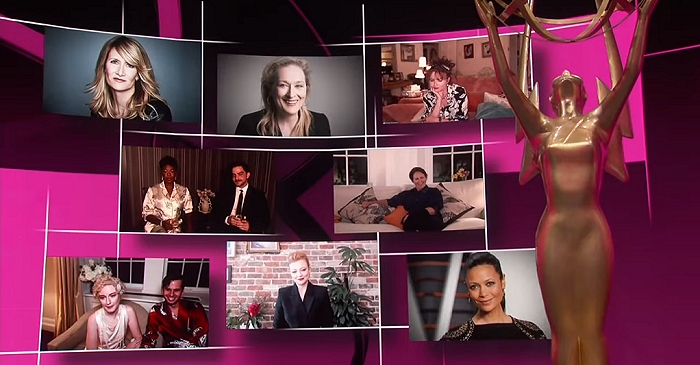 The TV industry's shiniest night of the year, a.k.a. the Primetime Emmy Awards, looked much different this year, given the never-ending pandemic. The ceremony's host, Jimmy Kimmel, was literally fired up to emcee the festivities again, this time from the mostly vacant Staples Center in L.A., with winners accepting awards remotely, virtually, and digitally. If you tuned in just for Meryl, there wasn't much to see. She was nominated as Outstanding Supporting Actress in a Drama Series for "Big Little Lies" along her co-star Laura Dern as well as Fiona Shaw (Killing Eve), Sarah Snook (Succession), Helena Bonham Carter (The Crown), Samira Wiley (The Handmaid's Tale) and Thandie Newton (Westworld), but "lost" to Ozark's Julia Garner, and wasn't featured by camera during the nominations. Garner took to Instagram after winning the Emmy to praise her fellow nomninees, including Meryl: "Also I want to give a special thanks to Meryl Streep, who wasn't on the zoom call tonight. When I was 15 I watched Sophie's Choice and it made me want to be an actress. I wouldn't be doing this if it weren't for you. And thank god because I don't really know how to do anything else!! So thank you. Love to you all!!" The category segment can be watched below and in the video archive.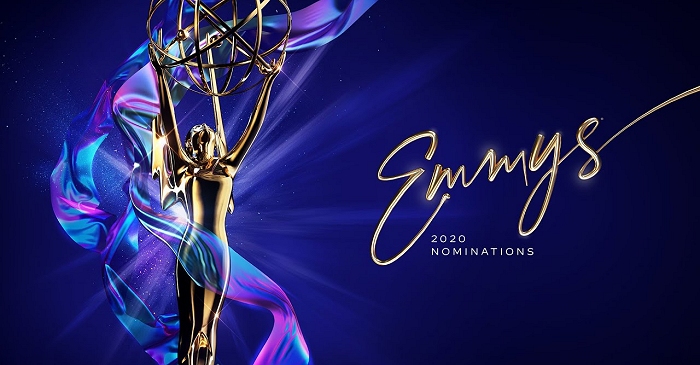 Big congratulations to Meryl Streep for receiving a Primetime Emmy Award nomination earlier today as Outstanding Supporting Actress In A Drama Series for "Big Little Lies". She shares the crowded category with Laura Dern for "Big Little Lies", Fiona Shaw for "Killing Eve", Julia Garner for "Ozark", Sarah Snook for "Succession", Helena Bonham Carter for "The Crown", Samira Wiley for "The Handmaid's Tale" and Thandie Newton for "Westworld". "Big Litte Lies" fared ok in the overall nominations with five, although only two actresses – Dern and Streep – made the cut. The other nominations come in the categories for Outstanding Production Design For A Narrative Contemporary Program, Outstanding Casting For A Drama Series and Outstanding Contemporary Makeup. In comparison, the first season of "Big Little Lies" scored 16 nominations in 2017, winning 8 – including for Outstanding Limited Series and its stars, Nicole Kidman, Laura Dern and Alexander Skarsgard. Meryl Streep's track record at the Emmys is equally impressive – she has won 3 Emmys out of 4 nominations so far – as an actress for "Holocaust" in 1979 and "Angels in America" in 2004 as well as a narrator for the Netflix documentary "Five Came Back" in 2017. The Emmys will be handed out on September 20, 2020. Edit: Meryl's management forwarded the following reaction to various news outlets:
Thank you!!! I am very honored to be in the company of such gifted women, who have helped us all get through this screen centered moment in time!"
Yesterday, Meryl Streep and the cast of "Big Little Lies" attended the 26th Annual Screen Actors Guild Awards. They were nominated as Outstanding Ensemble in a Drama Series, but lost to the cast of "The Crown". Lots of pictures from the ceremony have been added to the photo gallery with more information to follow. Enjoy. Update: A video segment of Meryl's appearance has been added to the video archive, with many thanks to Youtuber Wei Lan. Screencaptures have been added as well.
Photo Gallery – Public Appearances – 26th Annual Screen Actors Guild Awards – Show
Photo Gallery – Public Appearances – 26th Annual Screen Actors Guild Awards – Screencaptures
Big congrats to the team of "Little Women" on receiving 6 Academy Award nominations this morning. While the team leader Greta Gerwig was snubbed for a Best Director nomination, the film received nominations for Best Picture, Leading Actress (Saoirse Ronan), Actress in a Supporting Role (Florence Pugh), Costume Design (Jacqueline Durran), Original Score (Alexandre Desplat) and for Best Adapted Screenplay (Greta Gerwig). "Little Women" marks only the sixth movie in Meryl Streep's career to receive a nomination for Best Picture – the other being "The Deer Hunter" (winning), "Kramer vs. Kramer" (winning), "Out of Africa" (winning), "The Hours" and "The Post". The Oscars will be handed out on Sunday, February 9, 2020.
Yesterday, Meryl Streep attended the 77th Annual Golden Globe Awards in Beverly Hills as a nominee for "Big Little Lies". Unfortunately, she didn't win – the award went to Partricia Arquette for "The Act". To make matters worse, Meryl also skipped the red carpet, so there are only very few pictures, but at least some lovely ones with Helen Mirren, which is better than nothing. Right? :-) Neither "Big Little Lies" nor "Little Women" scored any wins at the Golden Globes this year. Pictures from the show have been added to the photo gallery. Update: Screencaptures from the ceremony have been added as well, and you can find the video segment in the video archive.