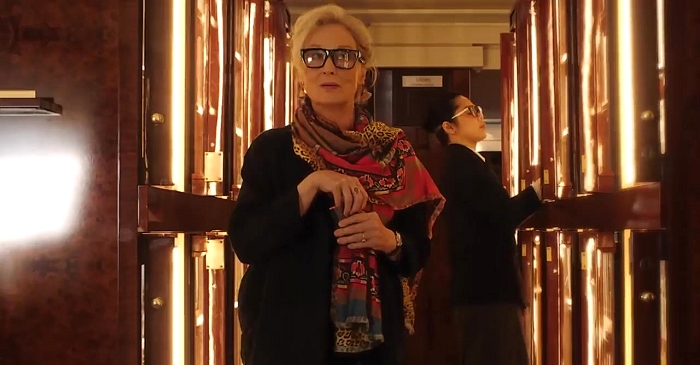 In a coming attractions trailer, HBO Max gives us a first look at "Let Them All Talk", and Entertainmnent Weekly writes about it: Let them all talk… about Meryl Streep's arrival on HBO Max. The streaming platform picked up the rights to the Oscar winner's new movie with director Steven Soderbergh early in the shelf life of the service, and now the streamer has snuck in the first look at the actress' latest eye-turning performance in Let Them All Talk. Tucked away around the 1:52 time stamp of the latest trailer for HBO Max's upcoming offerings is a look at this gem, which also stars Dianne Wiest (Edward Scissorhands), Candice Bergen (Murphy Brown), Lucas Hedges (Manchester By the Sea), and Gemma Chan (Crazy Rich Asians). "Here's to reconnecting the gang of three," Streep says as her author character, who takes a cruise with her besties, played by Wiest and Bergen. Based on Bergen's next line, it seems there's a lot of self-reflection involved with this trip. "Who's the real you?" she questions. "Does anybody trust you?" Meanwhile, off in the quiet corners of the film (and the trailer), there's Hedges, playing Streep's nephew, trying to romance Streep's literary agent (Chan). The trailer briefly highlights a number of other programming, including Jude Law in HBO's limited series The Third Day, Ridley Scott and Aaron Guzikowski's Raised By Wolves sci-fi series for HBO Max, and The Big Bang Theory's Kaley Cuoco in the series The Flight Attendant. Then there are the more heavily promoted shows like HBO's Perry Mason and Lovecraft Country, and HBO Max's Seth Rogen-led film American Pickle.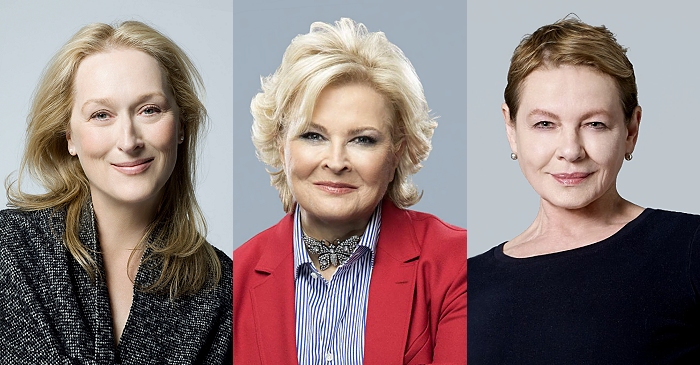 "Let Them All Talk" – a film starring Meryl Streep, Candice Bergen, Dianne Wiest, Lucas Hedges and Gemma Chan – will have its debut on HBO Max. WarnerMedia announced it picked up the project for the streaming service on Monday. Directed by Steven Soderbergh and written by Deborah Eisenberg, the film tells the story of a "celebrated author who takes a journey with some old friends to have some fun and heal old wounds," a press release said. Hedges will play Streep's nephew and Chan will play a literary agent. "This is the kind of project where you just say, 'Yes, please sign me up,'" Sarah Aubrey, head of original content at HBO Max, said in a statement. "To work with Steven Soderbergh and this all-star cast led by Meryl Streep is thrilling and sets the standard for features at HBO Max." Production was underway in New York and is scheduled to move to the Queen Mary 2 cruise ship and Britain. HBO Max is set to launch in 2020.
According to The Playlist, with the world premiere of his latest film, "The Laundromat" set to screen at the Venice Film Festival in two weeks, Steven Soderbergh is taking some much-needed downtime… by shooting a secret new film called "Let Them All Talk." Most details are being kept under wraps, but sources close to the project tell us the movie features his "Laundromat" star Meryl Streep and Gemma Chan from "Crazy Rich Asians". Soderbergh had been hinting at working on something new on Twitter and revealed the title of the film yesterday. Sources have confirmed to us that the project is indeed Soderbergh's next feature-length narrative movie. One feature of the film is that it's being shot on the brand-spanking-new RED Komodo Dragon camera, a state-of-the-art digital RED camera meant to be the new platinum standard for digital cameras. The Komodo cameras are also expected to be used for David Fincher's upcoming "Mank" film for Netflix starring Gary Oldman. Soderbergh had intended to finish the film and then take it out to market, but the word is out and various studios and streaming platforms—some that haven't even launched yet—are already getting their checkbooks out and readying for the bidding war. Netflix, who is putting out "The Laundromat" in the fall, and released Soderbergh's previous 2019 film, "High Flying Bird," is definitely expected to be one of the bidders. "Let Them All Talk" is currently shooting in New York as we speak and don't' be surprised if paparazzi photos of Streep and Chan surface later today. The film will shoot for a few days in NYC first this week—with RED folks on standby—before whisking away to a remote location outside the U.S. where no one will be available to do service work on the camera at all. Here's hoping everyone stays dry overseas.