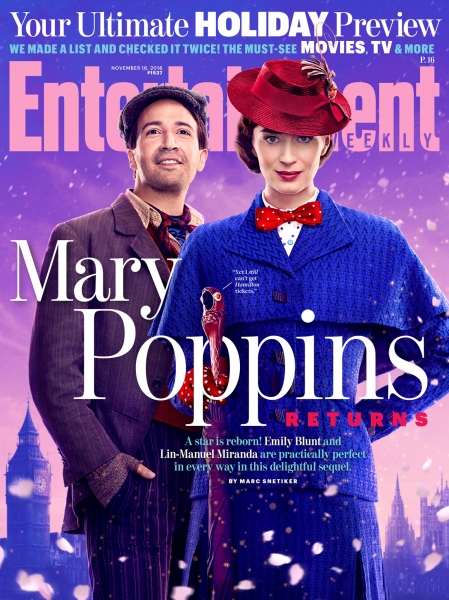 Entertainment Weekly spills all the secrets on this month's "Mary Poppins Returns" with the stars Emily Blunt and Lin-Manual Miranda gracing the cover. Here's an excerpt from Meryl's interview: As Topsy, the three-time Oscar winner has a scene-stealing supporting role in Walt Disney Pictures' Mary Poppins Returns (in theaters Dec. 19). Streep's character, who is a cousin to Mary Poppins, is an oddity who involuntarily spends every second Wednesday upside down. She visits to the Banks to fix family heirloom and sings the jazzy "Turning Turtle." Streep took the role solely to work with Rob Marshall, who directed her in 2014's Into the Woods. "Rob knew that I wanted in on whatever it was he did next. But I had no idea what he had in his head. And when he [and producer John DeLuca] invited me to talk through this idea, I thought, 'They're crazy, these two. They're just insane. They've lost their minds,'" Streep, 69, says with a laugh in in Entertainment Weekly's Nov. 16 issue (out now). "But It was such a big vision, and it was so ambitious that I said, 'Oh, well, I want to be in it. Absolutely. Right away.'"
Working with the living legend was a dream come true for Lin-Manuel Miranda, who plays a lamplighter named Jack. "One of the greatest moments I experienced on set was Meryl. She was sort of in weird Mary Poppins aunt mode the whole time, and at one point she goes, 'Hey, kids, wanna see a perfect pratfall?' And just boom, face down, went from 90 degrees to flat. You haven't seen Buster Keaton do a pratfall like this. Everyone rushed over like, 'Meryl Streep has died!'" he recalls. "And then she just got up and was like, [wiping hands] 'I learned that at Yale.'"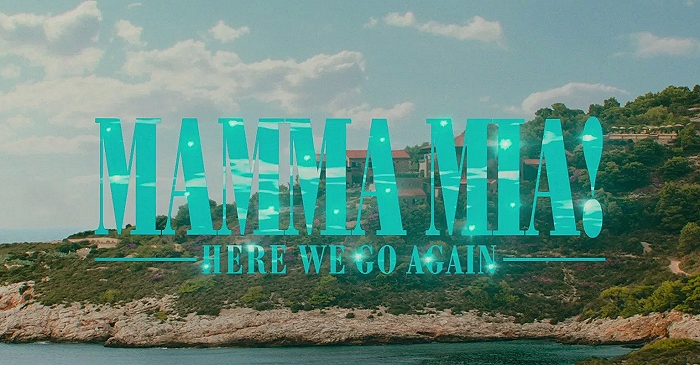 "Mamma Mia: Here We Go Again" has been released on DVD and Blu-Ray in the United States and is already available on demand, so you can basically find it EVERYWHERE to own or rent. Those of you who have seen it in the theater (which includes probably everyone) know that Meryl Streep's Donna, although talked about in length, is limited to a cameo performance by the end of the film – singing two songs nevertheless. So if you'd like to revisit her renditions of "My Love, My Life" and "Super Trouper", make sure to grab your copy, or get the soundtrack, or both. Over 300 screencaptures from the Blu-Ray have been added to the photo gallery. Enjoy!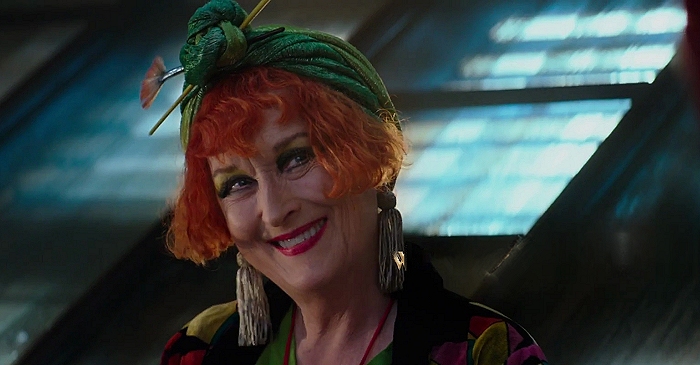 Bustle has an in-depth article on "Mary Poppins Returns", Rob Marshall's work behind the scenes and news on which songs will be performed – brace yourself for a musical number with Meryl Streep: Mary Poppins Returns is Blunt's "third film with Meryl Streep," the actor says, referencing The Devil Wears Prada and Into the Woods. "What a stalker she is." In the film, Streep plays a character named Topsy, adapted from P.L. Travers' books, who is an Eastern European distant cousin of Mary's and lives in a fixit shop that turns upside down every Monday. Sounds a bit like Uncle Albert and his penchant for levitation, doesn't it? The movie's production designer teased some fun instrumental moments in Streep's big "Turning Turtle" musical moment, because Topsy is more apt to turn a broken instrument into something else rather than fix it. When Meryl was here," Platt recalls of the actor's time on set, "she turned to me and said 'it feels like we're giving a gift to the word.'" That's the joy that everyone involved with the movie seems to be taking in telling this new story and singing these songs. You can read the full article at Bustle with many thanks to Glenn for the heads-up!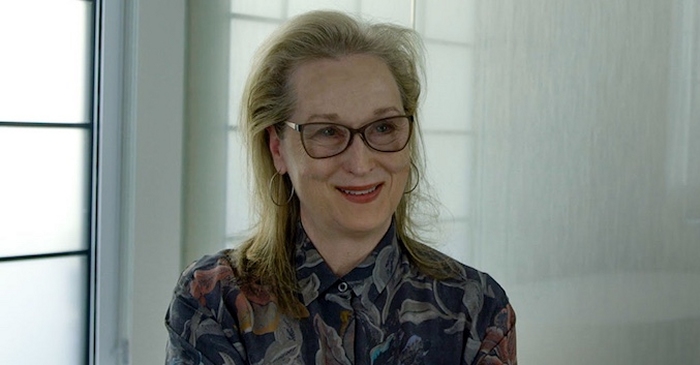 There's no denying that the #MeToo and #TimesUp movements have had a significant impact on Hollywood. But does that mean that the industry is in for a long overdue sea change? Not without taking the right action, and not without raising the right awareness. In "This Changes Everything", director Tom Donahue and actress Geena Davis — who also founded the Geena Davis Institute for Gender in Media — reveal just how gender-biased the film industry really is, by laying bare the raw statistics and providing essentially irrefutable, numerical evidence as to how female filmmakers, actors and even behind-the-scenes crew members have been systematically discriminated against going back decades. The result is eye-opening, to say the least, but as the film makes abundantly clear, it's only the tip of the iceberg. Also featuring interviews with some of Hollywood's biggest names — including Meryl Streep, Viola Davis, Jessica Chastain and Natalie Portman – "This Changes Everything" isn't just a telling exposé of the dark side of the industry. It's also an affirming look at how people are willing to come together to change the situation for the better. "This Changes Everything" makes its world premiere at the 2018 Toronto International Film Festival. Its runtime is 1 hr. 37 min. Many thanks to Glenn for the heads-up.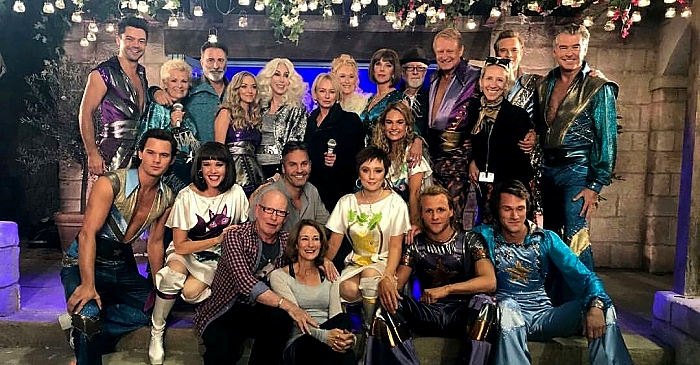 "Mamma Mia: Here We Go Again" is holding up at the box office at the second spot – adding $4.8 million to its haul – after this week's release of the new "Mission Impossible" took the predicted first place with moviegoers. But "Mamma Mia" has another market to score – as long as Tom Cruise doesn't start singing on "MI" – the film's soundtrack is doing great numbers in various markets, including a No. 1 spot in the United Kingdom, Ireland, Australia and New Zealand. After initially debuting inside the top 10 last week, the soundtrack that accompanies the second Mamma Mia! musical film has bolted to the top of the album chart in the U.K. According to the Official Charts Company, the upbeat collection shifted 35,000 equivalent units this frame, which was enough to land it on the throne. Judy Craymer told OfficialCharts.com: "It is fantastic news that the soundtrack to Mamma Mia! Here We Go Again has gone to Number 1. It's the celebration of our wonderful cast featuring Christine Baranski, Pierce Brosnan, Dominic Cooper, Colin Firth, Andy Garcia, Lily James, Amanda Seyfried, Stellan Skarsgård, Julie Walters and Meryl Streep – and of course Cher, singing Fernando." Many thanks to Glenn for collecting all these information. Much appreciated!
This evening, the cast and crew of "Mamma Mia: Here We Go Again" – including Meryl Streep, Cher, Amanda Seyfried, Pierce Brosnan, Colin Firth and Christine Baranski – have all graced the blue carpet for the film's big London premiere in London.People spoke to Cher on playing Meryl's mother. The music icon is 72, while Streep is 69, but the age spread hardly bothers the "Believe" singer, who appears in the new Mamma Mia movie as the grandmother to Amanda Seyfried's character. "That doesn't make any difference," Cher said in their exclusive Facebook live talk with the cast, moderated by PEOPLE deputy editor Dan Wakeford, about the small age gap. "I was thrilled to death, and it was so silly. It was great fun, and I love her [Meryl], so it was perfect." Cher continued, "It was great, and she was hiding watching me sing, and I was so excited. I didn't find out until afterwards—I would have been more nervous." Though Cher and Streep mostly filmed on different days, they did get to spend time together on the set of the Mamma Mia sequel when Streep visited and when the duo filmed "Super Trouper." Cher and Streep previously appeared together in the 1983 movie Silkwood. Mamma Mia! Here We Go Again is out Friday. Lots of pictures from the premiere have been added to the photo gallery.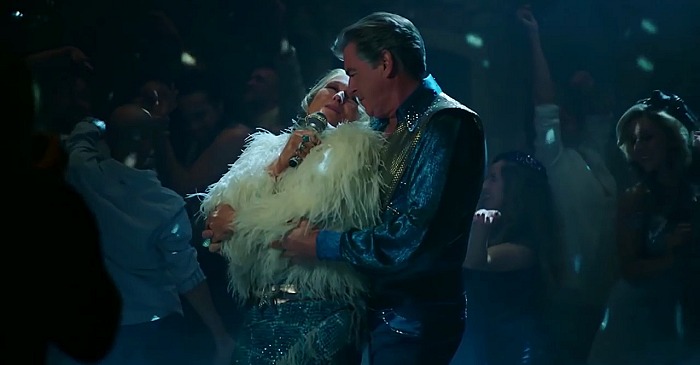 Universal Pictures eyes its promotional finale for next week's theatrical release of "Mamma Mia: Here We Go Again" and they have saved the best nuggets for last. The newly-released b-roll gives us more Meryl, both behind the scenes and on stage with the complete cast. There's also an official interview that has been used for the promotional clips we have seen so far. Also, the video archive has been updated with all the latest featurettes on the film – wishing that any of these would run for longer than a minute ;-) Screencaptures of the new material have been added as well, so head over to the video archive and the photo gallery, in that or in reverse order. Enjoy!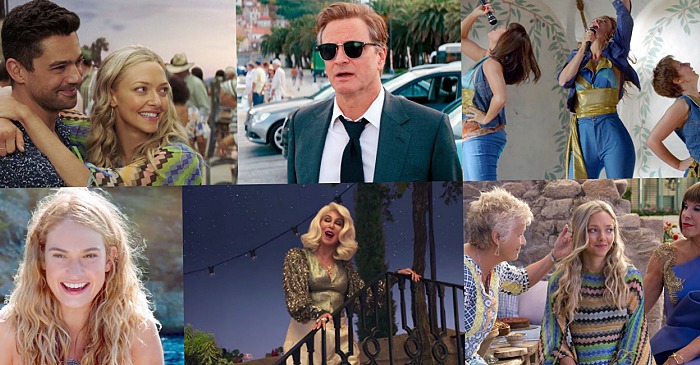 "Mamma Mia: Here We Go Again" will be released around the world next week. In the past couple of days, lots of new clips, featurettes and interviews with the cast and crew have been published, unfortunately none of them features Meryl Streep. The "big question" still seems to be if Donna is dead or alive in the sequel/prequel to 2008's mega hit. The more important question might be just how much of a part she is in the film – after all, her name is featured on the poster and she has participated in the promotional press junket as featured in the promotional clips. I guess we have to wait and find out ourselves next week. In the meantime, I've compiled a list of all promotional videos, which I'm sure you're eager to see, with or without Meryl. "Mamma Mia: Here We Go Again" releases theaters on July 18 in Europe and July 20 in the United States.
Continue Reading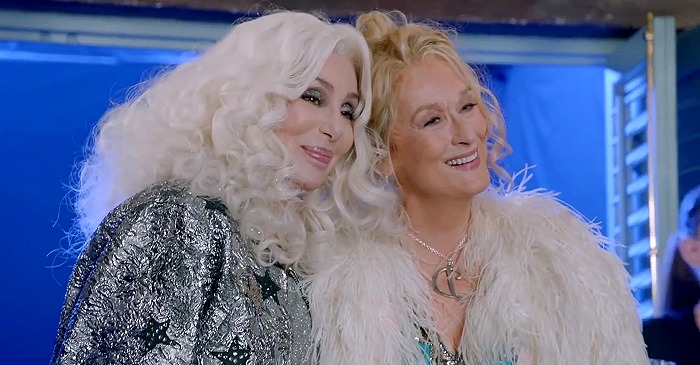 Universal Pictures has a nice surprise for us today. While the promotion for "Mamma Mia: Here We Go Again" has already started with a bunch of (more or less dreadful) tunes by the younger cast, we now have the first official featurette with a focus on Cher's character, and – surprise, Meryl Streep's in it as well, talking about her former and current co-star. So, nevermind if Donna Sheridan is dead or alive, Meryl has participated in the official promotion and I'm sure there's much more to come. The featurette can be watched below and in our video archive. Screencaptures have been added to the photo gallery.
After an early April launch on-demand, "The Post" has been released on DVD and Blu-Ray in the United States this Thursday. If you haven't seen it by now, make sure to grab your copy. Not only is it a timely piece, thrilling and superbly directed by Steven Spielberg, it also features two career-high performances by both Meryl Streep and Tom Hanks – the latter being a deserving Oscar nominee as well! Over 1.000 high quality Blu-Ray screencaptures have been added to the photo gallery, alongside captures from the making of supplements of the disc.