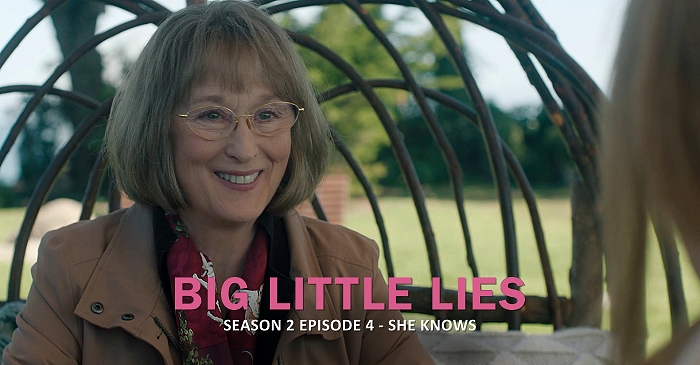 Screencaptures from the fourth episode of "Big Little Lies"' second season, "She Knows", have been added to the photo gallery with many thanks to Jess. As always, make sure to find highlight clips of each episode in the video archive.
Celeste (Nicole Kidman) accuses Mary Louise (Meryl Streep) of overstepping boundaries with Jane (Shailene Woodley). Renata (Laura Dern) endures a prying court hearing with Gordon (Jeffrey Nordling). Jane opens up to Corey (Douglas Smith) at Amabella's (Ivy George) birthday party. Madeline (Reese Witherspoon) continues to try to make things right with Ed (Adam Scott).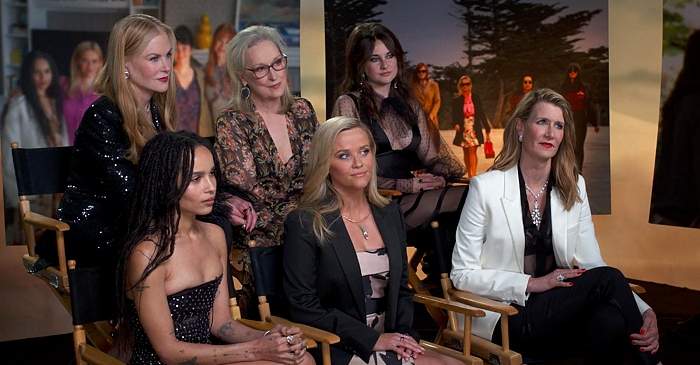 The cast of "Big Little Lies" – Meryl Streep, Nicole Kidman, Reese Witherspoon, Laura Dern, Shailene Woodley and Zoe Kravitz – were featured in a taped interview on today's Good Morning America to promote the series' second season. The full interview can be watched below and in the video archive. Additionally, an interview from yesterday's New York premiere from Entertainment Tonight has been added. Links and screencaptures can be found below.
br>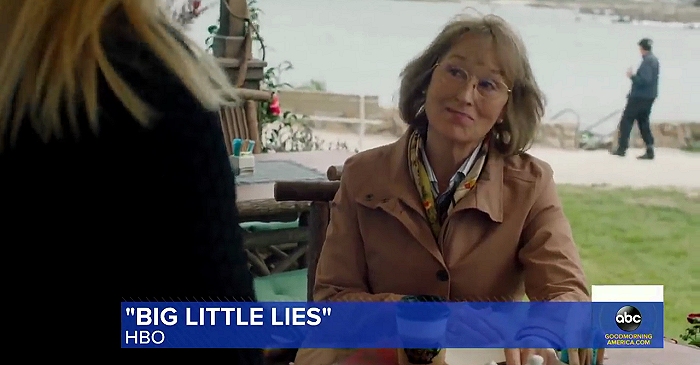 Most of the "Big Little Lies" actors are currently busy promoting the series' second season, which will premiere on HBO next Sunday, June 9. Unfortuantely, Meryl is not among those doing the talkshow circuit right now. Maybe she will be seen next week since not all late night shows have announced their guests yet. In Reese Witherspoon's appearance on Good Morning America earlier today, a clip was shown which seems to be the first meeting between Madeline and Celeste's mother-in-law, Celeste. While we've already read that Mary-Louise is up to no good, the clip gives us a better understanding of what to look forward to – and judging from the brief scene, there's a lot! You can watch the clip below, in the video archive or catch Reese's full appearance on GMA here. Additionally, a couple of new production stills have been added to the photo gallery.
HBO has released the full trailer for the series' second season. While the trailer gives great insight into what happens in Monterey after the faithful night, Meryl's character is still only shown in short bits. It might be a good sign that they keep all the powerful scenes for its airing, starting June 09 in the United States on June 10 in United Kingdom and other European countries. Additionally, the UK poster as well as Meryl's character poster have been released and added. Screencaptures from the trailer have been added to the photo gallery as well.
HBO released the official first look and premiere date for the second season of the Emmy-winning drama on Sunday. The seven-episode season premieres June 9. The second season picks up where the first left off and, according to the HBO description, will focus on how the tragic events of the finale fundraiser impact the main characters' seemingly picture-perfect lives. The season description reads: On the surface, in the tranquil seaside town of Monterey, California, everything seems the same. The mothers continue to dote, the husbands support, the children remain adorable and the houses are just as beautiful. But the night of the school fundraiser changed all that, leaving the community reeling as the "Monterey Five" bond together to pick up the pieces of their shattered lives. In a major casting scoop, Meryl Streep adds to the already impressive ensemble cast. She plays the role of Mary Louise Wright, who is described as a woman concerned for the well-being of her grandchildren following her son Perry's (Alexander Skasrgard) death and who arrives in Monterey searching for answers. At one point in the season two trailer, she confronts Witherspoon's character, Madeline. The new season will explore the malignancy of lies, the durability of friendships, the fragility of marriage and, of course, and the vicious ferocity of sound parenting. Relationships will fray, loyalties will erode — and the potential for emotional and bodily injury shall loom, HBO warns. The teaser trailer can be watched above. Screencaptures have been added to the photo gallery.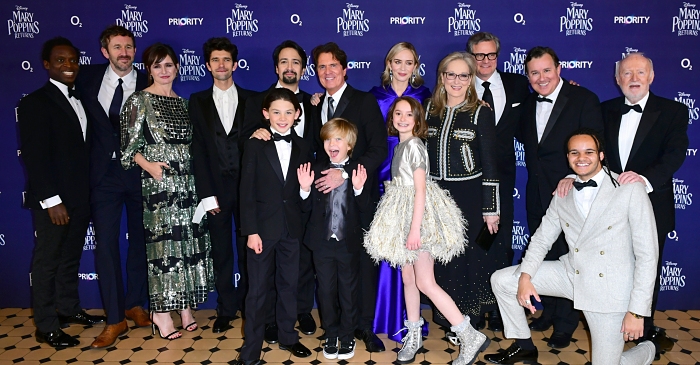 Yesterday, Meryl Streep attended the London premiere for "Mary Poppins Returns", which turns out to be the season's most anticipated film, and, even more surprisingly, a serious awards contender for Best Picture and Best Actress. Many pictures have been added to the video archive. A video clip of Meryl being interviewed at the premiere can be found below.
Lots of official promotion material for "Mary Poppins Returns" has been released by Disney Films over the last couple of days. There's the official b-roll with lots of footage from behind the scenes, an interview with Meryl Streep on her character (she reveals her character's full name, but I cannot understand it :-) can you?), two music videos from songs performed by Emily Blunt and Lin-Manuel Miranda and an additional television spot. All videos can be found in the video archive. Screencaptures from the b-roll and the interview have been added to the photo gallery.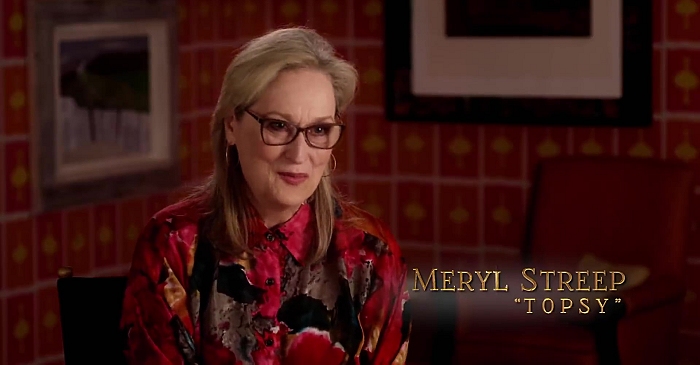 Before Mary Poppins Returns arrives in movie theatres December 19, take a look at the below featurette, in which the stars and creative team discuss the joy behind bringing the magical nanny back to the screen. The original Disney film is nearing its 55th anniversary, and naturally, the prospect of returning to that world was daunting. But looking at the source material (P. L. Travers' series), director Rob Marshall realized: "There was a real sense that there's so much more story to be told." Marc Shaiman and Scott Wittman have penned a new score for the story—one that star Lin-Manuel Miranda asserts is filled with "incredible, enchanting original music." "This is a film with great hope and spectacle," adds Emily Blunt, who takes on the title role this time around, amid clips filled with laughter, dancing, and dayglow animation. "And it's moving, so I think it's a very important film to be making right now." The all-star cast of the new movie also features Meryl Streep, Angela Lansbury, Colin Firth, Ben Whishaw, Emily Mortimer, Julie Walters, and Dick Van Dyke. The featurette can be found in the video archive, while screencaptures have been added to the photo gallery.
Today, more than 98 million adolescent girls around the world are not in school. That's a lot of empty desks—and a lot of dreams that are being cut short. When girls get the opportunities they deserve, amazing things start to happen; poverty goes down, economies grow, families get stronger, and babies are born healthier. And the world, by all accounts, gets better. Join the Global Girls Alliance to take action to help adolescent girls and the grassroots leaders working to educate them. As they write on their website, "It's simple: when girls go to school, the world gets better. Hear from some of our friends—Julia Roberts, Meryl Streep, John Legend, Natalie Portman, David Beckham, and more—about why they're excited to be a part of the Obama Foundation's Global Girls Alliance, a program that will engage people around the world to take action to help adolescent girls and the grassroots leaders working to educate them". To learn more, visit globalgirlsalliance.org.
Big Little Lies may not be returning for Season 2 until 2019, but there is some consolation — the first official footage of Meryl Streep in Big Little Lies is here, and it's already proving worth the wait. The iconic actor appeared for just a second or two in a new HBO promo video that was released Sunday, but even just that one glimpse is an embarrassment of riches. The promo was, unfortunately, not a Big Little Lies teaser, but rather one for all of HBO original shows, crowded with teasers from True Detective, Veep, and even Game of Thrones. But somehow Streep stood out anyway, holding her own even against the sneak peek of Daenery Targaryen and her dragons from the final season of Game of Thrones. It's a hard field to stand out in, but it should be no surprise that Streep is managing it, even with only a brief blip of screen time. It was previously announced that the 69-year-old would be brought onto Big Little Lies Season 2 to playing Mary Louise Wright, mother to Alexander Skarsgård's character Perry, and thus mother-in-law to Nicole Kidman's character Celeste. And while exact plot details aren't yet known, The Hollywood Reporter claimed that Mary Louise is in town to check in on her grandchildren and get some answers about what happened to her son. It's a reasonable motivation that should make total sense to anyone who remembers the events of BLL's Season 1 finale. More bits by Bustle with thanks to everybody for the heads-up!