Although Meryl Streep was in the news this year for a variety of reasons – including her response to the allegations of sexual misconduct by Harvey Weinstein – as an actress, she did what she always does and threw her weight behind a story she believed in. For her role as publisher Katharine Graham in Steven Spielberg's The Post – the true story of The Washington Post's attempts to publish the Pentagon Papers and expose a massive government cover-up in 1971 – Streep earned a record 21st Oscar nomination. In playing the part, Streep endorsed a timely message – namely that a rigorous, free press is an essential part of a healthy democracy, which we should not only support, but celebrate and defend. Here, she writes an exclusive letter for PORTER about why we need good reporters now more than ever.
We need to protect, defend and thank the current crop of journalists around the world, because they, their scruples and their principles are the front-line defense of free and informed people.
EXCLUSIVE: Meryl Streep's open letter in defence of the free presshttps://t.co/03Q3No7a3h pic.twitter.com/B9f2yNXnpX

— PORTER magazine (@PORTERmagazine) 26. September 2018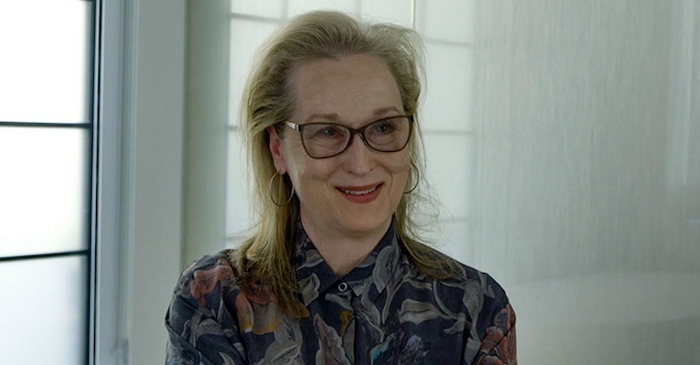 There's no denying that the #MeToo and #TimesUp movements have had a significant impact on Hollywood. But does that mean that the industry is in for a long overdue sea change? Not without taking the right action, and not without raising the right awareness. In "This Changes Everything", director Tom Donahue and actress Geena Davis — who also founded the Geena Davis Institute for Gender in Media — reveal just how gender-biased the film industry really is, by laying bare the raw statistics and providing essentially irrefutable, numerical evidence as to how female filmmakers, actors and even behind-the-scenes crew members have been systematically discriminated against going back decades. The result is eye-opening, to say the least, but as the film makes abundantly clear, it's only the tip of the iceberg. Also featuring interviews with some of Hollywood's biggest names — including Meryl Streep, Viola Davis, Jessica Chastain and Natalie Portman – "This Changes Everything" isn't just a telling exposé of the dark side of the industry. It's also an affirming look at how people are willing to come together to change the situation for the better. "This Changes Everything" makes its world premiere at the 2018 Toronto International Film Festival. Its runtime is 1 hr. 37 min. Many thanks to Glenn for the heads-up.
According to The Hollywood Reporter, Oprah Winfrey, Meryl Streep and Chadwick Boseman are among the notable names who have signed a letter in support of gender equality. More than 150 stars have banded together with international charity ONE in the hopes of creating change. Back in March, on International Women's Day, the organization published its fourth annual #PovertyIsSexist letter to world leaders, "demanding that they deliver powerful changes for women and girls living in extreme poverty." And now, Winfrey, Streep, Boseman, along with a myriad of other influential figures, are lending their support by signing onto the letter. Other famous signatories from the entertainment industry include Reese Witherspoon, Amy Schumer, Tina Fey, Amy Poehler, Blake Lively, Ryan Reynolds, Natalie Portman, Mariska Hargitay, Mindy Kaling, Neil Patrick Harris and Yara Shahidi. "We won't stand by while the poorest women are overlooked," part of the letter states, expressing a dire need for "historic changes for women" in the #MeToo and Time's Up era. The campaign has also received support from those outside of show business, including former U.S. Secretary of State Madeleine Albright, Facebook's Sheryl Sandberg, Chelsea Clinton and Huffington Post founder Arianna Huffington. Read the entire letter below, as well as a full list of signatories:
Continue Reading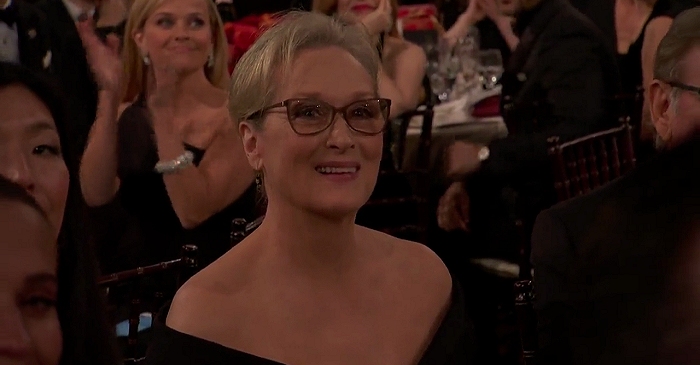 The Golden Globes have been handed out earlier this evening. Meryl Streep didn't win for "The Post", Frances McDormand was named Best Actress in a Drama for "Three Billboards Outside Ebbing, Misouri" – who is, in my opinion, the best actress of her generation and deserves all the praise she gets, so fine with me :-) At least she took the red carpet for the first time in years. As it was reported before that some actresses chose to be accompanied by activists, Meryl walked the red carpet with Ai-jen Poo, the director of the National Domestic Workers Alliance and co-director of the Caring Across Generations Campaign. "She and I are so happy to be here in this particular moment," Streep told E! News. "I think that people are aware now of a power imbalance and it's something that leads to abuse. It's led to abuse in our own industry, and it's led to abuse across domestic workers' field of work. It's in the military, it's in Congress, it's everywhere and we want to fix that. We feel sort of emboldened in this particular moment to stand together in a thick black line dividing then from now." Edit: over 200 additional pictures from the arrivals, the show and the after-party have been added to the photo gallery, with many many thanks to Claudia for her support. The video archive has been updated with the Best Actress segment and the E! Live from the Red Carpet interview with Meryl and Ai-jen Poo. Enjoy all the new additions.
Meryl Streep, Reese Witherspoon, Shonda Rhimes and more than 300 other women are taking a stand against sexual harassment and assault in the entertainment industry by launching Time's Up—a movement that aims to promote equality and safety in the workplace. The initiative addresses legislation, corporate policy and hiring practices and aggregates resources. "Earning a living should not come at the cost of anyone's safety, dignity or morale," Rhimes said in a statement appearing in a Time's Up email. "Every person should get to work in an environment free from abuse, assault and discrimination. It's well past time to change the culture of the environment where most of us spend the majority of our day – the work place. 51% of our population is female, over 30% of our population is of color. Those are important, vital, economically powerfully voices that need to be heard at every level." She also added, "Time's Up is working to make sure the people walking the corridors of power within the workplace and in politics truly reflect the full mix of America—the real America that looks like and includes all of us. Look, this isn't going to be easy but it is right. And fighting for what is right can seem hard. But letting what is wrong become normal is not easier—it is just more shameful." You can read the whole article and Time's Up letter at the The New York Times website.
In honor of the centennial of women being granted the right to vote in New York, the New-York Historical Society will screen the Meryl Streep-narrated documentary We Rise. The short film, which also features Alicia Keys' original song "We Are Here," tells the story of the women who fought for change in the U.S. during the early 20th century. The doc will profile many women of the era, including suffragist and black women's organizations leader Addie Hunton, Henry Street Settlement founder Lillian Ward and birth control activist Margaret Sanger, to name a few.
"We are proud to celebrate the centennial of women's suffrage in New York this year with a powerful new film and exhibition, each one showing how a determined group of people struggling for rights and equality can succeed in creating change," NYHS CEO and president Dr. Louise Mirrer said Wednesday in a statement. "We Rise recounts a period of history that tends to be overlooked in textbooks, but the impact of those first decades of the 20th century leading up to women's suffrage in New York is still felt today." The film will premiere Nov. 3, the same day as the opening of the society's latest exhibit, Hotbed. The exhibit will feature the bohemian vibe of Greenwich Village in the early 20th century and will explain the pivotal role female artists and activists played in earning the right to vote. We Rise will play on rotation with the film New York Story in the historical society's ground-floor theater. Many thanks to Frank and Glenn for the heads-up.
It's been a busy Tuesday for Meryl Streep, having attended both the Women for Women Luncheon and the 100th Anniversary of Planned Parenthood. At the luncheon, Hillary Clinton was the featured speaker and was interviewed by Christiane Amanpour, CNN's chief international correspondent and anchor of "Amanpour." Streep, Donna Karan, Billie Jean King and Sophie Turner were among the 650 women who attended the luncheon at 583 Park Avenue. The event succeeded in raising $1.2 million for the programs that improve women's lives in countries affected by conflict and war. Later in the evening, Meryl was joined by Tina Fey and Scarlett Johansson to support Planned Parenthood at its centennial celebration, and to hear Clinton urge continued activism on behalf of women and girls around the world, and access to services like pregnancy and maternity care. Advancing women's rights and opportunities, Clinton said at the event Tuesday evening — during which she received an award — "remains the great unfinished business of the 21st century. And some days, it seems like it may be even more unfinished than we'd hoped." Pictures from both events have been added to the photo gallery, alongside some new pictures from the PEN America Gala.
Although Donald Trump's rise to political prominence has been a difficult and painful experience for the millions of people he has relentlessly denigrated, there is one silver lining to his candidacy – the renewed national dialogue on sexual assault. Since the leaked recording of his sexually predatory conversation with Billy Bush in 2005 reached national media attention, the response has been both heartbreaking and empowering. As a duel effort to give women space to openly talk about the negative personal effects of sexual assault and defeat Trump, these celebrities appeared in a powerful video for Hillary Clinton in which they got real about why sexual assault is not OK. The video, produced by the group Humanity for Hillary, features women telling their sexual assault stories and explaining why rape culture is not ok. Over a dozen celebrities, including Meryl Streep, Whoopi Goldberg, Amy Schumer, Rose McGowan, and Amber Tamblyn, appeared in the video, with Tamblyn taking a leading role.
First Lady Michelle Obama's initiative to elevate global educational opportunities for girls and women is getting a major shot of star power from Meryl Streep, who has attended yesterday's White House screening of the CNN documentary. Streep takes on the role of correspondent in "We Will Rise: Michelle Obama's Mission to Educate Girls Around the World," a documentary film that makes its U.S. premiere Wednesday night on CNN. (It will be available Thursday on demand through cable and satellite systems and online via CNNgo.) The film chronicles Streep's recent travels to Marrakesh, Morocco where she talked with young women about overcoming the cultural, economic, safety and health barriers that can keep them from pursuing an education. (According to the U.S. Agency for International Development, 62 million girls around the world are not in school.) "We Will Rise," produced by CNN Films and the Documentary Group, also features the network's correspondent Isha Sesay (a native of Sierra Leone), actress Freida Pinto and Obama, who listened to similar stories on a visit to Liberia. Pictures from the screening have been added to the photo gallery. The Los Angeles Times has an interview with Meryl Streep on her experience in Morrocco and the documentary.
As previously mentioned, CNN has followed First Lady Michelle Obama's visit to Morrocco this June, alongside actresses Freida Pinto and Meryl Streep, for a documentary that will be aired this Wednesday. At the core, is the fact that 62 million girls worldwide aren't in school. Talking to Michelle Obama and actresses Meryl Streep and Freida Pinto, African girls discussed their schooling. "I was really struck by their tenacity, their insistence on an education," Sesay sad. Some walked eight miles to middle school. Some left home to work near school. "I support myself," a girl named Rafina says in the film. She stays with an aunt and uncle and does household work for them when she gets home from school. "From 9 p.m. to 11, I can do my schoolwork." Others showed similar drive. One said she went on a hunger strike, until her parents let her go to school; now she speaks five languages. If this were simply a governmental issue, it could be solved at the top. It's not … as people were reminded when they met Liberia's president, Ellen Johnson Sirleaf. "It's a great achievement on her part, to be a woman at the top of government," Sesay said. More information on the documentary can be found on USA Today. "We Will Rise," 9 p.m. ET Wednesday (Oct. 12), CNN, barring breaking news; rerunning at midnight. Also, noon ET Saturday on HLN (formerly Headline News).