I wasn't interested in doing a biopic on Anna; I was interested in her position in her company. I wanted to take on the burdens she had to carry, along with having to look nice every day. Absolute power corrupts absolutely…. I liked that there wasn't any backing away from the horrible parts of her, and the real scary parts of her had to do with the fact that she didn't try to ingratiate, which is always the female emollient in any situation where you want your way – what my friend Carrie Fisher used to call "the squeezy and tilty" of it all. [Miranda] didn't do any of that. (Meryl Streep, Entertainment Weekly)
If looks could kill, then for 15 years The Devil Wears Prada has been a serial threat. Director David Frankel's adaptation of Lauren Weisberger's Faustian yarn – inspired by the author's time working under Vogue editor in chief Anna Wintour – emerged as a modern classic through its mélange of impossibly chic clothes, scorching dialogue, and pointed portrayal of women in power. In time, the movie has become a beacon for gender parity, too, with its ice-queen Runway editor Miranda Priestly (Meryl Streep) occupying a delectably unapologetic position of power in a male-dominated world and, as a Hollywood antihero, a rare kind of leading lady. The film struck a chord with its feminist-tinged, broadly appealing story, and has endured largely thanks to the spectacular chemistry among Streep, Anne Hathaway (who plays Miranda's assistant-turned protegée Andy Sachs), and scene-stealers Emily Blunt, Stanley Tucci, and Adrian Grenier. For the first time since the film's release in June 2006, EW has gathered those stars (and more) for a fierce reunion as they dig their heels into Devil's legacy. You can watch the full 30 minutes reunion exclusively on Entertainment Weekly's website.
I've spent the week without an iternet connection, so most plans for "The Devil Wears Prada" related updates fell flat. But, as Miranda Priestly would have said, "Details of your incompetence do not interest me". So, a nice btch of additional production stills and promotionals from the film have been added to the photo Gallery. Many thanks to Marci for helping me with this one.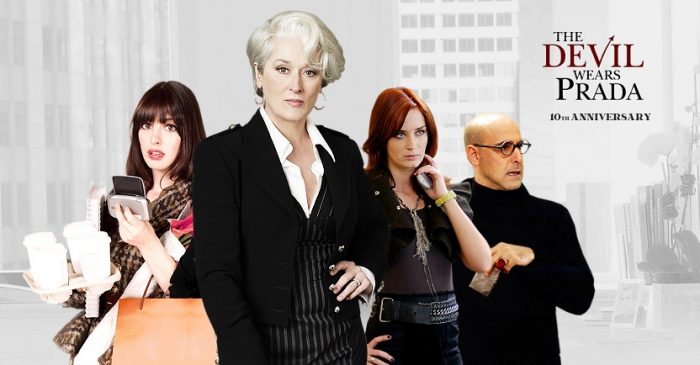 This week, on June 30 to be exact, "The Devil Wears Prada" celebrates the 10th anniversary of its theatrical release. Yes, 10! Time goes by so fast. And of course time was different back then. I remember updating the film for Simply Streep and hating the idea of Meryl doing mainstream fashion fare. After all, she was just back in the spotlight with consecutive Golden Globe wins for "Adaptation" and "Angels in America" – it was "Arthouse Streep" in the early 2000s and I couldn't understand why she would do such light material. Of course, this opinion has changed after seeing the film, and even more after it had such an impact on Streep's career. "Prada" would become her first box-office hit in 20 years – a success she would repeat the following Summers with "Mamma Mia" and "Julie & Julia". Even it's still not among my favorite films, Streep's success today as a leading is based on the success of "The Devil Wears Prada". In celebration of the film, Simply Streep sports a new header with the main cast. The press coverage for the film has been chronicled in a new feature for the filmography section and many more additions will be added in the coming days. Lots of media outlets are paying tribute to the film with flashback videos and interviews, so be sure to check our Twitter for links. Finally, please share your thoughts in the comments: Did you watch "The Devil Wears Prada" in the theatre? What does the film mean to you?
Entertainment Weekly has learned exclusively that author Lauren Weisberger is working on "Revenge Wears Prada: The Devil Returns", a sequel to her debut novel "The Devil Wears Prada". Simon & Schuster will be publishing the follow-up in April 2013 — 10 years after the release of the original. "Revenge Wears Prada" picks up eight years after Andy parted ways with Miranda on bad terms. Andy is now editing The Plunge, the hottest bridal magazine around, alongside Emily, her one-time Runway nemesis turned current BFF. While Andy is planning her own wedding to Max, a handsome media scion, she remains haunted by her impeccably heeled former boss — and the magazine world being as small as it is, it's only a matter of time before she hears the dreaded syllables "Ahn-dre-ah!" again. Weisberger has written three novels since The Devil Wears Prada, but this is her first return to the cutthroat world of Runway magazine. Thanks to Glenn for the heads-up.
Today, a new feature is introduced to Simply Streep – the Movie of the Week. Every Monday from now on, one film will receive a special spotlight on the main page, as well as updated material throughout the site. As the first movie of the week I've chosen a fan-favorite – "The Devil Wears Prada", the 2006 blockbuster that made Meryl a bankable star – and a Golden Globe winner once again. The film page has all the details on the film and its making, the video archive has been re-organized and now features new quality clips such as film scenes, deleted scenes and the theatrical trailer. And the image library has been updated with Blu Ray screencaptures from the film. So enjoy the new additions and tell me your thoughts of the film in the comments :-)
Meryl has received a nomination for the MTV Movie Award as Best Villain for "The Devil Wears Prada", sharing her category with Bill Nighy (Pirates of the Caribbean: Dead Man's Chest), Jack Nicholson (The Departed), Rodrigo Santoro (300) and Tobin Bell (Saw III). "Prada"'s Emily Blunt has also received two nominations as Best Comedic Performance and Best Breakthrough Role. The winners will be voted by the fans, so you can visit their website here to have your vote casted. The MTV Movie Awards will be handed out on June 03, 2007.
Yet another stage award nomination for Meryl's performance in "Mother Courage". This time she has received as Outstanding Actress in a Play Nomination for the Drama Desk Award. A list with all nominees can be found at their official website. Thanks to Frank for the heads-up.
Meryl Streep can add a few other awards to her shelf as she was awarded Actress of the Year by the London Film Critics – her award was picked up on her behalf by "Angels in America" co-star Emma Thompson – and as Best Actress by the North Texas Film Association, both for "The Devil Wears Prada". The BAFTA Awards, for which Meryl is nominated as well, will be handed out this Sunday. Many thanks to Frank for the heads-up.
Congratulations to Meryl for receiving her 14th Oscar nomination as Best Actress for "The Devil Wears Prada". Nominated in the same category are Penelope Cruz (Volver), Judi Dench (Notes on a Scandal), Helen Mirren (The Queen) and Kate Winslet (Little Children). This year's Academy Awards will be held on Sunday, 25 February 2007. A list with all nominees can be found here.
Meryl Streep has been awarded with the Golden Globe for Best Actress in a Musical/Comedy for "The Devil Wears Prada". This has been her career's 21th nomination for the Golden Globe and her 6th win. She has been honored previously for "Kramer vs. Kramer", "The French Lieutenant's Woman", "Sophie's Choice", "Adaptation" and "Angels in America".
(Entering the stage and talking to Miss Golden Globe, Jack Nicholson's daughter) Thank you! (Applause) Thank you. Thank you very much. I told Lorraine she came to a birthday party at my house in Beverly Hills with snakes… we had snakes! (Laughter) But then we moved back east. (Laughter) Oh my God, thank you everybody, thank you so much, I'm really thrilled. I think I worked with everybody in the room. (Laugther) Yes I have… (Meryl pulls out an acceptance speech) I'm gonna forget everything, I know… (refering to the audience) Oh shut up it's not that long. (Laughter). First of all, congratulations to the nominees in all the categories for Best Actress, it's like a million categories for Best Actress – but Annette and Toni and Beyonce and Renée, Penelope, Judi, Maggie and Helen and Kate, I just want you to know, all of you, that this is been such a fun year to watch movies because of you gals. (Applause) And it makes you wanna cry with graditude – until next year! (Laughter) I just wanna thank David Frankel and Aline Brosh McKenna for this sparkling script, its really sharp, smart direction made it just a pleasure. And thanks to Wendy Finerman and Carla Hackman and Elizabeth Gabler and Karen Rosenfelt for sheparding us through. Thank you for Tommy Rothman who signs the cheques and Rupert who signs his cheques. (Laughter). And thank you to Pat Field and Molly and Nina and the people in warderobe because that was like special effects for us! And… oh gosh, everybody. Delicious Emily Blunt, (throws her a kiss), darling! Darling Annie Hathaway, dreadful Stanley Tucci (Laughter). For the difficult job they had making me seem monstrous, anyway (Laughter). I just, I wanna thank everbody, especially everybody at FOX that let us donate all those clothes to "Equality Now" and Breast Cancer Research and Dress for Success (Applause), that was really classy! Totally great! And finally I just wanna say, the reason you could see "The Devil Wears Prada" is because it was playing on every theatre screen across America – and that was because they were playing it. And, if you can't see "Little Children" or "Pan's Labyrinth" or "The Queen" or… eh, all these great movies that I've just seen, "Volver", "Notes on a Scandal", "Sherrybaby" then you have to go down to your theater manager and ask him "why" (Applause). 'Cause its amazing how much you can get if you quietly, clearly and authoritatively demand it! (Laughter) That's all.