Ken Burns and Lynn Novick's three-part documentary "Hemingway" (premiering April 5 on PBS) details the life and career of the Nobel Prize-winning author Ernest Hemingway. According to a recent interview with Entertainment Weekly, the series uncovers a more nuanced character than the heavy-drinking, bullfight-attending, man's man of repute, with co-directors Ken Burns and Lynn Novick exploring, for example, Hemingway's interest in gender fluidity. "The macho facade is superficial," says Burns, who previously collaborated with Novick on 1994's Baseball and 2017's The Vietnam War, among other projects. "I think this is one of the reasons why you can't just say, 'Oh, dead white male, goodbye.' It's as complex a biography as we've ever worked on." Jeff Daniels recites Hemingway's letters and prose, while the author's four wives are voiced by Keri Russell, Mary-Louise Parker, Patricia Clarkson, and Meryl Streep. The latter performed her role of Hemingway's third spouse, writer Martha Gellhorn, following the start of the pandemic. "We planned to record Meryl Streep on March 24 of last year and had to cancel, but her son had a recording studio in his home," says Novick. "She and Ken were in touch about pronunciation questions, but basically this was a gift from Meryl Streep." "I just want to add that I think she's going places, she's really got a future," says Burns, with a laugh. "No, she's fabulous."
Ken Burns and Lynn Novick's three-part, six-hour documentary series, HEMINGWAY, examines the visionary work and turbulent life of one of the greatest and most influential American writers – Ernest Hemingway. Intimate and insightful, the series weaves together Hemingway's biography with excerpts from his fiction, non-fiction and personal correspondence – a structure that nods to Hemingway's own creative process of drawing inspiration from lived experience. The film penetrates the mythology surrounding Hemingway – cultivated by his larger than life exploits, public bravado, and occasional tall-tale – to reveal a deeply troubled and ultimately tragic figure. His story is told with the help of interviews with literary scholars, celebrated writers including Edna O'Brien, Mario Vargas Llosa, Abraham Verghese, and Tobias Wolff, and Hemingway's son, Patrick. Six years in the making, HEMINGWAY is a treasure trove of rarely seen photographs and archival footage. The film is further benefitted by unprecedented access to original manuscripts that show the painstaking process by which Hemingway created some of the most important works of fiction in American letters, including the novels, The Sun Also Rises, A Farewell to Arms, For Whom the Bell Tolls and The Old Man and the Sea; short stories "Hills Like White Elephants," "The Short and Happy Life of Francis Macomber,""Up in Michigan," "Indian Camp"and "The Snows of Kilimanjaro;" as well as nonfiction works, Death in the Afternoon and A Moveable Feast. Hemingway's words are brought vividly to life by Jeff Daniels. Meryl Streep, Keri Russell, Patricia Clarkson, and Mary-Louise Parker read the voices of Hemingway's four wives. Original music is provided by Johnny Gandelsman and David Cieri.
Three remarkable actress – Academy Award-winners Meryl Streep and Dianne Wiest, and Emmy Award-winner Candice Bergen – share the screen in a new film by director Steven Soderbergh, "Let Them All Talk," an exercise in improvisation, in which its actors were required to create much of the dialogue themselves. Correspondent Rita Braver talks with the trio about the rarity of starring in a major Hollywood film about three women in their 70s.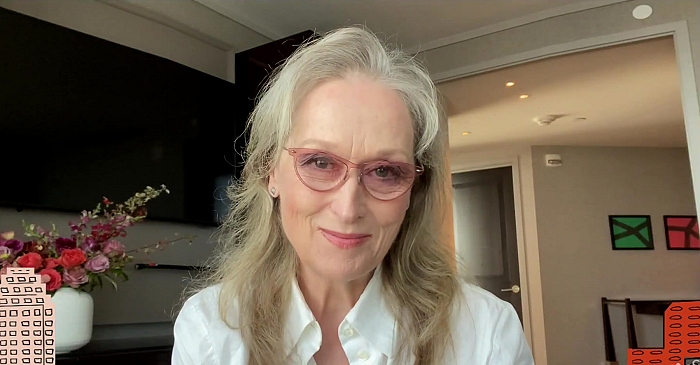 On Nov. 18 at 7 p.m., Citymeals on Wheels will be hosting their first ever virtual event: a coming together of recipients, volunteers and city celebrities to celebrate the charitable work of the organization. Special segments will include a behind-the-scenes look at volunteer efforts and a day-in-the-life-of a Citymeals Chef. A star-studded guest list including Tina Fey, Sarah Jessica Parker, Bernadette Peters, Meryl Streep, Sterling K. Brown, Liam Neeson, Billy Crystal, Michael Douglas and Adrienne Warren will read recipient thank you letters detailing just how meaningful and to what extent the service has helped the elderly in our communities. Culinary star-power will be present too, with Daniel Boulud, José Andrés, Charlie Palmer and author Gail Simmons all planning attendance to the online event. Comic relief will be provided by Colin Jost, Neil Patrick Harris and David Burtka and Mario Cantone, amongst others. Citymeals on Wheels has been a charitable pillar in NYC for almost three decades and will continue to provide enhanced help to vulnerable communities throughout the COVID pandemic. Their trusted Board of Directors covers all administrative costs, so if you decide to donate to Citymeals on Wheels, rest assured that 100% of your donation is going toward the preparation and delivery of meals for your neighbors in need. To learn more about the event, donate or become a heroic frontline volunteer, visit www.citymeals.org/morethanameal.
Early December will be early Christmas for all Streep fans – not that we don't deserve an extra dose of blessings this year. HBO Max has finally released the trailer for "Let Them All Talk", which will premiere, wait for it, on December 10, a day before Netflix releases "The Prom". Steven Soderbergh's film stars Meryl Streep as Alice, an award-winning author whose two oldest friends (Candice Bergen and Dianne Wiest) join her on a voyage across the Atlantic. As the three actresses revealed to EW earlier this year, the film was shot in just two weeks aboard the Queen Mary 2 in 2019, with the actors improvising almost all of their dialogue. "They would give us the outlines of a situation, and then we knew where we had to end up," Streep explained. "But they didn't tell us how to get there." "When it was over, I thought for a while that I had dreamt doing the movie," Bergen added. "It was over so quickly." "Let Them All Talk" also stars Lucas Hedges as Alice's nephew and Gemma Chan as her agent. The gabfest is the first in a series of projects for HBO Max and HBO from the prolific Soderbergh, who has already begun shooting his next movie for the streaming service, a crime film titled No Sudden Move. You can watch the trailer above and in the video archive. Screencaptures, along with the film's poster, have been added to the photo gallery.
Ernest Hemingway, the iconic literary figure considered one of the greatest American writers and among the first to live and work at the treacherous nexus of art and celebrity, is the subject of an upcoming three-part, six-hour documentary series directed by award-winning filmmakers Ken Burns and Lynn Novick coming to PBS April 5-7, 2021 at 8:00 – 10:00 p.m. ET (check local listings). The documentary paints an intimate picture of Hemingway the writer – who captured on paper the complexities of the human condition in spare and profound prose, and whose work remains deeply influential around the world – while also penetrating the myth of Hemingway the man's man to reveal a deeply troubled and ultimately tragic figure. The film also explores Hemingway's limitations and biases as an artist and a man of his time. "Hemingway is both an intimate, turbulent family saga and an examination of some of the greatest works of American literature in the 20th century," said director Ken Burns. "The documentary attempts to show how flawed our assumptions about Ernest Hemingway and his writing have been. At the same time, we are unsparing in our inquiry into less well-known aspects of his character and writing. Our intent is to offer viewers an honest portrayal of a complex and conflicted writer who left an indelible mark on literature." Narrated by long-time collaborator Peter Coyote, the series features an all-star cast of actors bringing Hemingway (voiced by Jeff Daniels), his friends and family vividly to life. Through letters to and from his four wives – voiced by Meryl Streep, Keri Russell, Mary Louise Parker and Patricia Clarkson – the film reveals Hemingway at his most romantic and his most vulnerable, grappling at times with insecurity, anxiety and existential loneliness. In three two-hour episodes, "Hemingway" tracks the meteoric rise and tragic fall of the author who, in his final years, suffered from chronic alcoholism, serious mental illness, traumatic brain injuries and depression. In 1961, at the age of 61, Hemingway died by suicide, leaving behind an unparalleled body of artistic work and a complicated emotional legacy for those closest to him.
The German/French tv channel ARTE celebrates the "Summer of Dreams" with films and documentaries, but for us it will be the "Summer of Streep" in August. On August 23, 2020 at 22:50pm, the broadcaster will air a brand new documentary on Meryl Streep titled "Meryl Streep: Die unverstellte Göttin" (the genuine goddess), right after a broadcast of "Out of Africa" at 20:15pm. The documentary will be featured on the ARTE website starting August 21 and will be available on-demand for a month. On Sunday, August 30, there will be a broadcast of "Julie & Julia" at 20:15pm. Their special on Streep is accompanied by a lovely cover story and article in the August issue of ARTE Magazin, which you can find in the photo gallery. Many thanks to Katrin for the heads-up.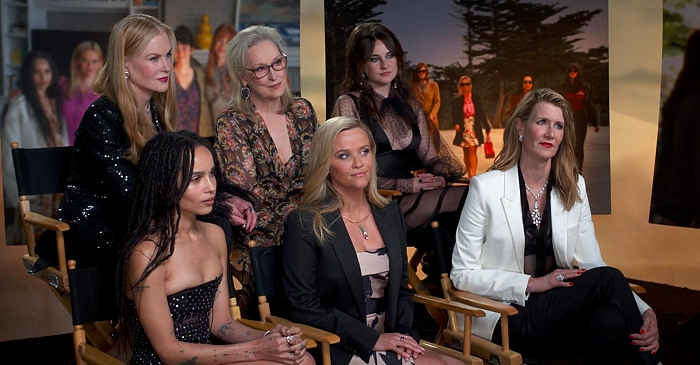 The cast of "Big Little Lies" – Meryl Streep, Nicole Kidman, Reese Witherspoon, Laura Dern, Shailene Woodley and Zoe Kravitz – were featured in a taped interview on today's Good Morning America to promote the series' second season. The full interview can be watched below and in the video archive. Additionally, an interview from yesterday's New York premiere from Entertainment Tonight has been added. Links and screencaptures can be found below.
br>
HBO has released the full trailer for the series' second season. While the trailer gives great insight into what happens in Monterey after the faithful night, Meryl's character is still only shown in short bits. It might be a good sign that they keep all the powerful scenes for its airing, starting June 09 in the United States on June 10 in United Kingdom and other European countries. Additionally, the UK poster as well as Meryl's character poster have been released and added. Screencaptures from the trailer have been added to the photo gallery as well.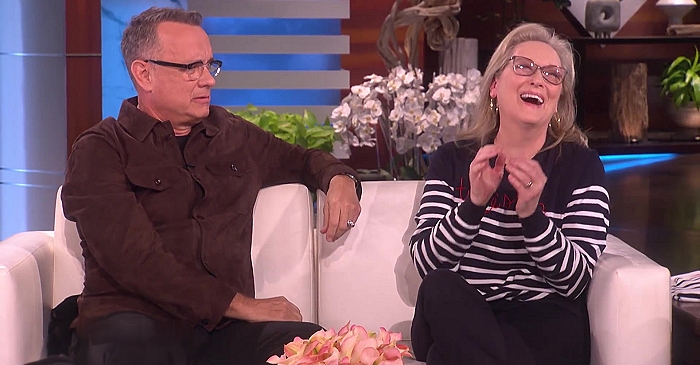 Earlier today, Meryl Streep and Tom Hanks were guests on "Ellen" to promote Friday's theatrical release of "The Post". They talked about the Golden Globes, Oprah Winfrey's speech and played a little game of recreating each others most iconic roles – Forrest Gump, The Devil Wears Prada, Toy Story and The Iron Lady. Screencaptures have been added to the photo gallery. Tomorrow will see the London premiere of "The Post" and the taping of "The Graham Norton Show", which will air Friday.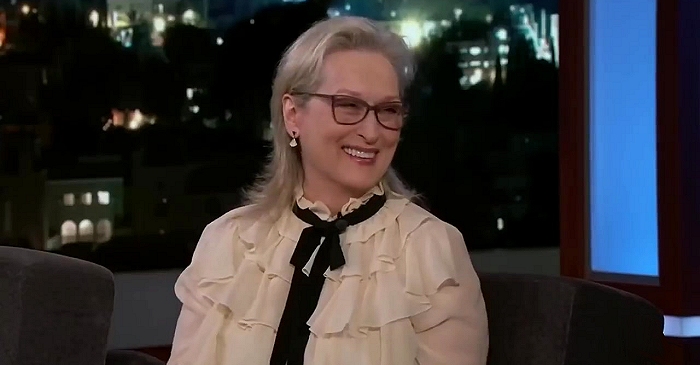 Yesterday, Meryl Streep was a guest on "Jimmy Kimmel Live" to promote the theatrical release of "The Post". Among the interview's highlights was Jimmy's game to have Meryl list all of the films she has received an Oscar nomination for – her reaction to "A Cry in the Dark" is priceless – and she was nominated for the role. But see for yourself. Screencaptures have been added to the photo gallery as well.