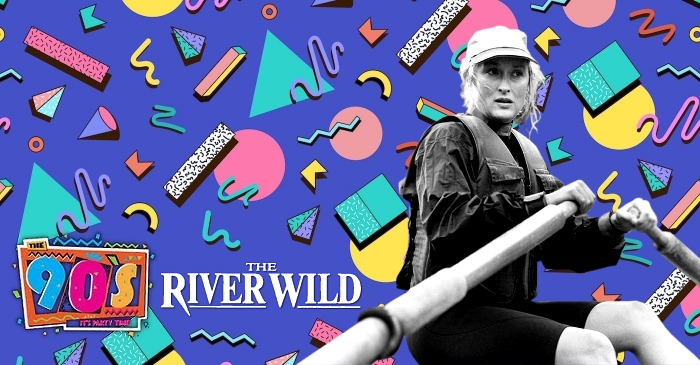 I don't feel like an icon, unless you mean stiff and wooden sometimes. I'm so tired generally – that's my main defining feature. (Meryl Streep, Entertainment Weekly, 1994)
After five years in Tinsletown, Meryl Streep quit Hollywood and relocated the family to Connectitut. While a good number of her films during that time earned solid reviews and box office – her stay in the City of Angels also gave Streep a reputation. Not only was she in an undesireable age group in Hollywood, her outspoken criticism on the payment inequality and lack of interesting roles for women was greeted with the industry's kiss of death – Meryl Streep was difficult to work with. Her farewell to Hollywood was her first and only hooray into the action genre, a surprising move rivaling the lone-rider action movies of her male counterparts. "The River Wild" offered a unique role for a woman in a, in retrospect, very family friendly action adventure, which might have been a rapid too slow for Stallone, but just right for a lion mother.
Continue Reading
According to Deadline, Meryl Streep, Bernadette Peters, Patti LuPone and Audra McDonald are set to join an all-star line-up in a special virtual concert to celebrate Stephen Sondheim's 90th birthday. Take Me To The World: A Sondheim 90th Birthday Celebration, hosted by Raúl Esparza, will take place this Sunday, April 26, the 50th anniversary of the opening night of Sondheim's groundbreaking musical Company. The concert kicks off at 8 pm ET, and will be available for free at Broadway.com and the Broadway.com YouTube channel. In addition to Streep, Peters, LuPone and McDonald, artists performing songs from the Sondheim catalog will include Mandy Patinkin, Christine Baranski, Donna Murphy, Kristin Chenoweth, Sutton Foster, Brian Stokes Mitchell, Kelli O'Hara, Aaron Tveit, Maria Friedman, Iain Armitage, Katrina Lenk, Michael Cerveris, Brandon Uranowitz, Stephen Schwartz, Elizabeth Stanley, Chip Zien, Alexander Gemignani and, from the cast of Pacific Overtures at Classic Stage Company, Ann Harada, Austin Ku, Kelvin Moon Loh and Thom Sesma. Host Esparza starred as Bobby in the 2006 Tony Award-winning revival of Company and in the Kennedy Center Sondheim Celebration productions of Sunday in the Park With George and Merrily We Roll Along in 2002, as well as the City Center Encores! production of Anyone Can Whistle and in last year's Road Show. "The world is in a hard place," Esparza said in a statement, "and we are all searching for something great. Well, Stephen Sondheim is greatness personified." Mary-Mitchell Campbell will be the music director, with Paul Wontorek serving as director. This online event will act as a fundraiser for ASTEP (Artists Striving to End Poverty), the organization conceived by Campbell and Juilliard students to transform the lives of youth through art. Many thanks to Glenn for the heads-up!
If your looking for something to read on your quarantine Sunday, have a look at the 50+ new magazine scans that have been added to the archives! There are some great old finds from the 1980s as well as many more recent interviews on articles from Austria and Switzerland, Brazil and Peru, Poland and the United Kingdom. So, there's something for everybody. Huge thanks to my friend Alvaro for compiling all these new finds and sending them my way. Much appreciated. Enjoy your Sunday!
Continue Reading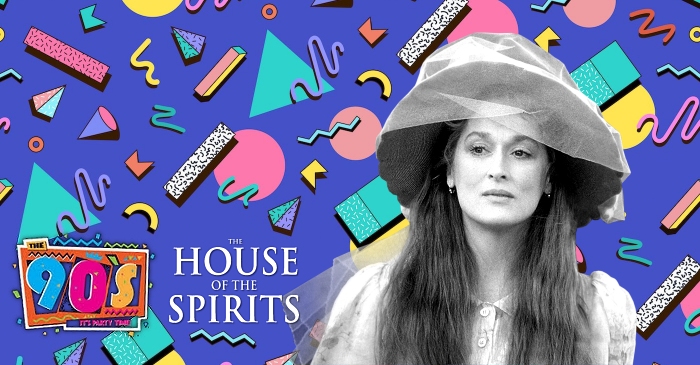 Among the many changes in Meryl Streep's career in the 1990s – her move to Los Angeles and the switch from dramatic roles to lighter fare – perhaps the most volcanic change took place in 1991, when she switched agents. An actor switching agents is not exactly big news, but Sam Cohn, the prominent New York-based agent at International Creative Management is not just any agent. According to a 1994 article in The New York Times, what happened remains murky. Streep speaks hesitantly about it. According to several agents, the rift centered on casting Streep in "Remains of the Day." Mike Nichols, whom she regarded as a trusted friend, planned to direct. But after Streep and Jeremy Irons read for him, Nichols apparently decided otherwise. He declined to tell Streep. So did Cohn, who was also Nichols's agent. By all accounts, Streep wasn't just outraged, she was deeply hurt. And she severed her relationship with Cohn, signing with the powerful Creative Artists Agency. Eventually, James Ivory took over the film, casting Anthony Hopkins and Emma Thompson in the lead roles. "I left because of something Mike did that I felt Sam should have protected me from," Streep says. She speaks cryptically and emotionally about the episode. "Mike knows what he did, but unfortunately Sam wore the scar." As their article continues, Streep says she's now friendly with both men. "My relationship with them is in the 'life's too short to be mad category,'" she says. "Mike is someone I share an enormous amount of history with. He has a big part of my heart. I was very upset to be upset. I have too much of a need for forgiveness in my life."
Continue Reading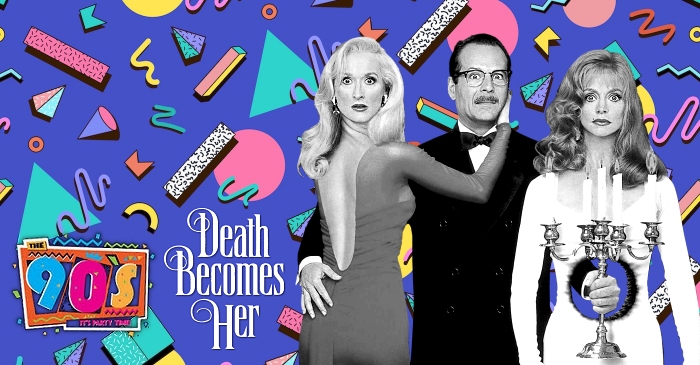 As if it wasn't difficult enough to find a good leading role on film in the early 1990s, Meryl Streep teamed up with Goldie Hawn to find a project with two female leads. The actresses turned friends wanted to share their star power on the screen togehter, and although they were turned down by Hollywood at first, they found their match in Robert Zemeckis' turn on the night of the living dead in Los Angeles – women who want to stay young forever. What a stretch for Hollywood.
Meryl Streep and Goldie Hawn are probably friendship-goals in life and on film, but they couldn't have approached their careers more differently. Hawn rose to fame in the late-60s playing dumb blonde characters in a string of more and less successful tv shows features – even winning an Academy Award as Best Supporting Actress in "The Cactus Flower". But the actress wanted more – better roles, and more power. She founded her own production company, The Hawn/Sylbert Movie Company, with Anthea Sylbert in the late 1970's and started producing starring roles for herself. They struck gold with their first producing effort – a starring role in "Private Benjamin", which became a box office hit and a critical darling. Hawn/Sylbert continued to produce more starring roles in "Protocol", "The Late Shift", "Criss Cross" and "Overboard", among others. Although Hawn actress semi-retired in the early 2000s and only shows up on film every once in a while (decade), she has paved the way for many actresses to come. On the other hand, Meryl Streep has never shown interest in any other part of the business than acting. When aksed by Simply Living in 1991 about building her own production company, she said, "I don't want to start a company. I have lot of other concerns. All I am is an actress. That's all I wanted to be, ever. I don't want to be on the phone, talking to unions about set-ups, lunches, how to move trucks off the freeway, overtime. I have no interest in that."
Continue Reading
After an on-demand release earlier this March, "Little Women" has been released on DVD and Blu-Ray in the United States, today. Screencaptures from the film, as well as the making of and interview, have been added to the photo gallery. Enjoy, and make sure to grab your copy!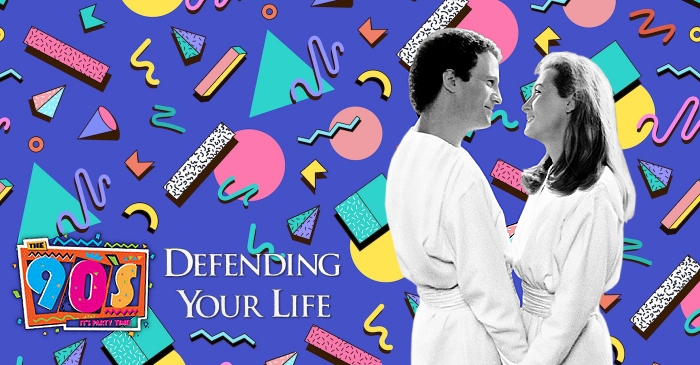 "Defending Your Life" is another odd and often-forgotten film in Meryl Streep's filmography. It's the second film Streep shot in Los Angeles, and, since "The Deer Hunter", the second and last time in her career she has played a character that can be simply described as "the girl". Fittingly for a film that plays in the afterlife up in the clouds, it's breezy and airless
The late 1980s brought a distinctive change in Meryl Streep's life and career. Starting in 1987, Streep prepared for the lead part in Oliver Stone's "Evita", a part she always wanted to play. Streep and Stone even made it to a New York City recording studio and did preliminary dubbings of the score. She would stay with the project as a priority for the next two and a hal years. The originally planned filming, set to begin in early 1989, was halted due to the riots in Argentina. The filmmakers scouted locations in Brazil and Chile, before deciding on Spain, but filming was postponed once again when its film company dropped out due to recent box office failures. While Stone managed to secure another film company to produce the film, Streep withdrew from the project. She has called the loss of that role a "bitter disappointment" in an interview with The New York Times years later. But the real distinctive change came when the Streep/Gummer family moved from Connecticut to Los Angeles in 1989. The reason for the move was simple – having had their son attending pre-school in England, Nairobi and Australia, and two young girls about to start school, they wanted to give their family a stable base. So they sailed off to Los Angeles, where they stayed for four years. The shift to the other side of the country brought a change in roles offered to Streep during that period. After the aforementioned "Postcards from the Edge", she co-starred opposite Albert Brooks in his after-life comedy "Defending Your Life".
Continue Reading
In celebration of Earth Day, "Here We Are" will premiere on Apple TV+ on Friday, April 17. Lending their voices to the animated Earth Day short film are Meryl Streep, Chris O'Dowd, Jacob Tremblay and Ruth Negga. This captivating animated film, based on the No. 1 New York Times Bestseller and 2017's No. 1 TIME Best Book of the Year, follows a precocious 7-year-old (voiced by Tremblay) who, over the course of Earth Day, learns about the wonders of the planet from his parents (voiced by O'Dowd and Negga) — and from a mysterious exhibit at the aptly titled Museum of Everything. The insightful and poignant short film is narrated by Streep. From the multi-BAFTA and Emmy Award-winning, Oscar-nominated independent animation studio, Studio AKA, the 36-minute film is written by BAFTA Award-winning Philip Hunt and Academy Award-winning Luke Matheny; directed by Hunt, and executive produced by Sue Goffe, Hunt and renowned author Oliver Jeffers. Alex Somers is the music composer.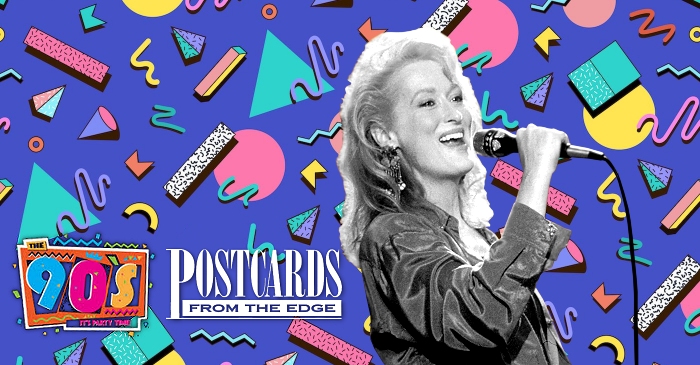 The 1990s are often completely forgotten in articles and highlight reels of Meryl Streep's career. Critics often take a leap between 1985's "Out of Africa" and 2006's "The Devil Wears Prada" when reviewing her craft. What is left out is a decade that can be best described as the self-finding trip of an actress in the worst period of her life – her 40s. By the late 1980s, Streep was "America's greatest living actress" by far. In 10 years of screen work, she had received 8 Academy Award nominations with two wins for some of the greatest female characters of that decade, including Joanna Kramer, Sohpie, Karen Silkwood and Karen Blixen. Her star power took a slight turn after "Out of Africa" when leading roles in "Heartburn", "Ironweed" and "A Cry in the Dark" failed to attract an audience. By the time she turned 40, as Streep has recounted in interviews, she told her husband that "it's over," because all roles offered to her were witches.
In this new weekly series, Simply Streep will dive into the projects that Meryl Streep did during the 1990s, how Hollywood and the perception of character actresses changed during that time, and how films with Robert De Niro and Jack Nicholson continued to be box office events while actresses took a backseat. The 1990s started with "Postcards from the Edge", a sarchastic meme of a film before the term even existed.
Continue Reading
In more Coronavirus-related news, Meryl Streep's hosting gig at this year's Met Gala has been suspended as well. In compliance with the CDC's recommendations, the Met Museum announced yesterday that all scheduled events and programs will be postponed or cancelled through May 15. The museum's unfortunate decision comes after a slew of cancellations across America as the government asks that all gatherings of 50 people or more be shut down for the next eight weeks. Additionally, Governor Andrew Cuomo of New York prohibited all events of more than 500 people on March 12 and highly encouraged that people start practicing social distancing. Vogue Editor-in-Chief Anna Wintour was scheduled to host the annual Met Gala, themed "About Time: Fashion and Duration," on May 4 alongside composer Lin-Manuel Miranda, actresses Emma Stone and Meryl Streep, and Louis Vuitton's creative director Nicolas Ghesquière. As of now, there is no new date for the Ball's 150th anniversary, and the publication hasn't shared any plans for the future.