PBS' American Masters series is currently streaming "Joe Papp in Five Acts", a documentary on New York's Public Theater founder Joe Papp, who gave Meryl Streep her big break in the New York theatre right after her graduation from Yale. The documentary is a bit of an oddity, because it premiered 10 years ago at the Tribeca Film Festival and then at various festivals around the US, but it has never been broadcast on tv, so this is a premiere with a 10-year-gap. Meryl Streep's interview has been filmed even longer ago, as it looks. While I'm bad at guessing, I would say most probably around the late 90s/early 00s. Two preview clips can be found below. Thanks to everybody for the heads-up.
"Joe Papp in Five Acts" is the story of New York's indomitable, street-wise champion of the arts who introduced interracial casting to the American stage and brought us free Shakespeare in the Park, Hair, and A Chorus Line. Convinced that women and minorities, denied power elsewhere in society, could develop it on the stage, Papp became a tireless fighter for the arts who raised enduring debate about our founding ideals and the role of the arts in a pluralistic society. Using his life and work as its prism, the film explores the issues he chose to champion: freedom of expression, democracy in the arts, and the definition of American culture.
Continue Reading
A big batch of screencaptures from various television interviews and talkshows have been added to the photo gallery. Many previous appearances have been replaced with better quality captures, while others are completely new to the site, such as Meryl's 1980 appearance on the British talkshow "Friday Night, Saturday Morning" to promote "Kramer vs. Kramer". Many of her older British interviews have been featured in a recent BBC programme called "Talking Pictures", which you can watch on their website (in case you live in the United Kingdom). Many thanks to Alvaro for the heads-up. Also, many thanks to Jess for contributing HD screencaptures of Meryl's interview in the 2016 documentary "Everything is Copy" on Nora Ephron. The most recent addition is Meryl's online conversation on the 2nd Annual Virtual Earth Day Summit last April. Check out the complete list of updates below. Have a wonderful Sunday everybody.
Related Media
:
Photo Gallery – TV & Online Appearances – 2022 – Virtual Earth Day Summit (April 21, 2022)
Photo Gallery – TV & Online Appearances – 2016 – Everything Is Copy (March 21, 2016)
Photo Gallery – TV & Online Appearances – 2015 – BBC Breakfast News (January 08, 2015)
Photo Gallery – TV & Online Appearances – 2012 – The Andrew Marr Show (January 08, 2012)
Photo Gallery – TV & Online Appearances – 2008 – Friday Night with Jonathan Ross (July 04, 2008)
Photo Gallery – TV & Online Appearances – 2008 – BBC News (July 01, 2008)
Photo Gallery – TV & Online Appearances – 1985 – Meryl Streep at Work (November 07, 1985)
Photo Gallery – TV & Online Appearances – 1983 – Meryl Streep at the NFT (March 16, 1983)
Photo Gallery – TV & Online Appearances – 1981 – Parkinson (October 14, 1981)
Photo Gallery – TV & Online Appearances – 1980 – Friday Night, Saturday Morning (February 01, 1980)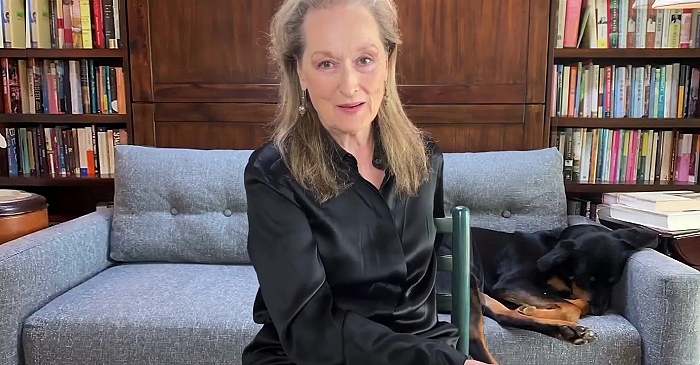 On Sunday, Christine Baranski was honored by New York City's MCC Theater during their annual Miscast Gala, "one of the most exciting and unique theater events in town". Funds raised from Miscast help MCC Theater produce some of the most talked-about new work Off-Broadway and support our Youth Company and in-school partnerships that serve New York City public high school students, as well as our literary development work with emerging playwrights. Baranski's co-stars Meryl Streep and Tracey Ullman saluted her in taped segments, vying for the title of "Christine's best friend". The clip can be watched below and in the video archive.
Hello everybody. Right now, not much is happening Streep-wise. So, while we're not missing much, have a look at some additional production stills, theatre programmes and behind the scenes pictures from various productions ranging from the late '70s to the mid '80s. Enjoy the additions and a nice weekend to all of you.
"The U.S. and the Holocaust", a new three-part documentary directed and produced by Ken Burns, Lynn Novick and Sarah Botstein, explores America's response to one of the greatest humanitarian crises in history. The series will air September 18, 19 and 20, at 8:00-10:00 p.m. ET (check local listings) on PBS, PBS.org and the PBS Video app. Inspired in part by the United States Holocaust Memorial Museum's "Americans and the Holocaust" exhibition and supported by its historical resources, the film examines the rise of Hitler and Nazism in Germany in the context of global antisemitism and racism, the eugenics movement in the United States and race laws in the American south. The series, written by Geoffrey Ward, sheds light on what the U.S. government and American people knew and did as the catastrophe unfolded in Europe. Narrated by Peter Coyote, voice actors in the film are: Adam Arkin, Sarah Botstein, Paul Corning, Hope Davis, Leon Dische Becker, Paul Giamatti, Mariusz Glabinski, Elliott Gould, Marlena Grzaslewicz, Murphy Guyer, Werner Herzog, Josh Lucas, Joe Morton, Carolyn McCormick, Liam Neeson, Matthew Rhys, Meryl Streep, Agate Was, Bradley Whitford and Helena Zengel. "The U.S. and the Holocaust" will be available to stream for free on all station-branded PBS platforms, including PBS.org and the PBS Video App
A great batch of quite rare public appearances pictures have been added to the photo gallery. Among the additions are events that Meryl Streep attended as an activist and supporter, including benefits by Direct Donor Action, Arts for ACTA and Paul Newman's Hole in the Wall Camp Fundraiser. There are also screenings and Q&As for "Angels in America" and behind the scenes pictures of Meryl taping an Acoustiguides for New York's MET Museum in 2003. A complete list of additions can be found below. Enjoy your Sunday.
On April 19, Vassar College announced that renowned actress Meryl Streep '71 would be unable to attend the Alumnae/i Association of Vassar College (AAVC) Distinguished Achievement Award Ceremony, due to pneumonia. Streep was in line to become the sixth alumna/us to receive the award in this ceremony. A series of statements were released by the College in relation to the ceremony and its postponement. AAVC President Steve Hankins '85 and Chair of Alumnae/i Recognition Committee Amy Pullman '71 released an email to the Vassar student body, addressed to the registrants of the ceremony, the Class of '71 and AAVC board members.
"[Streep] wishes to convey that a bout of pneumonia is keeping her from the festivities, but she is so honored to be included in the day's commemorations from the College that ordered her thinking, ignited her creative imagination, and gave her friends for life," the email stated. "We are therefore postponing the bestowal of the award to a time when Ms. Streep can join us and we can properly celebrate her many accomplishments. As we look for a new date, please join us in wishing Ms. Streep a speedy recovery."
As of now, the AAVC board has yet to release a date for the rescheduled ceremony. However, festivities will continue for the Class of '71 to celebrate their 50th reunion. Thanks to Alvaro and Glenn for the heads-up.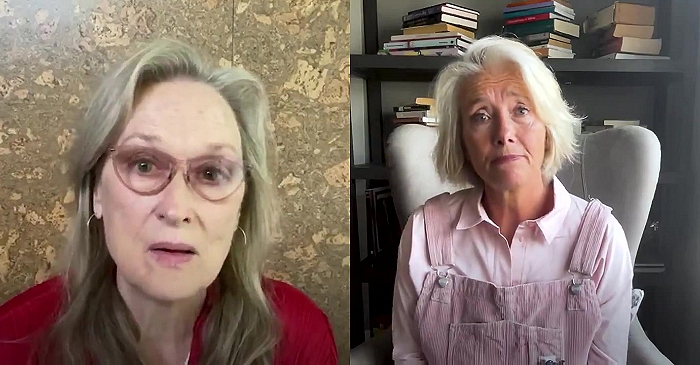 Emma Thompson, Meryl Streep, Sylvester Stallone, David Harewood, Daniel Radcliffe, Sanjeev Bhaskar, Luke Evans, Benjamin Zephaniah and David Morrissey have joined a short film which calls out the UK Government's approach to refugees. This film from the Refugee Council, scripted by writer, actor and comedian David Schneider, calls on the Government to rethink proposed laws which will criminalise refugees, like those from Ukraine, who have made their own way to the UK in a desperate search for safety. It puts the viewer in the position of a refugee – a mother, a grandmother, or a child – who has been forced from their home because of war devastating their country. It goes on to illustrate how, whatever the experience they are fleeing, these refugees could be deemed criminals under the new Nationality and Borders Bill if they have made their own way to the UK, even when no other route is available. The Nationality and Borders Bill, currently reaching the final stages in Parliament, will undermine the UK's obligation to give all who seek asylum a fair hearing, by discriminating against refugees depending on how they reach British shores. Those forced to take dangerous journeys to the UK will be treated as criminals.
On April 21st, 2022, the Nature Conservancy California will host its Second Annual Virtual Earth Day Summit. An active forum on climate change, power alternatives, and plastic pollution, the summit will feature voices from the leading environmentalists and climate scientists like Dr. John Francis and Paul Hawken, as well as committed advocates like actor Meryl Streep and athlete John John Florence. The summit will feature panel discussions and one-on-one conversations designed to provide inspiration, science-based solutions, and actionable steps participants can take to make a difference wherever they are.
Meryl Streep is an accomplished actress, also known for her various environmental efforts. She began her environmental advocacy in the 1980's with the Natural Resource Defense Council. In 1989, she co-founded Mother & Others, a consumer advocacy group that worked successfully for 12 years to protect the health of children and the environment and to support organic, local, and sustainable agriculture. Meryl has advocated for organizations including the Center for Climate, Health and the Global Environment at Harvard Medical School, Scenic Hudson, and the Children's Health Environmental Coalition.
On Saturday, Meryl Streep was among the many celebrity guests to present at the 33rd Annual Producers Guild Awards in Los Angeles. A couple of pictures from the ceremony have been added to the photo gallery.