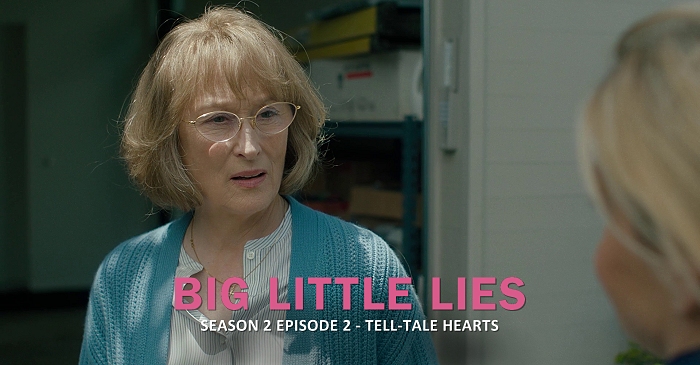 Screencaptures from the second episode of "Big Little Lies"' second season, "Tell-Tale Hearts", have been added to the photo gallery with many thanks to Jess. Much appreciated! Also, make sure to find highlight clips of each episode in the video archive.
Renata (Laura Dern) faces an uncertain future when Gordon (Jeffrey Nordling) lands in legal trouble. Corey (Douglas Smith) asks Jane (Shailene Woodley) out on a "practice" date. After a challenging therapy session with Dr. Reisman (Robin Weigert), Celeste (Nicole Kidman) opens up to Mary Louise (Meryl Streep) about her relationship with Perry. Bonnie's (Zoë Kravitz) mom, Elizabeth (Crystal Fox), arrives. Ed (Adam Scott) confronts Madeline (Reese Witherspoon) about her secrets.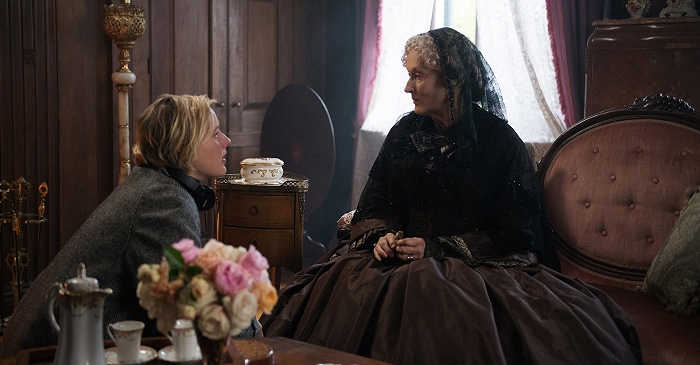 Vanity Fair has an in-depth article on Greta Gerwig's upcoming "Little Women", including some exclusive pictures from the cast, featuring one on-set picture of Gerwig and Meryl Streep. Greta Gerwig doesn't remember reading Little Women for the first time. "It must have been read to me," she says when I ask for her earliest memories of author Louisa May Alcott's classic tale of four girls imagining a world beyond their humble surroundings outside Civil War–era Boston."I always knew who Jo March was," Gerwig continues. "She was the person I wanted to be." In that, Gerwig has had plenty of company. Little Women is one of the most popular books in the history of American letters; after the first volume sold out its initial run of 2,000 copies in 1868, the novel has never been out of print. Simone de Beauvoir, born in 1908, pretended as a child that she was Jo—Alcott's protagonist and stand-in, a determined, stubborn tomboy with a flair for writing. Ursula Le Guin says that Alcott's Jo made writing as a girl feel possible. In film, Katharine Hepburn played Jo in 1933; Winona Ryder, in 1994. Now, Gerwig has created her own Jo for the screen in Saoirse Ronan, who also starred in Gerwig's debut as a solo director, 2017's Oscar-nominated Lady Bird. The full article can be read over at Vanity Fair
More magazine scans have been added to the photo gallery, including a new cover story by My Weekly with an early celebration of her 70th birthday this Saturday. All new magazine scans are listed below. Many thanks to Alvaro for the Time Magazine scans. Additionally, a new batch of production stills from "Big Little Lies" have been added. Enjoy!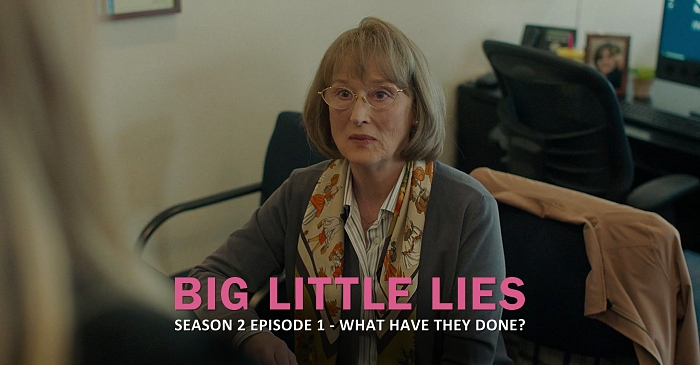 Screencaptures from the first episode of "Big Little Lies"' second season, "What Have They Done?", have been added to the photo gallery with many thanks to Ashley.
Following first-day-of-school events, Madeline (Reese Witherspoon) is worried by Bonnie's (Zoë Kravitz) behavior and, later, is shocked when Abigail (Kathryn Newton) says she doesn't want to go to college. Mary Louise (Meryl Streep), Celeste's (Nicole Kidman) mother-in-law, offers her unvarnished assessment of Madeline's character. Jane (Shailene Woodley) learns from her new coworker, Corey (Douglas Smith), that she's known in town as one of the "Monterey Five."
Lots of new scans have been added, covering today's premiere of "Big Little Lies". Most of the reviews come from the British press, and there are two new cover stories – from the Spanish Supertele and from the Australian Sydney Morning Herald (wonderful cover!) Many thanks to Alvaro and Jess for the heads-up. Enjoy reading.
Photo Gallery – Articles & Scans – The Sydney Morning Herald (Australia, June 09, 2019)
Photo Gallery – Articles & Scans – Supertele (Spain, June 08, 2019)
Photo Gallery – Articles & Scans – TV & Satellite Week (United Kingdom, June 08, 2019)
Photo Gallery – Articles & Scans – TV Times (United Kingdom, June 08, 2019)
Photo Gallery – Articles & Scans – Weekend (United Kingdom, June 08, 2019)
Photo Gallery – Articles & Scans – The Guardian Guide (United Kingdom, June 08, 2019)
As we all know, the second season of "Big Little Lies" will premiere this Sunday on HBO, and the reviews coming in make it even a bit more eager-anticipated. A collection focused on Meryl's performance is below, alongside new production stills from the series.
Vanity Fair, Sonia Saraiya (June 05, 2019)
Streep's performance – erratic, buttoned-up, and confrontational – is going to win her an Emmy. She's mesmerizing as the grieving Mary Louise; in one scene with Celeste and her grandsons, she encourages them to scream to release their emotions, then demonstrates herself. To Maddie's consternation, Mary Louise is impossible to intimidate; the older woman makes faces and sucks in her teeth, responding to the pressure to conform with the strength of weirdness. Watching Streep go toe-to-toe with Witherspoon—who, with catty, self-deluded Maddie, is doing some of her career-best work—is Olympic-level barb-trading, the most satisfying meanness in the show.
Rolling Stone, Alan Sepinwall (June 05, 2019)
Working under a muted brown wig, with a clipped and slightly nasal voice, Streep is a passive-aggressive wonder as Mary Louise. The character as written can be cartoonishly awful at times, even though she's meant to be processing grief over her son — and struggling with the news that her sweet boy grew up to be a wife-beater and a rapist. But Streep finds nuance in the awfulness while also going big when moments call for it. (You won't forget the sound of her screaming anytime soon.)
USA Today, Kelly Lawler (June 07, 2019)
Lots of praise and attention will be given to Streep, but in many ways, the Oscar-winning actress is incidental to the success of Season 2. She's wonderful, as she almost always is, but the real joy of "Lies" is the five core women, who have made their characters feel so lived in. For once, Hollywood has found a way to gracefully re-create a phenomenon.
Continue Reading
Hundreds of new production stills, on-set pictures and theatre programmes have been added to the photo gallery, covering 40 years of Meryl Streep's extraordinary career. The earliest find is the theatre programm for "Miss Julie", Meryl's first starring role with the Vassar Drama Department in 1969. More programmes have been added from her years at the Public Theater, including "27 Wagons Full Of Cotton", "Measure for Measure" and "Secret Service". New production stills have been added for most of Meryl's feature films, including some wonderful on-set pictures from "The Deer Hunter" and great additions from "Plenty". The latest updates wrap with some unseen pictures from 2009's "Julie & Julia". Since almost all career pages have been updated, you can browse the gallery pages by the last updated albums. Enjoy the new additions!
Here we are, celebrating 20 years of Simply Streep online! I honestly can't believe I would type this one day, but it has been in fact two decades since Simply Streep opened its doors in 1999. I couldn't have done it without all the generous contributions, notes and well wishers. To all of you, a big thank you! You can read more about the site's history here if you're interested. For the new launch I have worked extensively on the re-building the press archive, with the creation, help and support of the wonderful Maria. Thank you very much. All other pages have been updated, including the career pages. Some minor changes have been made. The specials section has been merged with the information section, and some of the previous specials will be soon featured on Simply Streep's brand new Instagram account. To celebrate 20 years online, I have kept back some amazing pictures and new information that you will see over the coming updates. Lastly, I'm currently having trouble with my email address, so if you feel your email didn't get through, you can reach out to me using this new email address. Enjoy! Frederik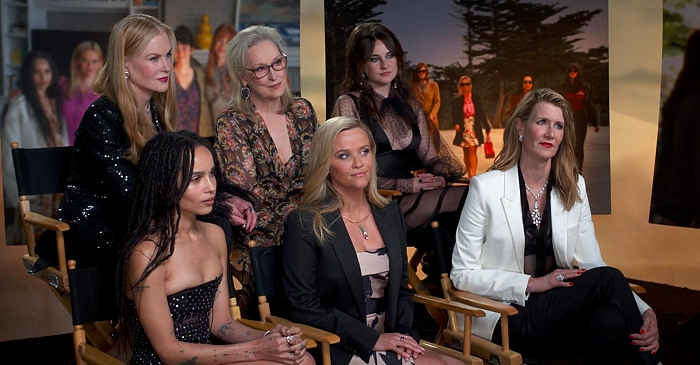 The cast of "Big Little Lies" – Meryl Streep, Nicole Kidman, Reese Witherspoon, Laura Dern, Shailene Woodley and Zoe Kravitz – were featured in a taped interview on today's Good Morning America to promote the series' second season. The full interview can be watched below and in the video archive. Additionally, an interview from yesterday's New York premiere from Entertainment Tonight has been added. Links and screencaptures can be found below.
br>
It's one of the most anticipated shows of 2019, returning almost two years after the critically-acclaimed first season. The all-star cast stepped out in style Wednesday night in New York City for the season 2 premiere of the hit HBO drama. Even Alexander Skarsgard – whose abusive character Perry was killed at the end of the first season – was there, inducting he is likely to appear via flashback in the new season. Streep co-stars as Perry's mother Mary Louise Wright, who arrives in Monterey looking for answers about her son's death. Pictures from the premiere have been added to the photo gallery.