Some of the brightest stars from Broadway and Hollywood came together last night, May 18, to celebrate Covenant House, the international charity providing housing, food and healthcare to children and youth facing homelessness in 31 cities across six countries. Funds from the benefit concert are helping Covenant House COVID-19 relief efforts to provide more food, more supplies, and to continue to provide staffing to care for sick and symptomatic youth. To donate to #endyouthhomelessness, visit safeplacetosleep.org.
In 2019, the talented cast of BKLYN: The Musical reunited for one night only for a 15th anniversary reunion concert to benefit Covenant House. The show follows a group of homeless musicians known as the City Weeds who transform a street corner under the Brooklyn Bridge into their play space. The cast – Quentin Earl Darrington, Eden Espinosa, Ramona Keller Karen Olivo, Julie Reiber, Will Swenson, and Caren Tackett – reunited once again (virtually) to perform the show's anthem to empathy, "Heart Behind These Hands" Their performance was coupled with Covenant House alumni testimonials read by Diane Keaton and Meryl Streep.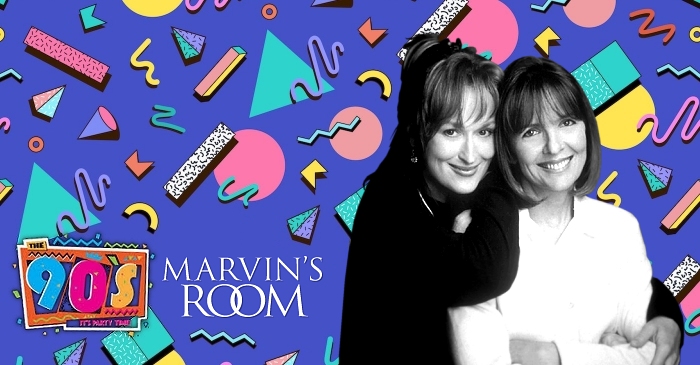 In maybe her best performance of the 1990s, Meryl Streep leads a powerhouse ensemble cast that brings together the best of three acting generations – Diane Keaton, Robert De Niro, Hume Cronyn, Gwen Verdon and Leonardo DiCaprio. "Marvin's Room" is a bittersweet drama about family, the pain it causes and the effort it takes to keep it together. Although it deals with illness, death and lost chances in life, "Marvin's Room"'s dry humor and fantastic acting makes it one of the most pleasent and truthful dramedies of its time.
Scott McPherson, the young playwright who wrote "Marvin's Room", didn't life to see the big screen adaptation of his work. Described as "one of the brightest hopes of the Chicago theatre scene", "Marvin's Room" was McPherson's last completed work and only his second full-length play before he died of AIDS-related causes in 1990, at only 33 years of age. His play premiered at the Goodman Studio Theatre in 1990 and went on to national acclaim, first at the Hartford Stage Company in Connecticut and eventually at Playwrights Horizons and the Minetta Lane Theatre off-Broadway. It won the 1992 Outer Critics Circle Award for best play, the 1992 Drama Desk Award for best play and locally the Joseph Jefferson Award for original work, among other honors. "Marvin`s Room," about a woman battling leukemia and the unusual extended family with whom she struggles for support and dignity, is a slightly dark but comic and ultimately hopeful take on death and infirmity. The title character is an elderly, bedridden stroke victim glimpsed thoughout only through a wall of glass blocks. McPherson had completed the screenplay for "Marvin's Room" when he died. His identity and struggle is not just background info, as it's almost impossible to watch the film, which concerns various approaches to love and death, without realizing its particular AIDS message, as well as more universal values, such as caring for others and the strength of family bonds.
Continue Reading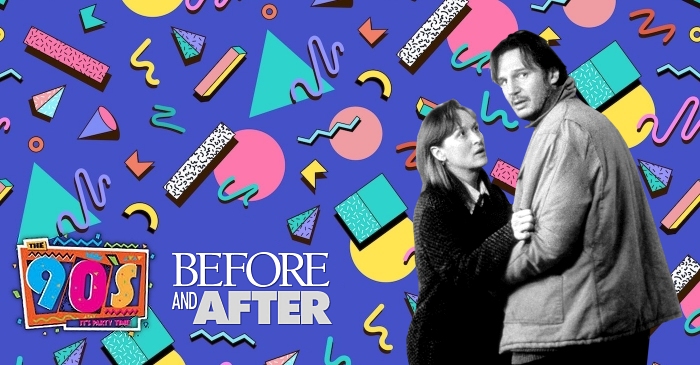 After receiving critical acclaim and an Oscar nomination for "The Bridges of Madison County", Meryl Streep revived the rather unfamiliar thriller territory, playing a mother whose son is accused of murder. But if there's one word to not describe Barbet Schroeder's "Before and After", it would be "thrilling".
Director Barbet Schroeder had a lucky streak in the early 1990s with decent, intelligent thrillers. The "Barfly" director did the masterful "Reversal of Fortune" in 1990, winning Jeremy Irons an Oscar for his portrayal of Claus von Bülow (and should have won a second award for Glenn Close's riveting performance). He continued with "Kiss of Death", the erotic thriller "Single White Female" starring Bridget Fonda and Jennifer Jason Leigh, and made great thrillers after this one – "Desperate Measures" and "Murder by Numbers" among them. Schroeder was a director to work with, one that actors adored – Irons recommended him to Streep when the script for "Before and After" arrived. The story sounded promising. Well-respected parents of a small town – the father an sculptor, the mother a doctor – must come to terms with the fact that their son's girlfriend was murdered, and their son is on the run. When he is caught and awaiting trial, they share the family's dinner table with him, uncertain if he's still their little boy or a cold-blooded killer. Streep shares the screen with Liam Neeson, fresh off his star-making turn in "Schindler's List", and Edward Furlong, in a first serious role since his own star-making turn in "Terminator 2". Backed up by a supporting cast of Alfred Molina and John Heard and a screenplay adaptation by "The Silence of the Lambs"' Ted Tally – what could go wrong with "Before and After"? Well, pretty much everything.
Continue Reading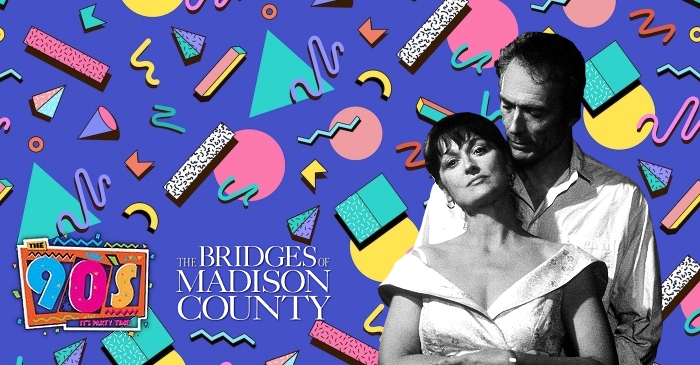 In the mid-90s, Meryl Streep's career was revitalized by a most unlikely leading man and director. Clint Eastwood – Western hero, movie star, director and America's man's man – turned Robert James Weller's kitschy best-selling novel into a tender box office hit for grown ups. Fresh off his multiple Academy Awards wins for "Unforgiven", Eastwood took over directing duties from Steven Spielberg after being cast in the male lead – and stood by his casting choice that was unheard of in Hollywood – casting a 45-year-old woman to play a 45-year-old woman.
Robert James Waller's novel (called "arguably the world's longest greeting card" by the New York Times) about the four-day love affair between a travelling professional photographer who had come to Madison County, Iowa, and a Italian-American housewife whose family was way, was optioned by Steven Spielberg's Amblin Entertainment before its publication in 1991 – by the time of the film's release, the novel sold 9.5 million copies worldwide. Spielberg wanted to produce the film with Amblin and first asked Sydney Pollack to direct, who got Kurt Luedtke to draft the first version of the adaptation but then bowed out. After a second draft by Ronald Bass fell through, a third draft of the script by Richard LaGravenese was liked by Eastwood, who quite early had been cast for the male lead, and by Spielberg, who liked LaGravenese's version enough to consider making Bridges his next film after "Schindler's List", which was in post-production at the time. Both men liked that LaGravenese's script presented the story from Francesca's point of view. Spielberg then had LaGravenese introduce the framing device of having Francesca's adult children discover and read her diaries. Somewhere along the road, Spielberg decided not to direct it after all, and after his next best choice Bruce Beresford dropped out as well, Eastwood decided he could direct it as well. His last directorial effort, "Unforgiven", won him two Academy Awards for Best Director and Best Picture, as well as a Best Actor nomination.
Continue Reading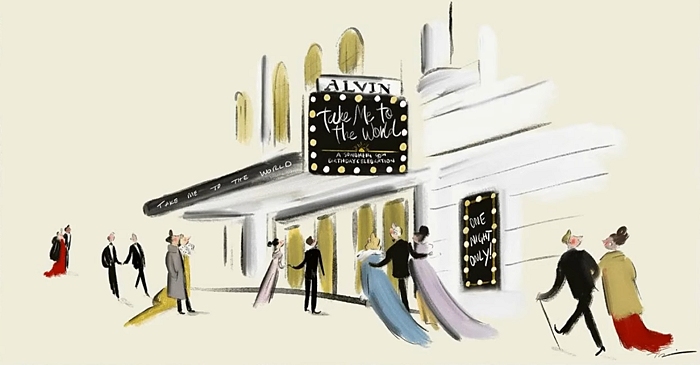 Meryl Streep, Christine Baranski and Audra McDonald wowed on Sunday night during an online concert celebrating the 90th birthday of legendary Broadway composer Stephen Sondheim. Appearing from their respective homes in their bathrobes, the actresses performed a spot-on and hilarious rendition of "The Ladies Who Lunch" from Sondheim's 1970 musical "Company" – complete with swigs from wine goblets and cocktail glasses (and in Streep's case, directly from the bottle). The actresses seemed to relish the "I'll drink to that" refrain from the classic tune, which was first performed by Elaine Stritch on Broadway (and more recently by Patti LuPone in a revival that was due to open this month before the coronavirus pandemic shut down Broadway theaters). The trio joined a host of Tony-winning luminaries for the online event, including Neil Patrick Harris, Lin-Manuel Miranda, Patti LuPone, Bernadette Peters, Josh Groban, Jake Gyllenhaal, Jason Alexander and even Steven Spielberg (who didn't sing but gave an online shout-out to Sondheim). Tony winner Raúl Esparza helped organize the event to raise money for Artists Striving to End Poverty), which generated donations through the Broadway.com YouTube channel. Drama Desk Award winner Mary-Mitchell Campbell served as music director for the concert, with Paul Wontorek directing. Watch the full "The Ladies Who Lunch" performance above. You can also check out the full two-hour-plus concert, "Take Me to the World: A Sondheim 90th Birthday Celebration," here.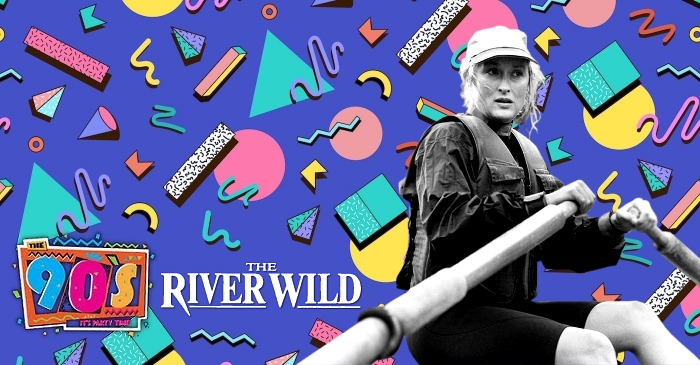 I don't feel like an icon, unless you mean stiff and wooden sometimes. I'm so tired generally – that's my main defining feature. (Meryl Streep, Entertainment Weekly, 1994)
After five years in Tinsletown, Meryl Streep quit Hollywood and relocated the family to Connectitut. While a good number of her films during that time earned solid reviews and box office – her stay in the City of Angels also gave Streep a reputation. Not only was she in an undesireable age group in Hollywood, her outspoken criticism on the payment inequality and lack of interesting roles for women was greeted with the industry's kiss of death – Meryl Streep was difficult to work with. Her farewell to Hollywood was her first and only hooray into the action genre, a surprising move rivaling the lone-rider action movies of her male counterparts. "The River Wild" offered a unique role for a woman in a, in retrospect, very family friendly action adventure, which might have been a rapid too slow for Stallone, but just right for a lion mother.
Continue Reading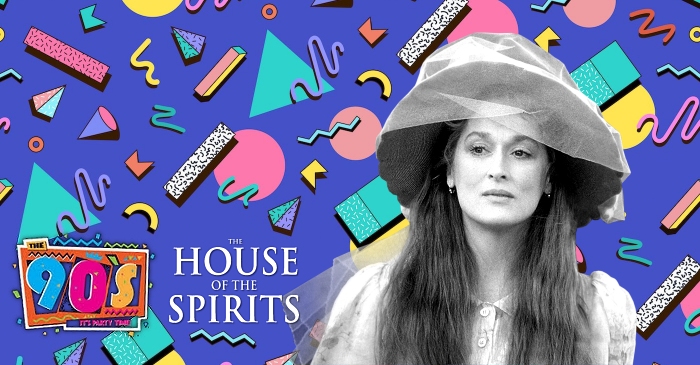 Among the many changes in Meryl Streep's career in the 1990s – her move to Los Angeles and the switch from dramatic roles to lighter fare – perhaps the most volcanic change took place in 1991, when she switched agents. An actor switching agents is not exactly big news, but Sam Cohn, the prominent New York-based agent at International Creative Management is not just any agent. According to a 1994 article in The New York Times, what happened remains murky. Streep speaks hesitantly about it. According to several agents, the rift centered on casting Streep in "Remains of the Day." Mike Nichols, whom she regarded as a trusted friend, planned to direct. But after Streep and Jeremy Irons read for him, Nichols apparently decided otherwise. He declined to tell Streep. So did Cohn, who was also Nichols's agent. By all accounts, Streep wasn't just outraged, she was deeply hurt. And she severed her relationship with Cohn, signing with the powerful Creative Artists Agency. Eventually, James Ivory took over the film, casting Anthony Hopkins and Emma Thompson in the lead roles. "I left because of something Mike did that I felt Sam should have protected me from," Streep says. She speaks cryptically and emotionally about the episode. "Mike knows what he did, but unfortunately Sam wore the scar." As their article continues, Streep says she's now friendly with both men. "My relationship with them is in the 'life's too short to be mad category,'" she says. "Mike is someone I share an enormous amount of history with. He has a big part of my heart. I was very upset to be upset. I have too much of a need for forgiveness in my life."
Continue Reading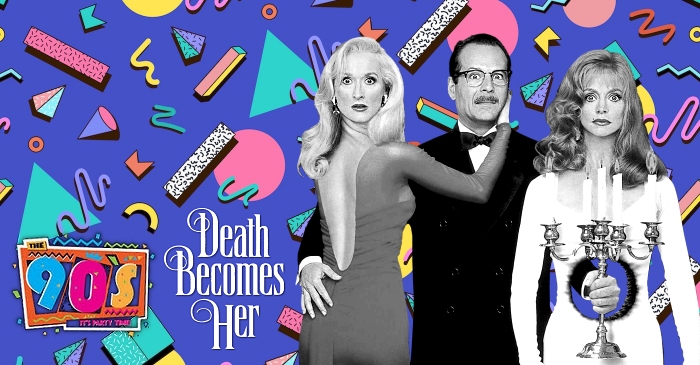 As if it wasn't difficult enough to find a good leading role on film in the early 1990s, Meryl Streep teamed up with Goldie Hawn to find a project with two female leads. The actresses turned friends wanted to share their star power on the screen togehter, and although they were turned down by Hollywood at first, they found their match in Robert Zemeckis' turn on the night of the living dead in Los Angeles – women who want to stay young forever. What a stretch for Hollywood.
Meryl Streep and Goldie Hawn are probably friendship-goals in life and on film, but they couldn't have approached their careers more differently. Hawn rose to fame in the late-60s playing dumb blonde characters in a string of more and less successful tv shows features – even winning an Academy Award as Best Supporting Actress in "The Cactus Flower". But the actress wanted more – better roles, and more power. She founded her own production company, The Hawn/Sylbert Movie Company, with Anthea Sylbert in the late 1970's and started producing starring roles for herself. They struck gold with their first producing effort – a starring role in "Private Benjamin", which became a box office hit and a critical darling. Hawn/Sylbert continued to produce more starring roles in "Protocol", "The Late Shift", "Criss Cross" and "Overboard", among others. Although Hawn actress semi-retired in the early 2000s and only shows up on film every once in a while (decade), she has paved the way for many actresses to come. On the other hand, Meryl Streep has never shown interest in any other part of the business than acting. When aksed by Simply Living in 1991 about building her own production company, she said, "I don't want to start a company. I have lot of other concerns. All I am is an actress. That's all I wanted to be, ever. I don't want to be on the phone, talking to unions about set-ups, lunches, how to move trucks off the freeway, overtime. I have no interest in that."
Continue Reading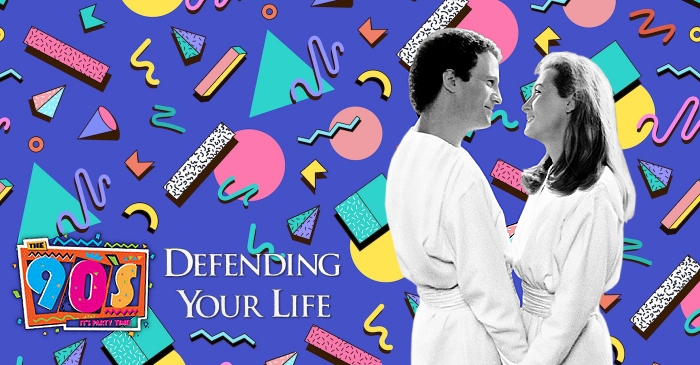 "Defending Your Life" is another odd and often-forgotten film in Meryl Streep's filmography. It's the second film Streep shot in Los Angeles, and, since "The Deer Hunter", the second and last time in her career she has played a character that can be simply described as "the girl". Fittingly for a film that plays in the afterlife up in the clouds, it's breezy and airless
The late 1980s brought a distinctive change in Meryl Streep's life and career. Starting in 1987, Streep prepared for the lead part in Oliver Stone's "Evita", a part she always wanted to play. Streep and Stone even made it to a New York City recording studio and did preliminary dubbings of the score. She would stay with the project as a priority for the next two and a hal years. The originally planned filming, set to begin in early 1989, was halted due to the riots in Argentina. The filmmakers scouted locations in Brazil and Chile, before deciding on Spain, but filming was postponed once again when its film company dropped out due to recent box office failures. While Stone managed to secure another film company to produce the film, Streep withdrew from the project. She has called the loss of that role a "bitter disappointment" in an interview with The New York Times years later. But the real distinctive change came when the Streep/Gummer family moved from Connecticut to Los Angeles in 1989. The reason for the move was simple – having had their son attending pre-school in England, Nairobi and Australia, and two young girls about to start school, they wanted to give their family a stable base. So they sailed off to Los Angeles, where they stayed for four years. The shift to the other side of the country brought a change in roles offered to Streep during that period. After the aforementioned "Postcards from the Edge", she co-starred opposite Albert Brooks in his after-life comedy "Defending Your Life".
Continue Reading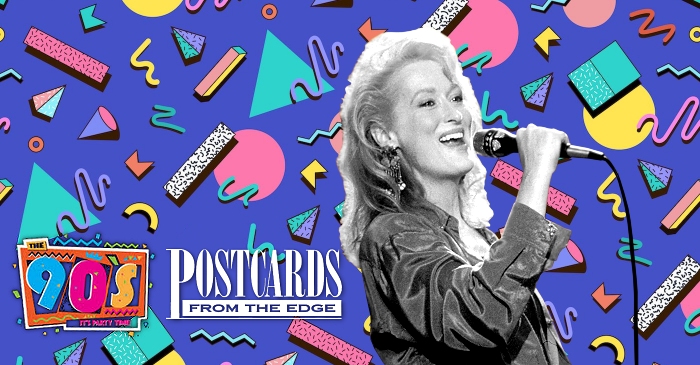 The 1990s are often completely forgotten in articles and highlight reels of Meryl Streep's career. Critics often take a leap between 1985's "Out of Africa" and 2006's "The Devil Wears Prada" when reviewing her craft. What is left out is a decade that can be best described as the self-finding trip of an actress in the worst period of her life – her 40s. By the late 1980s, Streep was "America's greatest living actress" by far. In 10 years of screen work, she had received 8 Academy Award nominations with two wins for some of the greatest female characters of that decade, including Joanna Kramer, Sohpie, Karen Silkwood and Karen Blixen. Her star power took a slight turn after "Out of Africa" when leading roles in "Heartburn", "Ironweed" and "A Cry in the Dark" failed to attract an audience. By the time she turned 40, as Streep has recounted in interviews, she told her husband that "it's over," because all roles offered to her were witches.
In this new weekly series, Simply Streep will dive into the projects that Meryl Streep did during the 1990s, how Hollywood and the perception of character actresses changed during that time, and how films with Robert De Niro and Jack Nicholson continued to be box office events while actresses took a backseat. The 1990s started with "Postcards from the Edge", a sarchastic meme of a film before the term even existed.
Continue Reading