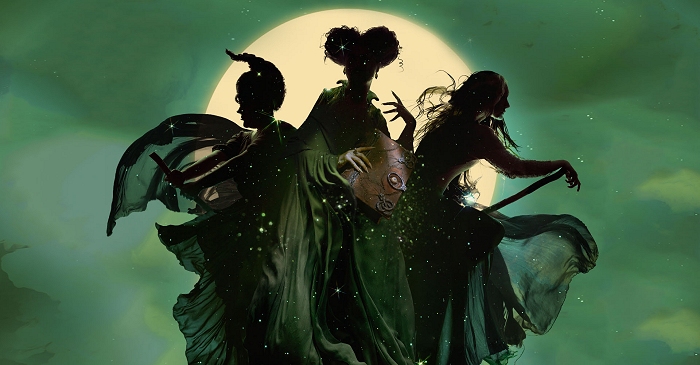 Bette Midler, Sarah Jessica Parker and Kathy Najimy are getting the Sanderson Sisters back together later this month, 27 years after the Halloween cult classic for a virtual "Hocus Pocus" reunion, Midler announced Sunday. The live event, "In Search of the Sanderson Sisters: A Hocus Pocus Hulaween Takeover," takes place Oct. 30 at 8 p.m. ET. "Join me! For a marvelous one night only reunion with the Sanderson Sisters and some of our favorite friends," Midler tweeted Sunday. In addition to the trio of stars, the reunion features Elvira, Mistress of the Dark as the host and a deluge of famous faces including Meryl Streep, Jennifer Hudson, Billy Crystal, Jamie Lee Curtis, Kenan Thompson, John Stamos, Glenn Close, George Lopez, Martin Short, Adam Lambert, Michael Kors, Todrick Hall and more. Hulaween is part of Midler's annual fundraiser for the New York Restoration Project, her organization dedicated to improving New York City's infrastructure and greenery.
*This is a one-time showing.* The show will not broadcast again after the listed date and time. Join us as Ms. Midler reunites with Sarah Jessica Parker and Kathy Najimy for "In Search of The Sanderson Sisters, A Hocus Pocus Hulaween Takeover" hosted by Elvira, Mistress of the Dark and featuring: Glenn Close, Billy Crystal, Jamie Lee Curtis, John Debney, Samantha Diaz, Harry Guinness, Todrick Hall, Jennifer Hudson, Anjelah Johnson-Reyes, Michael Kors, Adam Lambert, George Lopez, Alex Moffat, Vanessa Shaw, Martin Short, Sarah Silverman, John Stamos, Meryl Streep, Kenan Thompson, Sophie von Haselberg, and other surprise guests. Reserve your spot today for our one-hour virtual evening event on Friday, October 30! Your personalized access link will be emailed to you in advance of the event, and we will keep you informed of all the Hocus Pocus fun we have in store leading up to the big night. The broadcast will include closed captions in English and can be streamed worldwide
Tickets can be ordered over at Midler's New York Restoration Project website. Tickets cost $10 and all proceeds go toward the NYRP, according to the website.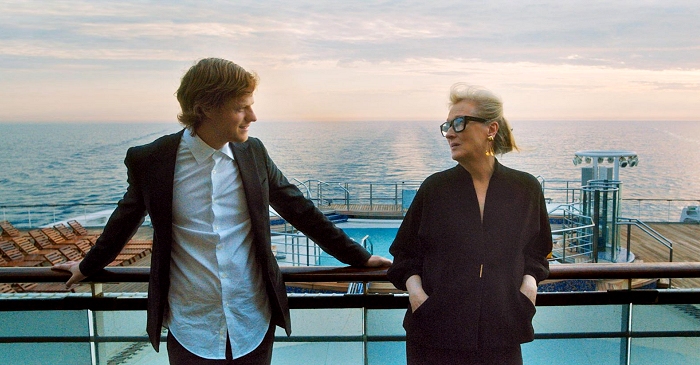 Entertainment Tonight has a fantastic interview with Meryl Streep, Candice Bergen and Dianne Wiest for Steven Soderbergh's December-confirmed HBO Max film "Let Them All Talk": Dianne Wiest sits demurely, a bookshelf behind her, broadcasting from her computer. Meryl Streep leans against a white brick wall, her iPhone at arm's length. Candice Bergen reclines on her couch, holding her iPad over her head. For his latest film Let Them All Talk, director Steven Soderbergh put the three acting legends on a ship and, well, let them all talk. So it only made sense for EW to do the same — albeit over Zoom, rather than at sea. The ensuing conversation will mark their first extended discussion of the mysterious movie, which arrives on HBO Max in December. Scripted (sort of; more on that in a minute) by beloved short-story writer Deborah Eisenberg, Let Them All Talk stars Streep as an acclaimed novelist who's summoned to the U.K. to receive an award. She invites two of her oldest friends (Bergen and Wiest) and her nephew (Lucas Hedges) to join her on a voyage aboard the Queen Mary 2 ocean liner, setting up a gabfest filled with reminiscence, regret, and repartee. As it happens, that also describes EW's roundtable with the actresses. But at first, they're just giddy to see each other again, discussing vacation spots and the California wildfires before Bergen gets things back on track. "You're trying to get things started here," she says with a chuckle. And so we do.
Meryl, how does playing, for lack of a better word, a regular person like this character differ from some of your more transformative roles?
I didn't think she was so regular. I mean, to me, she was a rara avis. She's a really weird bird. A real intellectual, which I am not. People like that sort of intimidate me, and so it's great fun to imagine what it'd be like to have those standards of thought, and those aspirations, and to have a poetic soul, which I think she did, and the selfishness of real, true artists. People that don't have kids and concerns that pull them into the real world. People that have been able to just live in the sort of miasma of their own imagination and anxieties and terrors. That's her, and at this particular moment of her life, especially so. Her regrets and her desires to figure things out — it's stuff you can relate to after 70, certainly, if you're lucky enough to get there.
The complete interview can be read over at Entertainment Weekly and in our press archive.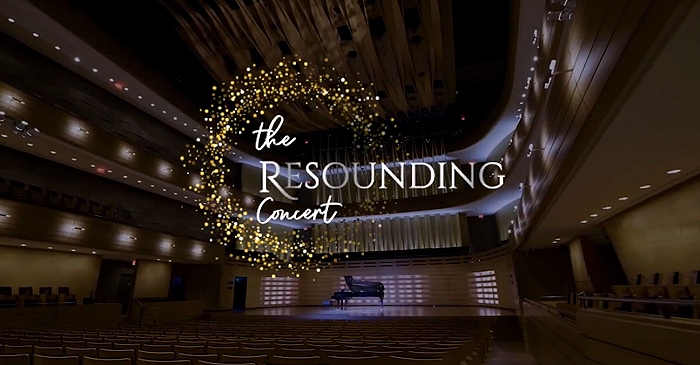 The full line up for The Royal Conservatory's season gala has been announced. As one of Toronto's most exclusive and star-studded annual galas, The Resounding Concert is accessible to everyone this year on October 17 via livestream. The event is a benefit in support of the Fund for Koerner Hall. Appearances will include artists who have performed at Koerner Hall from around the world: Buffy Sainte-Marie, Lang Lang, Meryl Streep, Sondra Radvanovsky, Jan Lisiecki, Zakir Hussain, James Ehnes, Alex Cuba, Daniel Hope, k.d. lang, Lighthouse, Rhiannon Giddens, Danilo Pérez, Brian Blade, John Patitucci, Gerald Clayton (playing Oscar Peterson), Barbara Hannigan, Chilly Gonzales, and Skratch Bastid with Afiara Quartet. Although the livestream is free for everyone, The Royal Conservatory are asking for donations in support of the Fund for Koerner Hall in order to keep bringing live music to audiences and keep artists working. More information on the concert and ticket prizes can be found here. Many thanks to Alvaro for the heads-up.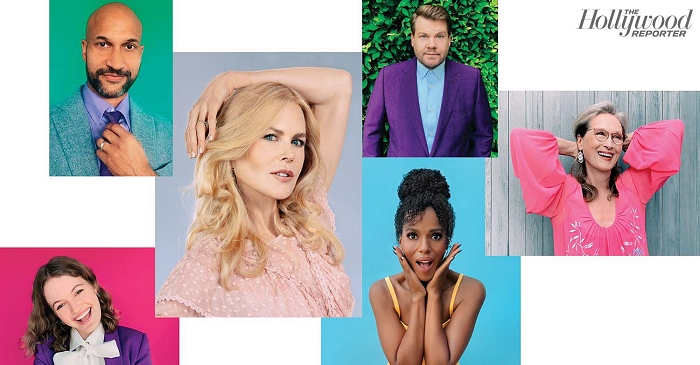 The Hollywood Reporter has put "The Prom" stars Meryl Streep, Kerry Washington, James Corden, Jo Ellen Pellman, Keegan-Michael Key and Nicole Kidman on their cover with a lenghty interview inside their October 07 issue: "Should I just drop Meryl?" Keegan-Michael Key is cradling Meryl Streep in a dip as the 21-time Oscar nominee, wearing a pink-sequin pantsuit and heels, gazes admiringly up at him. The two are dancing underneath the basketball hoops in the Helen Bernstein High School gym in Los Angeles, which is decorated with beaded curtains, white balloons, twinkly lights and vases of flowers. It's March 6, 2020, and the let's-put-on-a-show! energy is palpable on the set of the Ryan Murphy movie The Prom, where Murphy is shooting his dance number finale, an anthem of acceptance featuring some 300 young LGBTQ extras in formal wear. The real high school is still in session around the production, and occasionally the school PA crackles with an announcement, briefly puncturing the glamour of the moment. Inside the gym, Streep, Key, Nicole Kidman, James Corden, Kerry Washington, Andrew Rannells, Tracey Ullman and newcomers Jo Ellen Pellman and Ariana DeBose are dressed in coordinated shades of turquoise, pink and purple and gathered under bright lights to dance and lip-sync to the track they have already recorded of the film's capper, "It's Time to Dance." The complete article can be read over at The Hollywood Reporter.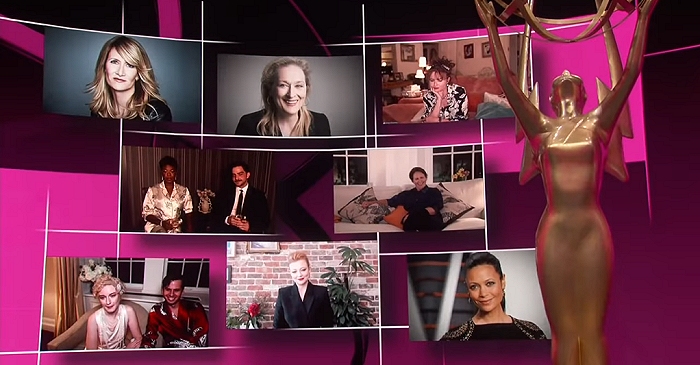 The TV industry's shiniest night of the year, a.k.a. the Primetime Emmy Awards, looked much different this year, given the never-ending pandemic. The ceremony's host, Jimmy Kimmel, was literally fired up to emcee the festivities again, this time from the mostly vacant Staples Center in L.A., with winners accepting awards remotely, virtually, and digitally. If you tuned in just for Meryl, there wasn't much to see. She was nominated as Outstanding Supporting Actress in a Drama Series for "Big Little Lies" along her co-star Laura Dern as well as Fiona Shaw (Killing Eve), Sarah Snook (Succession), Helena Bonham Carter (The Crown), Samira Wiley (The Handmaid's Tale) and Thandie Newton (Westworld), but "lost" to Ozark's Julia Garner, and wasn't featured by camera during the nominations. Garner took to Instagram after winning the Emmy to praise her fellow nomninees, including Meryl: "Also I want to give a special thanks to Meryl Streep, who wasn't on the zoom call tonight. When I was 15 I watched Sophie's Choice and it made me want to be an actress. I wouldn't be doing this if it weren't for you. And thank god because I don't really know how to do anything else!! So thank you. Love to you all!!" The category segment can be watched below and in the video archive.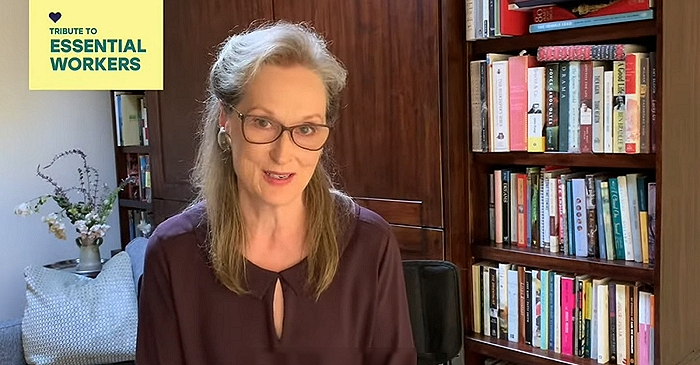 On September 06, Meryl Streep has joined the National Domestic Workers Alliance to pay tribute to the lives and work of essential workers. As per their website: Together we'll issue a powerful call for transformation in honor of the people that we've lost and to fight for the working people who are essential to our economy and society. These essential workers are disproportionately Black and other women of color, immigrant, and other communities in the margins. We have a responsibility and opportunity to create an inclusive future that ensures that everyone is treated with dignity and respect–through raising pay and workplace standards, improving safety, and increasing worker power in the workplace. Meryl's segment starts at 1:15:43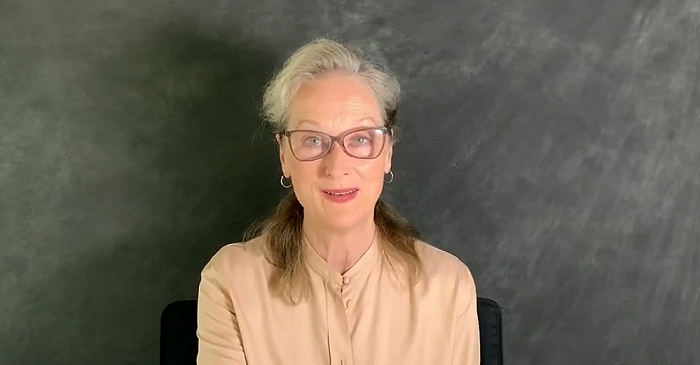 At the beginning of this year, some of the biggest names in Texas media left their respective organizations to begin a new one. Former Texas Tribune Editor Emily Ramshaw and Chief Audience Officer Amanda Zam­mora founded the 19th*, a national nonprofit newsroom focused on the "unfinished business of the 19th Amendment" granting (white) American women the vote in 1920. Andrea Valdez, formerly editor-in-chief of the Texas Observer, fills the same role at the 19th, and Errin Haines, previously national writer on race for the Associated Press, is editor-at-large. Next week, Aug. 10-14, the nascent enterprise is bringing together some more big names of American politics and culture in a "virtual summit," the 19th Repre­sents. Speakers including Stacey Abrams, Alicia Garza, Hillary Clinton, Kamala Harris, and Meryl Streep will headline discussions on the intersection of race and gender issues, voting rights, and electability. Updated: As part of The 19th Represents, Award-winning actors Meryl Streep and Zoe Saldaña perform excerpts from historic speeches by American suffragists – women like Inez Milholland; Sojourner Truth; Crystal Eastman and Frances Ellen Watkins Harper, who fought not just for the right to vote, but for racial justice for women. The 19th Represents is the inaugural summit of The 19th News, a new nonprofit, nonpartisan newsroom reporting on gender, politics and policy. To learn more about The 19th, visit summit.19thnews.org.
Big congratulations to Meryl Streep for receiving a Primetime Emmy Award nomination earlier today as Outstanding Supporting Actress In A Drama Series for "Big Little Lies". She shares the crowded category with Laura Dern for "Big Little Lies", Fiona Shaw for "Killing Eve", Julia Garner for "Ozark", Sarah Snook for "Succession", Helena Bonham Carter for "The Crown", Samira Wiley for "The Handmaid's Tale" and Thandie Newton for "Westworld". "Big Litte Lies" fared ok in the overall nominations with five, although only two actresses – Dern and Streep – made the cut. The other nominations come in the categories for Outstanding Production Design For A Narrative Contemporary Program, Outstanding Casting For A Drama Series and Outstanding Contemporary Makeup. In comparison, the first season of "Big Little Lies" scored 16 nominations in 2017, winning 8 – including for Outstanding Limited Series and its stars, Nicole Kidman, Laura Dern and Alexander Skarsgard. Meryl Streep's track record at the Emmys is equally impressive – she has won 3 Emmys out of 4 nominations so far – as an actress for "Holocaust" in 1979 and "Angels in America" in 2004 as well as a narrator for the Netflix documentary "Five Came Back" in 2017. The Emmys will be handed out on September 20, 2020. Edit: Meryl's management forwarded the following reaction to various news outlets:
Thank you!!! I am very honored to be in the company of such gifted women, who have helped us all get through this screen centered moment in time!"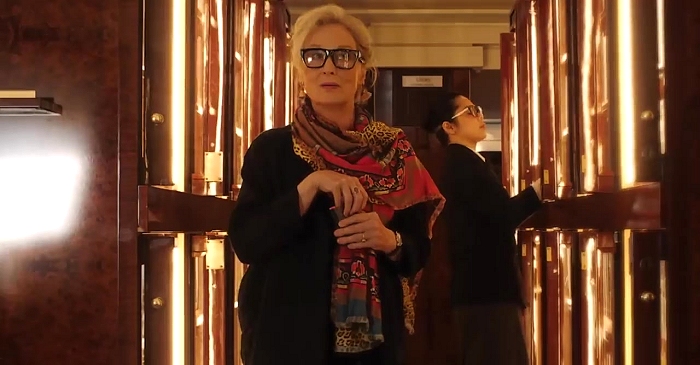 In a coming attractions trailer, HBO Max gives us a first look at "Let Them All Talk", and Entertainmnent Weekly writes about it: Let them all talk… about Meryl Streep's arrival on HBO Max. The streaming platform picked up the rights to the Oscar winner's new movie with director Steven Soderbergh early in the shelf life of the service, and now the streamer has snuck in the first look at the actress' latest eye-turning performance in Let Them All Talk. Tucked away around the 1:52 time stamp of the latest trailer for HBO Max's upcoming offerings is a look at this gem, which also stars Dianne Wiest (Edward Scissorhands), Candice Bergen (Murphy Brown), Lucas Hedges (Manchester By the Sea), and Gemma Chan (Crazy Rich Asians). "Here's to reconnecting the gang of three," Streep says as her author character, who takes a cruise with her besties, played by Wiest and Bergen. Based on Bergen's next line, it seems there's a lot of self-reflection involved with this trip. "Who's the real you?" she questions. "Does anybody trust you?" Meanwhile, off in the quiet corners of the film (and the trailer), there's Hedges, playing Streep's nephew, trying to romance Streep's literary agent (Chan). The trailer briefly highlights a number of other programming, including Jude Law in HBO's limited series The Third Day, Ridley Scott and Aaron Guzikowski's Raised By Wolves sci-fi series for HBO Max, and The Big Bang Theory's Kaley Cuoco in the series The Flight Attendant. Then there are the more heavily promoted shows like HBO's Perry Mason and Lovecraft Country, and HBO Max's Seth Rogen-led film American Pickle.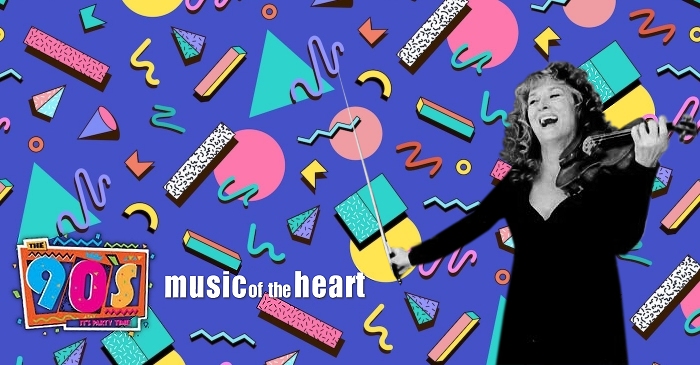 We conclude our weekly series on Meryl Streep's films of the 1990s, which started 12 weeks ago and was originally designed with the thought that our lives would have been back to normal 3 months later. Unfortunately this is not yet the case. To all visitors, readers and friends, stay healthy and strong. And enjoy a Saturday dose of "Music of the Heart" if your'e strong enough :-)
The combination of Wes Craven and Meryl Streep in the late 1990s seemed like the most far-fetched idea Hollywood could offer around that time. After all, Craven had single handedly revived the slasher genre with "Scream", the following films in the franchise and countless knock-offs of who did what when during Summer vacation. Of course, Craven wasn't new to the genre – he created "A Nightmare on Elm Street" in 1984, significantly mixed horror cliches with humor and satire and became the "Master of Horror" for legions of fans. So, what could he possibly be filming with Meryl Streep, if it wasn't a part of Ghostface's crazy mother? The story behind the making of "Music of the Heart" is a prime example to never judge a book by its cover, nevermind how bloody or gory it may be.
"Music of the Heart" tells the story of real-life teacher Roberta Guaspari as she rebounds from a painful divorce and moves to New York with her two sons to start what's become the hugely popular East Harlem Violin Program. "I wouldn't have the ability to play the violin. I never would have even thought about it without the gift of that program," she said during a interview with the Los Angeles Times prior to the film's release. ""The only reason that I've fought so hard through the years is that I love teaching, and I don't want to stop. The only thing that's changed in my life now is that I've got 10 more things to do all the time." Guaspari hesitated when Miramax Co-Chairman Harvey Weinstein asked to do a feature based on her life, and then told her that a man known for horror films would direct the project. "I was really frightened, to be quite honest. It was like selling myself to have to put my life up on the screen. All of my friends and family said, 'No, don't let them do it,' " Guaspari says. But she is satisfied that Weinstein and Craven kept their promise to take care of her story, though it is one that presents a slightly warmer classroom atmosphere than the more disciplined learning environment favored by the real-life instructor.
Continue Reading