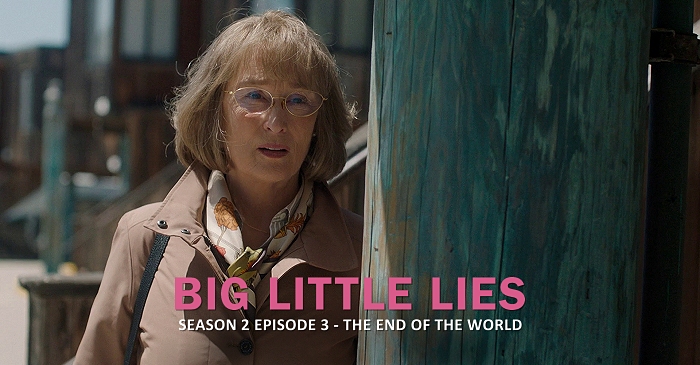 Screencaptures from the third episode of "Big Little Lies"' second season, "The End of the World", have been added to the photo gallery with many thanks to Jess. Much appreciated! Also, make sure to find highlight clips of each episode in the video archive.
Mary Louise (Meryl Streep) tries to get closer to Jane (Shailene Woodley). Rather than address her troubles at home, Renata (Laura Dern) focuses her wrath on Principal Nippal (P.J. Byrne). Madeline (Reese Witherspoon) is forced to confront her issues at a couples therapy session with Dr. Reisman (Robin Weigert). Celeste (Nicole Kidman) remains conflicted by her memories of Perry.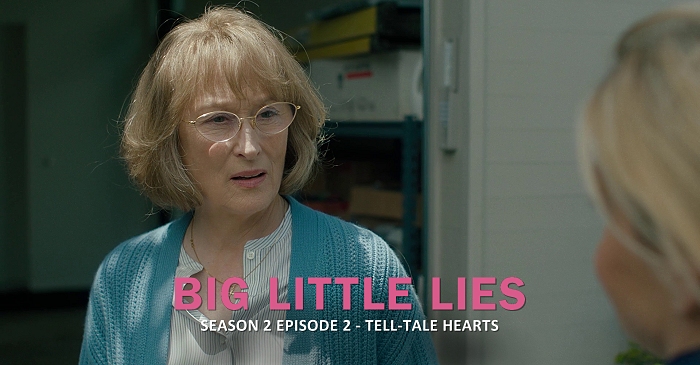 Screencaptures from the second episode of "Big Little Lies"' second season, "Tell-Tale Hearts", have been added to the photo gallery with many thanks to Jess. Much appreciated! Also, make sure to find highlight clips of each episode in the video archive.
Renata (Laura Dern) faces an uncertain future when Gordon (Jeffrey Nordling) lands in legal trouble. Corey (Douglas Smith) asks Jane (Shailene Woodley) out on a "practice" date. After a challenging therapy session with Dr. Reisman (Robin Weigert), Celeste (Nicole Kidman) opens up to Mary Louise (Meryl Streep) about her relationship with Perry. Bonnie's (Zoë Kravitz) mom, Elizabeth (Crystal Fox), arrives. Ed (Adam Scott) confronts Madeline (Reese Witherspoon) about her secrets.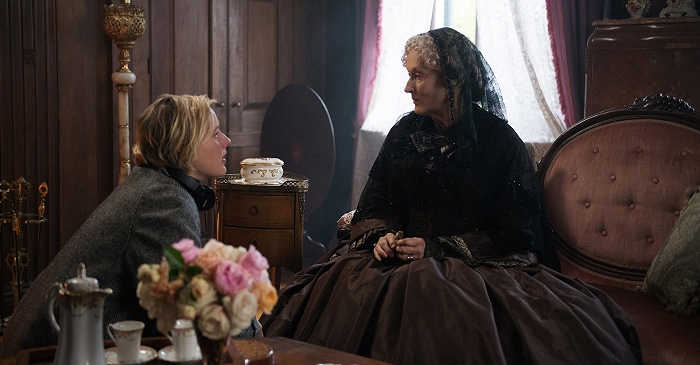 Vanity Fair has an in-depth article on Greta Gerwig's upcoming "Little Women", including some exclusive pictures from the cast, featuring one on-set picture of Gerwig and Meryl Streep. Greta Gerwig doesn't remember reading Little Women for the first time. "It must have been read to me," she says when I ask for her earliest memories of author Louisa May Alcott's classic tale of four girls imagining a world beyond their humble surroundings outside Civil War–era Boston."I always knew who Jo March was," Gerwig continues. "She was the person I wanted to be." In that, Gerwig has had plenty of company. Little Women is one of the most popular books in the history of American letters; after the first volume sold out its initial run of 2,000 copies in 1868, the novel has never been out of print. Simone de Beauvoir, born in 1908, pretended as a child that she was Jo—Alcott's protagonist and stand-in, a determined, stubborn tomboy with a flair for writing. Ursula Le Guin says that Alcott's Jo made writing as a girl feel possible. In film, Katharine Hepburn played Jo in 1933; Winona Ryder, in 1994. Now, Gerwig has created her own Jo for the screen in Saoirse Ronan, who also starred in Gerwig's debut as a solo director, 2017's Oscar-nominated Lady Bird. The full article can be read over at Vanity Fair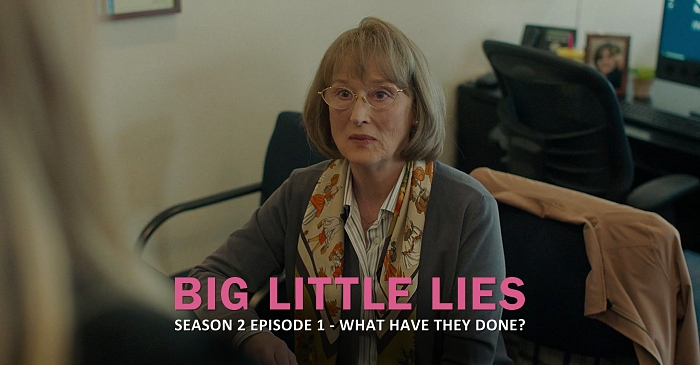 Screencaptures from the first episode of "Big Little Lies"' second season, "What Have They Done?", have been added to the photo gallery with many thanks to Ashley.
Following first-day-of-school events, Madeline (Reese Witherspoon) is worried by Bonnie's (Zoë Kravitz) behavior and, later, is shocked when Abigail (Kathryn Newton) says she doesn't want to go to college. Mary Louise (Meryl Streep), Celeste's (Nicole Kidman) mother-in-law, offers her unvarnished assessment of Madeline's character. Jane (Shailene Woodley) learns from her new coworker, Corey (Douglas Smith), that she's known in town as one of the "Monterey Five."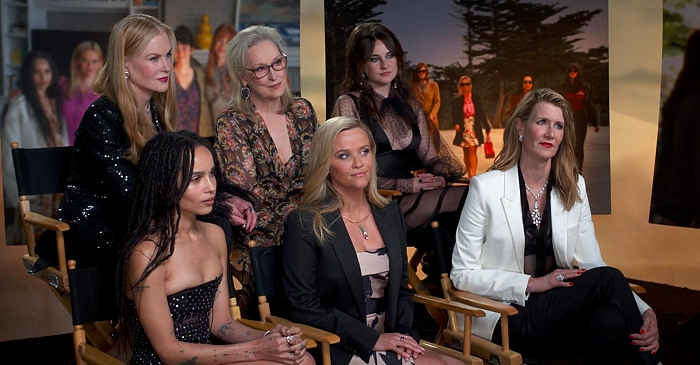 The cast of "Big Little Lies" – Meryl Streep, Nicole Kidman, Reese Witherspoon, Laura Dern, Shailene Woodley and Zoe Kravitz – were featured in a taped interview on today's Good Morning America to promote the series' second season. The full interview can be watched below and in the video archive. Additionally, an interview from yesterday's New York premiere from Entertainment Tonight has been added. Links and screencaptures can be found below.
br>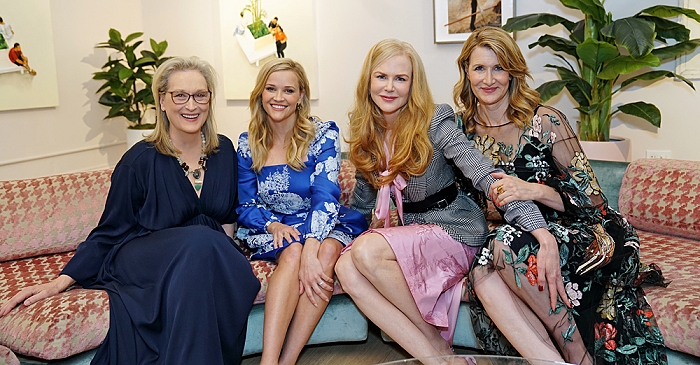 The cast of "Big Little Lies" stepped out in New York for the premiere of season 2 (see following update). In a conversation moderated by "Vanity Fair" editor-in-chief Radhika Jones, Streep joined stars Reese Witherspoon, Nicole Kidman, and Laura Dern hours before their season 2 premiere to discuss their experiences with the celebrated HBO drama and why they were so determined to bring it back. When asked to join a second season of "Big Little Lies," Meryl Streep didn't hesitate. "[My agents] asked me, 'don't you want to read it?' And I said no," the actor laughed, sitting alongside her co-stars Wednesday at the Wing Soho in New York City. "The first season was the greatest thing on television." "You get to explore [the characters] and the consequences on a deeper level," said Kidman of the decision to continue after the climactic finale, which coincided with the end of Liane Moriarty's novel and was originally meant to end the series. "You see their lives unfold in a much deeper way." Another big part of the decision to return was the huge reaction the show received. "The year at the Golden Globes when Oprah gave that incredible speech…and we were able to go up there and talk about this show was truly one of the greatest moments of my life and career," Witherspoon said. Plus, as they all agreed, "Big Little Lies" represented a rare treat in their careers when they got to collaborate with many women rather than be the sole female voice on set; the fact that they even get along well enough to have an ongoing group chat is a bonus. (While they wouldn't reveal the content of their conversations, Kidman at least allowed that she's the most enthusiastic emoji user, while Witherspoon said that she "likes a gif.") The full article can be read over at Variety, hopefully there will be a video of the panel posted soon. For now, enjoy the pictures.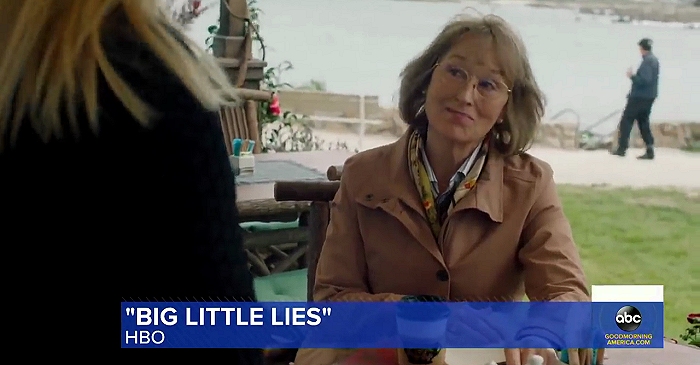 Most of the "Big Little Lies" actors are currently busy promoting the series' second season, which will premiere on HBO next Sunday, June 9. Unfortuantely, Meryl is not among those doing the talkshow circuit right now. Maybe she will be seen next week since not all late night shows have announced their guests yet. In Reese Witherspoon's appearance on Good Morning America earlier today, a clip was shown which seems to be the first meeting between Madeline and Celeste's mother-in-law, Celeste. While we've already read that Mary-Louise is up to no good, the clip gives us a better understanding of what to look forward to – and judging from the brief scene, there's a lot! You can watch the clip below, in the video archive or catch Reese's full appearance on GMA here. Additionally, a couple of new production stills have been added to the photo gallery.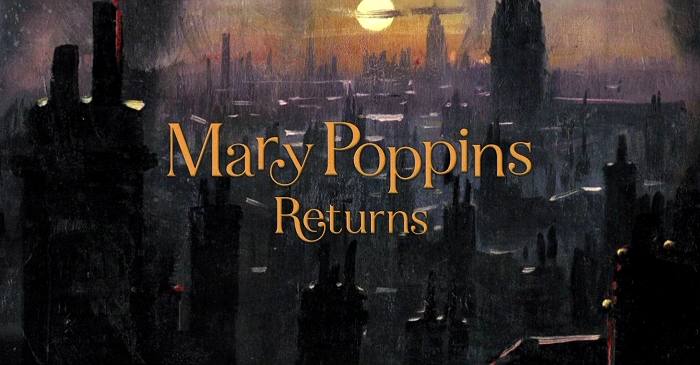 "Mary Poppins Returns" has been released on DVD, Blu-Ray and on-demand earlier this week in the United States. The Blu-Ray is filled with special features, outtakes and behind-the-scenes footage. Screencaptures from the film, its making of featurettes and the outtakes have been added to the photo gallery.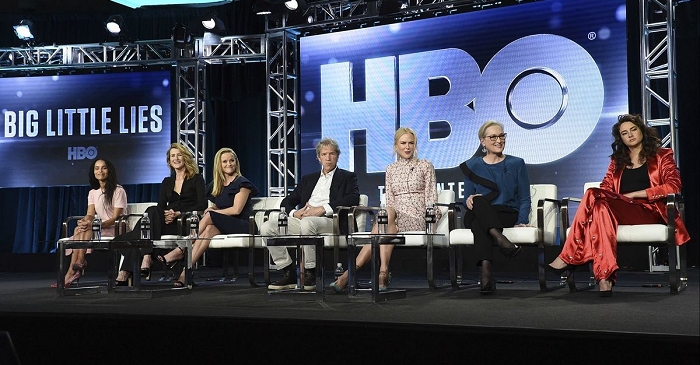 Meryl Streep addressed her highly-anticipated role in Big Little Lies Season 2 for the first time during an appearance at the Television Critics Association press tour on Friday, teasing her character's place on the show and what made her join the cast in the first place. "I loved this show, I was addicted to it," Streep said of Season 1. "I thought it was an amazing exercise in what we know and what we don't know about people, about family, about friends, how it flirted with the mystery of things. What was unsaid, unshown, unknown, was the gravitational pull of the piece. It was so exciting. When I got the chance to join the crew, I thought 'Yeah!' I wanted to be in that world. The world that was created was amazing." Streep will play Mary Louise Wright, mother of the late Perry Wright (Alexander Skarsgård) and mother-in-law of Celeste (Nicole Kidman). "The dynamic between Celeste and me … Hmmm! I do love [Nicole], and I do love her. That's the only thing I'll tell you about my character," Streep teased. She appeared at the TCA panel alongside BLL creator/write David E. Kelley and co-stars Kidman, Reese Witherspoon, Zoe Kravitz, Shailene Woodley, and Laura Dern. Pictures from the TCA have been added to the photo gallery.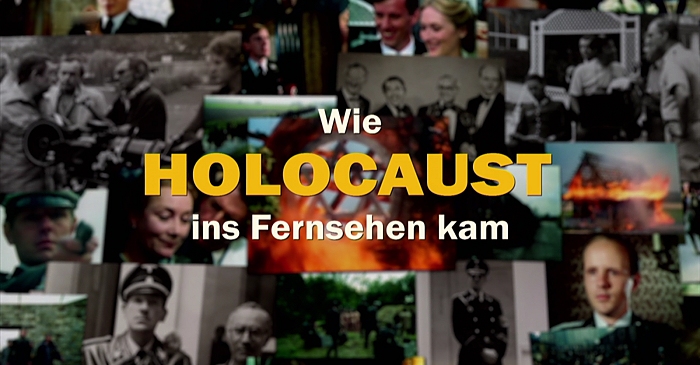 In January 1979, the "Holocaust" miniseries was broadcast for the first time in West Germany. The series – the first of its kind to cover the genocide during World War II to widespread public attention – was watched by 20 million people, or 50 percent of West Germany's population. With an estimated viewership of up to 15 million households, the series turned out to be extremely popular during its initial airing, leading to an increased public interest in the crimes committed during the Nazi era. After each part of Holocaust was aired, there followed a companion show wherein a panel of historians answered questions from people phoning in. The historians' panels were overwhelmed with thousands of phone calls from shocked and outraged Germans. By this time, "Holocaust" was already a critical success, earning 15 Primetime Emmy nominations with 8 wins, including for Outstanding Limited Series and for Meryl Streep's performance as Outstanding Lead Actress in a Limited Series. To honor the series' legacy, numerous German television stations will broadcast re-runs of "Holocaust" throughout January. The re-runs will be accompanied by a new documentary on the making of the series. Director Marvin J. Chomsky will be interviewed for the program alongside actors Michael Moriarty, Rosemary Harris and Blanche Baker. The documentary will be first aired on January 14, 2019, at 22.10pm on WDR. It will be also shown on NDR and SWR throughout January. If you haven't seen the miniseries yet, here's your chance to see a piece of television history. Edit: The documentary can be now watched on-demand in Germany. Unfortunately, while it's a fantastic programme on the making of "Holocaust", it features nothing on Meryl Streep except for a couple of scenes from the series.