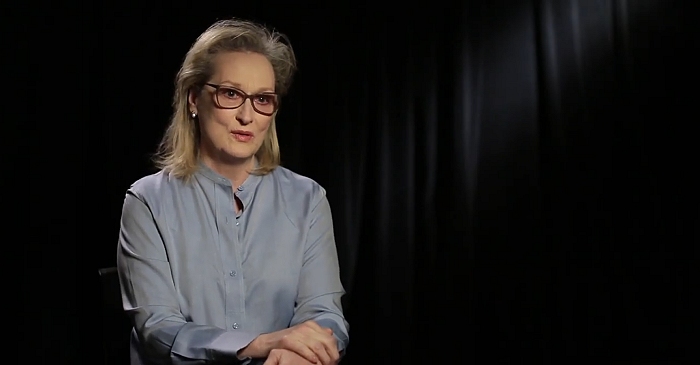 Alan J. Pakula, who died in 1998 at the age of 70 in an auto accident, was a most unusual filmmaker. Though his peers, including Stanley Kubrick, Martin Scorsese, Steven Spielberg, Roman Polanski, George Lucas and William Friedkin, were as well-known as the stars of their films, Pakula stayed out of the limelight and let his films speak for themselves. And what films – some of the most memorable titles of the last half century. The AFI Fest in Hollywood is paying tribute to Pakula with free screenings of "Sterile Cuckoo," "Klute" and "Sophie's Choice" and a free screening Sunday evening of Matthew Miele's thoughtful new documentary, "Alan Pakula: Going for Truth." That film features insightful and often emotional interviews with Robert Redford, Harrison Ford, Meryl Streep, Jane Fonda and Dustin Hoffman, co-workers and family and numerous clips. Streep, Hoffman and Ford recently talked to The Los Angeles Times about what made Pakula such a powerful filmmaker and person. The quotes have been edited for clarity and brevity. You can watch the trailer for "Alan Pakula: Going for Truth" on Youtube. Many thanks to Glenn for the heads-up.
I think he really laid a map of integrity for artists, and that, more than anything, is his legacy for me. He was such a moral filmmaker. It's like an old-fashioned idea, but he was. He was a moral man and he had a backbone. He loved women and respected them. So I mean it was that thing where you feel listened to instead of tolerated. It's a really a great, great quality. All the best male directors have it. All the best female directors have it naturally.
Continue Reading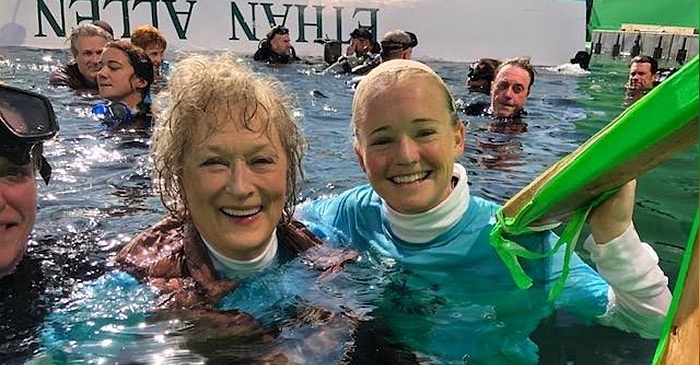 Backstage has a very interesting interview with Meryl Streep's stunt-coordinator from "The Laundromat". Stunt coordinators have one of the most high-pressure jobs in the biz: keeping actors and everybody else on set safe. So imagine the pressure, then, when one of those actors happens to be Meryl Streep. Charlie Croughwell can attest, however, the stunt coordination veteran kept his cool working with Streep on "The Laundromat." The Stephen Soderbergh feature, now streaming on Netflix, features one of Streep's most involved stunts to date wherein a boat capsizes. Croughwell, along with his daughter who happens to be Streep's stunt double, greeted the feat with aplomb—and he tells Backstage all about it, from pre-production meetings with Miss Meryl, to how he kept one of the greatest living actors out of harm's way so she could deliver her best performance. The full interview can be read over at Backstage with many thanks to Glenn for the heads-up!
Anytime we have someone interacting with a body of water, we need to assess their comfort level. I let production know that I needed to get Meryl's take on her comfort with water scenes and that we would need to get her in the tank at [a dive facility]. I needed to see how comfortable she is not only swimming but breathing from an air source. I had two dive masters as well as her stunt double and two water safety people on the day. We laid out all of the dive equipment we could have possibly needed: a wetsuit for Meryl, towels, showers. Her assistant arrived a bit before her, checked over the plan and we waited. Only a few minutes went by and up pulled Meryl. We went out to greet her. Once out of the car I began explaining to her the process we had planned and that she would be in different clothing on the day. The pro she is, she said, "These are the clothes I'll be wearing and I'm very comfortable with what I need to do." With that, we went into the tank area, she jumped in, we all jumped in and within 30 minutes we were done and she was on her way.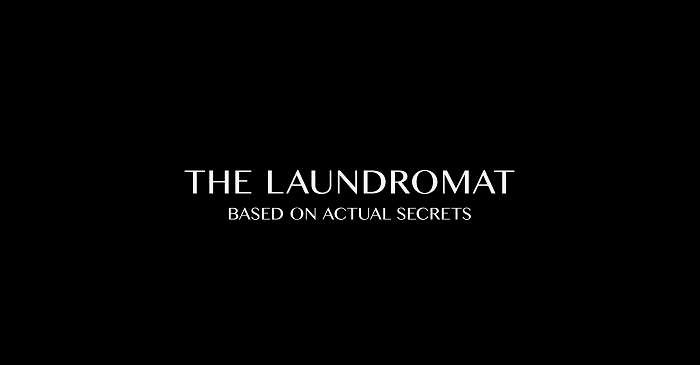 Steven Soderbergh's "The Laundromat" has been released on Netflix, yesterday. I'm really glad it's on Netflix, because I couldn't wrap my mind around what I have just seen the first time. After the second time, it made much more sense. And I assume that after the third watch it's actually a damn good movie :-) But after the first watch, this is one of the most absurd projects to find in Meryl's filmography. It won't be a player at the Oscars, but I think a Golden Globe nomination for Meryl Streep is very much possible. As I keep this little review spoiler-free, it's impossible to write anything about her performance, with the exception that she takes the general moviegoers' general idea of a Midwestern granny to a whole new level. Screencaptures have been added to the photo gallery, which contain a lot of spoilers, so please watch it first, it's worth the surprise.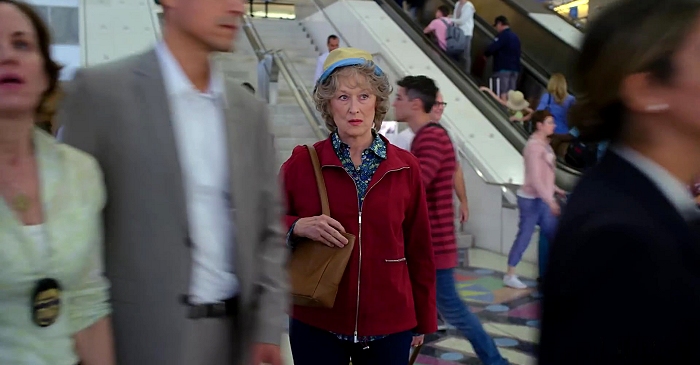 According to The Hollywood Reporter, Mossack Fonseca, the Panama City law firm that watched in horror back in 2016 as a treasure trove of its documents became public, is now attempting to stop Netflix from streaming The Laundromat, a dark comedy that is inspired by those "Panama Papers." The firm and its founders have filed a lawsuit in Connecticut federal court and are pushing for a restraining order to prevent the Friday release of the film. The movie, directed by Steven Soderbergh, stars Meryl Streep investigating the death of her husband in a boat tour and being led down a trail of shady dealings connected to an off-shore tax scheme exploited by some of the world's most powerful individuals. According to some advance write-ups of the film, some of these dealings are traced to Jürgen Mossack (played by Gary Oldman) and Ramón Fonseca (Antonio Banderas), the named partners in the firm. As the new lawsuit points out, the movie's trailer states The Laundromat is "based on some real shit," referencing what was exposed by the leak of 11.5 million documents three years ago. Mossack and Fonseca complain that the film casts them as "villains profiting from the death of 20 people killed in the small town boat tour," and also object to a comment in the film from Streep tying them to "bribery, corruption, money laundering." The film provokes two big claims — defamation and trademark infringement. The former because these lawyers have allegedly been cast falsely as criminals, and the latter because the movie utilizes the film's registered logo while allegedly diminishing and diluting its value. To each of the claims, Netflix will likely raise First Amendment defenses, including how use of the logos is artistically relevant and not explicitly misleading. But for now, the move for a restraining order is what's most pressing. Prior restraints on speech face nearly insurmountable odds in court. To overcome the First Amendment, Mossack and Fonseca present a theory of irreparable harm tied to their due process rights as potential defendants in a criminal case.
Continue Reading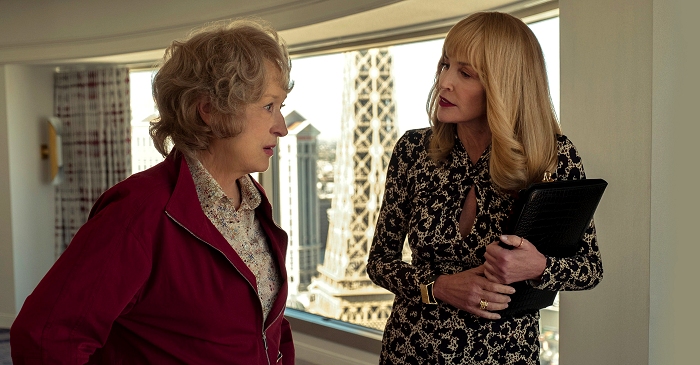 Here comes a nice article by USA Today: Beware, lawmakers who protect their billionaire buddies. Meryl Streep isn't having any of that. "The people who are doing it have to be spanked," she says, smacking her hands together. "It doesn't stop until they feel they can't." The 70-year-old acting legend with a record 21 Oscar nominations (and three wins) stars – and educates the masses – in director Steven Soderbergh's experimental Netflix dramedy "The Laundromat" (in theaters Friday in New York and Los Angeles, streaming Oct. 18). Based on the 2016 Panama Papers leak, the film uses intertwining stories and well-known actors to impart real-world lessons about tax avoidance, insurance fraud, shell companies, bribery and other financial shenanigans employed by super-wealthy folks to hang on to their cash flow. Streep's character Ellen loses her husband (James Cromwell) in a vacation tragedy on New York's Lake George that takes the lives of 20 tourists (a disaster that happened in 2005 in real life). When financial restitution doesn't come, the retired widow launches her own investigation into shady schemes that lead to the two Panama City lawyers, Jurgen Mossack (Gary Oldman) and Ramon Fonseca (Antonio Banderas), at the center of the true scandal. The complete article can be read over at USA Today – two new pictures with Meryl alongside Sharon Stone and Melissa Rauch have been added to the photo gallery.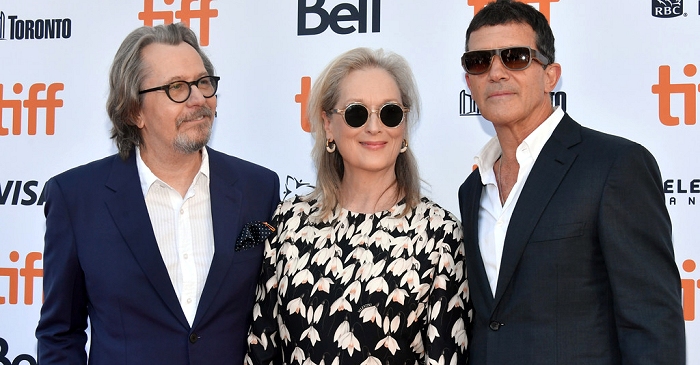 Meryl Streep serenaded the room with a Joni Mitchell tribute, sweetly warbling "Oh Can-a-daa," as she accepted an acting award Monday night at the inaugural TIFF Tribute Gala at the Fairmont Royal York Hotel. Streep, at the Toronto International Film Festival for the North American premiere of director Steven Soderbergh's The Laundromat, referenced Mitchell's much-loved classic "A Case of You," before cracking a joke about the Jumbotron-sized screens flanking the stage. She then turned serious, urging the audience to be mindful, explaining for the past decade she has chosen the roles she takes on by asking herself, "Does this help or does this hurt?" Streep set the tone for the first ever Tribute Gala: a mix of humour and serious reflection from stars and filmmakers about what inspires their work. Before the awards dinner, Streep was joined by Steven Soderbergh, Gary Oldman and Antonio Banderas on the red carpet. Pictures have been added to the photo gallery with more media to be added, so check back.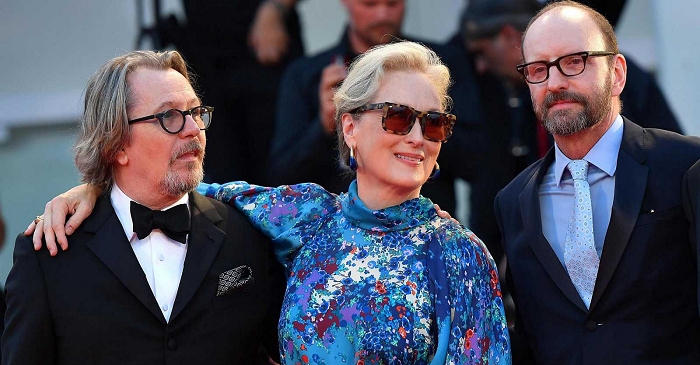 After a much-anticipated visit and more-or-less positive reviews for "The Laundromat" (see previous update), lots of additional media from the 76th Venice International Film Festival have been added to the archives. Let's start with the videos: Full segments from the photocall, press conference and premiere have been added, as well as television interviews by the Italian Rai televsion and the Canadian Entertainment Tonight.
Hundreds of additional pictures from the arrivals, photocall, press conference and premiere have been added as well. For a complete list of all updates, have a look at the list below.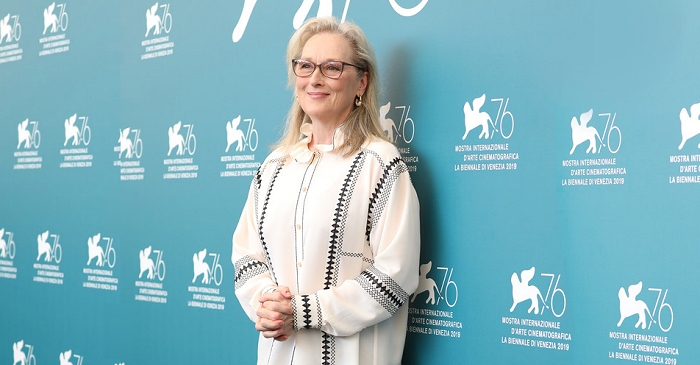 This afternoon, Meryl Streep, Gary Oldman and Steven Soderbergh have arrived in Venice for the world-premiere promotion of "The Laundromat" at the 76th Venice International Film Festival. So far, there are pictures from the arrivals and the photocall, with the press conference happening as we speak and the world-premiere gala set for this evening. I'm looking forward to the first reviews coming out of Venice later today, to see if it's good entertainment, a good try, or an Oscar contender. Check back for more updates throughout the day. From the press conference: Streep reminded audiences that although the film was a comedy, the issues at hand are indeed life-threatening issues. "This is a funny way of telling a very, very dark, black-hearted joke, a joke that's being played on all of us. It's a crime, not without victims. And many of them are journalists. The reason that the Panama Papers were exported to the world was because there were over 300 investigative journalists who got the word of John Doe, the whistleblower from Mossack Fonseca, or who knows where out into the world." Edit: Pictures from the premiere have been added as well.
"Some people died for it. Daphne Caruana Galizia, a Maltese journalist, who was investigating someone at the top of the government in Malta, and his connection to the Panama Papers, was blown up in her car, in front of her home," said Streep. "People died and people die still to get the word out. This movie is funny but it's really, really, really important." On playing a relentless woman who wouldn't back now, Streep said of her character, "I guess grief is a great motivator. The parents of the children shot in the Parkland High School, the parents of the children shot in Newtown, Connecticut. Those people don't stop. They don't stop trying to change the world. If it's personal, you don't stop. And we rely on the people for whom it really counts to save us all."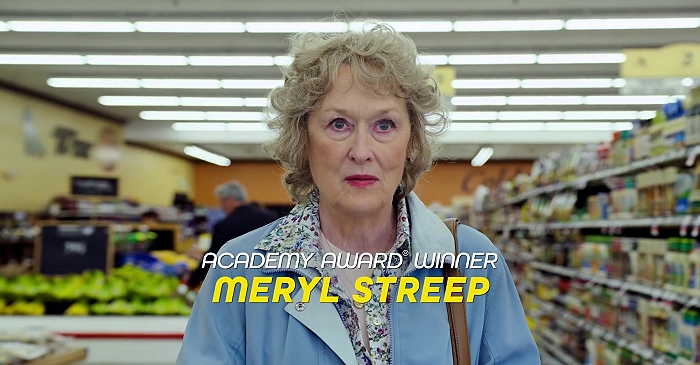 Today, Netflix has released the trailer for "The Laundromat". The film is based on the real-life Panama Paper scandal when the secret financial records (some involving massive corruption) from a Panamanian law firm were leaked by a whistleblower to the press in 2015. The leak showed widespread tax evasion and fraud by some of the world's most wealthy people. If, after watching the trailer, you're left feeling like it seems awfully similar in subject matter and tone to another Soderbergh movie The Informant!, you wouldn't be wrong. The Laundromat is written by Scott Z. Burns, the same person who wrote The Informant!. Burns also directed the forthcoming film The Report, about a lawyer looking into the CIA's use of torture in the aftermath of 9/11. Soderbergh also produced The Report. The Netflix produced film will premiere at the Venice Film Festival this week, followed by its wide release on October 18. It also stars David Schwimmer, Will Forte and Sharon Stone. You can watch the trailer below and in the video archive. Screencaptures have been added to the photo gallery. Check back on Sunday for up-to-date coverage on the film's world-premiere at the Venice Film Festival.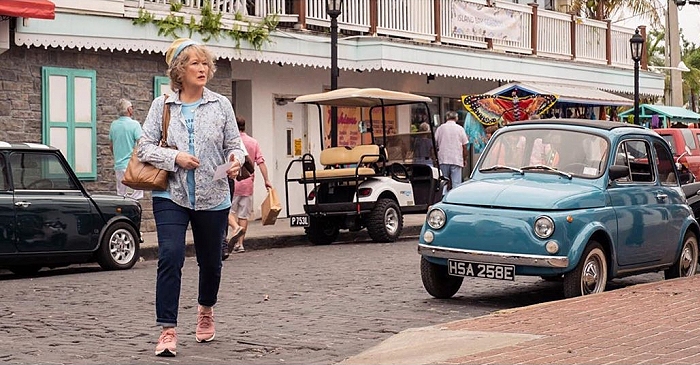 As The Hollywood Reporter writes, "The Laundromat" will hit select cinemas September 27 and then debut on Netflix on October 18 – a month earlier than the previously-announced November release. The Steven Soderbergh directed film has also expanded its festival run. After a world-premiere at the Venice Film Festival (September 01), it will be shown at the San Sebastian Film Festival's sidebar section (no date yet) and the Toronto International Film Festival (September 09), where Streep is set to receive the inaugural TIFF Tribute Actor Award. Here's the offcial synopsis: When her idyllic vacation takes an unthinkable turn, Ellen Martin (Meryl Streep) begins investigating a fake insurance policy, only to find herself down a rabbit hole of questionable dealings that can be linked to a Panama City law firm and its vested interest in helping the world's wealthiest citizens amass even larger fortunes. The charming—and very well-dressed—founding partners Jürgen Mossack (Gary Oldman) and Ramón Fonseca (Antonio Banderas) are experts in the seductive ways shell companies and offshore accounts help the rich and powerful prosper. They are about to show us that Ellen's predicament only hints at the tax evasion, bribery and other illicit absurdities that the super wealthy indulge in to support the world's corrupt financial system.