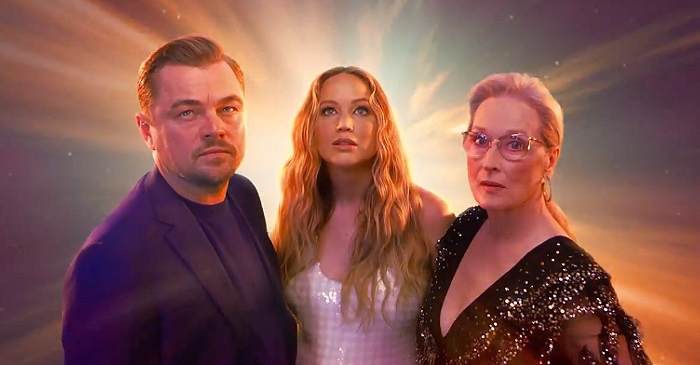 We're in for a special treat today, as Entertainment Weekly reveals a new cover featuring Leonardo DiCaprio, Jennifer Lawrence and Meryl Streep, a lengthy interview with the cast of the crew as well as a half-hour table interview – all to be found on their website: In a 36th floor meeting room at New York's Mandarin Oriental Hotel in early December, writer-director Adam McKay is telling lies about Meryl Streep to Leonardo DiCaprio ahead of a star-studded Around the Table panel for his just-released movie Don't Look Up. "The crazy thing is that she does DJ sets at the ESPN Zone in Times Square three nights a week," says the Big Short filmmaker to an amused DiCaprio, who is sitting between McKay and his pregnant Don't Look Up costar Jennifer Lawrence. "What I respect is that she still uses decks," adds Jonah Hill, joining in the improvisational fun. "She's digging in the crates. She mashed-up AC/DC and Ludacris!" Streep herself is also present and breaks off chatting with Tyler Perry (hey, we told you this panel was star-studded!) to tongue-in-cheekedly growl her response to this entertaining nonsense. "I know a lot more about DJ-ing than you people think!" says the triple Oscar-winner. The ease with which these panelists riff with each other is a holdover from the making of the film, which McKay directed with his usual improv-encouraging style, and the bonds they formed during its production in the pre-vaccine pandemic. As McKay says, "This was a movie like no other movie I've ever been involved in. I actually get moved about how we all rallied together."
STREEP: I found it really hard. I didn't feel funny in the lockdown. When I would come in to shoot my stuff, [I'd] get out of the car and hadn't spoken to anybody in three weeks. [I'd] walk into the stadium in Worcester, put on the wig and the nails and the suit, and make a speech to all these people. I just lost it. I forgot how to act, I forgot what I was about. It sort of dismantles your humanity, to be isolated like that. But thank god for Jonah, because he kept us laughing [Streep is informed by EW's audio engineer that her microphone has fallen off dress]

HILL: Dude, you interrupted the part where she was saying I was sick! What the f—?

MCKAY: Alright, Meryl, pick it up from saying, "Jonah was a joy who brought us all together."

STREEP: Jonah was a f—ing nightmare and ruined everything of mine and if I work again, it's a miracle.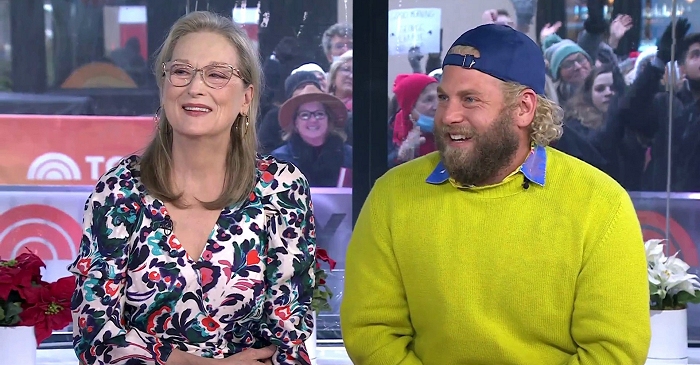 Lots and lots of updates today as the promotional tour for "Don't Look Up" has been in full swing. On Monday, there were two additional press conferences / Q&As in New York, hosted by the Critics Choice and the Paris Theatre. Apparently, there was a third Q&A on Sunday, but I haven't figured out where this took place (if you know more, drop me a line :-) On Tuesday, Meryl and Jonah Hill were guests on The Today Show. Netflix has released a big batch of character posters for the film. Additionally, more pictures from the New York premiere as well as from Broadway's re-opening of "Slave Play" have been added to the photo gallery.
Moving on to the videos, new interviews from the premiere, with Entertainment Tonight have been added. Leonardo DiCaprio and Meryl participated in a virtual press junket for the film, with a first clip being posted and hopefully many more to follow. Then, videos from the mentioned press conferences and from the Today Show appearance have been added as well. All updates are listed below. Enjoy all the new clips and pictures.
Yesterday, Meryl Streep joined Leonardo DiCaprio, Jennifer Lawrence, Jonah Hill and the crew of "Don't Look Up" for the film's world premiere at Lincoln Center in New York City. Many pictures from the red carpet have been added to the photo gallery. Apparently, there was another screening and Q&A session for the film on Sunday, so check back later for more information on that as well. In the meantime, enjoy the new pictures.
Additionally to the pictures, three video clips from the premiere have been uploaded as well – red carpet interviews with Access Hollywood and Extra as well as a clip from Adam McKay and the cast on the stage after the film's screening.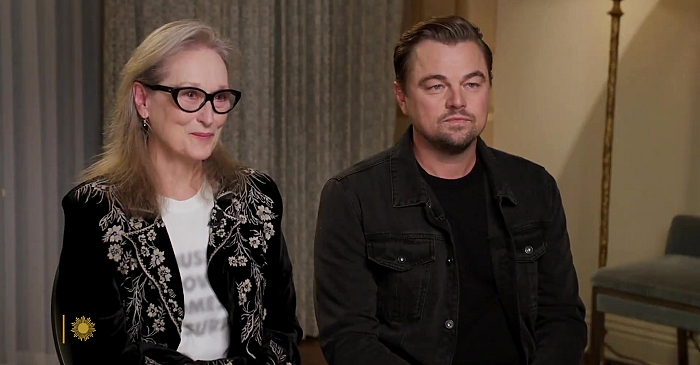 Fantastic news to look forward to this Sunday. Meryl Streep, Leonardo DiCaprio and director Adam McKay talk about the Netflix production "Don't Look Up", their careers and more in an interview with correspondent Tracy Smith for "CBS Sunday Morning," to be broadcast December 5 on CBS and streamed on Paramount+. The film has an all-star cast and revolves around a scientist (DiCaprio) trying to warn the world that a comet is heading toward Earth and will destroy the planet. Streep plays the president who won't take him seriously. The comet is a metaphor for climate change with the world split between believers and skeptics. But can a movie make a difference? "Hopefully," DiCaprio told Smith. "But at this point, I'm a Debbie Downer with the system. So, you're asking the wrong guy. To me, it's about a little less, you know, conversation, and a lot more action." The film was shot at the height of the pandemic's impact on the entire world, which made it more meaningful to DiCaprio: "And that's why it connected with this screenplay that was about the climate crisis that we're all going to go through – we're all going to feel the ramifications of this," he said. "And what we're seeing right now, with the wildfires and the massive hurricanes and all these catastrophes, doesn't get better than this, okay? … It doesn't get better than this. It slowly becomes worse." Edit: You can now watch the full segment below and in the video archive, while screencaptures have been uploaded to the photo gallery.
On Thursday, Meryl Streep was among the many guests to congratulate Jeremy O. Harris at Broadway's re-opening night of "Slave Play". According to W Magazine and their coverage of the after-party, the provocative production made Tony Awards history with 12 nominations and established Harris as a critical darling. Naturally, there was an after-party, and the scene at Tao Downtown in New York City following the show at August Wilson Theater appears to have been almost pre-pandemic. (Harris noted that negative Covid-19 tests were required on Twitter.) A couple of pictures from the after-party have been added to the photo gallery.
We're only two weeks away from the theatrical release of "Don't Look Up" (and less than a month from its Netflix premiere on December 24) and the first batch of news outlets have been published. Alongside reviews from Entertainment Weekly, People and The Denver Post, there's a lovely new cover story from the Polish Pani magazine. Unfortunately I have only found the cover, maybe some of our Polish visitors can help out with the article :-) Thanks to Alvaro for sending in the mentioned reviews. Enjoy your weekend.
It's been a long time since we read a sentence that started with "Meryl Streep has attended…" but here we go :-) On Wednesday and Thursday, Meryl Streep has attended two Los Angeles screenings and Q&As for "Don't Look Up", hosted by Tastemaker and BAFTA L.A. While there aren't many pictures from both screenings, there are some, and you can find them in the photo gallery. Edit: A third screening took place at the Bruin Theater in West Hollywood. Pictures have been added as well.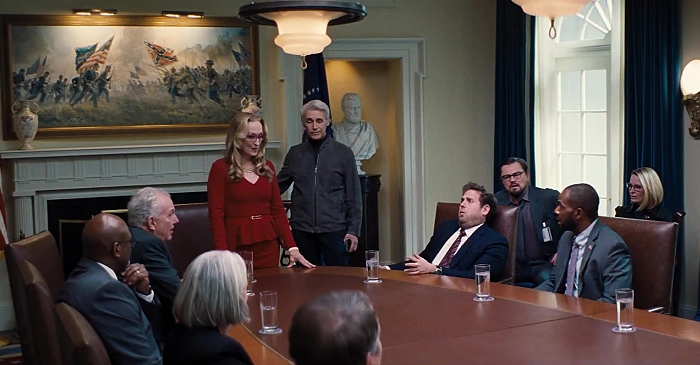 Netflix has released the full trailer for the upcoming "Don't Look Up", and it looks like we're in for a very entertaining ride this Christmas Day. Two upcoming screenings for the film have been announced to take place in Los Angeles on November 17 and 18, which will be followed by Q&As attended by Meryl Streep, Leonardo DiCaprio and Jennifer Lawrence. Alongside the trailer, we also have the full synopsis and official poster.
Kate Dibiasky (Jennifer Lawrence), an astronomy grad student, and her professor Dr. Randall Mindy (Leonardo DiCaprio) make an astounding discovery of a comet orbiting within the solar system. The problem – it's on a direct collision course with Earth. The other problem? No one really seems to care. Turns out warning mankind about a planet-killer the size of Mount Everest is an inconvenient fact to navigate. With the help of Dr. Oglethorpe (Rob Morgan), Kate and Randall embark on a media tour that takes them from the office of an indifferent President Orlean (Meryl Streep) and her sycophantic son and Chief of Staff, Jason (Jonah Hill), to the airwaves of The Daily Rip, an upbeat morning show hosted by Brie (Cate Blanchett) and Jack (Tyler Perry). With only six months until the comet makes impact, managing the 24-hour news cycle and gaining the attention of the social media obsessed public before it's too late proves shockingly comical — what will it take to get the world to just look up?!
The promotional campaign for "Don't Look Up" and its December release in theaters and on Netflix is slowly getting on track. The first screenings with Q&As have been announced starting next week, so chances are pretty good to enjoy Meryl Streep in public again. In the meantime, enjoy these newly released production stills of Streep in presidental action.
Related Media
:
Photo Gallery – Career Photography – Don't Look Up – Production Stills
"Extrapolations", the climate change anthology series that will be coming to Apple TV+, has added even more stars to its cast. Today, it was announced that Edward Norton, Indira Varma, Keri Russell, Cherry Jones, and Michael Gandolfini will be joining the cast of this Scott Z. Burns show, Variety reports. Norton will play a scientist named Jonathan Chopin. Playing the role of Jonathan's son, Rowan Chopin, will be Gandolfini. Varma will portray an inventor named Gita Mishra. Russell, known for her starring roles in The Americans and Felicity, will play Olivia Drew, a gun for hire. Jones will portray the president of the United States, Elizabeth Burdick. The new list of cast members comes hot on the heels of the original announcement that Meryl Streep, Sienna Miller, Kit Harrington, Tahar Rahim, Matthew Rhys, Daveed Diggs, Gemma Chan, David Schwimmer, and Adarsh Gourav would be the leading stars in the series. Extrapolations will take 8 interconnected episodes to delve into how impending changes to the planet will ultimately affect every aspect of the way people experience life in ways such as love, faith, work, and family.
We don't know yet what Streep's role will be in the series, but we do know about the others. Miller will play a marine biologist named Rebecca Shearer, Harrington will portray CEO Nick Bilton who will be the head of an industrial behemoth, Rahim will play Ezra Haddad who is a man struggling with memory loss, while Rhys will portray Junior, a real estate developer. Diggs will take over the part of Marshall Zucher, a rabbi in South Florida, Chan will play Natasha Alper, a single mother and micro-finance banker, and Schwimmer will play Harris Goldblatt. All we know about Schwimmer's character is that he is a man with a teenage daughter. Gourav will play a driver for hire ironically named Gaurav. The series sounds like it will tie everyone together by the end as they all grapple with the constant changes in climate and what that means for their own lives. Extrapolations does not yet have a release date.