Ken Burns and Lynn Novick's three-part documentary "Hemingway" (premiering April 5 on PBS) details the life and career of the Nobel Prize-winning author Ernest Hemingway. According to a recent interview with Entertainment Weekly, the series uncovers a more nuanced character than the heavy-drinking, bullfight-attending, man's man of repute, with co-directors Ken Burns and Lynn Novick exploring, for example, Hemingway's interest in gender fluidity. "The macho facade is superficial," says Burns, who previously collaborated with Novick on 1994's Baseball and 2017's The Vietnam War, among other projects. "I think this is one of the reasons why you can't just say, 'Oh, dead white male, goodbye.' It's as complex a biography as we've ever worked on." Jeff Daniels recites Hemingway's letters and prose, while the author's four wives are voiced by Keri Russell, Mary-Louise Parker, Patricia Clarkson, and Meryl Streep. The latter performed her role of Hemingway's third spouse, writer Martha Gellhorn, following the start of the pandemic. "We planned to record Meryl Streep on March 24 of last year and had to cancel, but her son had a recording studio in his home," says Novick. "She and Ken were in touch about pronunciation questions, but basically this was a gift from Meryl Streep." "I just want to add that I think she's going places, she's really got a future," says Burns, with a laugh. "No, she's fabulous."
Ken Burns and Lynn Novick's three-part, six-hour documentary series, HEMINGWAY, examines the visionary work and turbulent life of one of the greatest and most influential American writers – Ernest Hemingway. Intimate and insightful, the series weaves together Hemingway's biography with excerpts from his fiction, non-fiction and personal correspondence – a structure that nods to Hemingway's own creative process of drawing inspiration from lived experience. The film penetrates the mythology surrounding Hemingway – cultivated by his larger than life exploits, public bravado, and occasional tall-tale – to reveal a deeply troubled and ultimately tragic figure. His story is told with the help of interviews with literary scholars, celebrated writers including Edna O'Brien, Mario Vargas Llosa, Abraham Verghese, and Tobias Wolff, and Hemingway's son, Patrick. Six years in the making, HEMINGWAY is a treasure trove of rarely seen photographs and archival footage. The film is further benefitted by unprecedented access to original manuscripts that show the painstaking process by which Hemingway created some of the most important works of fiction in American letters, including the novels, The Sun Also Rises, A Farewell to Arms, For Whom the Bell Tolls and The Old Man and the Sea; short stories "Hills Like White Elephants," "The Short and Happy Life of Francis Macomber,""Up in Michigan," "Indian Camp"and "The Snows of Kilimanjaro;" as well as nonfiction works, Death in the Afternoon and A Moveable Feast. Hemingway's words are brought vividly to life by Jeff Daniels. Meryl Streep, Keri Russell, Patricia Clarkson, and Mary-Louise Parker read the voices of Hemingway's four wives. Original music is provided by Johnny Gandelsman and David Cieri.
According to Playbill, Stage and screen favorites will team up this spring for a second annual virtual concert to benefit homeless youth around the world. Night of Covenant House Stars will be co-hosted by Audra McDonald and John Dickerson, with a lineup including Meryl Streep, Vanessa Williams, Ariana DeBose, Kelli O'Hara, and Sara Bareilles. Also slated to appear are Dolly Parton, Ryan Reynolds, Robin Roberts, Stephen Colbert, Rachel Brosnahan, Capathia Jenkins, Jo Ellen Pellman, John Dickerson, Darius De Haas, Daniel Yearwood, Ames Mcnamara, Laurie Metcalf, and more. The stars will be joined by Covenant House youth as well. "These stars have stepped up because they recognize that our young people don't have the option to shelter at home without a home," says Covenant House President Kevin Ryan. "For thousands of young people in this past year and for 2,000 young people tonight, Covenant House is their home. Night of Covenant House Stars will help us keep our doors open, 24/7, when youth experiencing homelessness need us more than ever." The Broadway community became involved with Covenant House on a large scale after Stephanie J. Block first performed at a benefit years ago. She teamed up with board member (and fellow Broadway performer) Capathia Jenkins to found the Broadway Sleep Out, now expanded to the Stage and Screen Sleep Out. The connections continue to grow, even when shifted to a digital landscape. McDonald and Dickerson hosted a virtual benefit last year as well. The theme of the gala this year is "Stand Up, Stand Strong," recognizing and celebrating the resilience of young people experiencing homelessness and the heroism of frontline staff working to keep them safe during the ongoing COVID-19 crisis. Funds raised will go directly to food, clothing, healthcare, education, job training, and short and long-term housing for youth overcoming homelessness at Covenant House across the U.S., Canada, and Latin America. The evening, sponsored by Kia, is produced by Jeff Calhoun with musical supervision by Jason Howland. McDonald, Dickerson, and Calhoun are all members on the Covenant House board of directors. Many thanks to Glenn for the heads-up.
According to Deadline, Meryl Streep is set to star in Places, Please, a film drama that will be directed by Pulitzer Prize and Tony Award winner Michael Cristofer from a script by UCLA MFA alum Elisabeth Seldes Annacone (The Changing Room). The film is a love letter to Broadway, where both Streep and Cristofer started their careers. In an interview here, they describe their start together on a Broadway performance of Chekhov's The Cherry Orchard, which figures in the film. Their comments on the stage, and how Broadway can reemerge from its pandemic plight, are included below. Places, Please will shoot this summer in New York, and will be introduced to buyers for the virtual Berlin Market, with CAA Media Finance repping domestic distribution rights and Filmnation handling international sales. Streep, Steven Rogers (I, Tonya) and Jane Rosenthal (The Irishman) will produce. Berry Welsh will executive produce. In the film, Streep will play Lillian Hall, an actress who is synonymous with Broadway. Throughout her long, illustrious career, she has never missed a performance—not for her daughter, not for illness, not for any reason. Yet in the rehearsals leading to her next Broadway production, her confidence is challenged. People and events conspire to take away her ability to do what she loves most. Suddenly, Hall is forced to reckon with the past and the price she has paid for the choices she made in her life and her art. Can she repair a lifetime of parental neglect? Can she reconcile herself to the demands of aging, its real and perceptual debilities? Can she navigate the shoals of self-doubt and loss, the betrayals of others and of her own body? Will she go down in the record books in a blaze of glory? Not without a fight. In explaining the genesis of the film, Cristofer and Streep explain its tie to the launch of each of their stars, and how their sympathy for the unprecedented hardship facing the live theater industry in the pandemic gave this film urgency.
Continue Reading
I've done some more digging into the archives to bring additional pictures from the '70s and '80s to the photo gallery. Among the new additions are pictures from the Academy Awards for "The Deer Hunter", "Kramer vs. Kramer" and "Sophie's Choice", promotional appearances for "The French Lieutenantn's Woman" and "Silkwood" and Honorary Degree visits to Dartmouth in 1981 and to Yale in 1983. To view all last added pictures, have a look at the list below. Enjoy your Sunday!
…and Meryl Streep is not among them. It feels a bit odd to write about someone not receiving awards attention as a news bit, but here we go. To the surprise of many, as the Golden Globe nominations were announced this morning, Meryl did not receive a nomination for "The Prom" in the Best Actress in a Comedy or Musical category. Besides a nomination for Best Picture – Comedy or Musical, the only acting nomination it has received went to James Corden. Take it with a grain of salt – we have been through worse things this past year, and since there won't be a ceremony the way it used to be, we won't be missing any red carpet coverage anyway. Plus, we've had our fair share of nominations in the past, with Meryl being a record breaking nominee with 30 nominations in total – the last time being last year's nod for "Big Little Lies" – and 8 wins including the Cecil B. DeMille Life Achievement Award in 2017.
On February 2, Penguin Books releases "Mike Nichols: A Life", written by Mark Harris and featurig lots of remarks by Nichols' former colleagues and friends, including Meryl Streep. Vulture has posted an exerpt from the book, and – luckily for us – it's a lengthy, very insightful chapter on the makig of "Heartburn", including the complete story of Mandy Patinkin's original casting as Mark Foreman, and Nichols firing him a week into shooting scenes. It's a very ineresting read, especially considering that "Heartburn" wasn't a chosen star vehicle for Nicholson and Streep, but rather a casting choice out of the blue that got Streep by surprise, as she remembers in the book.
[After Nicholson's casting], suddenly, there were a lot of ideas about how we were going to enhance the part," says Streep. "The man's part. This was a movie about a woman, which was even more unusual in those days than it is now. It was a unique opportunity to explore things from her perspective, from Nora's perspective." Nicholson's hiring "was the first time in my life that I got mad at Mike. Jack Nicholson was a movie star, and it was intimidating to have him come in, and maybe a little piece of that made me go, 'Hey, don't lose me in this just because you bring your friend in,' " says Streep. "I went to Mike and said, 'This movie is about the person who got hit by the bus. It's not about the bus.' He heard me – he really did hear me on that. And all the nonsense about new scenes stopped."
The full article can be read over at Vulture, the book releases on February 2. Hopefully, it will feature many more details on the makings of "Silkwood", "Postcards from the Edge" and "Angels in America".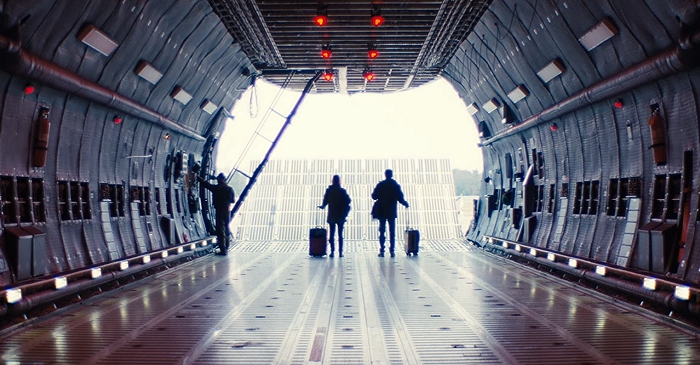 "Don't Look Up" is coming to Netflix sooner than you might think. Jennifer Lawrence, Leonardo DiCaprio, and the rest of the star-studded cast are still filming "Don't Look Up" in Boston and other nearby towns, but the Adam McKay comedy will make its debut later this year, and Netflix has already released the first official footage from the movie. A trailer posted by Netflix highlighting all of the original movies it will release in 2021 features a short scene from "Don't Look Up," which stars DiCaprio and Lawrence as two low-level astronomers who must embark on a massive media tour to warn the world about an approaching comet that will destroy the planet. In the brief, dialogue-free footage, DiCaprio and Lawrence step off of a carrier plane onto an airport tarmac as uniformed personnel stroll by in the background. So far, "Don't Look Up" has filmed scenes in Boston, Canton, Chicopee, Fall River, Norton, Salisbury, Weymouth, and Worcester. Filmmakers shot scenes at Union Point in Weymouth, the former site of South Weymouth Naval Air Station, in December. The streaming giant has not announced a specific release date for "Don't Look Up." Along with DiCaprio and Lawrence, "Don't Look Up" features Cate Blanchett, Rob Morgan, Meryl Streep, Jonah Hill, Chris Evans, Himesh Patel, Timothée Chalamet, Matthew Perry, Tyler Perry, Melanie Lynskey, Ron Perlman Tomer Sisley, singer Ariana Grande, and rapper Kid Cudi (text courtesy boston.com).
Happy New Year everybody. I hope you all had a good start into 2021, which will hopefully be much better than 2020. I've been sorting my archives during the Holidays to add screencaptures from a variety of television programmes that I have collected in the past months – including some finds that I've been looking for for a very long time. Among the highlights are Meryl's 1983 profile on the Australian 60 Minutes, including great footage from the Paris premiere of "Sophie's Choice", better quality screencaptures from "Kiss Me, Petruchio", a PBS taping of her 1978 performance of "The Taming of the Shrew" in Central Park and "An Evening with Friends of the Environment" from 1990, more screencaptures from her 1989 on the Phil Donahue Show to promote the recently founded Mothers and Others for a Liveable Planet (unfortunately I haven't been able to source a full video of her appearance yet) and "Coping with Serious Illness", her very first television appearance as a host. A complete list of screencaptures can be found below. Enjoy the new additions.
Another big batch of international press coverage for both "The Prom" and "Let Them All Talk" have been added to the photo gallery, with many thanks to Alvaro. Scans come from the US, the UK, Brasil, Spain, France, Argentina and Portugal, so there's probably something for everybody :-) A complete list of additions can be found below.
Related Media
:
Photo Gallery – Articles & Scans – Total Film (United Kingdom, December 2020)
Photo Gallery – Articles & Scans – Mia (Spain, December 22, 2020)
Photo Gallery – Articles & Scans – People Magazine (USA, December 21, 2020)
Photo Gallery – Articles & Scans – US Weekly (USA, December 21, 2020)
Photo Gallery – Articles & Scans – Who Weekly (Australia, December 21, 2020)
Photo Gallery – Articles & Scans – Point de Vue (France, December 16, 2020)
Photo Gallery – Articles & Scans – Blikk Nok (Hungary, December 16, 2020)
Photo Gallery – Articles & Scans – The West Australian Today (Australia, December 15, 2020)
Photo Gallery – Articles & Scans – The New Yorker Magazine (USA, December 14, 2020)
Photo Gallery – Articles & Scans – Clarin (Argentina, December 14, 2020)
Continue Reading
If you have watched "Let Them All Talk" and "The Prom" back to back, you've been in for a treat, haven't you? Ryan Murphy has put every bit of color, singing, glitter and joy into "The Prom" that "Let Them All Talk" has been missing (rightly so). While musicals are not my genre, it was impossible not to be charmed by Meryl Stree's comedic timing and, of course, her singing, but we knew about that. Everybody in the cast seemed to have great fun, and it shows in the film. So, if you haven't watched it yet – or didn't rewatch it today – you'll find it on Netflix. Once again, many thanks to Ali for the screencaptures. Please make sure to visit her Nicole Kidman fansite as well. Also, some very funny screencaptures from the making of have been added as well. Enjoy the updates.